This recipe for kompot is made with just three simple ingredients – water, strawberries, & sugar. A classic Slavic childhood fruit drink to quench your thirst!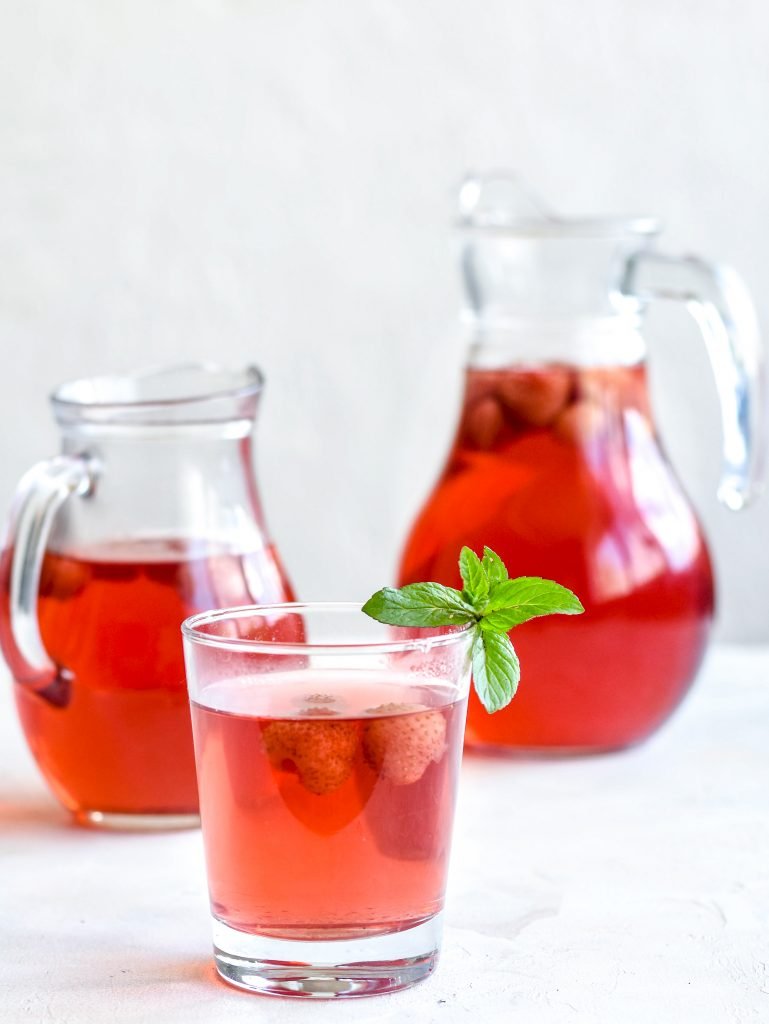 Perhaps the best part of preparing kompot is the light aroma that fills the room as the juice drink boils. Growing up in Ukraine, my mom used to make it every single day with different fruits and just the smell alone works up my appetite. Today, I make it for my kids to cut down on the cost and preservatives in store-bought juices.
What is Kompot?
Kompot is a traditional Russian drink that's served all around Eastern Europe. Perfect chilled on a hot summer's day or drunken room temperature in the winter-time, it's a homemade juice drink that kids and adults alike both love.
Flavor: The flavor of kompot is a balance of super sweet sugar and fruity strawberries.
Texture: The texture of kompot is silky smooth like juice, with the addition of the floating stewed fruit (if you don't prefer the texture, feel free to strain the strawberries out).
Time: From start to finish, this drink only takes 20 quick minutes to make.
How to Make Kompot
If you have a pot and 15 minutes, you've got kompot – it's that easy to make!
Boil the Water: In a large pot, bring the water to a rolling boil.
Add in the Fruit: Next, add in the strawberries and boil them for 15 minutes.
Add in the Sugar: Add in the sugar and stir it until it completely dissolves.
Cool the Kompot: Allow the kompot to cool to room temperature. Serve the drink at room temperature or chilled. Enjoy!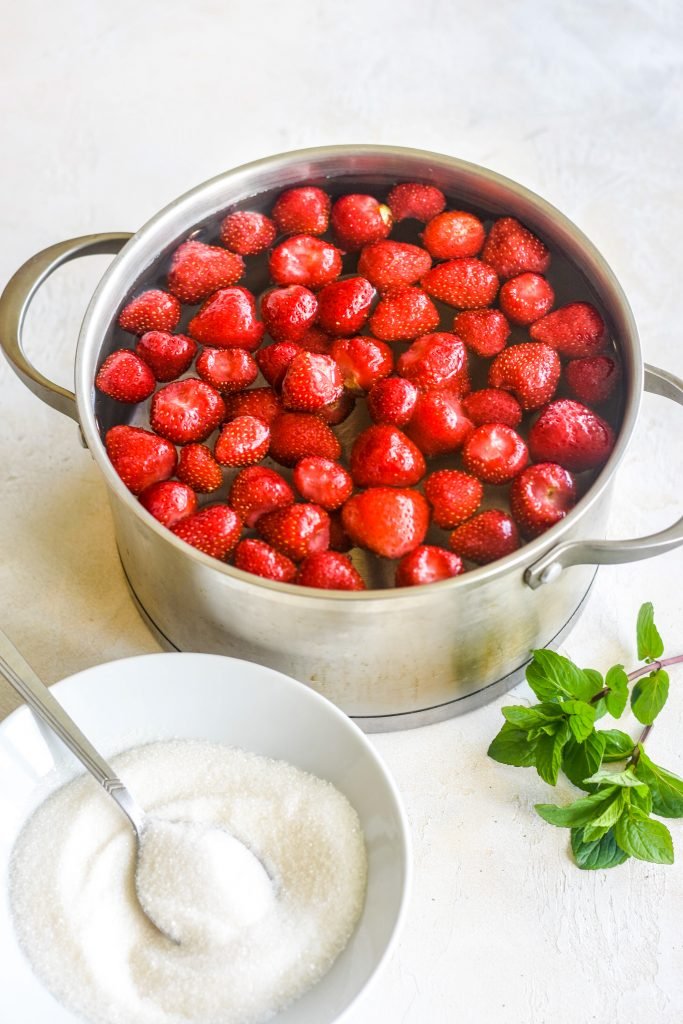 What Fruits to Use for Kompot
From softer fruits to harder fruit, any non-tropical variety is perfect for kompot. Below, find a couple of more ideas to inspire you…
Berries: Raspberries, blueberries, cranberries, & blackberries
Stone Fruit: Peaches, apricots, plums, & cherries
Hard Fruits: Apples & pears
3 Tips for the Tastiest Kompot
While kompot-making is far from difficult, these three pointers will help you nail it.
Use filtered water if you can. To create the smoothest flavor, opt for filtered water over tap if you can. Removing any metals or nutrients goes a long way!
Adjust the sweetness to taste. Feel free to use more or less sugar depending on your specific tolerance for sweetness. You can even use a different sweetener if you'd like, such as maple syrup, agave, or honey.
Use fresh, frozen, or even dried fruit. That's right! You can use pretty much any style of fruit. That said, dried fruit does add a nice caramely flavor to the drink.
Storing Best Practices
To keep kompot on hand for up to five days, store it in a glass pitcher in the refrigerator. Again, feel free to leave the strawberries in the pitcher or strain them out – it's up to you! Also, between each serving, give the juice a little stir to account for any natural separation.
FAQ
Can you use fruit syrup to make kompot instead?
Yes, you can use fruit syrup leftover from canned fruits to sweeten kompot instead of using traditional sugar or other sweeteners. Just make sure to sweeten it to taste, as some jarred syrups are less sweet than others.
What's the difference between kompot and kvass?
Kompot is a homemade juice drink made with water, sugar, and fruit, while kvass is another traditional Slavic drink made of fermented juice, coffee, sugar, yeast, and vinegar.
Can you freeze kompot?
It's not a good idea to freeze kompot, as it tends to get watery as it thaws. It's best to drink kompot within about 5 days – which is not a difficult thing to do!
Other Homemade Drinks to Try
Recipe
Kompot is a classic homemade juice drink that will bring any Slavic person straight back to childhood. Make it instead of purchasing store-bought juice boxes!
Instructions
Nutrition Facts
Homemade Kompot Drink
Amount Per Serving
Calories 54
% Daily Value*
Sodium 23mg1%
Potassium 27mg1%
Carbohydrates 13g4%
Vitamin C 10.6mg13%
Calcium 17mg2%
Iron 0.1mg1%
* Percent Daily Values are based on a 2000 calorie diet.