If you love the Ikea Swedish Meatballs, this recipe is for you! These Swedish Meatballs are the ultimate comfort food. Both adults and kids will love this recipe.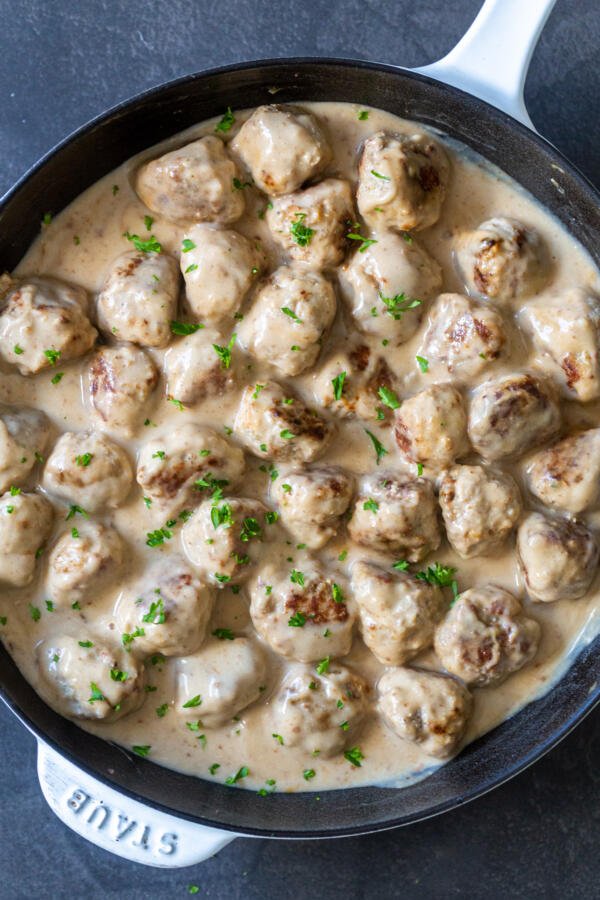 This Swedish Meatballs recipe is insanely good. If you've never tried this dish before, let me give you the quick and dirty. Moist and juicy chicken meatballs are browned and tossed with a rich, beef-based gravy.
While this may not be an exact copy of the Ikea's Swedish Meatballs, this version is just so darn good. Let's get started!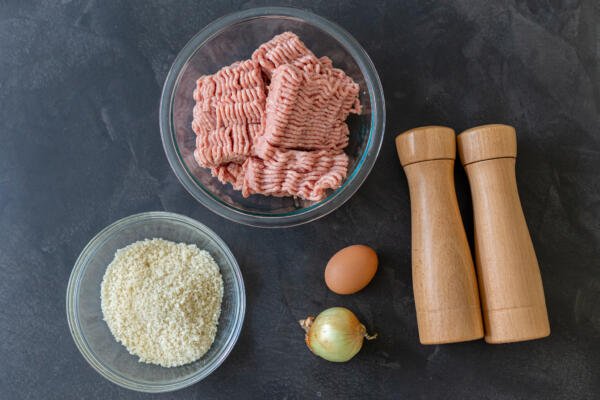 How to Make Swedish Meatballs
Making Swedish Meatballs at home is a no-brainer. Follow the below instructions to nail this dish each and every time:
Making Meatballs
Work together your ground meat, bread crumbs, onion, egg, salt, and pepper by hand.
Roll into meatballs.
Preheat a skillet with oil and brown the meatballs.
Remove meatballs and set the skillet aside.
Making Meatball Gravy
Our version of Swedish Meatballs sauce absolutely makes this dish. It's thick, dreamy, and soooooo creamy.
Add butter to the same skillet. Once melted, add flour and stir.
Whisk in water, whipping cream, and broth concentrate in that order.
Press garlic into the cream and add meatballs.
Let simmer for 2-3 minutes and serve.
Serving Swedish Meatballs
Whether you are looking comfort of something more low-carb, Swedish Meatballs are so darn versatile. You can ladle the mixture over any of your favorite grains. From rice to quinoa, you can't go wrong.
You can also toss your Swedish Meatballs with egg noodles. Or if you're feeling especially decadent, serve them on top of Easy Creamy Mashed Potatoes. You are in for a treat.
If you're trying to keep things light, pair your meatballs with your favorite roasted veggie.
Storing Swedish Meatballs
One of the best things about this recipe, is that it reheats so beautifully. You can double or triple it and have it as leftovers throughout the week. Follow the instructions below for storing and reheating:
Refrigerating – Place your Swedish Meatballs in an airtight container in the refrigerator. They should keep for up to five days when stored properly. To reheat, zap the meatballs in the microwave for 2-3 minutes, making sure to stir halfway through. You can reheat them in a saucepan over medium-heat.
Freezing – Swedish Meatballs are great for freezing. Let them defrost in the fridge overnight. When you're ready to serve, reheat them the same as if refrigerated. Be mindful to eat within 2-3 days after thawing.
Tips for Making the Best Swedish Meatballs
Use High Quality, Lean Ground Meat. Our for fresh ground meat from the butcher. Also, try to stick to no more fat that 80 percent lean and 20 percent fat. You want your meatballs to shape well and not be too greasy.
Switch Up The Meat. Don't like ground chicken? Go 50 percent ground pork and 50 percent beef. You could even use ground turkey if you want to be especially healthy.
Don't skip the browning. Browning your meatballs not only locks in flavor, it helps keep the shape of your meatballs when you add the sauce in. Whatever you do, don't skip this crucial step!
Other Meatball Recipes
Love meatballs? This collection of dishes is sure to satisfy any craving:
Recipe
If you love the Ikea Swedish Meatballs, this recipe is for you! These Swedish Meatballs are the ultimate comfort food. Both adults and kids will love this recipe.
Ingredients
Sauce
2

tbsp

Unsalted Butter

3

tbsp

Flour

1

cup

Hot Water

1/4

cup

Whipping Cream

1

tbsp

Beef Better Than Bouillon

2

Garlic Cloves
Nutrition Facts
Swedish Meatballs (Better than Ikea)
Amount Per Serving
Calories 388
Calories from Fat 189
% Daily Value*
Fat 21g32%
Cholesterol 181mg60%
Sodium 274mg11%
Potassium 869mg25%
Carbohydrates 18g6%
Protein 31g62%
Vitamin A 305IU6%
Vitamin C 1.7mg2%
Calcium 59mg6%
Iron 2.4mg13%
* Percent Daily Values are based on a 2000 calorie diet.