Marinara Meatballs are your next weeknight dinner go-to. Made in one pan and perfect for reheating, these meatballs are so satisfying and on the table in under 30 minutes.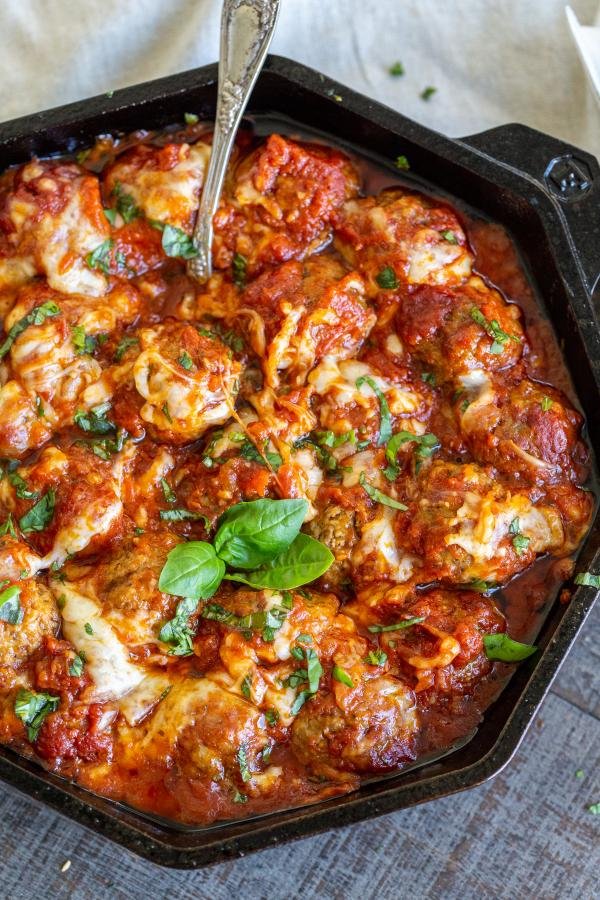 Tender to the bite and slathered in flavorful marinara sauce, this Marinara Meatballs recipe is sure to quiet the most savory of cravings. Give yourself a small break by using frozen meatballs to make this classic dish all the more accessible during your crazy Monday-Friday.
Sometimes it feels like making a homemade dinner would require a miracle. To avoid resorting to the fast food drive-thru, I like to make sure I have dependable frozen protein on hand. Farm Rich Meatballs are always on my grocery list, I get mine at Fred Meyers. After a long day of work and shuttling the kids around, I use these handy little premade meatballs to make a dish I know is a crowd-pleaser.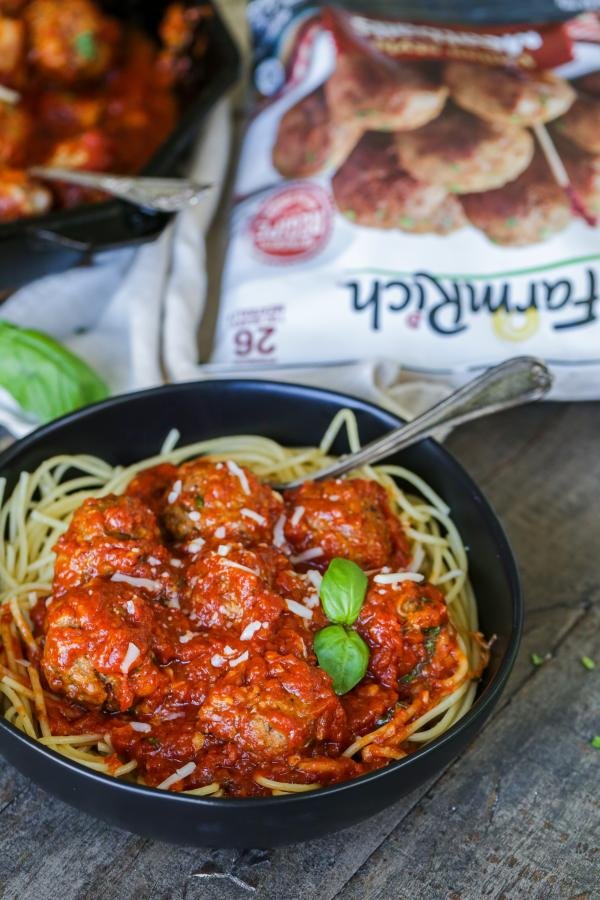 Serving Options for Marinara Meatballs
Marinara Meatballs are so versatile. Make a big batch and use them throughout the week. Serve them with your favorite pasta, make meatball subs or use them as part of your low-carb diet.
Marinara Meatball Subs
Grab some french rolls and top them with meatballs, provolone cheese and sauteed bell peppers and onions. Place the subs open-faced on a lined baking sheet and broil them all together in the oven until the cheese melts.
Marinara Meatballs with Spaghetti
Who doesn't love a good old bowl of spaghetti? Don't forget to sprinkle on some freshly grated parmesan cheese! Oh, and definitely don't forget to sop up the sauce with some flatbread…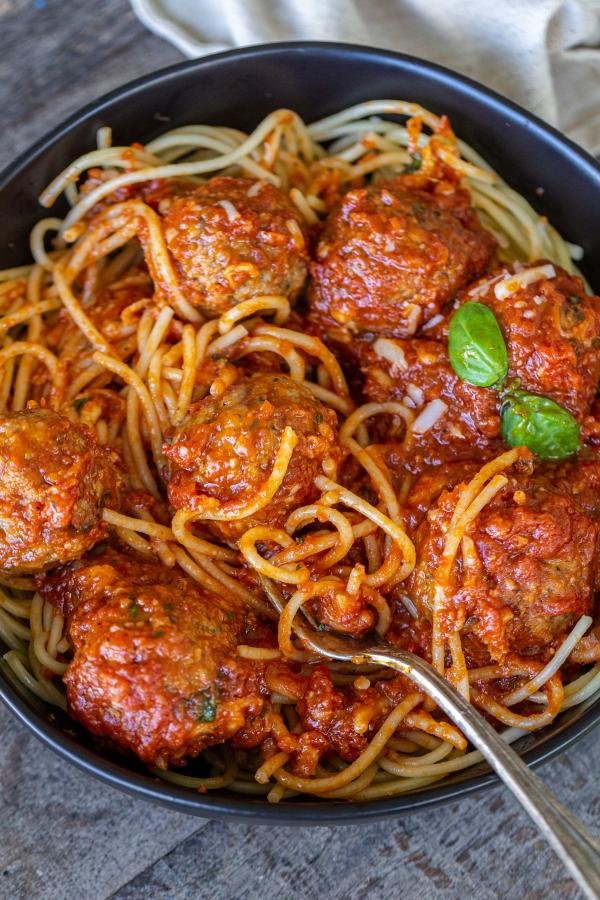 If you're on a low-carb diet, marinara meatballs are an exciting departure from the same-old, same-old chicken breast. Pair them with a tasty salad for a well-rounded meal.
Spaghetti and meatballs do make an undeniably classic combo. But, don't feel like meatballs need pasta to be complete! Keep it healthy and serve them alongside some sauteed or roasted veggies.
Marinara Meatballs with Zoodles (Zucchini Noodles)
If you are into following the latest health food crazes, you have probably heard of "zoodles". Using a mandoline slicer, cut a few zucchinis into long, noodle-like strips. Saute them in olive oil until they become soft, but not soggy. Toss them with your Marinara Meatballs for a low-carb version of spaghetti and meatballs!
How Long do you Cook Meatballs in the Sauce?
Using frozen, pre-cooked meatballs makes the process of making Marinara Meatballs super seamless. You don't need to stress about handling raw beef and that makes all the difference on a hectic weeknight. Let the meatballs simmer in your sauce for 20-25 minutes and rest assured that they will be cooked-through perfectly. Make sure you cover the pan while it simmers. Marinara sauce is prone to popping!
What is Marinara Meatballs Made of?
All you need to make this dish is marinara sauce, Farm Rich Meatballs (I used their Italian Style but they also come in Turkey and Homestyle) and mozzarella cheese. I also like to add some freshly chopped basil on top for an extra pop of flavor.
If you are tight on time, skip making your marinara sauce homemade and go for one of your favorite jarred varieties.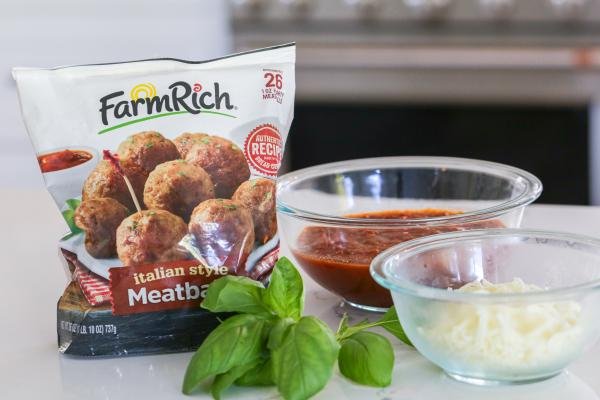 Slow Cooker Marinara Meatballs
This recipe can easily be done in a slow cooker. This is a great alternative cooking method for those nights you don't want to stand over the stove at all!
Pop the marinara sauce and Farm Rich Meatballs in the slow cooker. Cook on the high setting for 2.5 hours or the low setting for 4 hours. Add the cheese and cook another 10-15 minutes, or until it melts.
Keep slow cooker Marinara Meatballs in your back pocket as an awesome appetizer idea for your next party.
Recipe
Marinara Meatballs are your next weeknight dinner go-to. Made in one pan and perfect for reheating, these meatballs are so satisfying and on the table in under 30 minutes.
Ingredients
26

oz

Farm Rich Meatballs

16

oz

marinara sauce

1

cup

mozzarella cheese

1/2

cup

fresh basil
Nutrition Facts
Marinara Meatballs Recipe
Amount Per Serving
Calories 298
Calories from Fat 207
% Daily Value*
Fat 23g35%
Cholesterol 77mg26%
Sodium 437mg18%
Potassium 467mg13%
Carbohydrates 3g1%
Protein 19g38%
Vitamin A 426IU9%
Vitamin C 5mg6%
Calcium 94mg9%
Iron 1mg6%
* Percent Daily Values are based on a 2000 calorie diet.