This one-pan meatball pasta is so creamy and decadent. Made in just one pan, it's perfect for hectic weeknights and lazy dinners!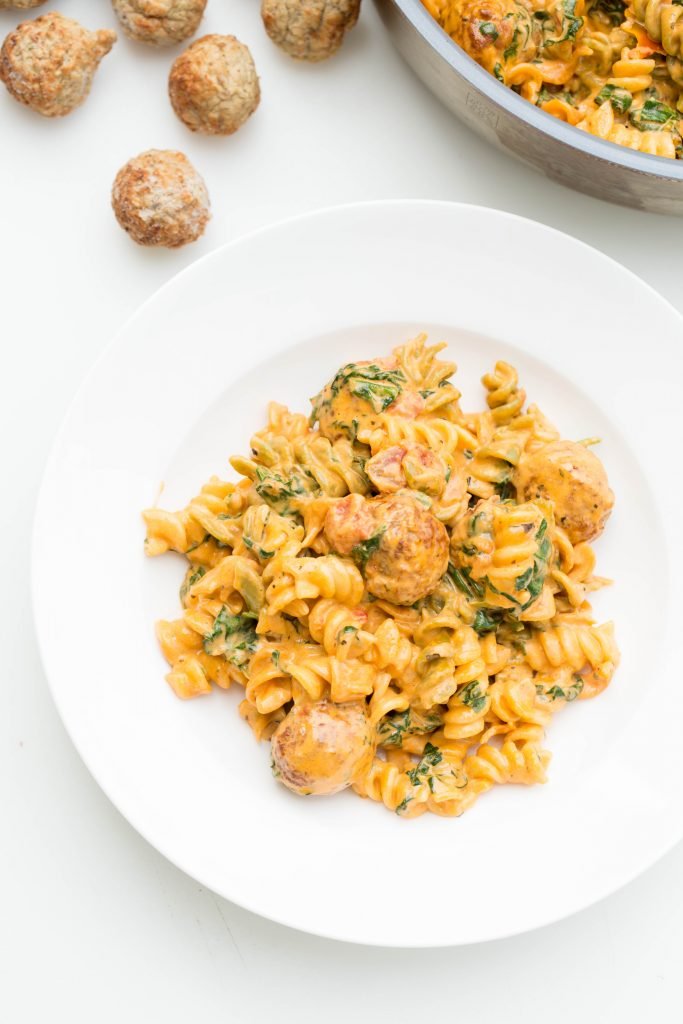 Using store-bought meatballs is an easy and convenient solution for those times when life just feels too busy to function. In this recipe, you'll pop them directly in the skillet from frozen and let them simmer in the creamy, tomato sauce until fully-cooked. Can it get any easier than that?!
What Kind of Noodles to Use
There's truly no right answer here! You can use just about any style you'd like from thin spaghetti noodles to spiraled egg noodles. If you're feeling ambitious, you can also make the pasta from scratch. Check out our quick and dirty guide on how to make homemade pasta to learn all the top tips and tricks.
Prefer homemade meatballs? Whip up our healthy oatmeal meatballs. They're made with oats instead of breadcrumbs and are baked in the oven until juicy.
How to Prepare this One-Pan Meatball Pasta Recipe
If you have 15 short minutes of prep time to spare and a handful of basic ingredients, you're already well on your way to tasty pasta.
Cook the Pasta: Boil the pasta in a large pot according to the package instructions. Drain it in a colander and set it aside.
Thaw the Meatballs: Place the frozen meatballs into a large skillet over low heat. Next, pour the pasta sauce on top and allow the meatballs to simmer and thaw.
Build the Sauce: Once the meatballs are thawed, pour in the heavy whipping cream and dump in the parmesan cheese. Allow the sauce to simmer on low heat for 15 minutes.
Assemble the Pasta: Stir in the cooked pasta and sprinkle in the chopped spinach. Allow the spinach to cook down for a few more minutes. Season to taste with garlic parsley salt and/or black pepper and serve right away!
Quick Homemade Pasta Sauce: If you don't like jarred or store-bought sauces, whip up our 5-minute marinara sauce in your blender with crushed tomatoes and a few simple spices.
Tips to Nail Our Meatball Pasta Recipe
A couple of handy tips will help you make the most out of this meatball pasta recipe. Below, find everything you need to know.
Toss the pasta in a bit of oil or butter to prevent it from sticking. Since your pasta will be sitting at room temperature for awhile, toss it in some olive oil or butter in a large bowl to prevent the noodles from sticking to one another.
Garnish the pasta with herbs and mozzarella. Add a pop of flavor by garnishing the pasta with fresh basil or fresh parsley and some fresh mozzarella.
Save some of the pasta water to thicken your sauce. If you prefer a thicker pasta sauce, save a little of the starchy pasta water and whisk it in to the sauce while it's simmering.
Sneak in some veggies. If you're feeding picky eaters, this is a great dish to sneak some produce into. Add in some sautéed onions, broccoli, or bell peppers and they'll barely notice!
Storing & Reheating Best Practices
To keep this one-pan pasta on hand for up to 5 days, store it in an airtight container in the fridge to keep the meatballs from drying out. To reheat, pop the sauce back into a skillet until warmed through. Avoid freezing the dish, as neither cooked pasta or creamy sauces tend to thaw very well.
A Couple of Great Sides to Pair Pasta With
While this pasta is filling as a meal all on its own, pair it with a couple of classic sides for a full blown feast. Cheesy garlic bread or homemade focaccia bread are great for sopping up the extra sauce at the bottom of the bowl. You can also whip up a homemade caesar salad to keep the Italian theme going strong.
FAQ
What kind of frozen meatballs should you use?
You can use any kind of Italian-style meatball you like. Ground beef and ground pork varieties work best. In a pinch, you can even use Swedish meatballs.
Can you use white sauce instead?
Sure! If you prefer white sauce, substitute our 5-minute alfredo sauce in instead.
How do you keep meatballs moist?
Simmering the meatballs in sauce until they are fully-cooked is a great way to keep them from drying out.
Is it OK if meatballs are a little pink on the inside?
Depending on the style of meatball you're using, a little pink on the inside is perfectly safe. To take the guesswork out of gauging doneness, use an instant-read meat thermometer to air on the safe side.
Do meatballs absorb sauce?
Yes! As the meatballs simmer, they'll absorb the creamy tomato sauce and become that much more flavorful.
Other Simple Pasta Recipes to Dig Into
Recipe
This easy meatball pasta recipe uses frozen meatballs for a quick shortcut and features a creamy, tomato sauce. Crazy easy and 100% kid-friendly!
Ingredients
2

cups

pasta sauce

1

lb

frozen meatballs

2

cups

heavy whipping cream

1

lb

pasta

3

cups

choppes spinach

1

cup

parmesan cheese

1

tsp

garlic parsley salt

to taste
Nutrition Facts
Easy One-Pan Meatball Pasta Recipe
Amount Per Serving
Calories 371
Calories from Fat 144
% Daily Value*
Fat 16g25%
Cholesterol 49mg16%
Sodium 453mg19%
Potassium 471mg13%
Carbohydrates 39g13%
Protein 18g36%
Vitamin A 1215IU24%
Vitamin C 6.3mg8%
Calcium 162mg16%
Iron 1.8mg10%
* Percent Daily Values are based on a 2000 calorie diet.