These tender meatballs are packed with savory ground lamb and spiced-herb flavor. They are so good that you'll want a freezer stash on hand to enjoy at a moment's notice.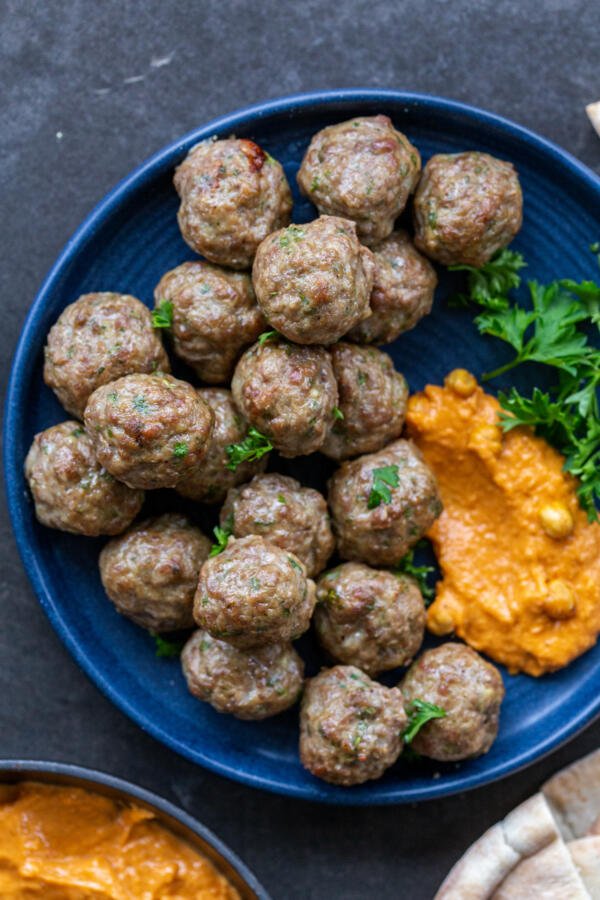 Say goodbye to the same old beef or chicken meatballs, there's a new star in town! Baked lamb meatballs take the flavor to the next level, and take a mere 35 minutes to bake. They are the perfect quick (and ultra flavorful) meat entree!
How to Make Lamb Meatballs
Lamb meatballs are crazy easy to make. Prepare the ingredients beforehand and the process is even simpler! Here's a quick overview before you get rolling.
Combine all ingredients: Begin preheating the oven to 425°F, then combine all ingredients in a large bowl.
Shape the meatballs: Shape the ground lamb mixture into small 2 tsp ball portions. You will have about 20 individual meatballs.
Arrange meatballs on a baking sheet: Place meatballs on a lined baking sheet, leaving space between each meatball.
Bake: Bake meatballs until golden and fully cooked on the inside. Enjoy!
Hot tip: Baking these meatballs is healthier (and less messy!), but feel free to fry them over medium-high heat in a skillet with olive oil. If you have an air fryer, try this turkey meatball recipe.
Meatball Ingredients & Variations
This lamb meatball recipe uses a mixture of ground lamb meat, aromatics, seasonings, and a binding agent. Here are some ideas to personalize your meatballs by altering or adding new ingredients.
Substitute lamb: If you don't have ground lamb, substitute the lamb with ground beef or ground chicken. Keep in mind, the flavor will change based on the type of meat you use.
Adjust the spices: These meatballs are typically made with a spice blend of salt, black pepper, and ground cumin. Instead of cumin, use dried rosemary or dried thyme. For a spicy kick, add cayenne pepper or red pepper flakes to the meatballs. For a slightly different herby taste, use fresh cilantro instead of parsley.
Alter the binding agent: In this recipe, the egg is the main binding agent used to keep the meatball together. Optionally, add 1/2 cup of breadcrumbs (panko is great) to the meatball mixture.
Tips for the Best Lamb Meatballs
Lamb meatballs may be incredibly simple to make, but what is a recipe without a few good hacks to make it even easier?
Mix ingredients well: Make sure to mix ingredients very well so the meatballs hold together when baked.
Avoid skipping the egg: The egg is a vital part in ensuring the meatballs bind together and don't fall apart.
Use a cookie scoop: For easy shaping and to help make equal sized meatballs, use a cookie scoop. Here's our favorite cookie scoop set. (I use the smallest scoop from this set.)
Wet your hands: Wet hands with warm water or oil for easier meatball shaping. The moisture prevents the meat from sticking to your hands.
Mince the parsley well: To avoid large chunks of herbs in the meatballs, mince the parsley into tiny pieces.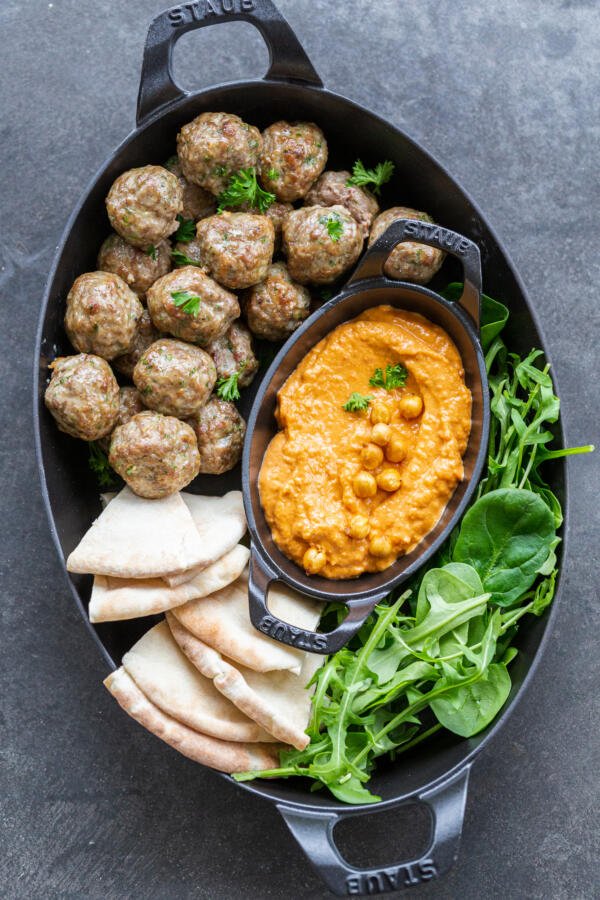 Serving Suggestions
These flavorful meatballs can be served alone as an appetizer or combined with various side dishes for a tasty Greek or Italian-inspired meal.
Greek Dinner
Italian Spin
If you prefer an Italian twist, add the meatballs to our 5-minute marinara sauce and serve with homemade pasta.
Hot tip: For a good-looking appetizer, serve meatballs with toothpicks and garnish with a bit of fresh dill.
Storing and Reheating Lamb Meatballs
Lamb meatballs keep their flavor and tenderness really well in storage, so make a large batch and save some for a busy day! Here are our tried-and-true suggestions on how to best store and reheat your lamb meatballs.
Refrigerator: To store for up to four days, place baked meatballs in an airtight container. Make sure to allow meatballs to cool before storing.
Freezer: To store up to three months, freeze cooked meatballs on a flat tray. Once frozen, move them to a freezer bag. This will help avoid the meatballs from sticking together. To store raw meatballs, arrange raw meatballs on parchment paper and freeze. Once frozen, transfer to a separate freezer bag.
Reheating: These meatballs are incredibly easy to reheat. To reheat from the fridge, simply microwave them to desired temperature. Alternatively, warm them in a baking dish in the oven. Or, pan fry the meatballs on a skillet for a slightly crispy outer layer.
Prep tip: Bake the frozen raw meatballs directly from the freezer! They can be baked at the same temperature, but will take a bit longer than fresh meatballs. Meatballs are fully cooked when they reach an internal temperature of 160°F.
FAQ
How do I make lamb meatballs tender?
To make tender lamb meatballs, be careful not to overmix the meat mixture. Overmixing or shaping the meatballs too tightly makes the meat more compact, resulting in a tough texture.
What is the purpose of eggs in lamb meatballs?
The main purpose of eggs in lamb meatballs is to serve as a binding agent. The egg helps the meatball stay together as it bakes instead of falling apart.
Can I put breadcrumbs in my lamb meatballs?
Breadcrumbs can be mixed into lamb meatballs if you choose; however, it is not necessary. Typically, breadcrumbs are used to absorb the juices from the meat as it cooks, trapping them inside the meatball.
More Delicious Lamb Recipes
Recipe
These tender meatballs are packed with savory ground lamb and spiced-herb flavor. They are so good that you'll want a freezer stash on hand to enjoy at a moment's notice.
Ingredients
2

lbs

ground lamb

85/15

1

egg

1/2

yellow onion

grated

2

garlic cloves

minced

1/2

cup

fresh parsley

minced

1

tsp

cumin

2

tsp

salt

adjust to taste

1

tsp

ground black pepper

adjust to taste
Instructions
Shape mixture into small ball shapes, about 1 tbsp in size. Arrange meatballs on a baking sheet lined with parchment paper, leaving space between each one.
Nutrition Facts
Lamb Meatballs (Quick & Easy)
Amount Per Serving
Calories 446
Calories from Fat 324
% Daily Value*
Fat 36g55%
Cholesterol 138mg46%
Sodium 879mg37%
Potassium 401mg11%
Carbohydrates 2g1%
Protein 26g52%
Vitamin A 467IU9%
Vitamin C 8mg10%
Calcium 44mg4%
Iron 3mg17%
* Percent Daily Values are based on a 2000 calorie diet.