Grape Jelly Meatballs take only 5 minutes to prep. Plus, all you need to make them is grape jelly, meatballs and chili sauce!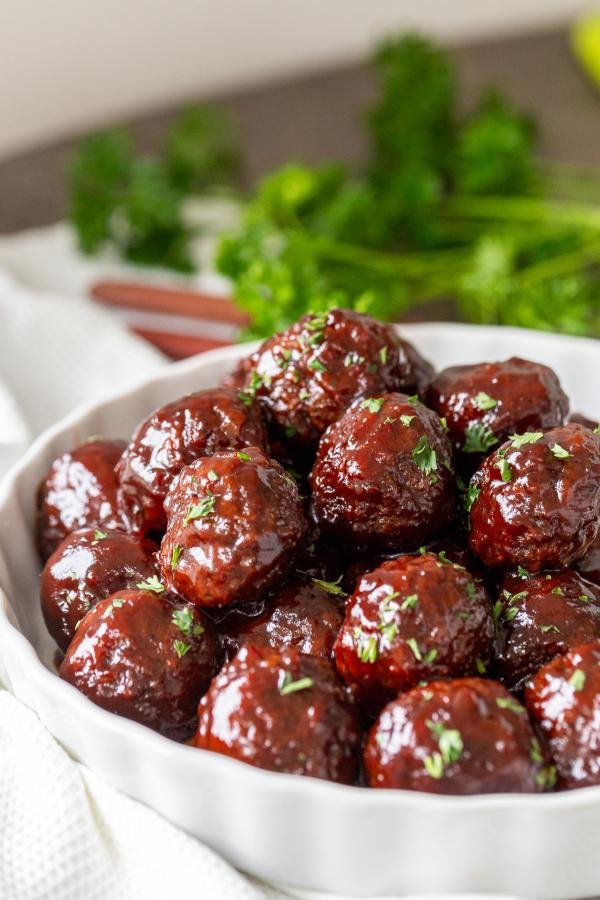 Grape Jelly Meatballs are super simple to make and can sit in a warm place while you are preparing other dishes for that get-together you have coming up.
The combination of grape jelly, meatballs and chili sauce might sound weird but, trust me, these meatballs pack some serious deliciousness. The grape jelly and chili sauce get absorbed into the meatballs and form a thick, rich sauce that is to die for.
Making Grape Jelly Meatballs in a Crockpot
Typically, my go-to cooking method is baking the meatballs in the oven and then transferring them to a skillet to simmer in the sauce. However, if I am hosting a large party, I often need to keep my oven available for other dishes. In comes the crockpot! You can make these meatballs just as tasty without having to babysit them.
Snag a bag of frozen beef meatballs since you won't be baking homemade meatballs in the oven. If you do decide to make the meatballs fresh, make sure you brown them in the oven or in a skillet before adding them to the crockpot. This will help them keep their shape when cooking.
Combine frozen meatballs (or homemade, browned ones) and sauce in the crockpot. Cook on low for 3 to 4 hours. Switch the setting to "warm" if you can to keep the sauce from hardening.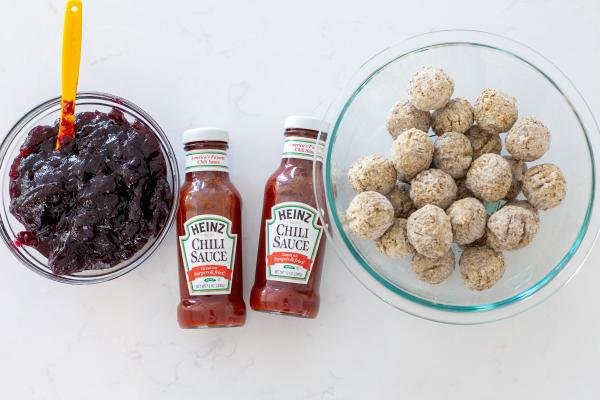 Tips for making Grape Jelly Meatballs
Here are some most commonly asked questions when it comes to making the most amazing grape jelly meatballs.
Can I put frozen meatballs in the sauce?
You sure can! Place frozen meatballs in a skillet alongside your grape jelly and chili sauce and allow the meatballs to simmer on medium-low heat for about 25 minutes. Make sure to cover your pan, this sauce is prone to popping!
Can I substitute grape jelly for something else?
Grape jelly adds a great sweetness. But, if it isn't your thing try substituting apple, apricot jam or currant jelly.
What chili sauce should I buy?
My go-to chili sauce is from Heinz. If you can't find it, substitute your favorite mild barbecue sauce.
Can I make my own chili sauce?
Combine 2 cups of ketchup with 4 tablespoons of brown sugar, 2 tablespoons of vinegar and a dash of allspice. So easy if you don't have chili sauce on hand!
What are some other meats I can use?
You can use turkey or chicken meatballs as well. I also like to use meatballs that are a combination of beef and pork. Cocktail sausages also work well if you are on a time crunch.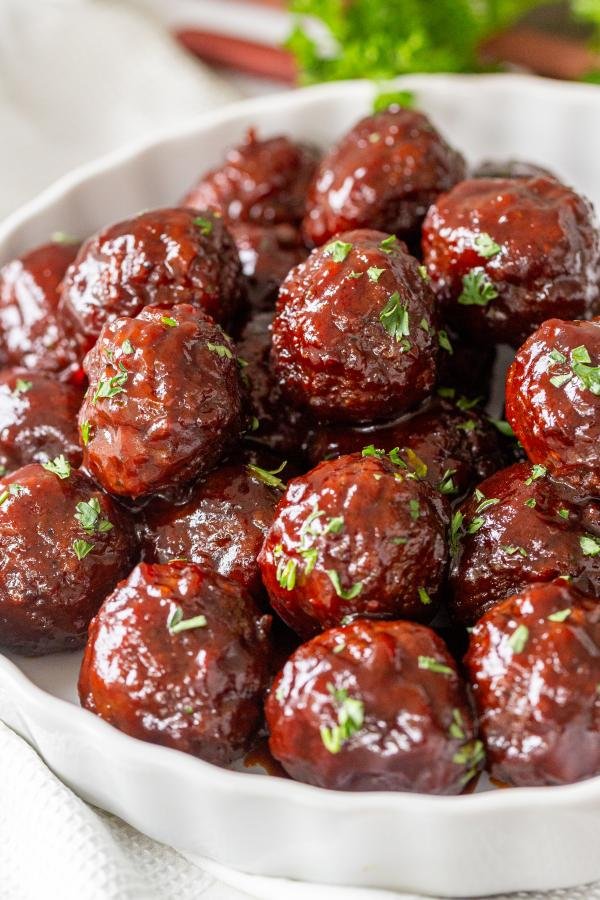 Serving Grape Jelly Meatballs
There are a million different ways to serve up Grape Jelly Meatballs. When hosting a Super Bowl party or a family get-together, I like to keep them warm in the crockpot and let my guests serve themselves appetizer-style.
You can also serve Grape Jelly Meatballs on top of white rice for a quick dinner. If you're more in the mood for a sandwich, grab some french rolls and make meatball subs. Melt some provolone cheese on top of the meatballs and chow down!
Grape Jelly Meatballs also pair well with potatoes. Try making my Oven Roasted Potatoes or Ranch Roasted Potatoes and have yourself a well-rounded weeknight meal.
Recipe
Grape jelly meatballs are the perfect mix of sweet, salty, and spicy. Made with frozen grocery store meatballs and just 5 minutes of prep, they're about to become your favorite no-fuss appetizer!
Ingredients
24

oz

chili sauce

(Heinz brand recommended)

2

cups

grape jelly

2

lbs

frozen meatballs
Nutrition Facts
Grape Jelly Meatballs (5-minute Appetizer)
Amount Per Serving
Calories 415
Calories from Fat 144
% Daily Value*
Fat 16g25%
Cholesterol 54mg18%
Sodium 819mg34%
Potassium 470mg13%
Carbohydrates 50g17%
Protein 14g28%
Vitamin A 391IU8%
Vitamin C 15mg18%
Calcium 33mg3%
Iron 1mg6%
* Percent Daily Values are based on a 2000 calorie diet.