These Russian stuffed peppers are brimming with ground chicken, tender rice, and sautéed veggies. Baked to perfection in tomato sauce & finished with sour cream!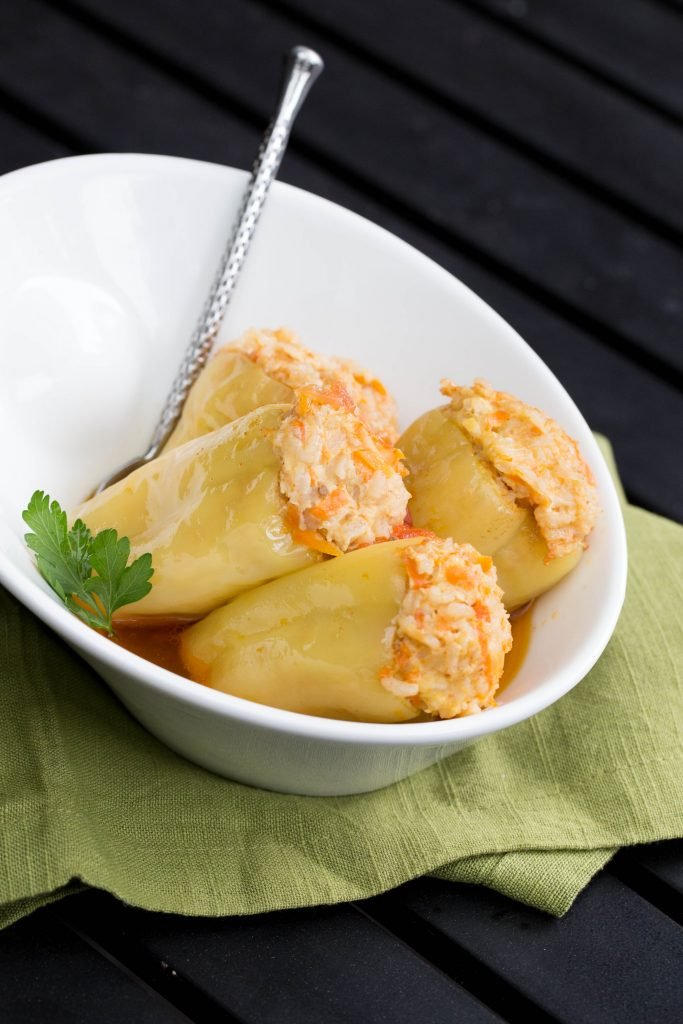 One of the most beloved recipes in Slavic culture is a meaty stuffed pepper. Not only are they ridiculously comforting, but they are also a quick way to get a hefty serving of veggies in your diet. In this stuffed pepper recipe, we keep things simple with a minimal ingredients and prep work. The one thing we don't skimp on is flavor!
A Little Background on Russian Stuffed Peppers
Much like cabbage rolls or rice stuffed chicken thighs, you're likely to find a classic stuffed peppers dish at a Slavic party. Unlike American-stuffed peppers, Slavics tend to opt for skinny or mini peppers instead of red or green bell peppers. In this specific recipe, we used Hungarian sweet peppers, but feel free to use any kind you like best – you can't go wrong!
How to Prepare Stuffed Peppers
Here, you'll find a high-level overview of the instructions on how to pull these easy stuffed peppers together.
Partially Cook the Rice: In a large pot, boil two cups of water with the broth concentrate. Pour the rice in and turn the heat down low, cooking the grains until they're nearly cooked through (don't worry, the rice will finish in the oven).
Sauté the Veggies: In a skillet preheated with olive oil over medium heat, sauté the onions and carrots until softened.
Assemble the Filling: Next, add in the par-cooked rice and ground meat into the pan and stir to combine.
Prepare the Peppers: Slice the tops off the bell peppers and clean out the seeds and fibrous bits. Stuff the peppers will the filling and assemble them on their sides in a baking dish.
Make the Sauce: In a large pot, pour boiled water over the tomatoes and soak them. Remove the skins and dice them into cubes. In a large skillet, preheat half of cup of light olive oil, pop the tomatoes in, and let them simmer for a few minutes. Pour the tomatoes over the peppers, followed by a cup of boiled water mixed with more broth base.
Bake the Peppers: Next, bake the peppers at 400°F for about 60 minutes. Serve the stuffed peppers with a spoonful sauce and a dollop of sour cream. Enjoy!
A Handful of Pepper Stuffin' Tips
A couple of helpful pepper stuffin' tips will help you make the most out of this recipe.
Stuff the peppers with raw ground meat. For the juiciest and most flavorful peppers, stuff the peppers with raw ground meat versus precooked meat. Don't worry – it will cook all the way through in the oven!
Use canned tomatoes to speed up the sauce. If you're in a rush, go ahead and swap out the fresh tomatoes with canned tomatoes instead. There's nothing wrong with a shortcut!
Bake the peppers uncovered. The sauce will prevent the peppers from burning, so go ahead and bake them uncovered for best results.
Swap in your favorite ingredients. If you prefer, swap out the ground chicken for ground pork or ground beef or even ground turkey (just make sure it's lean so the peppers don't come out too greasy). For added flavor, you can even add in more spices and herbs like minced garlic cloves, cracked black pepper, or fresh dill or fresh parsley to the mix.
Like a thicker sauce? Add in a couple of tablespoons of tomato paste!
Ideas for Serving Russian Stuffed Peppers
These peppers are definitely filling enough to be eaten as a meal all on their own. However, if you want a more well-rounded meal, serve them alongside creamy mashed potatoes or new potatoes with bacon & herbs.
Storage Best Practices
There are two different ways you can store your stuffed peppers: raw or fully-cooked.
Storing Raw Peppers: If you'd like to prep ahead a day in advance, store them raw and covered with plastic wrap. To heat them up, pop them in the oven and bake them as directed.
Storing Cooked Peppers: If you'd like to have them on hand for easy snacking, store them covered with plastic wrap and fully cooked for up to a week. To reheat them, pop them in the microwave or back in the oven covered with foil until warmed through.
FAQ
Do you have to boil peppers before stuffing them?
No, you do not need to boil peppers before stuffing them. In fact, this will make them soggy. For best results, bake them from raw so they still have a little bit of a bite.
How do you prevent your Russian stuffed peppers from coming out soggy?
Not boiling the peppers before you stuff them is crucial, but it's also important you don't over bake them. The longer they sit the oven, the softer and more soggy they will get. 1 hour of baking is more than enough!
How do you know when Russian stuffed peppers are finished cooking?
You'll know Russian stuffed peppers are finished cooking when the pepper is easily pierced with a fork, yet still a bit firm, and the ground meat is no longe red or pink.
How do you prevent your Russian stuffed peppers from turning out bland?
To prevent the stuffed peppers from turning out bland, make sure that the filling mixture and sauce are both well seasoned. The broth base adds a good amount of salt, but feel free to add more according to your preference.
Why is the rice in your stuffed peppers hard?
If the rice in your stuffed peppers is still a bit firm, it's likely that you didn't precook the rice long enough or give the peppers enough time to bake. Easily fix this problem by covering the peppers and popping them back in the oven until the rice is fully-cooked.
More Yummy Stuffed Peppers Recipes
Recipe
These classic Russian stuffed peppers are packed with ground chicken, tender veggies, and white rice. Healthy, delicious, and ridiculously satisfying!
Nutrition Facts
Russian Stuffed Bell Peppers
Amount Per Serving
Calories 233
Calories from Fat 126
% Daily Value*
Fat 14g22%
Cholesterol 52mg17%
Sodium 48mg2%
Potassium 497mg14%
Carbohydrates 14g5%
Protein 12g24%
Vitamin A 3120IU62%
Vitamin C 40.4mg49%
Calcium 17mg2%
Iron 0.9mg5%
* Percent Daily Values are based on a 2000 calorie diet.