Frito Corn Salad is out of this world delicious. Using just a few simple ingredients, you will have a crispy, crunchy and creamy salad that is impossible not to binge eat.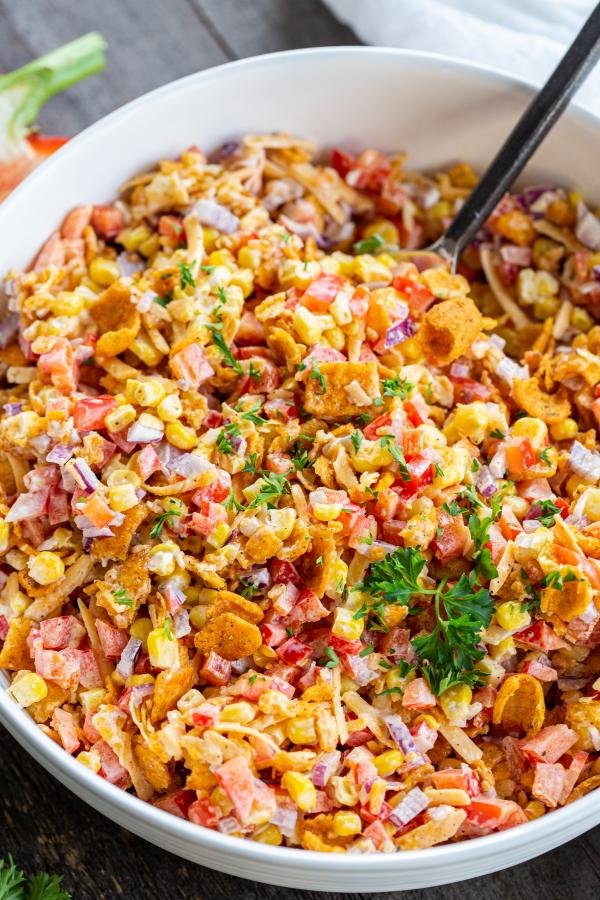 Frito Corn Salad is the perfect addition to your next home BBQ spread. Move over potato salad, there's a new side dish in town! The smoky flavors of the salad go perfect with anything off of the grill. It is also a great dinner option for those hot summer nights when turning on the oven is the LAST THING you want to do.
This "salad" is anything but bland. In fact, my boys beg for it! They don't even think of it as a salad because their favorite chip is tossed right in. While they happily gobble up a couple servings of veggies, I chuckle like a mastermind in the corner.
Frito Corn Salad
Unlike traditional lettuce-based salads, this salad is all about the texture. Crushed fritos, red onion, corn, red bell peppers, shredded cheddar cheese and creamy mayo come together to make a salad that eats like a chunky salsa. Bye-bye boring lettuce, hello crunchy-goodness!
The first time I tried this salad at a friend's house, I was hooked by how filling it was. I started dreaming up different ways to make it more satisfying. Read on and I'll share a couple of ways you can up the protein content and turn this side dish into a full-on meal.
Best Chips to Use For Frito Salad
Chili Cheese Fritos are by far the best type of Fritos to use in this salad. Unlike plain Fritos, Chili Cheese Fritos are seasoned with a mild chili and cheese flavoring that is a little savory, a little sweet. When you toss the mayo into your salad, the seasoning will blend with it and make a nice dressing that tastes similar to a chipotle ranch.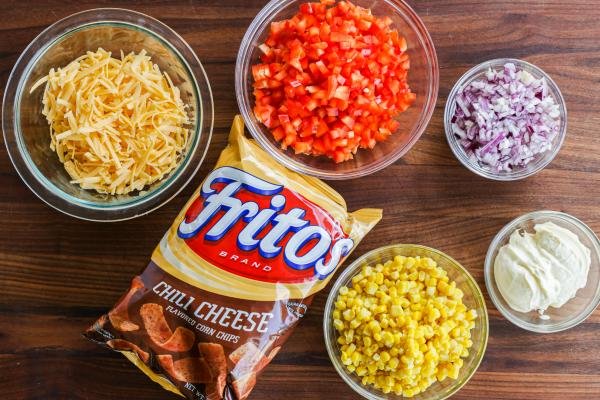 Tips For Frito Corn Salad
Below I will share my tips for making the perfect Frito Corn Salad. You will have all the crunch, without any of the soggy!
Add Fritos Right Before Serving – Go ahead and crush up the Fritos ahead of time if you'd like. But, don't add them in until right before you are going to serve the salad.
Add Dressing Right Before Serving the Salad – Keep the salad fresh by not tossing in the mayo until right before serving! You want all your veggies to keep a nice, crunchy bite, so hold off on adding the dressing until the time is right.
Dice Bell Peppers and Onion – Dice your bell peppers and red onion into uniform, small pieces. This will make for a prettier salad! It will also allow the veggies to absorb the dressing better.
Corn for the Salad – You can use fresh corn that has been boiled or grilled. You can also use canned corn that has been rinsed from any excess salt or frozen corn that has been soaked in boiling water for at least 10 minutes.
Add Protein to the Salad – Toss the salad with some ground beef, chicken or turkey that has been spruced up with taco seasoning right before serving. This will make for a filling meal in and of itself. If you want a more filling vegetarian version, add chunks of avocado and black beans instead.
Other Satisfying Salads to Try
Black Bean and Corn Salad: This healthy, vegetarian salad can be eaten like a salsa with tortilla chips or all on its own!
Corn Tomato Avocado: One of my favorite summertime salads, chock-full of juicy tomatoes, creamy avocado and crunchy corn.
Mexican Tuna Salad: Upgrade your boring, old-school tuna salad with this Mexican twist!
Recipe
Frito Corn Salad is out of this world delicious. Using just a few simple ingredients, you will have a crispy, crunchy and creamy salad that is impossible not to binge eat.
Ingredients
16

oz

corn

16

oz

red bell peppers

1/2

purple onion

1

lb

cheddar cheese

9

oz

chili Fritos

1/2

cup

mayonnaise
Instructions
Prepare ingredients for the salad. Dice bell peppers and onion into small pieces. Grate cheese on the larger side of the grater. Break up Fritos a bit, keeping it the size that suits you best.

If you plan to serve the salad later, lay out the ingredients separately without mixing. Add mayonnaise right before serving the salad.
Nutrition Facts
Fritos Chili Cheese Salad Recipe
Amount Per Serving
Calories 564
Calories from Fat 351
% Daily Value*
Fat 39g60%
Cholesterol 65mg22%
Sodium 618mg26%
Potassium 352mg10%
Carbohydrates 37g12%
Protein 19g38%
Vitamin A 2500IU50%
Vitamin C 76.1mg92%
Calcium 468mg47%
Iron 1.3mg7%
* Percent Daily Values are based on a 2000 calorie diet.