A Classic Caesar salad is the perfect balance of crispy, creamy and crunchy. My no-fail caesar dressing will have you making this restaurant classic at home all the time!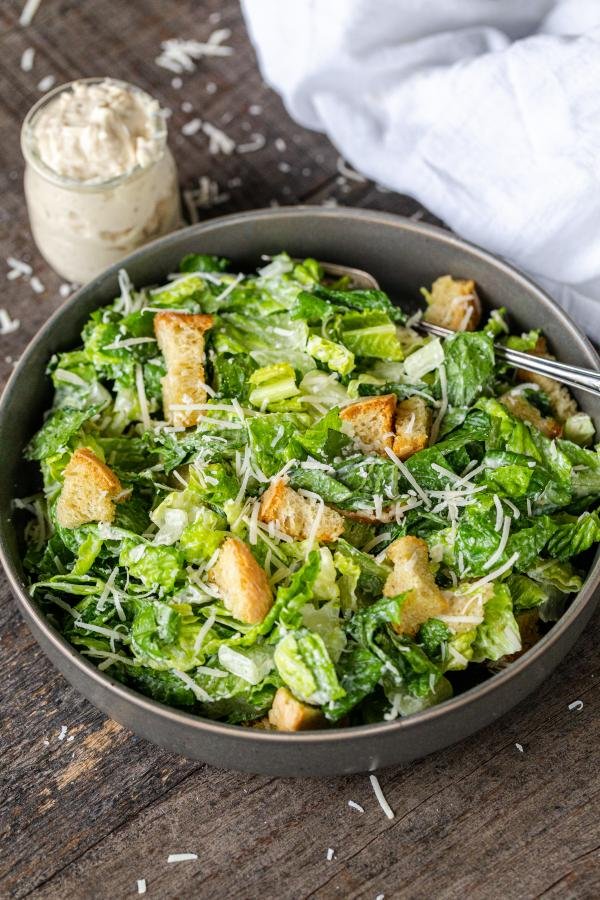 Caesar salad is one of those dishes that just never gets old. It's one of those salads that you can eat year-around with just about anything as your main course.
After much trial-and-error, I created the BEST caesar salad dressing that hits all the right notes – citrus, salt, nutty parmesan and creamy mayonnaise. After all, this is my all-time favorite salad, so I had to put in the work to get it just right!
Whenever my family and I are at a new restaurant, you can bet on me trying out their Cesar salad. I am always on the hunt for new ways to perfect and tweak my version and I truly believe that I have finally come up with the best plate possible. Let's get started!
What is a Caesar Salad Made of?
The caesar salad is delicious in its simplicity. Including the dressing, you only need 4 ingredients to toss it up:
Lettuce: A classic caesar uses romaine lettuce. Use a salad spinner to make the washing process super simple. If you don't have a spinner, be mindful that you will need to rinse and dry your lettuce before tossing it with the other ingredients. A blunder I have run into before (that I want you to skip!) is tossing too wet of lettuce, which makes your whole salad soggy and waters down your dressing.
Croutons: Either purchase good quality croutons from the grocery store, or make your own! They are super easy to make and I will lay out a step-by-step guide below if you're interested.
Caesar Dressing: Don't skimp out here! I highly recommend making the dressing from scratch. There is something about the freshly grated parmesan and squeezed lemon that even the best of the bottled brands can't compete with.
Parmesan: Buy a block of good quality parmesan and grate it yourself. Try to avoid the bagged and shredded parmesan, as it tends to be drier and less flavorful.
Grilled Chicken (optional): Grilled chicken is always a welcome addition to caesar salad. Add nice chicken thigh to make your salad a well-rounded meal.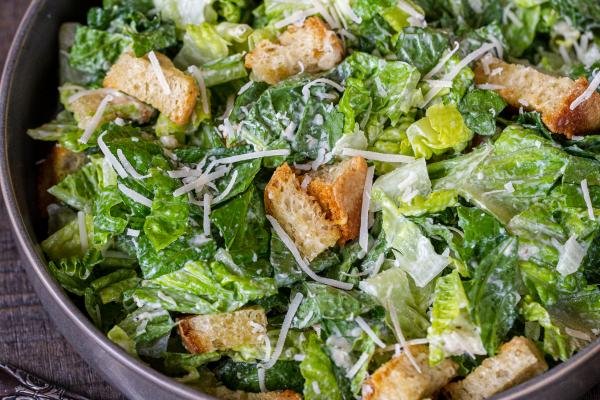 What is Caesar Dressing Made of?
Mayonnaise: Use your favorite brand of mayo to create the base for the dressing.
Garlic Cloves: Finely mince your garlic up so that you don't get huge chunks in your dressing. The finer the better!
Lemon: Fresh lemon is preferred to the bottled stuff. Make sure you don't get any seeds in your salad by straining the juice through a sieve or lemon squeezer.
Dijon Mustard: Dijon adds a nice horseradish-y flavor to the dressing.
Worcestershire Sauce: This sauce has a great depth of flavor that is rich in vinegar and a bit of sweetness.
Parmesan Cheese: Yes, you will be putting parmesan cheese in your dressing and on top of your salad too!
Salt and Pepper: After you mix the above ingredients together, season your dressing to taste with salt and pepper.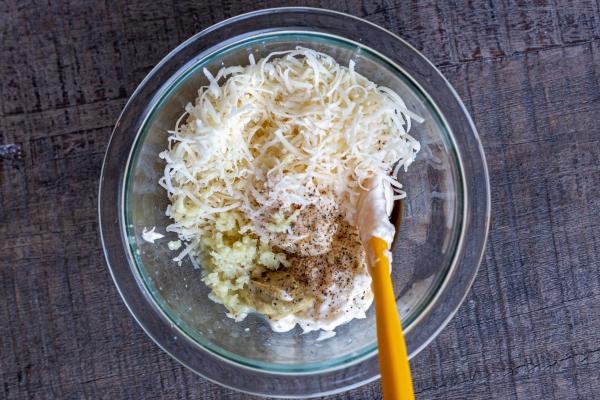 Does Caesar Dressing Need Anchovies?
Traditional caesar salad does require anchovy paste to give it that tangy kick. However, many modern versions of the salad skip the fish and use Worcestershire and lemon to do the trick. To be honest, I am not a fan of anchovies, so I prefer to take the latter route. But, if you do love these little fish, feel free to purchase some anchovy fillets and simply place them right on top of your caesar.
How to Make Croutons
If you have a loaf of day-old bread hanging around, you can whip-up croutons in no time. Follow these simple steps:
Preheat your oven to 375 °F.
Using a serrated bread knife, cube up your day old bread into crouton-sized pieces.
In a large bowl, toss your bread cubes with olive oil, salt and garlic powder. You will want each cube to absorb a good amount of oil. Taste test a cube to make sure you have the flavoring right. I know, I'm pulling your leg here 😉.
Lay the bread cubes out flat on a baking sheet, making sure they are not stacked on top of one another.
Bake for 10 minutes, or until golden brown and crisp.
Note: If you are using fresh bread versus day-old, it will take longer to crisp up.
Other Salad Recipes to Make
Recipe
Caesar salad is the perfect balance of crispy, creamy and crunchy. My no-fail caesar dressing will have you making this restaurant classic at home all the time!
Ingredients
1/2

cup

Caesar dressing

3

lettuce heads

about 2 pounds

2

cups

croutons

1/2

cup

Parmesan cheese
Nutrition Facts
Caesar Salad Recipe
Amount Per Serving
Calories 143
Calories from Fat 99
% Daily Value*
Fat 11g17%
Cholesterol 10mg3%
Sodium 333mg14%
Potassium 161mg5%
Carbohydrates 8g3%
Protein 4g8%
Vitamin A 2073IU41%
Vitamin C 2mg2%
Calcium 108mg11%
Iron 1mg6%
* Percent Daily Values are based on a 2000 calorie diet.