This Mexican tuna salad recipe is a fun spin on the same old mayo and tuna. With loads of texture and color, it will keep you full for hours.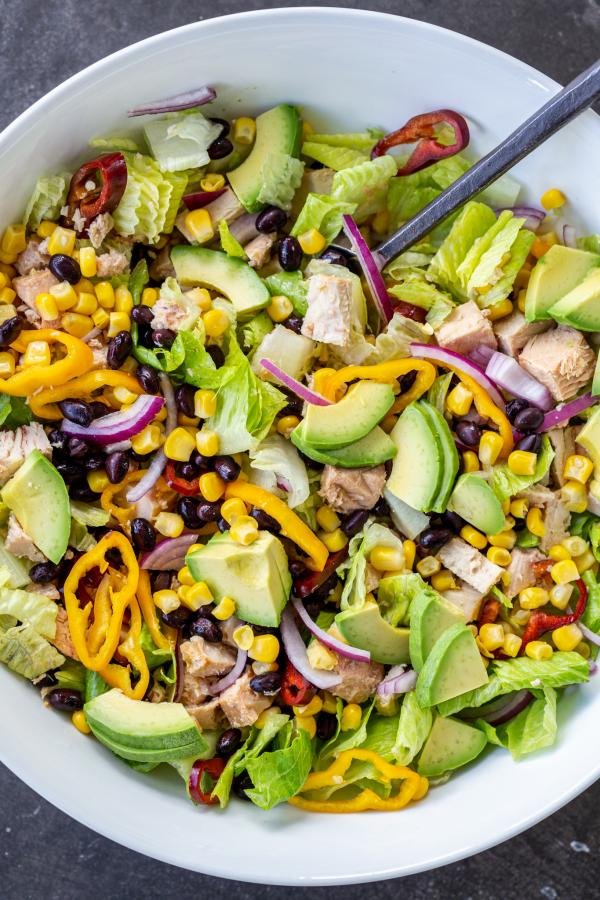 Canned tuna has come a long way in the last decade. Before, the grocery store only stocked a couple of brands and the quality was closer to cat food than actual fish. Fast forward to today and beautiful, high-quality tuna cans are stocked on the shelves just waiting for you to indulge. Naturally, this canned tuna renaissance has inspired me to use this fast and convenient protein in new and exciting ways. Enter: this fresh and funky Mexican tuna salad.
What Exactly is a Mexican Tuna Salad?
This Mexican tuna salad takes tuna salad to a whole other level. By adding in black beans, corn, bell peppers, avocado, and red onion, the texture and flavor are through the roof. The cherry on top? The salad is finished with a dash of taco seasoning and creamy ranch dressing to bring it all together.
Assembling this Simple Mexican Tuna Salad
​The first step to assembling this salad is to chop all the veggies into equal-sized pieces.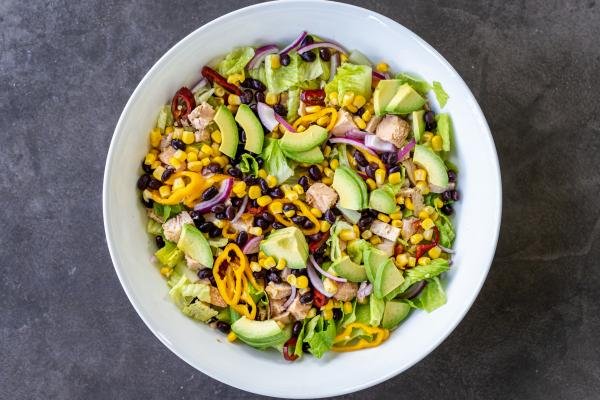 3 Tips for the Tastiest Mexican Tuna Salad
A couple of tips will help you extract as much flavor as possible out of this salad.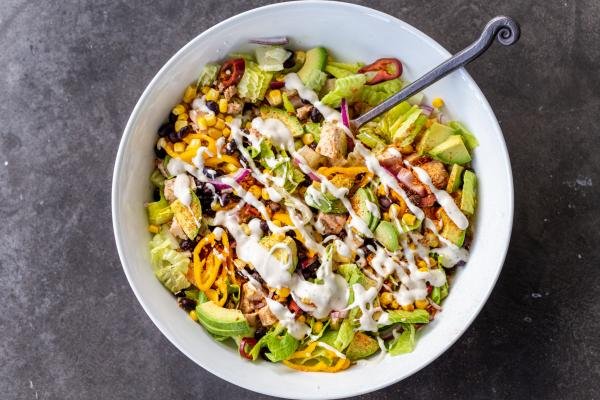 Different Variations to Play With
This salad is already an adventure for the tastebuds, but here are a couple of more ways to rev it up even more.
Ideas for Serving a Mexican Tuna Salad
Bring a big batch of Mexican tuna salad to your next potluck or get-together. Just make sure to keep the dressing separate to prevent it from turning soggy. It also makes for a wonderful side dish to your Taco Tuesday spread of carne asada street tacos and cilantro lime rice.
Lettuce Wraps Hack: Instead of serving the tuna salad on chopped lettuce, serve it atop whole lettuce leaves for a low-carb dinner.
Best Practices for Storage
While tuna salad is best eaten immediately, you can store it separately from the dressing for up to a week. Keep the produce and dressing in different airtight containers and you'll be golden.
FAQ
Can you swap the canned tuna out for a different canned fish?
Canned salmon will work just as well and add a subtle sweetness.
What lettuce works best for this salad?
Crunchy romaine or butter leaf lettuce works best. That said, you can use any lettuce you like best. If you want the extra fiber, use massaged kale.
Should you use canned tuna in water or oil?
It's up to your preference. Canned tuna with water will be a bit milder in taste, while canned tuna in oil will be a bit more nutty and full-bodied.
Can you use a different type of dressing than ranch?
Caesar dressing will work as well. If you don't want a creamy dressing, use your favorite vinaigrette.
Other Tasty Salads to Try
Recipe
This Mexican tuna salad is full of crunchy corn, creamy avocado, tender black beans, & more. A tasty way to get a huge serving of veggies!
Instructions
Nutrition Facts
Mexican Tuna Salad Recipe
Amount Per Serving
Calories 230
Calories from Fat 99
% Daily Value*
Fat 11g17%
Cholesterol 26mg9%
Sodium 322mg13%
Potassium 569mg16%
Carbohydrates 17g6%
Protein 17g34%
Vitamin A 875IU18%
Vitamin C 19mg23%
Calcium 45mg5%
Iron 2mg11%
* Percent Daily Values are based on a 2000 calorie diet.