This broccoli cauliflower bacon salad has so much texture. From the creamy dressing to the crispy bacon to the crunchy veggies, each bite is a mouthful!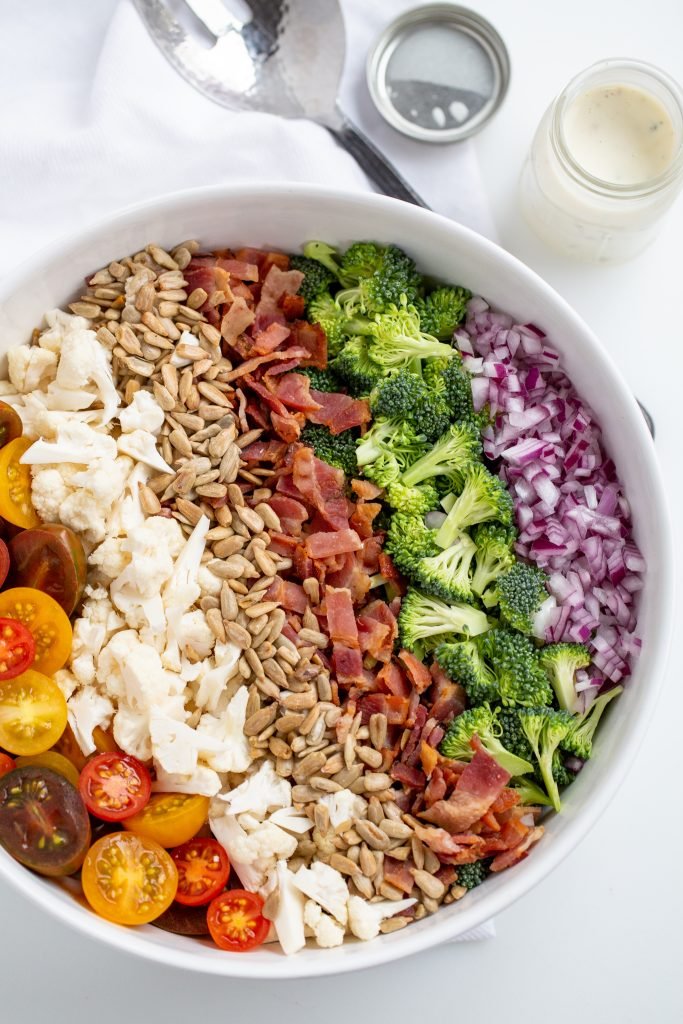 This broccoli cauliflower bacon salad is so crunchy, it's not even fair. From backyard BBQs to picnics to potlucks, it packs well, is always a crowdpleaser, and is super filling. While the recipe is great as-is, I've provided some awesome recipe variations for you to experiment with. No matter how you tweak the ingredients, I know you're going to just love it!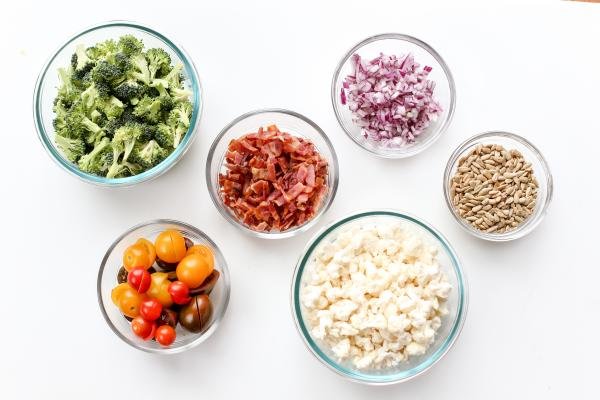 What is Broccoli Cauliflower Salad?
Broccoli cauliflower salad is made with bite-size pieces of red onion, broccoli, cherry tomatoes, bacon, and cauliflower. It's then tossed with sunflower seeds for an extra crunch and finished with a creamy, citrusy mayo-based dressing. Below, find a rundown of the flavor, texture, and cooking time for this recipe.
Flavor: The flavor of this salad is a balance between salty bacon, earthy veggies, and tangy dressing.
Texture: The texture of this salad can best be summed up in one word: crunch.
Time: From prep to table, this salad takes just 15 minutes to put together.
Making this Broccoli Cauliflower Bacon Salad
Making this broccoli salad recipe only requires a handful of wholesome ingredients and minimal prep. Below, find a rundown of the process to make this easy salad.
Chop the Vegetables & Bacon: Chop the broccoli, cauliflower, and bacon into bite-sized pieces. Next, slice the cherry tomatoes in half and dice the red onions. Place all the ingredients into a large bowl alongside the sunflower seeds.
Make the Dressing: In a separate bowl, whisk the dressing ingredients together.
Toss the Salad: Finally, toss the dressing into the salad. Enjoy!
Planning to serve the salad later? Keep it stored in an airtight container and toss the dressing in right before to prevent it from turning soggy.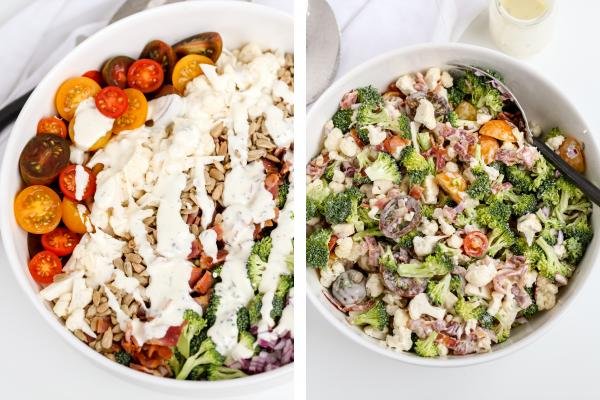 Helpful Tips for Making Broccoli Cauliflower Bacon Salad
Here you'll find a handful of tips to help you make the best broccoli salad.
Cook the bacon first. Cook the bacon first and allow it to cool completely at room temperature before tossing it in the salad. This allows the bacon to get a nice, chewy texture and helps the grease to dry out.
Chop the veggies & bacon into similar sizes. To create the perfect bite each with each forkful, chop the broccoli florets, cauliflower florets, and bacon into equal bite size pieces.
Adjust the dressing to taste. If you want your dressing more herby, add in more dried parsley. If you like it on the tangier side, add in more lemon juice. Spicy? Pop in a few extra cracks of black pepper.
Bacon Bits Tip: Ever make bacon in the air fryer? Air fryer bacon requires minimal clean-up and always turns out crispy. Use it for the bacon bits in this salad to minimize prep time! If you need a good recommendation on a model, I'm obsessed with my COSORI.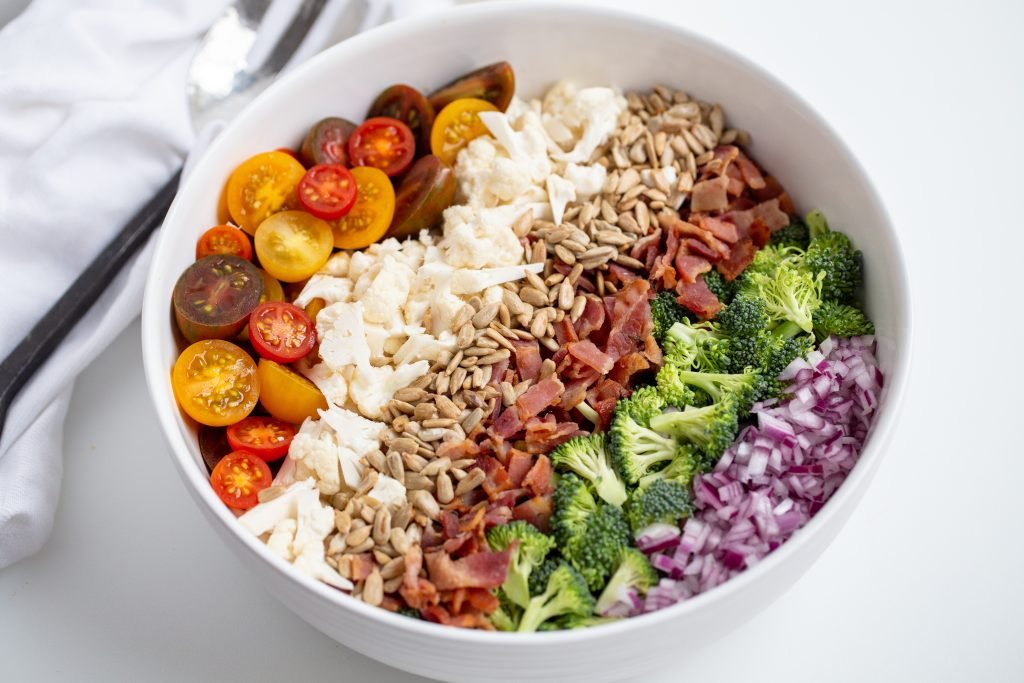 Dressing for Broccoli Cauliflower Bacon Salad
The dressing for this salad is very simple. All you need to do is combine the mayo, lemon juice, black pepper, and parsley. For best results, prep it a day ahead of time and let it marinate in the fridge overnight in an airtight container. This will deepen the dressing's flavor, while also saving you time and dishes during day-of prep.
Different Ingredient Ideas for Broccoli Cauliflower Bacon Salad
There are tons of fun tweaks you can make to this salad with different ingredients. Below, find a couple of additions and swaps to keep you inspired.
Add in raisins or dried cranberries for a pop of sweetness
Swap the sunflower seeds for slivered almonds or rough-chopped walnuts
Swap out half of the mayonnaise for equal parts sour cream of plain greek yogurt for more tang
Substitute the lime juice for apple cider vinegar or red wine vinegar for the same tang but less citrus
Whisk a tablespoon of honey into the dressing if you want the salad on the sweeter side (warning: not keto-friendly)
Use pan-fried pancetta instead of bacon
Add in some feta cheese
Ways to Serve Broccoli Cauliflower Salad
Serve the broccoli cauliflower salad as-is for a filling yet light lunch. For dinner, pair it with just about any protein. Grilled ribeye steak, grilled chicken, or air fryer salmon are all great options. If you're vegetarian, leave the bacon out and serve the salad with some quinoa.
Top Storage Tips
If you plan to eat the salad within 2-3 days, store it tossed in the dressing in an airtight container in the refrigerator. However, if you're making it for meal prep throughout the week, keep the dressing and the salad in separate airtight containers. This will prevent it from turning soggy and will ensure you have fresh-tasting, delicious salads for up to 5-7 days.
FAQ
Is broccoli salad good for keto?
Yes, broccoli salad is great for keto. If you're using any of the recipe variations, leave out the dried cranberries and raisins, as they contain sugar and aren't keto-friendly.
How many net carbs are in a cup of broccoli?
A cup of raw broccoli has 4 grams of net carbs per serving.
How many net carbs are in a cup of cauliflower?
There are 3 grams of net carbs in a cup of cauliflower per serving.
How long does this salad last in the fridge?
Broccoli cauliflower bacon salad lasts 2-3 days in the fridge when tossed in dressing. On the other hand, if you leave the dressing out it will keep for 5-7 days.
Can you use a different kind of dressing?
Use any creamy dressing that you like for this recipe. Light ranch dressing and poppyseed dressing are both great options.
More Crunchy Salads to Try
Recipe
This broccoli cauliflower bacon salad is full of texture, color, and flavor. Each creamy bite will have you craving the next!
Ingredients
Broccoli Cauliflower Salad Dressing
Nutrition Facts
15-Minute Broccoli Cauliflower Salad
Amount Per Serving
Calories 308
Calories from Fat 243
% Daily Value*
Fat 27g42%
Cholesterol 25mg8%
Sodium 357mg15%
Potassium 536mg15%
Carbohydrates 11g4%
Protein 9g18%
Vitamin A 1701IU34%
Vitamin C 52mg63%
Calcium 96mg10%
Iron 2mg11%
* Percent Daily Values are based on a 2000 calorie diet.