Homemade Beef Gravy is simply going to win you over. Made in one pan, it is super easy to make and can be served in so many different ways.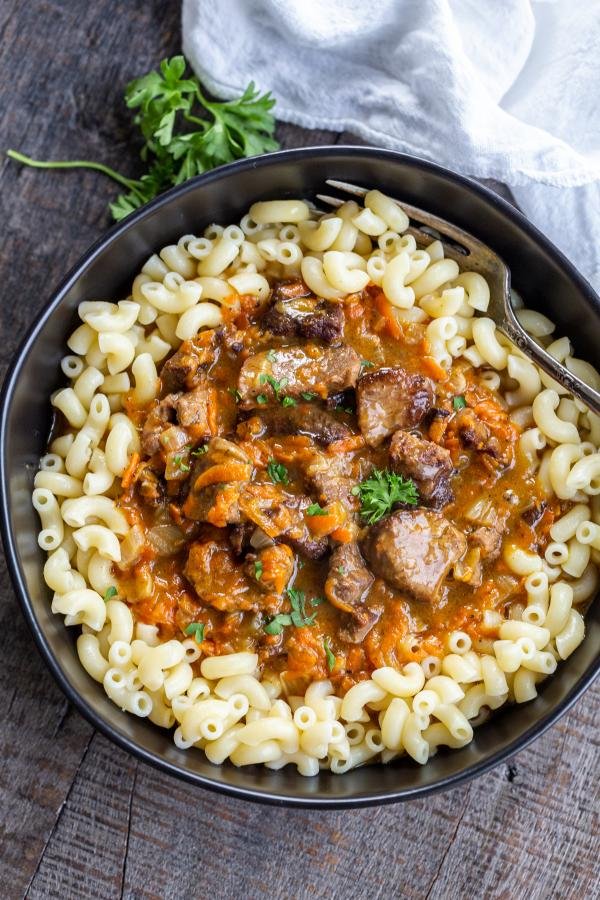 Homemade Beef Gravy is savory, smooth and simple. Sometimes referred to as "brown gravy", it has a rich texture and a light to dark brown color.
Beef Gravy is awesome because you can make a huge batch of it and use it throughout the week for various different meals. During the wintertime, it is one of my go-to comfort sauces for everything from chicken to traditional mashed potatoes.
What Goes Well With Beef Gravy?
Beef gravy is so versatile. Pour it over your favorite grain or starch, pair it with a side of sauteed veggies and have yourself a well-rounded meal!
Noodles: Growing up, I ate a dish called "lapsha". It consisted of noodles and a meaty beef gravy. I remember coming home from school and my mom having this dish waiting for us as a snack before dinner. It always hit the spot! Simply brown some ground beef and add it to your gravy to make this simple and savory meal.
Mashed Potatoes: This might seem like a pretty obvious choice! Whip up my Mashed Potatoes for a tried-and-true combination.
Rice: I don't know what it is about the way that the gravy covers the white rice, but it is so irresistible. Feel free to use brown rice here if it suits your fancy!
Quinoa: Follow my guide for cooking the perfect quinoa and smother this powerfood with gravy.
Buckwheat: Buckwheat is an Eastern European staple! I grew up eating this grain and loving how well it pairs with beefy flavor.
Tips for Making Beef Gravy
Here are all my tips and tricks for making the best beef gravy.
Add Beef Stock to The Gravy
Although this recipe calls for 1 quart of water, you can substitute a quart of beef stock or broth to up the flavor. If you don't have homemade stock on hand, I highly recommend using Better Than Bouillon Roasted Beef Base. This broth concentrate tastes amazing and adds a depth of flavor similar to homemade stock.
Add Flour to Beef Gravy
Flour is the thickening agent in this gravy. It melds all the flavors together and creates that signature gravy texture. Just make sure you still your flour in well enough so that there are no unwanted lumps!
Tip: If you don't have any flour on hand, use cornstarch instead.
Best Beef To Use for The Gravy
Honestly, you really can't go wrong with any cut of beef here. However, I would avoid using fatty, expensive cuts, since you will be covering the meat in gravy. Plus, you don't want an overwhelming amount of fat in your gravy. Try using a chuck roast or sirloin for best results.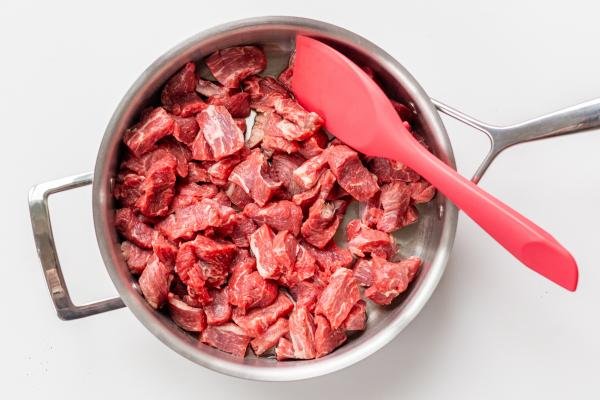 How Long Can You Keep Beef Gravy?
Refrigerating Gravy
Refrigerate your gravy by storing it in an airtight container in the fridge. It will stay fresh up to four days. You may notice a layer of solid fat that forms at the top as it cools in the fridge. This is perfectly normal! When you reheat your gravy (in a saucepan or microwave) this fat will melt and reincorporate into the sauce!
Freezing Gravy
Allow your gravy to completely cool. Then, pop it in an airtight container that is freezer friendly for up to 3 months. When you are ready to reheat it, allow it to thaw in the fridge overnight before heating it in a saucepan. If you want a quicker reheat, microwave it, making sure to stir it occasionally until completely heated through.
If you Love Beef, Try Some of Our Other Favorite Recipes:
Recipe
Homemade Beef Gravy is simply going to win you over. Made in one pan, it is super easy to make and can be served in so many different ways.
Ingredients
3

lb

beef

cut into bite-size cubes

2

tbsp

light olive oil

1

tbsp

salt

adjust to taste

1

tsp

pepper

1

onion

dice onion

2

carrots

grated

1

qt

water

1/4

cup

flour
Nutrition Facts
Beef Gravy Recipe
Amount Per Serving
Calories 326
Calories from Fat 225
% Daily Value*
Fat 25g38%
Cholesterol 81mg27%
Sodium 87mg4%
Potassium 352mg10%
Carbohydrates 4g1%
Protein 20g40%
Vitamin A 1700IU34%
Vitamin C 1.2mg1%
Calcium 28mg3%
Iron 2.4mg13%
* Percent Daily Values are based on a 2000 calorie diet.