This beef and barley stew slow cooker recipe is comfort food made easy. For those who like to set it and forget it!
If you love the combination of beef and barley (and are craving a broth!), you have to try our beef & barley soup.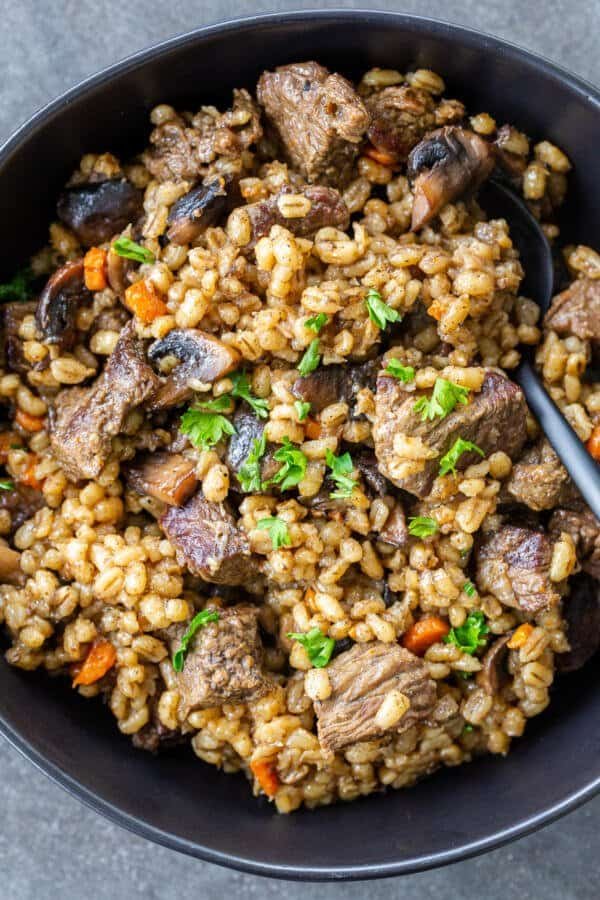 Beef and barley stew is a healthy and hearty dish of stewed beef, tender barley, and veggies. Made in a slow cooker, this recipe requires minimal fuss and is perfect for meal-prepping. You're new favorite beef stew!
If you haven't cooked with barley much, you're about to be hooked. Often underutilized in American cooking, it touts some major health benefits. Packed with nutrients and fiber, you can count on barley to keep you fuller for longer with minimal calories.
Note: If you don't have a slow cooker, you can easily make this soup in a Dutch oven.
How to Make the Best Beef and Barley Stew
Making beef and barley stew in the slow cooker is a no-brainer and perfect for meal-prepping. Below, find a quick overview of the recipe before you dive in.
Hot Tip: In a pinch, you don't have to brown the beef or sauté the veggies before popping them into the slow cooker if you're in a pinch, but doing so adds such depth of flavor to the stew!
Tips for Making the Best Beef and Barley Stew
Below, find a couple of tips and tricks to help you make the best stew.
Cook the veggies in the beef drippings. Browning the beef pulls out a ton of flavor from the meat and creates nice drippings for you to sauté the veggies in.
Don't waste your money on expensive beef. The slow cooker will work its magic and make even the toughest cuts of beef tender. Save yourself the money and get chuck or stew meat!
Periodically check the doneness of the stew the first time you make it. Every slow cooker is different, so some may cook the stew faster or slower than others. After 2 hours, check it for doneness and adjust the cooking time as necessary.
Instant Pot Hack: If you want to speed up the process, you could make this entire stew in an Instant Pot. Simply cook the beef and veggies on sauté mode and hit the stew setting!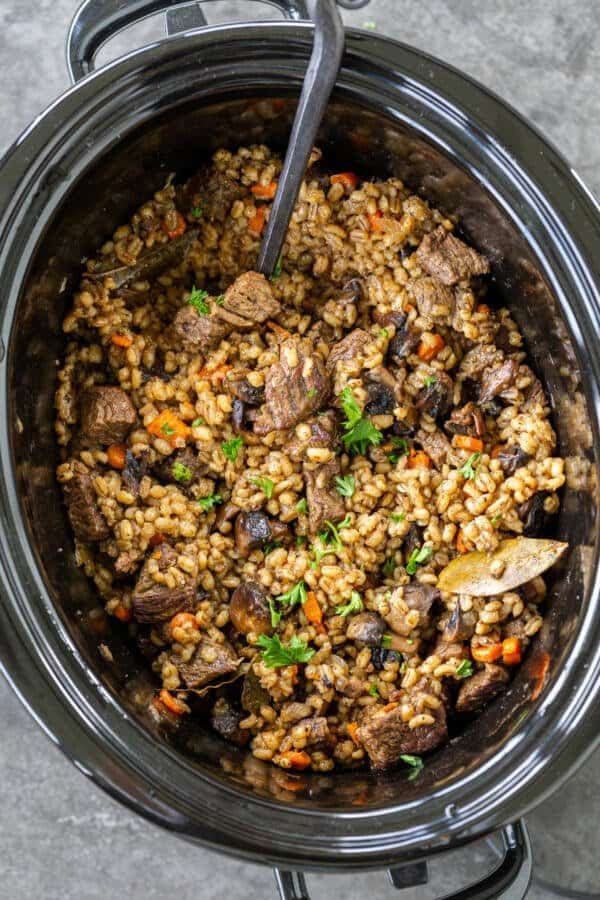 Serving Beef and Barley Stew
Although beef and barley stew can stand as a meal on its own, you can serve it with a handful of sides for lunch or dinner to make it a more well-rounded meal. If you're in the mood to bake, whip up some fresh baguette or cornbread to serve it with (who doesn't like sopping up broth with bread?!). If you're trying to keep things light, pair it with a classic garden or caesar salad.
Storing Beef and Barley Stew
Refrigerator: Store leftover stew in an airtight container in the fridge. It should keep for up to a week and get more flavor as it marinates in itself, making for some awesome leftovers!
Freezer: To freeze leftover stew, first let it cool down completely. Transfer it to a freezer-safe plastic bag or airtight container. It should stay fresh for up to 3 months.
Reheating Tip: To reheat refrigerated soup, zap it in the microwave for a couple or minutes or pop it in a saucepan over low heat until warmed through. To reheat frozen soup, allow it to thaw in the refrigerator for a couple of hours. Reheat as you would refrigerated stew.
FAQ
Should I cook the barley before adding it to the stew?
No, you do not need to cook the barley before adding it to the stew. It will cook in the slow cooker to tender perfection!
What kind of barley should I use?
You should use pearl barley for this soup. It has a neutral, cereal-like taste and adds a wonderful creaminess to stew.
How can I make my beef barley stew more flavorful?
You can make beef barley stew more flavorful by topping it with fresh herbs. Dill, parsley, chives, and basil work great!
How do I fix a bland stew?
If your stew turns out less flavorful than you hoped, add some extra salt and pepper. You could also add a tablespoon or so of soy sauce or Worcestershire sauce.
What cut of beef should I use for beef barley stew?
Chuck roast is the best cut for stew. It's typically tougher, but during the slow cooking process it turns ultra-tender. If your butcher has it, you could also use stew meat (odds and ends from lean beef cuts).
Do I have to precook the beef and veggies before adding them to the slow cooker?
You don't have to, but browning the beef and sautéing the veggies adds such a depth of flavor to the stew.
Other Comforting Recipes
Recipe
This beef and barley stew slow cooker recipe is comfort food made easy. For those who like to set it and forget it!
Ingredients
1 1/2

lb

beef

one inch cubes

1

onion

diced

1

carrot

chopped

1 1/2

cup

barley

1 1/2

lb

mushrooms

sliced

1

tbsp

Better Than Bouillon broth concentrate

beef or chicken base

1

tbsp

salt

adjust to taste

1

tsp

ground black pepper

adjust to taste
Nutrition Facts
Beef and Barley Stew (Slow-Cooker )
Amount Per Serving
Calories 195
Calories from Fat 90
% Daily Value*
Fat 10g15%
Cholesterol 32mg11%
Sodium 503mg21%
Potassium 376mg11%
Carbohydrates 16g5%
Protein 12g24%
Vitamin A 686IU14%
Vitamin C 2mg2%
Calcium 20mg2%
Iron 2mg11%
* Percent Daily Values are based on a 2000 calorie diet.