Quinoa (KEEN-wah) has gotten a lot of buzz in the health food world in recent years for good reason. It has a wonderful nutty flavor, while providing a ton of protein and nutrients.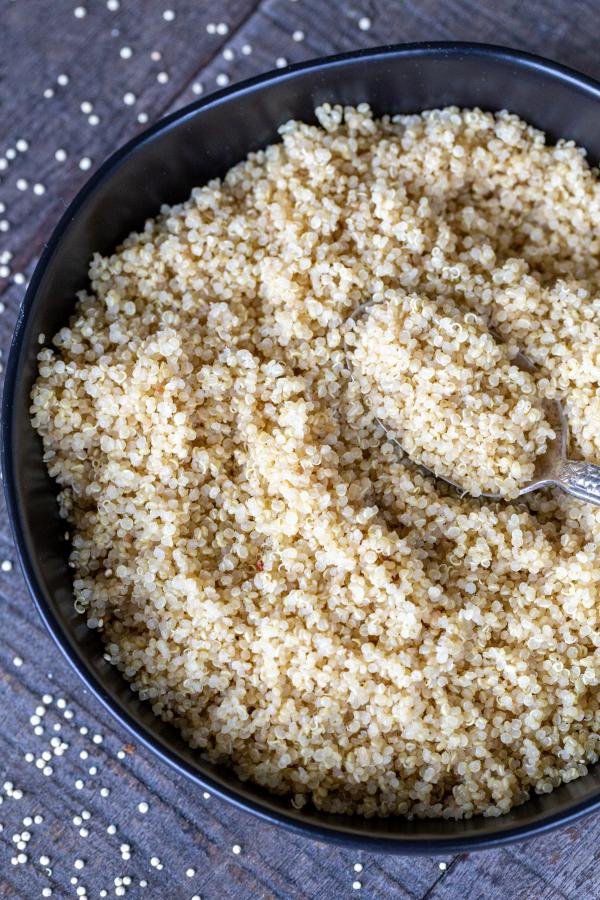 Quinoa is going to be your next favorite staple. Perfect for salads or as a substitute for any starchy carb, this seed (yes, quinoa is a seed, not a grain!) will have you hooked.
Follow my tips and tricks below to cook perfect quinoa every time! In 15 minutes on the stovetop over medium-heat, you can whip up this superfood and use it a million different ways.
What is Quinoa?
Due to its appearance, quinoa is often mistaken to be a grain. It is actually the seed of a plant called the "goosefoot". However, it cooks up much like a grain and has been touted as a healthier alternative to rice or pasta. The kicker? Quinoa is loaded with protein, so it has become a staple for vegans and vegetarians who want to get their daily allotment.
Quinoa is also gluten-free, packed with fiber and one of the only plant-based foods that has all nine essential amino acids. It's nutritional value has been celebrated in South America for centuries. In fact, the Incas used to call quinoa "the mother grain" or "the mother of all grains". Despite quinoa being around for thousands of years, it has only recently become a staple on the grocery lists of health-conscious Westerners.
Tips for Making Quinoa
Getting quinoa just right takes a bit of know-how. Undercook quinoa and it will turn out hard and mealy, overcook it and it will turn to mush. Below, I will share all my tips and tricks for nailing quinoa!
Rinse Quinoa Before Cooking
Even though most brands will come pre-rinsed, you will want to give quinoa a quick cleaning before cooking. Quinoa has an outer coating called a "saponin" that has a bitter and soapy taste to it. Rinsing it under cold water in a quinoa colander or a fine mesh sieve will catch any saponin that were left behind.
Cups of Dry Vs. Cooked Quinoa
You might be wondering about the ratio of dry to cooked quinoa. Well, it's very similar to rice! As a general rule of thumb, 1 cup of dried quinoa will equal about 3 cups of cooked quinoa.
Liquid to Cook Quinoa
Quinoa requires 2 cups of liquid per 1 cup of dried quinoa to cook. You can always use water, but if you want to add some flavor use beef, chicken or veggie broth. Also, don't hesitate to sprinkle in some seasoning salt, herbs, etc.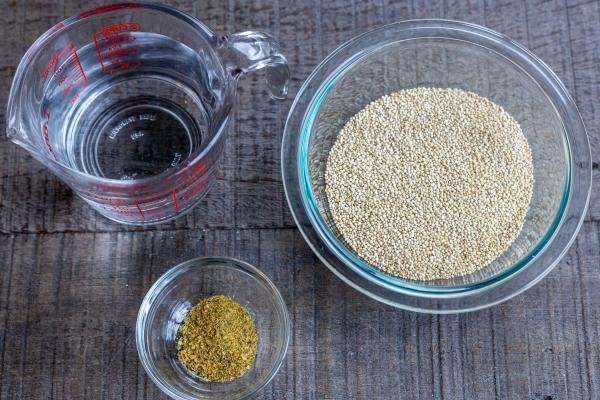 Cooking Quinoa in a Rice Cooker
Cooking quinoa in a rice cooker is the ultimate hack! Put your quinoa, liquid and a dash of salt in the cooker and turn it on. It around 30 minutes you will have perfectly cooked quinoa without risking over or undercooking it on the stovetop.
Store Cooked Quinoa
Store quinoa in an airtight container in the fridge for up to a week. You can also freeze your quinoa! Let it thaw in the refrigerator overnight and warm it up by pan-frying it with a bit of butter or olive oil.
How to Use Quinoa
Build a taco or poke bowl: Skip the rice and make a taco or poke bowl with quinoa instead. Pile on all your favorite toppings!
Beet Quinoa Salad: Beets, goat cheese and quinoa come together to make a salad that can stand alone as a meal.
Superfood Quinoa Kale Salad: This vegetarian salad will keep you full for hours! Eggs, avocado and quinoa are dressed with ranch dressing for this perfect bring-to-work lunch.
Recipe
Quinoa (KEEN-wah) has gotten a lot of buzz in the health food world in recent years for good reason. It has a wonderful nutty flavor, while providing a ton of protein and nutrients.
Instructions
Bring two cups of water to a boil. In a fine-mesh strainer rinse quinoa under cold water. Add rinsed quinoa to the boiling water. While keeping it covered, reduce heat to low and simmer until it's tender for about 15 minutes.
Nutrition Facts
How to Cook Quinoa
Amount Per Serving
Calories 157
Calories from Fat 27
% Daily Value*
Fat 3g5%
Sodium 23mg1%
Potassium 239mg7%
Carbohydrates 27g9%
Protein 6g12%
Calcium 24mg2%
Iron 2mg11%
* Percent Daily Values are based on a 2000 calorie diet.