Smoked Beef Brisket is one of my favorite low-and-slow recipes. Simply season your brisket, then let the electric smoker do the work for you.
We partnered with Beef. It's What's for Dinner., on behalf of the Beef Checkoff to show you how to make great tasting Smoked Beef Brisket.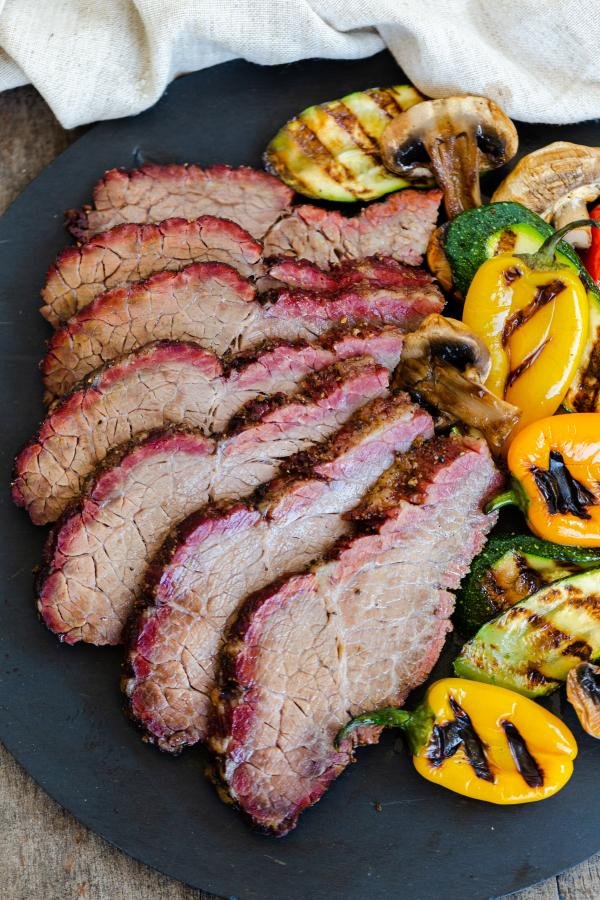 Brisket is the perfect cut for families…and leftovers! This hefty piece of meat is taken from the breast of the cow and is typically sold boneless in the grocery store.
Brisket is a great cut of meat to use in an electric smoker. A long cooking time and a gentle temperature will ensure that the tougher fat melts and the meat turns out tender.
How to Smoke Brisket
First, you have to create a nice rub to massage and coat the outside of the brisket. Don't skimp on the rub! You want to make sure that your brisket is well-seasoned and marinated overnight.
Next, you need to preheat your electric smoker and get it to 225F temperature. Then, you are going to smoke your brisket for up to twelve hours. This hands-off cooking technique is perfect for when you are hosting a dinner. Start the brisket in the morning and prepare all your side dishes in the meantime.
Best Rub for Brisket
"Rub" is the seasoning mixture you will apply to the outside of the brisket prior to smoking. My go-to rub is super simple – salt, garlic, and pepper. Don't be afraid to get your hands dirty by coating and massaging it generously on the brisket.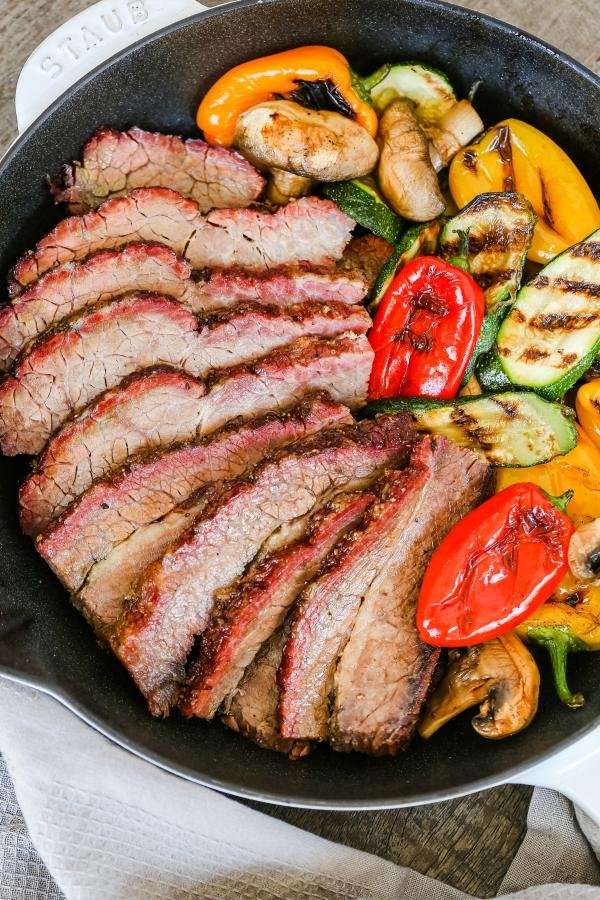 How Long Do I Smoke the Brisket For?
Briskets come in different shapes and sizes. The most important thing to remember is how much your cut weighs. The general rule is an hour per pound at 225F. Take your accuracy a step further by investing in a meat thermometer. Since some briskets can be thicker than others, you'll need to be aware of internal temperature. Stick your thermometer in the thickest part of the brisket and make sure the internal temperature is at 195F.
Using the Electric Smoker to Smoke the Brisket
Electric smokers are easy and convenient to use. All you need to do is set the smoker's temperature, load it with the wood chips of your liking, set your timer and let it work its magic! The great part is that the electric smoker will maintain the temperature throughout the entire smoking time, which is very crucial for the recipe.
The Perfect Wood Chips for the Brisket
Here are my two favorite selections of wood chips, often I like to mix them up together:
Cherry – Adds a fruity note to the meat. It works great on its own, but I also like to combine it with a different chip to mix things up.
Mesquite – Gives a very smoky flavor to the meat. This is my go-to chip for the brisket or ribs.
Tips for The Best Smoked Brisket
Trim the excess fat from the brisket. This will allow your rub to really penetrate the meat, which means more flavor!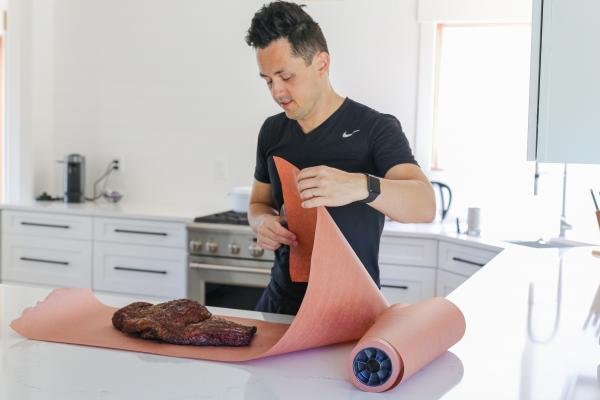 Halfway through the smoking, wrap the brisket in butcher paper to keep it nice and moist.
Before serving, let the brisket rest for at least one hour. This practice allows the juices to lock into the meat. YUM!
Upon cutting into your smoked brisket, you may notice a thin, pink ring just inside the outer crust (or bark). Don't freak out and think you undercooked your meat. This is a natural reaction that happens during the smoking process.
If you want to be a bit more up close and personal with your brisket, try using a "mop sauce". A "mop sauce" is a mixture of your dry rub and some type of acid (apple cider vinegar or tomato sauce). Every hour, take a meat brush and "mop" your sauce over the brisket for extra moist meat!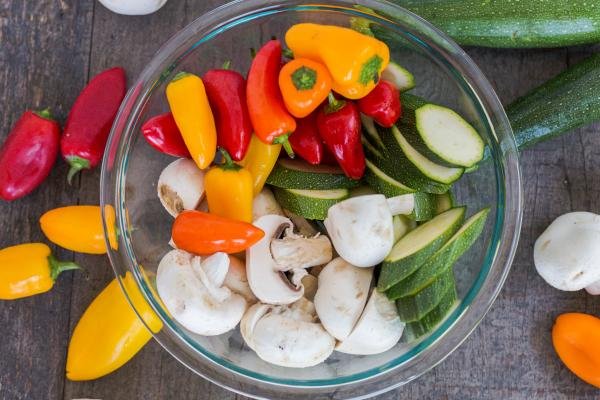 Pair Brisket With My Grilled Summer Salad
This delicious, high-quality protein goes great with my Grilled Summer Salad.
1 lb mushrooms
1 lb zucchini
1 lb mini bell peppers
1 lime- for the juice
Olive oil for seasoning
Salt to taste
Garlic, pressed (optional)
Preheat grill to 400F. Rinse and pat dry all vegetables. Slice the zucchini into half-inch rings.
In a large bowl, combine mushrooms together with zucchini and mini bell peppers. Season vegetables with salt and olive oil, and place them on the grill.
Grill the vegetables until all sides turn golden brown. Depending on the size of the mushrooms, you may need to remove some of them earlier.
Remove from the grill. Drizzle vegetables with a bit of lime juice and pressed garlic, toss to combine everything together. Enjoy the grilled salad with the Smoked Brisket!
Other Sides to Serve with Brisket
Recipe
Smoked Beef Brisket is one of my favorite low-and-slow recipes. Simply season your brisket and let the electric smoker do the work for you!
Nutrition Facts
Smoked Beef Brisket (Tips & Tricks You Need)
Amount Per Serving
Calories 354
Calories from Fat 153
% Daily Value*
Fat 17g26%
Cholesterol 141mg47%
Sodium 761mg32%
Potassium 759mg22%
Carbohydrates 1g0%
Protein 47g94%
Vitamin A 3IU0%
Calcium 14mg1%
Iron 4mg22%
* Percent Daily Values are based on a 2000 calorie diet.