This colorful strawberry jello poke cake is perfect to serve for special occasions & events. If you're hosting a crowd with kids, it will surely be a hit!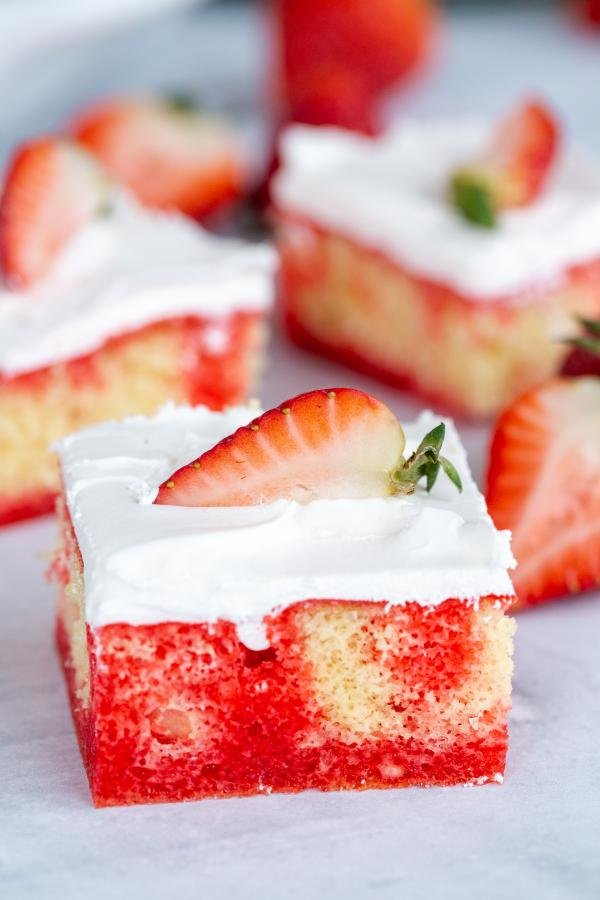 This strawberry jello poke cake recipe is super versatile. Depending on the event you are hosting, you can switch out the flavor of jello. For the 4th of July, we like to do a red and blue jello mix. For birthday parties, we mix up several colors or use the person's favorite flavors and colors. You can also top the jello cake with fruits for extra flavor and garnish.
What is a Jello Poke Cake?
Jello poke cake recipes are all-American, no-fuss desserts that have been around since the famous gelatin brand stepped onto the scene. It's made with a sponge cake base (or sometimes a boxed white cake mix) and features swirls of strawberry gelatin and creamy whipped topping. It's called a "poke" cake because after it's baked it's poked with holes all over the top and filled with jello liquid. This seeps into the rest of the cake, causing those beautiful, signature swirls!
How to Whip Up Our Strawberry Jello Cake
All this simple recipe requires is 6 ingredients and a mild technique. Consider it one of those easy dessert recipes you can lean on in a pinch!
Make the Cake Batter: First, beat the eggs with sugar in a large bowl until light and airy, this will take about 10 minutes. Using a spatula, gently fold the flour in gradually. For more tips on making a perfect sponge cake, watch this tutorial.
Bake the Jello Cake: Next, grease the baking dish and pour the batter in. Bake the cake at 350°F for 30 minutes and allow it to cool to room temperature.
Poke the Cake: Using the end of a wooden spoon, poke holes into the cake. Prepare the jello according to the package instructions, allow it to cool to room temperature, and pour it into the holes.
Frost the Cake: Next, frost the cooled cake with Cool Whip.
Refrigerate the Cake: Chill the cake in the refrigerator for at least a few hours or up to overnight before serving. Slice and enjoy!
5 Tips for Making the Jello Poke Cake
A few helpful tips will help you get perfect swirls and a seriously moist jello poke cake.
Use room temperature eggs. Room temperature eggs will help you get the fluffy, airy texture you want in a sponge cake. Make sure to beat the egg and sugar mixture for at least 10 minutes on medium-high speed, until thick ribbons form.
Fold in the flour gradually. To keep the batter light and airy, fold the flour in slowly and gradually with a baking spatula. If you mix it too vigorously, the cake will fall flat.
Use boxed cake mix in a pinch. To simplify the process you can use the boxed cake mix, although we love to use a good, old-fashioned homemade sponge cake recipe.
Adjust the jello color and flavor for each event. This cake can be prepared for everything from Christmas (think: raspberry or cherry jello and green sprinkles on top) to a casual springtime BBQ (think: lemon and lime jello and fresh fruit on top!). There are endless combinations you can play around with – go wild!
Whip up homemade whipped cream instead. Make a quick homemade whipped cream if you don't like Cool Whip. To do so, whip 1 cup of extra cold heavy whipping cream in a stand mixer with a little sugar and a teaspoon of vanilla extract until light and fluffy.
For best results, let the cake rest overnight in the refrigerator. While you can get away with a 2 hour set in the fridge, an overnight rest is best. This allows the cake to get super moist and develop its flavors.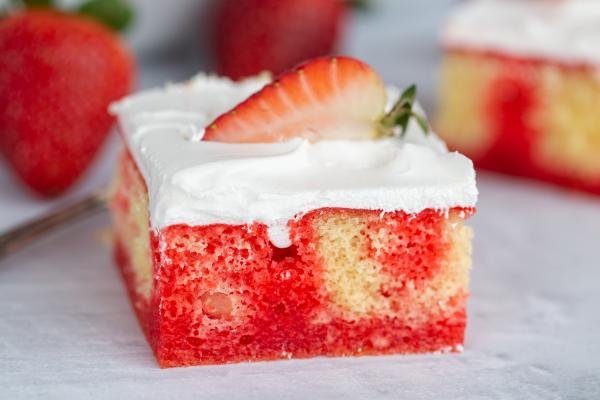 Storing Leftover Cake
To keep jello poke cake on hand for up to a week, store it in an airtight container in the fridge. This will prevent it from soaking up any smells lingering in the fridge, while also helping it to continue to develop its flavors. Hello, delicious leftovers!
FAQ
What do you use to poke holes in jello poke cake?
The best tool for poking holes in a jello poke cake is just a basic spoon. The end is the perfect size and dimension for the size of the hole you want.
Does jello poke cake need to be refrigerated?
Yes, jello poke cake needs to stay in the refrigerator between snacking. Do not store at room temperature, as it will become a soggy mess.
Can you freeze jello poke cake?
To freeze a jello poke cake, follow the recipe by pouring the jello mixture atop the cooked cake. Cover the cake with plastic wrap and store it for up to a month in the freezer. Allow the cake to thaw in the refrigerator. Then, add whipped cream right before serving.
Can you make jello poke cake in advance?
You can make your jello poke cake up to 2-3 days in advance. If you can, avoid spreading the whipped topping on until right before you serve it so it stays nice and fluffy.
Other Jello Cake Recipes to Try
Recipe
This super tasty strawberry jello poke cake features swirls of bright red and white cake. Covered in Cool Whip, it's super refreshing and kid-friendly!
Notes:
If your sponge cake turns out flat, the egg and sugar mixture was most likely not beaten long enough. The batter should be roughly 3x the size in volume. This can take upwards of 15 minutes, so a stand mixer is best for the job. Another way to check for the correct consistency is by lifting the whisk attachment from the mixture, if the batter falls back in thick ribbons then it is ready.
A boxed cake mix can be used in place of sponge cake. If using cake mix, follow cake mix instructions, and then proceed with this recipe in step 3 (starting with poking holes in the cake).
Nutrition Facts
Strawberry Jello Poke Cake (Extra Fluffy)
Amount Per Serving
Calories 152
Calories from Fat 18
% Daily Value*
Fat 2g3%
Cholesterol 83mg28%
Sodium 40mg2%
Potassium 55mg2%
Carbohydrates 27g9%
Protein 4g8%
Vitamin A 140IU3%
Calcium 27mg3%
Iron 0.9mg5%
* Percent Daily Values are based on a 2000 calorie diet.