This Russian Bird's Milk Cake recipe (ptichye moloko) is made with delicate mousse, covered in rich chocolate ganache, and garnished with bright berries. A true Slavic classic!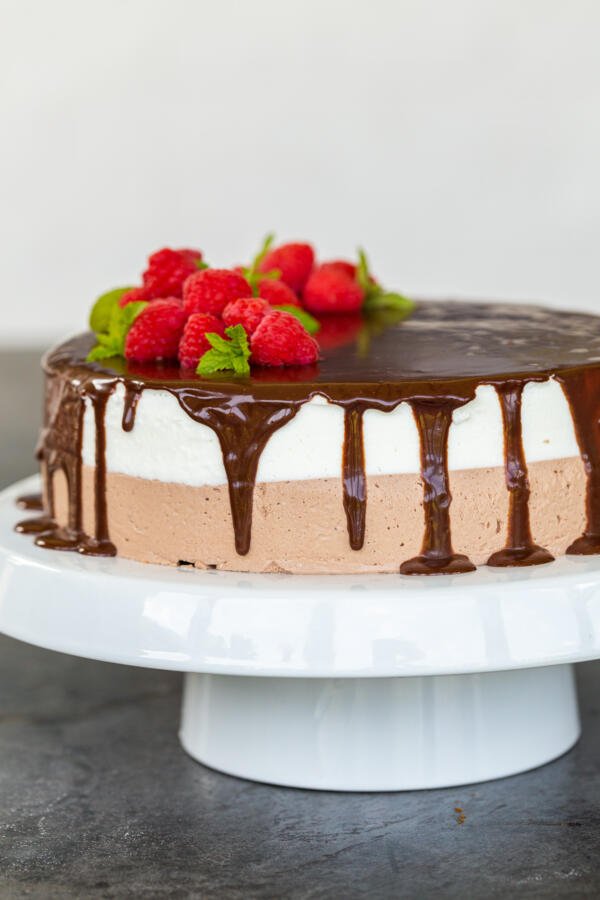 Bird's Milk Cake (Ptichye Moloko) is a very common and beloved Russian dessert made with light, airy layers of cream, cacao custard, and chocolate ganache. Most people that grew up in a Slavic household dream about its luscious, creamy texture and pray one of their family members will bring it to the next big get-together!
Wondering about Bird's Milk Cake history and origin? You're not alone. The name is a bit strange and eyebrow- raising (spoiler alert: no bird's milk is required!). It was born out of a Slavic folktale surrounding the mythological milk birds of paradise feed to their baby chicks.
According to the legend, eligible maidens would challenge their suitors to find the elusive milk and bring it back to them. This of course was impossible, but you can see just how serious these maidens were about securing their future. Today, Bird's Milk Cake is enjoyed throughout Europe and can be found in many European specialty stores stateside. No maiden challenge required!
What is Bird's Milk Cake?
Bird's Milk Cake, or "Ptichye Moloko" in Russian, is a wildly popular soufflé cake that's eaten throughout Russia and many other post-Soviet states. There are many different variations to this cake, with some having sponge cake layers and others resembling that of a dense torte. This recipe is more closely aligned with the torte variety, consisting of a white custard layer, a cacao custard layer, and a rich topping of chocolate ganache. Below, find an overview of the flavor, texture, and time.
How to Make Bird's Milk Cake
Making Bird's Milk Cake requires a bit of patience, but the end result is more than worth it. Below, find a quick hitter overview of the recipe before you dive in.
Tips for Making the Best Bird's Milk Cake
Springform Pan Hack: Use a springform pan to take the stress out of removing the delicate cake layers from the cake pan.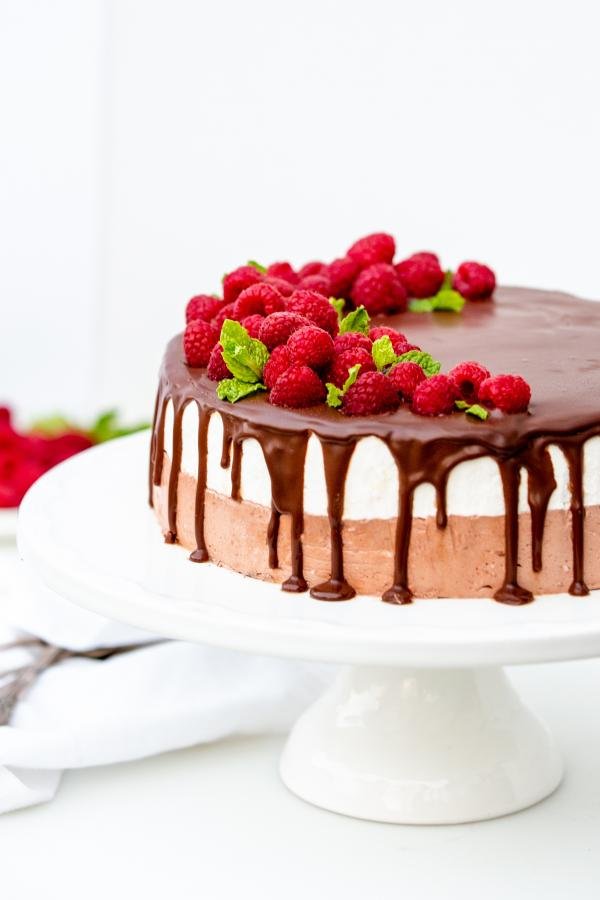 Storing Bird's Milk Cake
The best way to store Bird's Milk Cake is in an airtight cake container. Since it's very delicate, you'll want to make sure it can't get smashed in the refrigerator. Also, covering it prevents the cake from soaking up any smells lingering in your refrigerator. When stored properly, it should keep for up to 4 days.
FAQ
Why is it called Bird's Milk Cake?
It's called Bird's Milk Cake due to a popular Slavic folk tale. According to the legend, birds of paradise would feed their chicks with "bird's milk" to make them strong and beautiful. To test the love of their admirers, young women would send them off on a quest to retrieve the milk, which of course was impossible to find.
What is Bird's Milk candy?
Bird's Milk candy is a popular candy eaten throughout Eastern Europe and Russia. It is based on the cake and often comes with a fluffy marshmallow layer. You should try it!
Is there anything I can use to replace the gelatin?
You can replace gelatin with equal parts of agar agar. It's a vegetarian gelatin substitute that comes in powder or flakes.
How long should Bird's Milk Cake set before I serve it?
Bird's Milk Cake should set for two hours in the refrigerator before you serve it.
How long does Bird's Milk Cake last?
Bird's Milk Cake will last 3-4 days when stored in an airtight container in the refrigerator.
Other Decadent Russian Cakes to Try
Recipe
This Russian Bird's Milk Cake recipe is made with delicate mousse, covered in rich chocolate ganache, and garnished with bright berries.
Ingredients
2

cups

milk

1.5

oz

gelatin

or about 6 small packages

20

oz

sour cream

30

oz

Cool Whip

1

cup

sugar

4

tbsp

cacao

1/2

cup

Berries

for garnish
Nutrition Facts
Bird's Milk Cake Recipe (Ptichye Moloko)
Amount Per Serving
Calories 471
Calories from Fat 234
% Daily Value*
Fat 26g40%
Cholesterol 65mg22%
Sodium 142mg6%
Potassium 301mg9%
Carbohydrates 52g17%
Protein 10g20%
Vitamin A 764IU15%
Vitamin C 1mg1%
Calcium 226mg23%
Iron 1mg6%
* Percent Daily Values are based on a 2000 calorie diet.