This caramel apple cake recipe is a winning combo of caramelized apples, moist sponge cake, and dulce de leche cream. Perfect for your fall dessert rotation!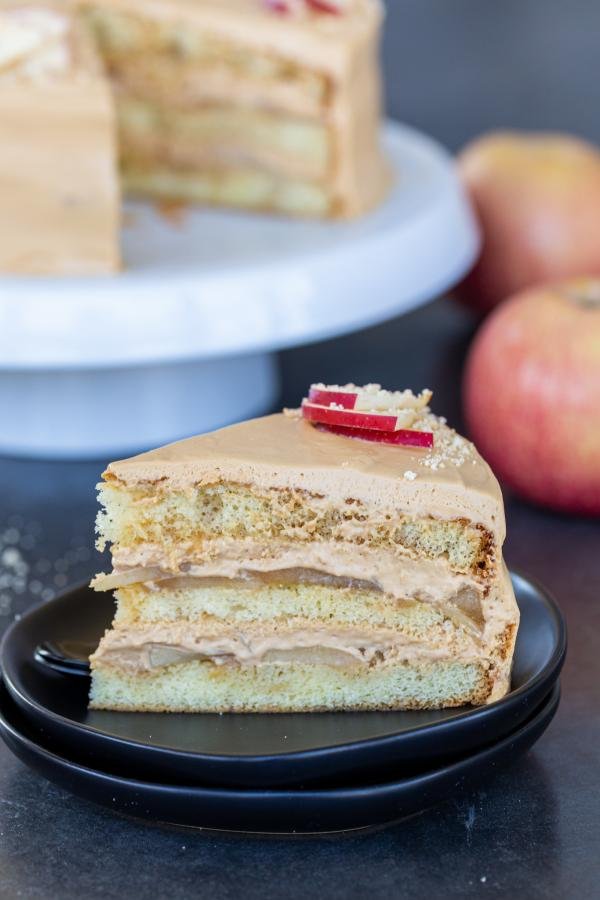 This caramel apple cake is like a caramel-dipped apple in cake form. After so many years of living in Washington (the apple state!), I became obsessed with experimenting with all different kinds of apple desserts. This by far has to be one of my absolute favorites. After your first bite, you're sure to fall just as hard for it!
Note: You'll need to bake a sponge cake for this recipe. Our recipe for perfect sponge cake only calls for 3 ingredients – sugar, eggs, and all-purpose flour – and is crazy easy to make!
What's a Caramel Apple Cake?
This caramel apple cake features layers of caramelized apples alternated with dulce de leche cake cream and soaked sponge cake. Below, find an overview of the flavor, texture, and time it takes to prepare this decadent cake.
Flavor: The flavor of this cake is a trifecta of spiced apples, lightly sweet sponge cake, and caramely dulce de leche buttercream.
Texture: The texture of this cake will melt in your mouth. Each cake layer is soaked in apple juices, then slathered with creamy dulce de leche-infused frosting and slices of tender apples.
Time: From start to finish, this caramel apple cake takes just under 2 hours to put together.
Caramel Apple Cake Video
Preparing a Caramel Apple Cake
Preparing this caramel apple cake requires under 10 ingredients. Below, find a simplified overview of the process before you dive in.
Prepare the Sponge Cake: Prepare a sponge cake up to 2 days in advance to make the day-of prep that much more simple. To check doneness, do the toothpick test by piercing it in the center of the cake when you pull it out of the oven. When it comes out clean, the sponge cake is ready!
Caramelize the Apples: Peel and slice the apples. Next, place them in a skillet with apple juice, brown sugar, and butter. Cook the apples down until the sugar dissolves and they begin to soften.
Soak the Cake Layers: Slice the cooled sponge cake into 3 even layers. Spread the apple mixture on top of the two bottom layers and set them aside to soak.
Make the Cake Cream: Using an electric mixer, whisk the room temperature butter and cream cheese with the dulce de leche in a large bowl. Next, add in the heavy cream and beat until you get stiff peaks.
Frost the Cake: Apply a generous amount of cream to the two bottom cake layers and stack them, placing the very top layer on last. Frost the entirety of the cake with the remaining cream.
Decorate the cake: Finally, top the cake with some fresh apple slices and walnuts if you'd like. Refrigerate overnight before serving. Enjoy!
Need a good stand mixer? I've been using this Kitchen-Aid stand mixer since I can remember. I've never had to upgrade once – that's how great the quality is!
Making Dulce de Leche From Scratch
While it's perfectly acceptable to purchase store-bought dulce de leche (you can find it in the canned food or baking aisle), it's super simple to make from scratch. Below, find two different methods you can use to whip it up especially for this cake.
Boiling Method: If you have a couple of cans of sweetened condensed milk, you've got yourself an easy route to dulce de leche. First, peel the labels off the cans. Then, place the cans in a pot and submerge them in a couple of inches of water. Bring to a low boil, then turn the heat down to a simmer for 2-3 hours. Carefully remove the cans with tongs and allow them to cool completely before opening them. BAM – you'll have perfect dulce de leche inside!
Instant Pot Method: This method is awesome for when you're in a pinch. Check out our speedy Instant Pot dulce de leche for the step-by-step process.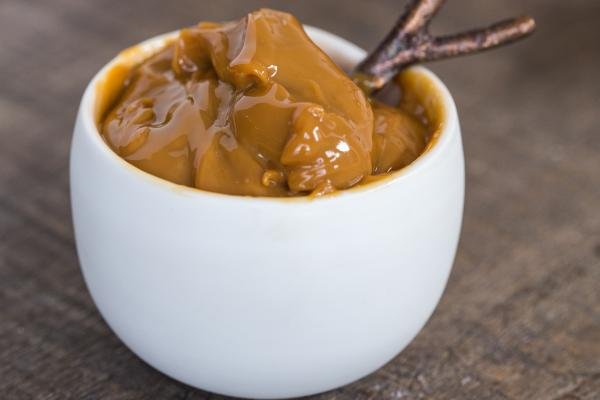 Pro Tips for the Best Caramel Apple Cake
Below, find a handful of pro tips to help you make the best caramel apple cake.
Use room temperature softened butter and cream cheese. Softened cream cheese and butter will be much easier to incorporate into your cake cream.
Use extra cold heavy whipping cream. Extra cold heavy whipping cream emulsifies easier and makes for the best whipped cream. If you have to, pop it in the freezer for 5-10 minutes beforehand.
Experiment with different spices for the apples. Adding a teaspoon of ground nutmeg, cinnamon, or vanilla extract will give the caramelized apples more depth of flavor. These are also welcome additions if you're baking the cake in the fall!
Allow the sponge cake time to soak in the juices from the apples. All those precious juices that seep out of the caramelized apples shouldn't go to waste! Spoon some of the juice directly onto the sponge cake and let it soak for optimal moistness and flavor. YUM!
Serving Suggestion: Top each slice of apple cake with a heaping scoop of vanilla ice cream and a drizzle of dulce de leche or caramel sauce.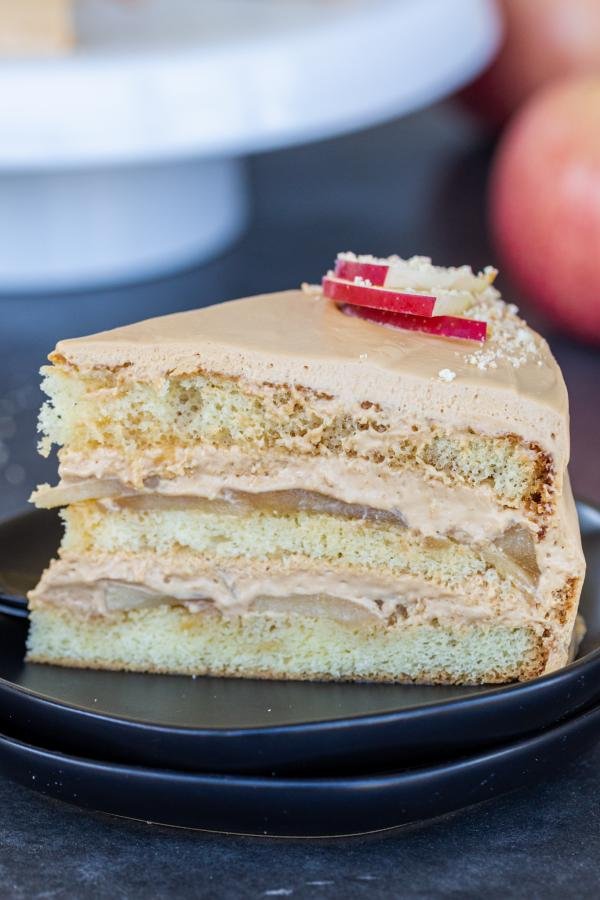 Storage Tips
If you have some leftover cake to store or you've made a cake ahead for a party, keep it stored in the refrigerator for up to 5 days. If you have one, pop the cake into an airtight container specially made for cakes. This will prevent the cake from soaking up any lingering smells in your refrigerator, while also preventing it from getting damaged.
FAQ
What happens when you overmix heavy whipping cream?
When you overmix, heavy whipping cream it turns into butter. Be extra careful to only whip it until it reaches stiff peaks and you'll be golden.
What kind of apples should you use?
Use Honeycrisp apples or Fujis for sweeter caramelized apples that resemble apple pie filling. Or, if you don't mind a bit of tang and tartness, use Granny Smith apples.
What size baking pan should you use for the sponge cake?
An 8-inch or 11-inch round cake pan will do the trick.
How far in advance can you prepare this cake?
This cake can be prepared up to 2-3 days in advance of serving.
What's the difference between dulce de leche and caramel?
Dulce de leche is made by slow-cooking milk and sugar, while caramel is made simply by slow- cooking sugar with a bit of water.
Other Apple Desserts to Try
Recipe
This caramel apple cake is going to become one of your favorite cake recipes for fall. The perfect combo of dulce de leche and spiced apples!
Ingredients
Instructions
Prepare a sponge cake according to recipe instructions. Once cooled, slice the cake into three even layers.
Apple Filling
In a skillet over medium heat, cook the apples alongside the apple juice, brown sugar, and a tablespoon of butter. Keep stirring the mixture periodically until all the sugar dissolves and turns into a syrup.
Caramel Cake Cream
Using an electric mixer, beat the softened butter, softened cream cheese, and dulce de leche together until smooth. Next, add the heavy whipping cream and beat until you get stiff peaks. Be extra careful not to overmix the cream once you add the whipping cream, as it will turn into butter.

Apply a generous amount of cream to the bottom cake layer (on top of the apples) and cover it with the second cake layer. Apply cream to the second layer. Finally, place the top layer on. Frost the outside of the cake with the remaining cake cream.
Nutrition Facts
Caramel Apple Cake
Amount Per Serving
Calories 421
Calories from Fat 270
% Daily Value*
Fat 30g46%
Cholesterol 112mg37%
Sodium 290mg12%
Potassium 177mg5%
Carbohydrates 36g12%
Protein 4g8%
Vitamin A 1174IU23%
Vitamin C 3mg4%
Calcium 77mg8%
Iron 1mg6%
* Percent Daily Values are based on a 2000 calorie diet.