Chocolate covered strawberries are one of my go-to treats for special occasions. Read on to learn all the tips and tricks to impress your guests with these pretty little morsels.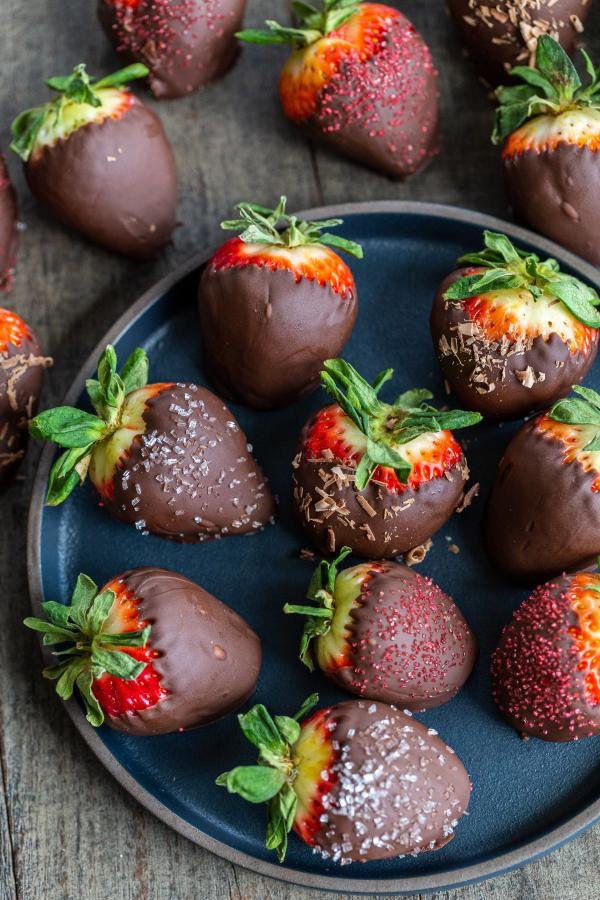 How to Make Chocolate Covered Strawberries:
They may look super impressive, but don't be nervous to take them on! Follow these simple steps and have bakery-level chocolate covered strawberries in no time:
Create a steam bath. In a large pot, boil some water. Fill a heat-safe bowl (glass or metal) with your chocolate melts and place it on top of the water. Using the indirect heat from the boiling water, melt your chocolate by continuously stirring it until smooth. Keep your bowl over the boiling water so the chocolate remains melted while you dip.
Hot tip: Steam baths are great because they prevent delicate chocolate from burning to the bottom of the pan!
Clean and dry your berries. Rinse your strawberries under cool water using a colander. Using a paper towel and delicate hands, dry off any excess water from your berries.
Dip and decorate! Grab a strawberry by the stem and dip it into the melted chocolate. Shake off any excess chocolate and immediately place on a parchment or waxed paper-lined baking sheet. Refrigerate for at least 30 minutes (overnight preferred).
Note: Classic chocolate dipped strawberries are absolutely delicious as-is. But, if you want to add some chopped nuts or an additional drizzle of white chocolate, go for it!
For nuts: Added chopped peanuts, walnuts or almonds immediately after you dip your berry in melted chocolate. Set in the fridge for at least 3o minutes.
Adding a chocolate drizzle: You can do this by putting melted white chocolate into a piping bag (or a Ziploc bag with the one of the ends cut off) and drizzling it over the top of the berry. If you are in the mood to be festive, add some pink food coloring to the white chocolate for some extra romance!
Tips for Making the Best Chocolate Dipped Strawberries
Best Chocolate for Strawberries: A classic mistake I see a lot of people make here is using chocolate chips instead of chocolate melts. If you can't find chocolate melts at the grocery store, you can definitely find them at the craft store. They melt much smoother and when the chocolate sets, they are still easy to bite into.

Tip: If you must, you can use chocolate chips in combination with 1 tbsp of coconut oil

Wash Strawberries before Dipping them: Make sure you dry your strawberries as thoroughly as possible before attempting to dip them. This will ensure that the chocolate can stick well to the berry! It's a crucial step that you shouldn't skip.
Picking the Right Strawberries: The larger the berry, the better! Make sure you keep the stems on so you have something to hold onto while you dip.
Refrigerate Strawberries Right Away: Refrigerate your dipped strawberries to keep them stay fresher longer and set faster. This will also prevent them from melting or becoming soggy like they would if stored at room temperature.
How to Store Chocolate Dipped Strawberries
Store your berries in one flat layer in an airtight container in the refrigerator. If you absolutely do have to stack them, make sure you separate each layer with parchment paper. They should stay fresh for up to a week.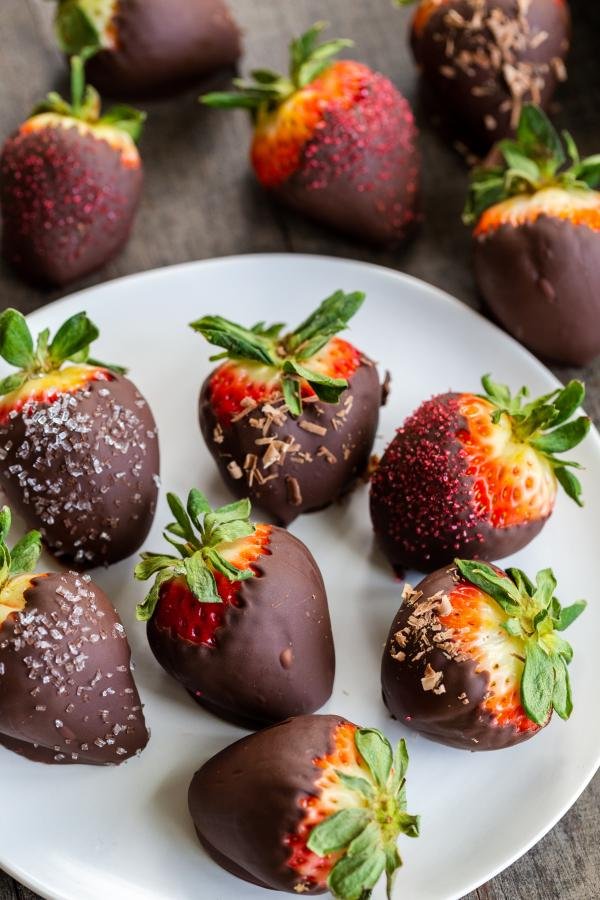 More of Sweet and Easy Treats
Recipe
Chocolate covered strawberries are one of my go-to treats for special occasions. Read on to learn all the tips and tricks to impress your guests with these pretty little morsels.
Instructions
It's best to melt chocolate on the steam. To do this, set water in a pot to boil and place a bowl on top. Make sure the bowl is not plastic, to prevent melting. Mix the chocolate as it softens, until completely melted. Continue keeping your bowl on the pot to keep the chocolate fluid.

Wash strawberries and fully wipe them, using a paper towel. Dip the strawberries into chocolate, shaking the excess chocolate off, and place it on tray lined with parchment or wax paper.
Nutrition Facts
Chocolate Dipped Strawberries
Amount Per Serving
Calories 239
Calories from Fat 81
% Daily Value*
Fat 9g14%
Cholesterol 5mg2%
Sodium 26mg1%
Potassium 278mg8%
Carbohydrates 39g13%
Protein 3g6%
Vitamin A 102IU2%
Vitamin C 107mg130%
Calcium 71mg7%
Iron 1mg6%
* Percent Daily Values are based on a 2000 calorie diet.