This flavorful strawberry cobbler recipe is fresh, fruity, and a family favorite. It will have you sprinting to buy strawberries weekly.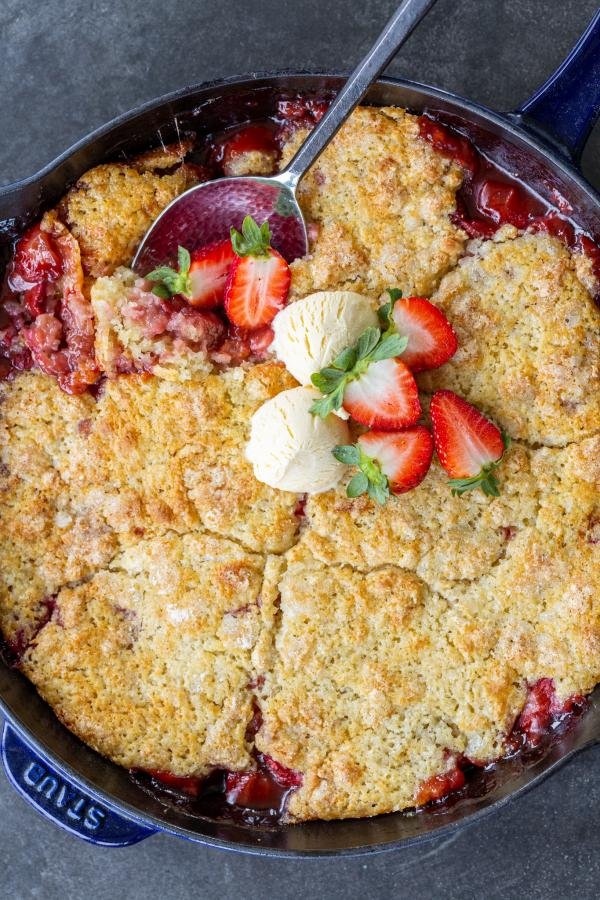 Perhaps you've already tried our southern peach cobbler or cherry cobbler and found how tasty and flavorful they really are. Or perhaps you're brand new to cobblers and are looking to join in on the flavor. This strawberry cobbler will have everyone talking about how insanely good your cobbler is.
What is a Strawberry Cobbler?
Strawberry cobbler is a quick and easy dessert that combines a juicy, sweet, and slightly tart fresh strawberry filling with a flakey, flour-based butter biscuit crust. It can even be prepared in advance!
Taste: The flavors of strawberry cobbler are a combination of sweet, fresh, fruity, with a touch of tartness.
Texture: The texture is a combination of soft and warm strawberry filling with a crumbly biscuit topping.
Time: Preparation time for strawberry cobbler is a quick 15 minutes, with another 40 minutes to bake until perfection.
Hot Tip: Use a 9-inch baking pan or our favorite cast iron skillet to make this strawberry cobbler!
How to Make Fresh Strawberry Cobbler
If you've made our other cobblers and were surprised at how quickly they came together, you're going to be even more surprised how much quicker and easier this recipe is. Here's a quick overview to get you ready.
Make the filling: In a medium bowl, wash and slice strawberries evenly and combine with remaining filling ingredients. If you like a hint of cinnamon with strawberries, add in 1/4 to 1/2 teaspoon.
Mix dry ingredients: In a separate large bowl, mix dry ingredients for the flour mixture.
Cut in cold butter: Cut or grate cold unsalted butter into dry ingredients and combine until mixture is crumbly.
Combine wet ingredients: In a separate bowl, combine the buttermilk and vanilla extract.
Stir wet and dry ingredients: Add the wet ingredients to the dry crumble mixture and stir to combine.
Fill baking dish with filling: Place strawberry filling in the bottom of a baking pan.
Add the topping: Coat filling with spoonfuls of dough, then sprinkle with extra sugar.
Bake and serve: Bake uncovered until the top is golden brown. Serve with your favorite ice cream.
Hot Tip: Add extra flair by sprinkling turbinado sugar or cinnamon on top of the cobbler before baking.
Pointers for the Best Strawberry Cobbler
You'll undoubtedly be named the strawberry cobbler expert when you follow these tips for the best tasting cobbler in town!
Use fresh strawberries: Fresh strawberries will release an exquisite juice as they bake, but also retain a perfect texture without becoming too mushy. In a pinch, you can use frozen strawberries, but try to stay away from canned strawberries.
Refrigerate before baking: Keep strawberry cobbler in the refrigerator until ready to bake.
No need to precook filling: Save time by cooking the fresh strawberries straight in the baking dish.
Cut strawberries evenly: For even baking, make sure to cut the strawberries into even slices.
Use cold ingredients: Make sure the butter, flour, and buttermilk are as cold as possible. This will guarantee the cobbler topping is flaky. Simply place the flour into the freezer for about ten minutes before starting on the recipe. If you use soft or melted butter, the biscuit topping will not be flaky.
Don't overcrowd the topping: Leave space between the spoonfuls of the biscuit topping to allow steam to escape the filling when baking. If the steam can't escape, you could end up with a soggy cobbler!
Substitute with frozen strawberries: Frozen strawberries are a great alternative to fresh strawberries in this cobbler. Make sure to thaw strawberries fully, drain excess liquid, and use enough cornstarch to make sure the strawberry mixture filling has the perfect consistency.
Check temperature for readiness: With cobbler, it can be hard to know if it is fully cooked since you can't see inside. For a fool-proof method of checking doneness, insert a thermometer at the center of the cobbler. When the filling has reached 200°F, it's ready.
Ingredient spotlight: Cornstarch is a key player here. Mixing the fruit filling with cornstarch will ensure the filling is perfectly thick and not soggy. Fruit that is extra ripe or juicy will need additional cornstarch.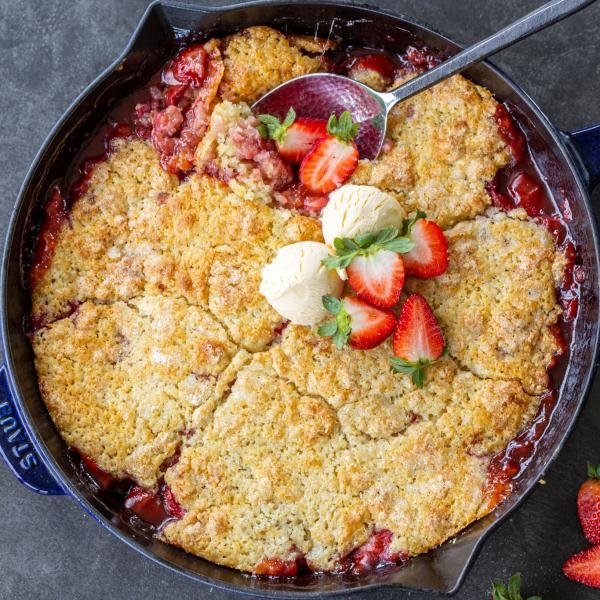 Serving Strawberry Cobbler
Strawberry cobbler is best when served hot and fresh out of the oven with a scoop of vanilla ice cream or a dollop of whipped cream. The warmth and the sweetness of the cobbler is perfectly complemented by cold toppings.
Make-ahead, Storage, and Reheating Tips
Strawberry cobbler is the best dessert to prepare ahead but enjoy fresh out of the oven. It's simple to store and quick to reheat. The question is- will you even have any left over to store and reheat?
Making ahead: Strawberry cobbler is easily prepared several hours ahead of time and stored in the refrigerator until ready to bake. Your dinner guests will be amazed at how easily you are able to have a hot dessert ready right after your meal.
Storing: To keep cobbler fresh for up to 3 days, place room temperature leftovers covered in the refrigerator. Keep in mind, the cobbler texture may change with each day as the filling continues to release moisture.
Reheating: Strawberry cobbler can be enjoyed again cold or hot. Reheat in the oven at 375°F for about 20 minutes or until warmed through.
Hot tip: Do you have more strawberries than you know what to do with? Remove the stems, cut the berries in half, and freeze in a single layer on a baking sheet. Once frozen, place in freezer containers or bags.
FAQ
How do I use up my strawberries?
To use up a lot of strawberries, make a fresh strawberry cobbler, pie, or cake. Alternatively, freeze strawberries by removing the green stems from the strawberries, cutting strawberries in half, and freezing in a single layer on a baking sheet. Once frozen, place berries in freezer containers or bags.
How do I thicken strawberry cobbler?
Strawberry cobbler can be too thin if you don't mix enough cornstarch in the filling. If you are using overripe strawberries, add additional cornstarch to the filling.
Why is my cobbler mushy or gummy?
A mushy cobbler can occur if the fruit filling is too thin or if the biscuit topping was overcrowded. A gummy cobbler may be a result of using canned fruit or canned pie filling. To prevent this from happening, use fresh or frozen fruit, mix filling with cornstarch, and leave space between the dollops of biscuit topping to allow for steam to escape while baking.
Can I use frozen berries for strawberry cobbler?
Yes, frozen strawberries are great for strawberry cobbler. Make sure to completely thaw and drain excess liquid before mixing into the filling. Also, add enough cornstarch to compensate for the extra liquid.
Should I put fruit filling below or on top of the batter when baking?
It is best to put filling on the bottom and the biscuit batter on top so the biscuit doesn't turn out soggy. Some cobbler recipes place the biscuit batter first, with the biscuit floating to the top as it bakes in the oven, but this can make the cobbler soggy.
More Berry-Based Recipes to Try
Recipe
Ingredients
Strawberry Cobbler Filling
Instructions
Cobbler Filling
Nutrition Facts
Fresh Strawberry Cobbler (Quick & Easy)
Amount Per Serving
Calories 482
Calories from Fat 153
% Daily Value*
Fat 17g26%
Cholesterol 45mg15%
Sodium 193mg8%
Potassium 392mg11%
Carbohydrates 78g26%
Protein 5g10%
Vitamin A 550IU11%
Vitamin C 57mg69%
Calcium 137mg14%
Iron 2mg11%
* Percent Daily Values are based on a 2000 calorie diet.