These spicy chili noodles burst with a mouthwateringly tangy, sweet, and spicy flavor. Rest assured, your craving for takeout will be satisfied in 20 minutes.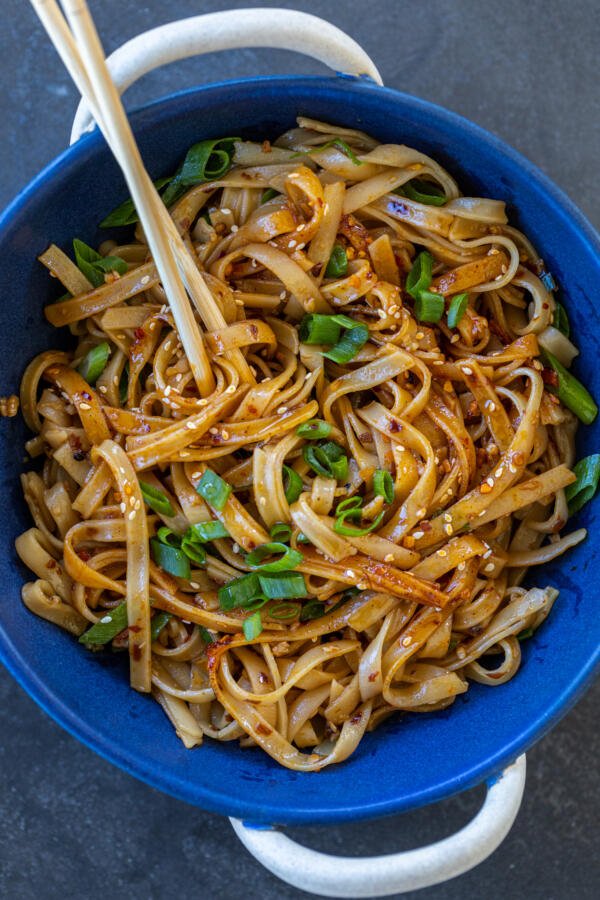 Spicy chili noodles are a budget and time-friendly meal packed with spicy flavor. They're similar to spicy cup noodles (except better!) and you can control the ingredients! It's truly amazing how simple ingredients can come together to make such a delicious flavor profile. Savory, spicy, and quick? Sold!
What are Spicy Chili Noodles?
"Spicy noodles" is a general name for an asian-inspired noodle dish. Most, if not all, asian restaurants have some version of noodles on the menu. In this recipe, the spice base is made using a common pantry staple – chili flakes. Below, find a rundown of the flavor, texture, and cooking time.
Flavor: Spicy chili noodles are best described as – you guessed it – spicy! Chili flakes form the spice base, but soy sauce and brown sugar bring sweetness to balance the flavor.
Texture: Smooth, chewy noodles are the epitome of comfort food. Add protein to contrast the noodles with tender bites of meat.
Time: Spicy chili noodles take only a few minutes to prep, and fifteen minutes to cook. Let's get noodle-ing!
Finding the Right Noodles for Spicy Chili
With so many types of asian noodles, it can be overwhelming to know where to start. We've got you covered! Here's a guide on choosing the right noodle and places to find them.
Types of Asian Noodles
Everyone talks about Italian pasta, but it seems like not enough is said about asian noodles. Asian noodles generally fall into three categories:
Wheat Noodles: The biggest category of asian noodles are wheat noodles (referred to as "mein" noodles). Lo mein, chow mein, udon, soba, egg noodles, and ramen noodles are the most commonly known "mein" or wheat noodles.
Rice Noodles: This category of noodles are made with rice flour and are known for cooking quickly. Common types of rice noodles include rice vermicelli, rice sticks, and chow fun.
Other Starch Noodles: The remaining asian noodles are made with various vegetable starches. Japchae and shirataki are the popular noodles in this category.
What's the best noodle for this spicy chili noodle recipe? Our favorite is rice noodles, but any other type of ramen or wheat noodles will work well.
Where to Find Asian Noodles
Sometimes it's difficult to find a specific type of noodle, especially if it's one that you haven't cooked with before. Luckily, asian noodles are widely available.
Grocery store: Most local grocery stores will carry the most common types of asian noodles such as lo mein, ramen, and chow mein.
Local Asian/Thai food market: For more fresh, authentic, and diverse options, head to a local Asian or Thai food store.
Delivered: These days, everything can be found online and delivered straight to your door. One of our favorite noodles is Lotus Ramen Noodles.
Spicy Chili Noodle Ingredient Overview
Spicy chili noodles are made using readily available ingredients that result in a mouthwatering meal. Here's an overview of the ingredients for your perfect dinner.
Noodles: Ramen noodles are our favorite for this recipe; however, other rice or wheat noodles will work well, too. Spaghetti also works well, but use only about six ounces for this recipe. The noodles are the "transportation" for the spicy chili sauce from the plate to your taste buds. Follow package instructions to avoid overcooking the noodles.
Oil: Avocado or vegetable oil are the best mild-flavor oils to sauté the garlic and chili flakes in.
Garlic: Sauteed garlic is a staple in any noodle dish, adding a nutty taste when cooked. Avoid over-cooking as it then becomes bitter.
Chili flakes: Chili flakes add the necessary kick to the noodles. Use as little, or as much as you prefer. We recommend starting small, and adding more as desired. It's easy to make the dish more spicy, but hard to tone it down later.
Soy sauce: Soy sauce adds the savory and salty flavor to the dish. When combined with brown sugar, it makes a scrumptious sauce. Opt for low-sodium soy sauce if looking to decrease overall saltiness.
Brown sugar: Even a small amount of sugar provides additional savory and spicy flavor.
Rice vinegar: Rice vinegar adds to the flavor profile of the dish by brightening and enhancing the flavor of the sauce.
Green onions: Green onions are a perfect garnish and add freshness to the dish.
How to Cook The Best Spicy Chili Noodles
Spicy chili noodles are so crazy easy to cook that you'll be wondering what to do with your extra time. Here's a quick overview to guide you.
Cook noodles: Cook noodles to al dente. Drain.
Combine sauce ingredients: Whisk together soy sauce, brown sugar, and rice vinegar.
Sauté briefly: In a skillet warmed to medium low heat, sauté garlic briefly, then add chili flakes.
Thicken sauce: Pour sauce into skillet and cook until sauce thickens.
Add noodles: Add noodles and green onions to sauce and stir. Serve.
Customizing Your Chili Noodles
The best dishes are the ones that are easily customizable, and spicy chili noodles are exactly that. Customize the dish with your choice of vegetables, protein, or other seasonings.
Vegetables: For more vegetables, add stir fry vegetables such as bok choy, carrots, broccoli, mushrooms, or cabbage. Consider doubling the sauce if adding a large portion of extra vegetables.
Protein: If looking to add protein, add cubed chicken, tofu, ground pork, or ground turkey. Double up the sauce to ensure there's enough sauce to compensate for the additions.
Seasonings: Sriracha, chili oil, hot sauce, and red pepper flakes can be used as a substitute or in addition to chili flakes for an extra kick of spice. If using an alternative spice base, make sure you like the taste of it before adding to the dish. Be cautious with how much you use, as different seasonings have varying levels of heat.
Hot Tip: Level up your garnish-game by adding crushed peanuts or cashews for extra crunch, flavor, and protein. Toasted sesame seeds are also a fun garnish.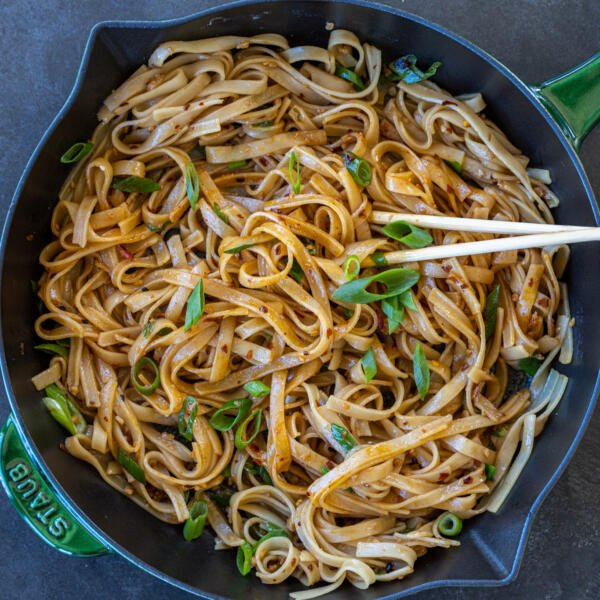 3 Tips to Make the Best Spicy Chili Noodles
Control the spice: When adding chili flakes (or your choice of spice), try a few bites to test the heat. The first bite may not seem very spicy, but can get spicier with each bite.
Cook noodles to al dente: Avoid overcooking the noodles. Asian noodles are especially easy to overcook, so follow package instructions carefully.
Try fresh ramen noodles: For an even more freshly-cooked taste, buy fresh ramen noodles. Most grocery stores carry them in the refrigerated section.
Serving Suggestions for Spicy Chili Noodles
Spicy chili noodles are great served as a standalone dish, but even better when paired with extra vegetables and meat. For added protein, try our air fryer Korean chicken thighs, easy teriyaki chicken skewers, or baked teriyaki salmon. Try our roasted broccolini, air fryer broccoli or grilled zucchini and mushrooms for extra veggies. For a cool, refreshing accompaniment, try our Asian cucumber salad.
Storing and Reheating Spicy Chili Noodles
If you happen to have spicy chili noodles left over, you're in luck! Save them for your next meal! Here are our tips on storing and reheating chili noodle leftovers.
Refrigerator: To keep your spicy chili noodles on hand for up to two days, place them in an airtight container in the fridge. Avoid keeping them for more than two days as the taste and texture of the noodles can begin to change.
Reheating: To reheat the noodles, cook on stovetop over medium heat, stirring often until warm. Optionally, microwave chili noodles covered until warmed to your desired temperature.
FAQ
Are spicy noodles healthy?
Yes, spicy noodles using healthy ingredients are healthy. To make spicy noodles even healthier, use low sodium soy sauce, add extra mixed vegetables, and add your favorite protein for a well balanced meal.
What makes spicy noodles spicy?
Contrary to popular belief, it is the spices in the dish rather than the noodles that make spicy noodles spicy. Common spices used include chili flakes, red pepper flakes, chili oil, sriracha, or other types of hot sauce.
Can I substitute asian noodles with Italian pasta?
Asian noodles and Italian pasta differ in texture and flavor, so in most cases, they should not be interchanged in recipes unless stated. Most Italian pasta is designed to be cooked to al dente (firm to the tooth), whereas Asian noodles differ in their cooked texture (i.e. soft, firm, chewy, springy).
More Asian-Inspired Noodle Dishes
Recipe
These spicy chili noodles burst with a mouthwatering tangy, sweet, and spicy flavor. Rest assured your craving for takeout will be satisfied in 20 minutes.
Nutrition Facts
Spicy Chili Noodles (Quick & Easy)
Amount Per Serving
Calories 209
Calories from Fat 45
% Daily Value*
Fat 5g8%
Sodium 736mg31%
Potassium 162mg5%
Carbohydrates 34g11%
Protein 7g14%
Vitamin A 281IU6%
Vitamin C 2mg2%
Calcium 26mg3%
Iron 1mg6%
* Percent Daily Values are based on a 2000 calorie diet.