This sweet and sour chicken is made with a sticky and tangy sauce that's simply irresistible. You'll be coming back for seconds.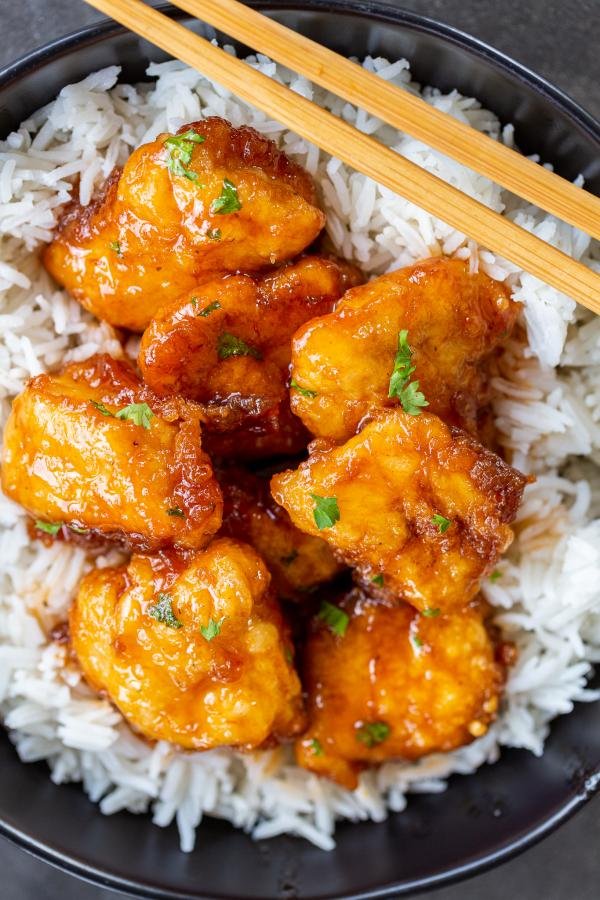 If you're a huge fan of getting Chinese takeout, you've just stumbled upon the right corner of the internet. The benefits? We can double or triple the batch to have on hand for leftovers. To this day, our version of sweet and sour chicken has been some of our best work.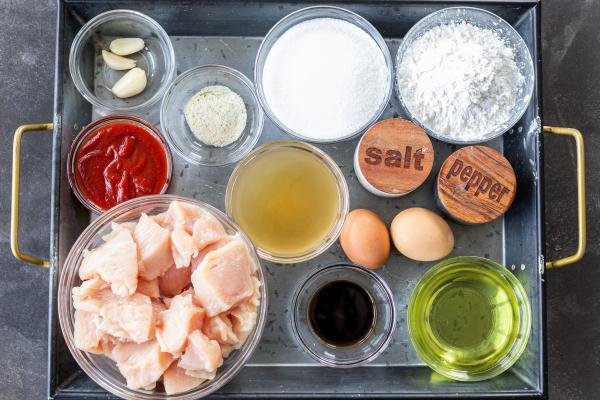 What Exactly is Sweet and Sour Chicken?
Sweet and sour chicken is a Chinese dish typically made of deep-fried chicken or pork that's covered in a simple batter of cornstarch. It's then tossed and finished with a sweet, vinegary sauce. Sometimes, you'll find it served with pineapple chunks or bell pepper. A true takeout go-to that tastes like heaven on earth!
Preparing Sweet and Sour Chicken from Scratch
To kick off the process, slice the chicken breasts into evenly sized bite-sized pieces (about 1-inch chunks are perfect).
Coat the Chicken: Next, place the chicken pieces in a large bowl with cornstarch, cornstarch, black pepper, salt, and pressed garlic cloves. Toss to combine.
Fry the Chicken: Whisk a large egg in a shallow bowl and dip each battered piece of chicken into it. Then, transfer the chicken to a skillet preheated with oil and fry each side until golden brown. Place the chicken in a single layer in a baking dish.
Mix the Sauce Ingredients: In a small bowl, whisk together the sugar, soy sauce, ketchup, apple cider vinegar, and pour it over the chicken.
Bake the Chicken: Finally, bake the chicken at 350°F for 30 minutes (flip it every 10 minutes to build the coating). Enjoy!
Tips to Help You Make the Best Sweet and Sour Chicken
Making authentic sweet and sour chicken is easier than you think, but a few tips will help you nail it.
Swap in skinless chicken thighs. If you love dark meat, use chicken thighs instead of chicken breasts.
Fry the chicken over medium heat. You're not looking to cook the chicken all the way through, but to get a nice crisp on the breading. Keep in mind it will cook the rest of the way through in the oven.
Add red pepper flakes for some heat. If you like it on the spicier side, add in as many shakes of red pepper flakes as you can handle.
Use brown sugar versus white for a deeper flavor. If you want a more full-bodied sweetness, swap the white sugar for brown sugar. Or, add a bit more fruity sweetness by mixing some of the canned pineapple juice into the sauce mixture.
Bake the chicken with vegetables for a more well-rounded meal. Add broccoli, carrots, tomatoes, and/or onions to the baking dish for a quick serving of veggies.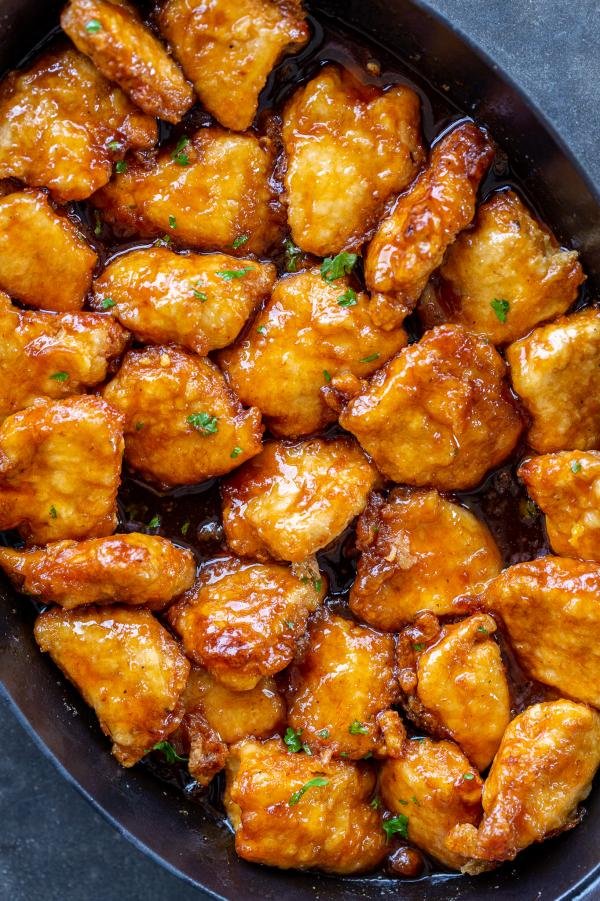 What Goes Well With Sweet and Sour Chicken
Serve sweet and sour chicken over a bowl of steamed white rice or alongside any of your favorite stir fries. Veggie lo mein, beef lo mein, or shrimp lo mein are all great options. Or, if you're whipping up an appetizer tray, pierce each chicken with a toothpick for easy snacking.
Storing and Reheating Chicken
Whether you have some leftovers to store or you'd like to have a batch on hand in the freezer, find all the storing and reheating tips you need here.
Refrigerator: To keep sweet and sour chicken on hand for up to three days, store it in an airtight container in the fridge. This will keep the breading from turning soggy quicker. To reheat it, place it back in the oven or pop it in an air fryer if you have one.
Freezer: The best way to freeze sweet and sour chicken is after breading and frying it. Assemble the pan-fried chicken on a baking sheet lined with parchment paper and pop it into the freezer uncovered. Once completely frozen, transfer the chicken to a freezer-safe bag. If you really want to prep ahead, you can even freeze the sauce. When you're ready, allow the sauce to thaw on the counter and bake the chicken as directed.
FAQ
Is sweet and sour chicken the same as orange chicken?
While sweet and sour chicken and orange chicken have similar tangy profiles, they are made with slightly different sauces.
What can you use leftover sweet and sour sauce for?
You can use leftover sweet and sour sauce for veggies, stir fry, and meat marinades.
Can you use a different type of vinegar than apple cider vinegar?
Apple cider vinegar works best, as it's much tangier and contains a subtle sweetness. Other types of vinegar simply won't work the same.
How do you prevent hot splattering oil?
Prevent the oil from splattering during pan-frying by ensuring the heat stays at medium.
Can you bake the chicken instead of frying it?
Skipping the pan-frying step won't yield the same crispy result. While you can bake the chicken from start to finish, it's not recommended.
Other Asian-Inspired Dishes
Recipe
This sweet and sour chicken is made with a sticky and tangy sauce that's simply irresistible. You'll be coming back for seconds.
Nutrition Facts
Easy Sweet and Sour Chicken Recipe
Amount Per Serving
Calories 528
Calories from Fat 216
% Daily Value*
Fat 24g37%
Cholesterol 151mg50%
Sodium 1457mg61%
Potassium 652mg19%
Carbohydrates 41g14%
Protein 35g70%
Vitamin A 194IU4%
Vitamin C 3mg4%
Calcium 25mg3%
Iron 1mg6%
* Percent Daily Values are based on a 2000 calorie diet.