These smoked oysters with spicy miso butter are the perfect finger food for a party. With just 30 minutes, this appetizer is sure to "wow" your guests.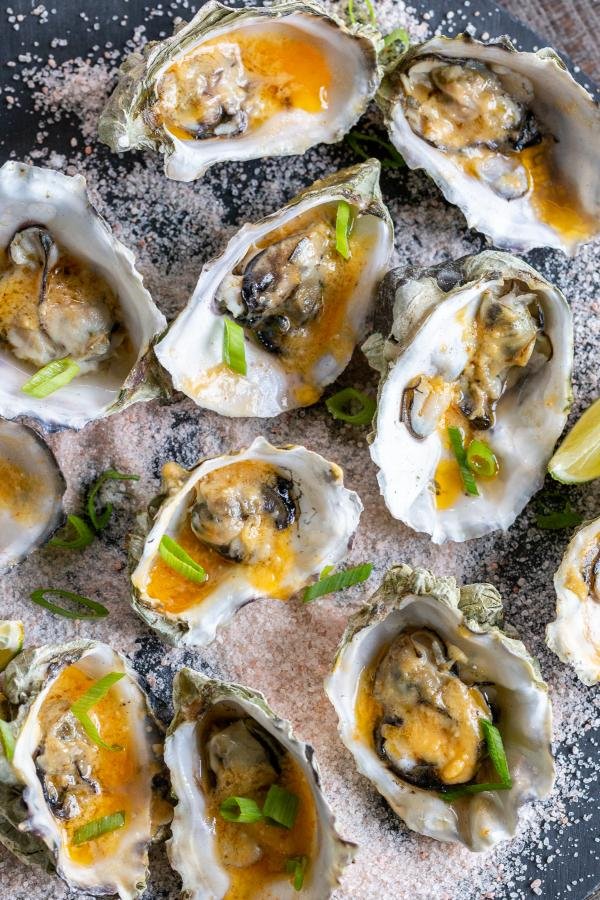 Having lived in beautiful, rainy Seattle for so long, we've grown to love fresh seafood (especially salmon chowders)! These smoked oysters are a perfect representation of the state's tasty seafood and diverse culture. Without a doubt, the unique flavor for this recipe comes from white miso paste. This lightly sweet, fermented paste serves as the base for the delicious, buttery sauce you will drizzle over your smoked oysters. YUM!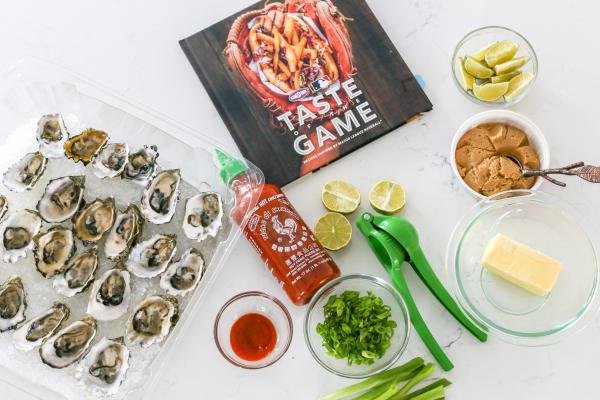 How to Pick the Freshest Oysters
There are a couple of things to look for when going on the hunt for fresh, live oysters. Oysters come in all shapes and sizes, but all good oysters have the same things in common.
Make sure they are sealed. Firstly, you will want to make sure your oysters are completely sealed and you're not able to pry them open with your hands. This ensures that all the natural brine is sealed inside the shellfish! Never buy oysters with open shells, unless they open them right in front of you.
Look for the right shape. Secondly, you will want to look for oysters with flat tops and deep cups. A "deep cup" means that there is more room for meat and brine in the shell, which typically lends to a bangin' oyster!
Give them a smell. Lastly, fresh oysters will smell like the ocean – salty and fresh. Avoid oysters that give off a fishy and unpleasant smell.
How to Prepare Smoked Oysters with Spicy Miso Butter
You don't need to be a pit boss with a fancy pellet smoker to make this oysters recipe. If you have a standard charcoal grill, you're good to go!
Build the Grill: First, build a charcoal fire in your BBQ and preheat it to 450°F.
Prepare the Oysters: Next, use an oyster knife to pull oyster shells apart. Discard the top shell and loosen the oyster meat using the tip of the oyster knife.
Make the Spicy Miso Butter: In a small bowl, combine the softened butter, miso, sriracha, and lime juice together.
Grill the Oysters: Next, place the oysters directly onto the grill grates and grill them for about 3 minutes. Remove the oysters from the grill rack and top them with 1/2 teaspoon of the miso butter mixture. Return the oysters to the grill for 3 more minutes.
Garnish the Smoked Oysters: Top the oysters with scallions and lime wedges. Enjoy!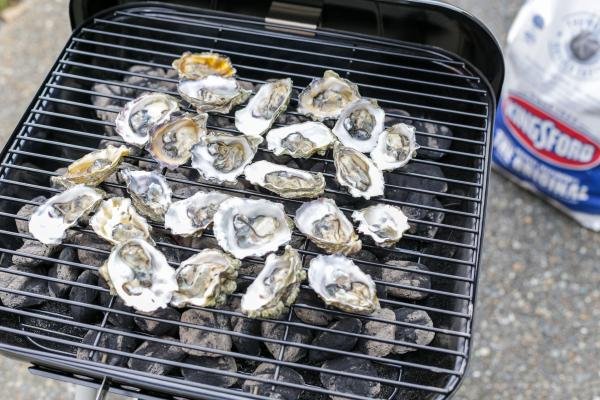 Expert Tips for Smoking Your Own Oysters
A couple of expert pro tips will help you get the most restaurant-worthy smoked oysters possible.
Ask the seafood counter to open the oysters for you. Skip out on dealing with shucking the oysters yourself and ask the seafood counter to do it for you. Hello, minimal prep work!
Scrub oysters with a stiff brush under running water. To ensure there's no lingering grime that will affect the flavor of your oysters, rinse them well under cold water with a stiff brush and keep them in an airtight container in the fridge until ready to grill.
Use unsalted, room temperature butter. There is a good amount of salt in miso and sriracha, so there is no need to overdo it with salted butter. Using room temperature butter is also key because it is much easier to beat and incorporate into your sauce!
A Couple Ideas for Serving
These smoked oysters can be eaten as an appetizer, snack, or as a main course with some tasty sides. We like to serve them on a big tray with all the fixin's before grilled ribeyes with creamy mashed potatoes for a classic surf n' turf dinner. They also pair wonderfully with a caesar salad for a light lunch.
Note: These smoked oysters are best eaten right away and don't keep well in storage. Only make as many as you can eat in one sitting!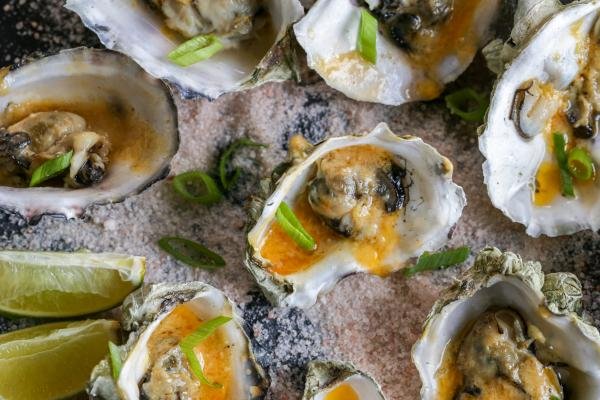 FAQ
What do smoked oysters taste like?
All smoked oysters should have a mild, smoky flavor balanced with an earthy taste and a bit of seawater. Depending on the kind of butter or topping you use, you can elevate these flavors in any which way.
Are smoked oysters healthy?
Smoked oysters are healthy, low-calorie, and an excellent source of protein. That said, they should be eaten in moderation due to the carcinogens from the smoke.
Can smoked oysters be frozen?
You should never freeze smoked oysters. They are always best eaten fresh and don't tend to thaw well or keep fresh in storage.
How many smoked oysters should you allot per guest?
If you are serving the smoked oysters as an appetizer, allot 2-3 per guest. If you are serving them as an entree, allow 5-6 per guest.
Can you smoke oysters without shucking them?
You should never smoked oysters without shucking them first. The shells are sealed so tightly they are nearly airtight, making it impossible for the smoke to enter and flavor the shellfish.
More Tasty Snacks and Finger Foods to Try
Recipe
This recipe for smoked oysters is made on a standard grill and features a velvety spicy miso butter. So fancy, yet so simple to make for your next party!
Ingredients
24

oysters

6

tbsp

Unsalted Butter

room temperature

2

tbsp

white miso

1-2

tbsp

sriracha

1

tbsp

fresh lime juice

1/2

cup

scallions

thinly sliced

1

tsp

ground black pepper

to taste

1

lime

sliced into wedges for serving
Nutrition Facts
Smoked Oysters with Spicy Miso Butter
Amount Per Serving
Calories 30
Calories from Fat 27
% Daily Value*
Fat 3g5%
Cholesterol 8mg3%
Sodium 94mg4%
Potassium 11mg0%
Carbohydrates 1g0%
Protein 1g2%
Vitamin A 109IU2%
Vitamin C 1mg1%
Calcium 4mg0%
Iron 1mg6%
* Percent Daily Values are based on a 2000 calorie diet.