This post has been sponsored by Kingsford's. All thoughts and opinions are my own.
Smoked Oysters with Spicy Miso Butter are the perfect finger food for a game day get-together. This approachable recipe only takes 30 minutes and is sure to "wow" your guests.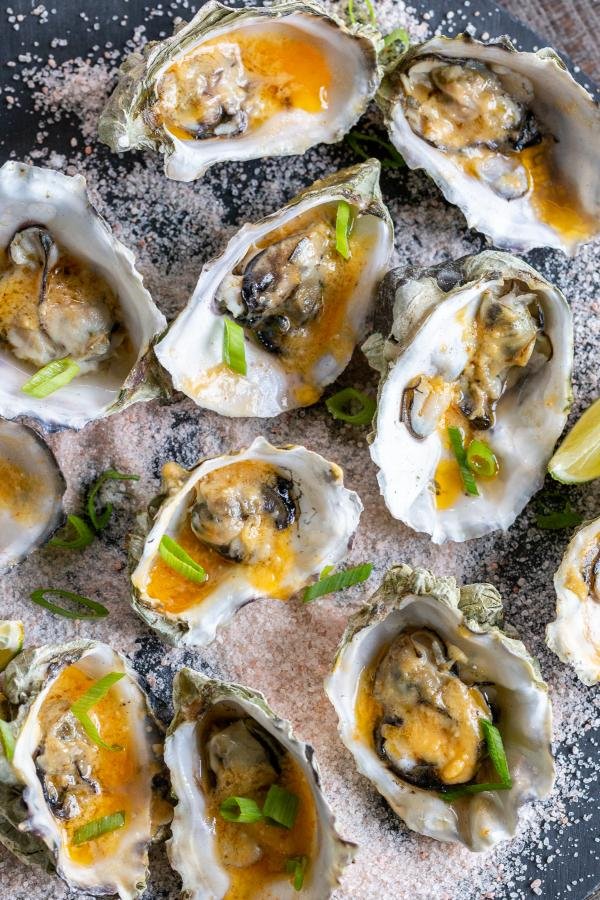 Foodies LOVE baseball. Why? Food is just as much a part of the experience of watching the game, as well… actually watching the game! When the Seattle Mariners play, my family loves sporting our gear and gobbling down famous ballpark snacks – hotdogs, nachos, chili, pretzels… you name it!
Recently, Kingsford came out with a cookbook called Taste of the Game. It features a distinct recipe for each Major League Baseball team that represents the taste buds of its host city. This recipe for Smoked Oysters with Spicy Miso Butter is the pick for Seattle, and I'm loving it! Check out the digital cookbook here and whip up your team's recipe!
Oysters are a great representation of Seattle. We love our fresh seafood! The unique flavor for this recipe comes from white miso paste. This lightly sweet, fermented paste serves as the base for the delicious, buttery sauce you will drizzle over your smoked oysters.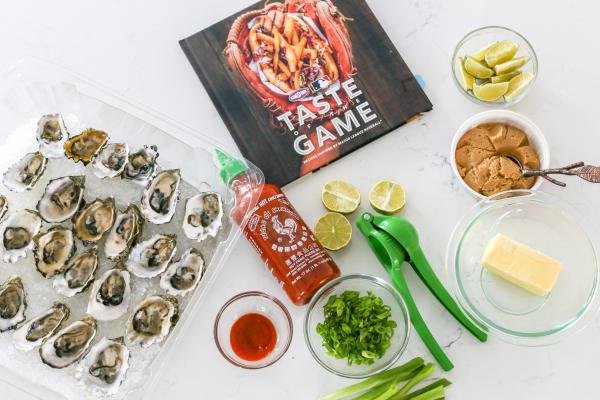 Ingredients for Smoked Oysters
White Miso Paste
White miso paste is made from soybeans that have been fermented with a hefty amount of rice for a shorter period of time than darker miso varieties. The paste itself can range from white to light brown or beige and has a slightly sweet flavor to it. Its mild and mellow notes make it a perfect addition to dressings and light sauces.
Butter
For this recipe, make sure you use the unsalted, room temperature butter. There is a good amount of salt in miso and sriracha, so there is no need to overdo it with salted butter. Using room temperature butter is also key because it is much easier to beat and incorporate into your sauce!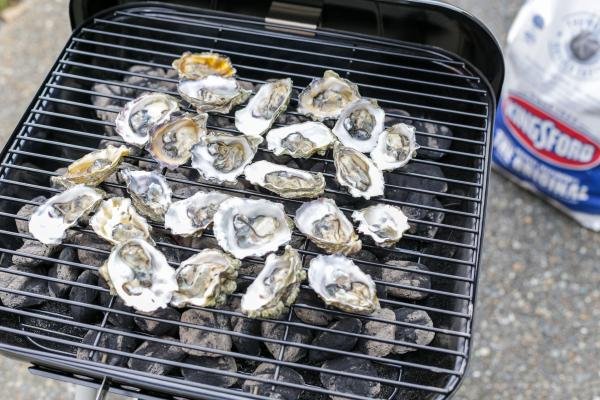 Oysters
There are a couple of things to look for when going on the hunt for fresh, live oysters. Oysters come in all shapes and sizes, but all good oysters have the same things in common. First, you will want to make sure your oysters are completely sealed and you're not able to pry them open with your hands. This ensures that all the natural brine is sealed inside the shellfish! Never buy oysters with open shells, unless they open them right in front of you.
Second, you will want to look for oysters with flat tops and deep cups. A "deep cup" means that there is more room for meat and brine in the shell, which typically lends to a bangin' oyster!
Tip: Tap each oyster to check for hollowness. A hollow oyster typically means a dry oyster. It's all about the brine!
Sriracha
Sriracha has become a staple in most people's fridges. It adds the perfect amount of sweet, garlick-y heat to tons of dishes. Customize the spice level in your miso butter by adding more (or less!) sriracha to the mix.
Freshness
Limes and scallions add a pop of freshness to this dish. The limes cut the fattiness of the butter and add some essential acid. Scattered scallions top off the dish with a mild, onion-y flavor.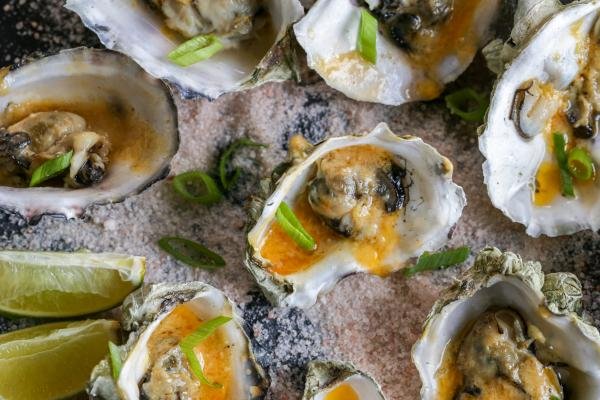 Add These Other Dishes to Your Game Day Spread
Recipe
Smoked Oysters with Spicy Miso Butter are the perfect finger food for a game day get-together. This approachable recipe only takes 30 minutes and is sure to "wow" your guests. 
Ingredients
24

oysters

6

tbsp

butter

(at room temperature)

2

tbsp

white miso

1-2

tbsp

Sriracha

1

tbsp

fresh lime juice

(plus wedges for serving)

1/2

cup

scallions

(thinly sliced on a slight diagonal)

1

tsp

ground black pepper

(to taste)
Recipe Notes: 
Cooking temperature for Oysters: For your safety, please reference the USDA safe cooking temperatures.
Tips for Oysters: Check to see if the oysters are alive by confirming that shells are tightly closed; discard any that are not tightly closed. Scrub oysters with a stiff brush under running water. Rinse well and refrigerate until ready to grill.
Nutrition Facts
Smoked Oysters with Spicy Miso Butter
Amount Per Serving
Calories 30
Calories from Fat 27
% Daily Value*
Fat 3g5%
Cholesterol 8mg3%
Sodium 94mg4%
Potassium 11mg0%
Carbohydrates 1g0%
Protein 1g2%
Vitamin A 109IU2%
Vitamin C 1mg1%
Calcium 4mg0%
Iron 1mg6%
* Percent Daily Values are based on a 2000 calorie diet.