This margherita flatbread pizza recipe is as easy as it gets. Made in just 5 minutes with store-bought flatbread!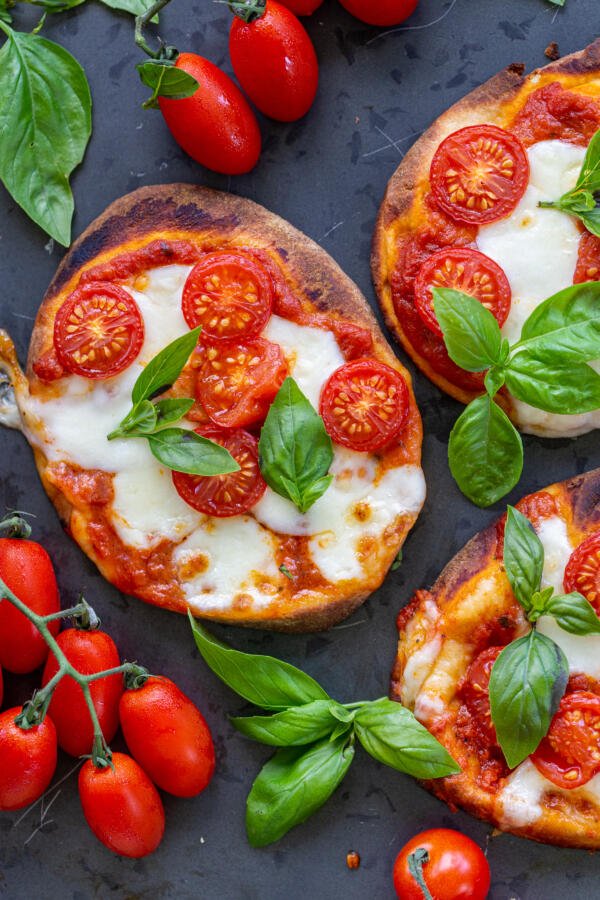 Craving pizza, but don't have the time to make homemade dough? Flatbread pizza is a way to get that pizza fix in a fraction of the time. Snag some flatbreads from the grocery store (typically you can find them in the deli or the bread aisle) and dress them with whatever sauce and toppings you are craving. This recipe is for margherita flatbread pizza, but feel free to experiment with other flavor combinations!
During hectic weeknights, flatbread pizzas are a lifesaver. I like to let my boys put their chef hats on and customize their individual flatbreads. It's super fun and we skip any fighting over what pizza to order from the local parlor.
How to Make Margherita Flatbread Pizza
Making margherita flatbread pizza is so simple you can hardly call it a recipe. Below, find a quick hitter rundown of the recipe before you dive in.
Preheat the Oven & Assemble the Pizzas: Preheat the oven to 410°F. While it's heating up, place the flatbreads on a baking sheet and top them with sauce, tomatoes, and cheese.
Bake the Pizzas: Bake the pizzas for 10 minutes, or until the cheese is completely melted.
Top with Herbs & Serve: Sprinkle basil or arugula on top of each flatbread. Slice with a pizza cutter and enjoy!
Tips for Making the Best Flatbread Pizza
Below, find a couple of pro tips to help you make the best margherita flatbread pizza.
Preheat the oven ahead of time. The cooking process will be much quicker and you can dress your pizzas while the oven heats up.
Swap in cherry tomatoes. If you like a bit more texture, swap the regular tomato slices out for halved cherry tomatoes.
Add cured meats. If you're looking to add some protein, pop on some salami, pepperoni, prosciutto, or ham.
Play around with different cheeses. If mozzarella isn't your favorite, swap in herbed goat cheese or feta.
Use fresh basil instead of dried. Fresh basil has so much more flavor than dried and adds a pretty pop of color to your pizza.
Serving Flatbread Pizza
Round out your margherita flatbread pizza dinner with a yummy salad. Go classic pizzeria style and whip up a batch of creamy caesar salad dressing and toss it with romaine lettuce, croutons, and parmesan cheese. Alternately, you could pair it with a classic garden cucumber tomato salad or an ultimate garden salad.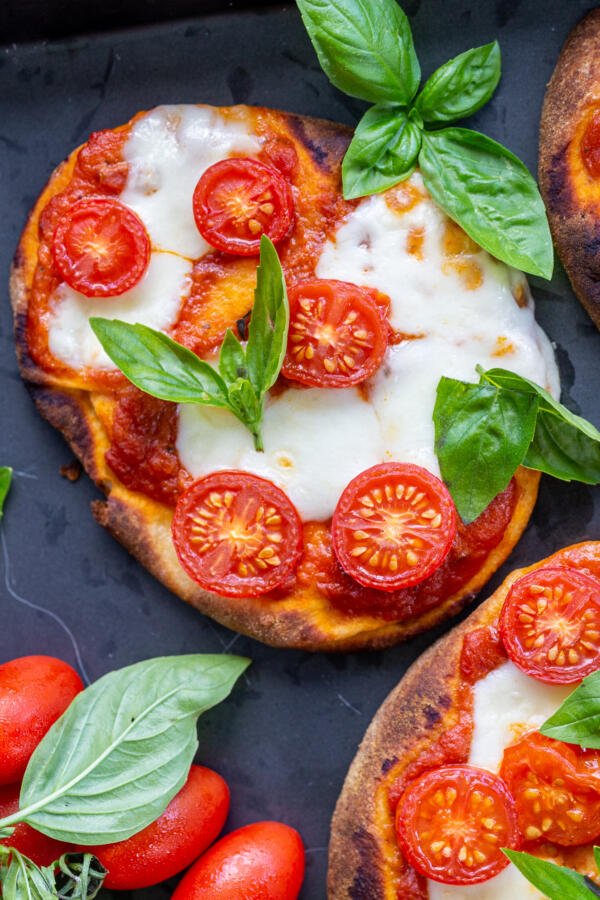 Storing Flatbread Pizza
Refrigerator: Store leftover flatbread pizza in an airtight container in the fridge. It should keep for up to 3 days.
Freezer: Freezing flatbread pizza is a great meal prep option. Simply top each flatbread with your desired toppings and place them on a baking sheet. Pop the baking sheet in the freezer for a couple of hours, or until the pizzas are completely frozen. Wrap each pizza tightly in plastic wrap. Store them in the freezer for up to 3 months.
Reheating Tip: Reheat refrigerated and frozen flatbread pizzas in the microwave or conventional oven until the cheese is melted.
FAQ
How do you cook a flatbread pizza?
All you need to do to cook a flatbread pizza is top the flatbread, pop it in the oven at 410°F, and bake it until the cheese is melted.
What's the difference between margarita and margherita?
A margarita is a tequila drink made with lime and agave, while a margherita pizza is made with thin crust, tomatoes, mozzarella cheese, and basil.
What is the difference between flatbread and pizza crust?
The difference between flatbread and pizza crust is that flatbread is made with unleavened dough while pizza crust is made with yeast.
Can I use naan bread instead of flatbread?
Yes, you can use naan bread instead of flatbread. You can find premade naan in most grocery stores.
Other Pizza and Flatbread Recipes
Recipe
Margherita Flatbread Pizza is a staple in our home. We love the fresh ingredients and contrast of flavors. The best part is that everyone can make their own pizza that is customized to their taste buds!
Ingredients
1/2

cup

favorite pizza sauce

2

large tomatoes

(or two cups of cherry tomatoes)

2

cup

fresh mozzarella cheese

2

tbsp

handful of fresh basil or arugula
Nutrition Facts
5 Minute Margherita Flatbread Pizza
Amount Per Serving
Calories 293
Calories from Fat 126
% Daily Value*
Fat 14g22%
Cholesterol 44mg15%
Sodium 692mg29%
Potassium 361mg10%
Carbohydrates 27g9%
Protein 17g34%
Vitamin A 1076IU22%
Vitamin C 11mg13%
Calcium 301mg30%
Iron 2mg11%
* Percent Daily Values are based on a 2000 calorie diet.