Air Fryer Pork Belly Bites are heavenly. They're crispy on the outside and so juicy and tender on the inside. With just three ingredients, it couldn't get any easier.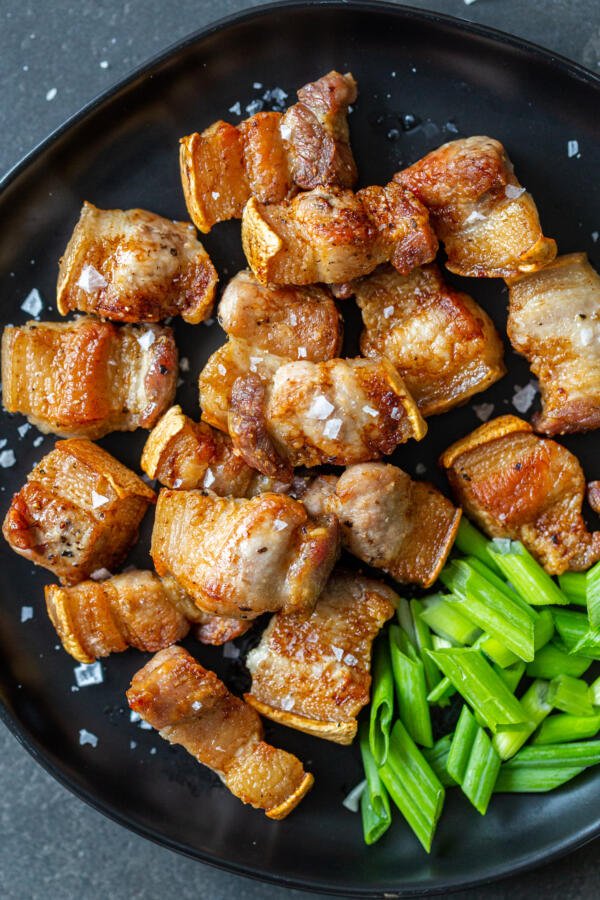 If you're obsessed with bacon and you haven't tried pork belly yet, get ready to have your socks knocked off. It's savory, super decadent and really easy to whip up.
Any proud Ukrainian can attest to how wonderful pork belly bites are. Growing up, we called them "salo" and couldn't wait to get our hands on them once they came out of the fryer. The definition of finger lickin' good.
Sadly in Ukraine, we didn't have an air fryer to prevent a mess of grease splatter everywhere. Luckily, now we get to enjoy the luxury of not having to clean up the messy kitchen. Just pop the air fryer basket into a dishwasher and have it do all the work for you.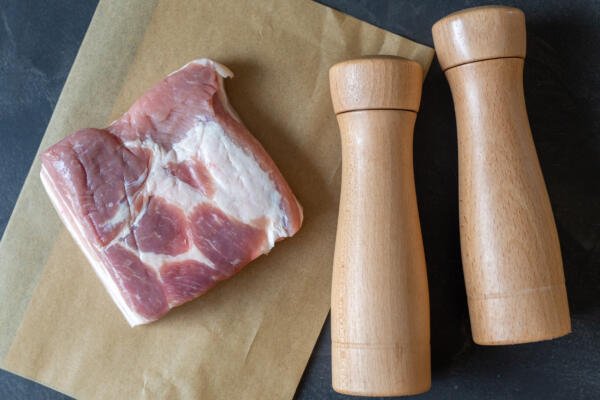 How to Make Air Fryer Pork Belly Bites
Making pork belly in the air fryer is super simple. Whether you're putting pork belly on top of rice for a meal or just frying up a batch to gobble up all on it's own, it comes together in 20 minutes and makes for a perfect quick protein.
Cut pork belly and season generously.
Place pork belly in air fryer basket.
Air fry for 20 minutes, making sure to shake the basket every now and again to ensure 360 crispiness.
Hot Tip: Need an air fryer but overwhelmed by all the options? If you are still deciding on which one to get, I would highly recommend COSORI. It has the most raving reviews.
FAQ
What exactly is pork belly?
Just like bacon, pork belly comes from the literal belly of the pig. The difference is that pork belly is uncured, un-smoked and un-sliced. Bacon on the other hand, is typically cured with salt and smoked.
What temperature should Pork Belly be?
Pork belly is safe to eat once it reaches 165°F internally. Unsure of doneness? Take the guesswork out of the equation and invest in a meat thermometer.
Why is my pork belly skin not crispy?
Your pork belly is likely not crispy because you failed to shake the basket enough. Air fryers work because they circulate extremely hot air around food to crisp it up. If you don't expose the surface area it won't crisp up well.
Where do you buy pork belly?
Pork belly is available at most specialty butchers. It's also a popular commodity at Asian grocery stores. You might have a tough time finding it at big box supermarkets, but the hunt is well worth it.
What to Serve Air Fryer Pork Belly With
Pork belly bites are delicious all on their own, but if you're looking for a well-rounded meal they pair well with white rice or any grain. You can also whip up some Lo Mein and toss them right in when they come out of the air fryer.
Storing Leftover Pork Belly
Refrigerating: Store leftover pork belly in an airtight container in the fridge. When you're ready to reheat, pop it back in the air fryer for a couple of minutes to get it crispy again. It should stay good for about a week when stored properly.
Freezing: Allow pork belly to cool to room temperature. Place pieces in a single layer on a baking sheet. Pop the whole baking sheet in the freezer. Once totally frozen, remove from tray and put into a freezer safe storage bag. When you're ready to eat, reheat the pork belly in the air fryer. When stored properly, pork belly should stay fresh for up to three months.
More Air Fryer Recipes
Recipe
Air Fryer Pork Belly Bites are heavenly. They're crispy on the outside and so juicy and tender on the inside. With just three ingredients, it couldn't get any easier.
Instructions
Nutrition Facts
Air Fryer Pork Belly Bites (Only 3 Ingredients)
Amount Per Serving
Calories 588
Calories from Fat 540
% Daily Value*
Fat 60g92%
Cholesterol 82mg27%
Sodium 472mg20%
Potassium 213mg6%
Carbohydrates 1g0%
Protein 11g22%
Vitamin A 13IU0%
Vitamin C 1mg1%
Calcium 7mg1%
Iron 1mg6%
* Percent Daily Values are based on a 2000 calorie diet.