Grilled Ribeye Steak is tender, juicy, and so easy to prepare. In this recipe, you'll learn all the tips and tricks to whip this superior protein up over a hot grill.
We partnered with Beef. It's What's for Dinner., on behalf of the Beef Checkoff, to show you the wonders of grilled Ribeye Steak. Tie up your apron, fire up the grill, and let's get to it.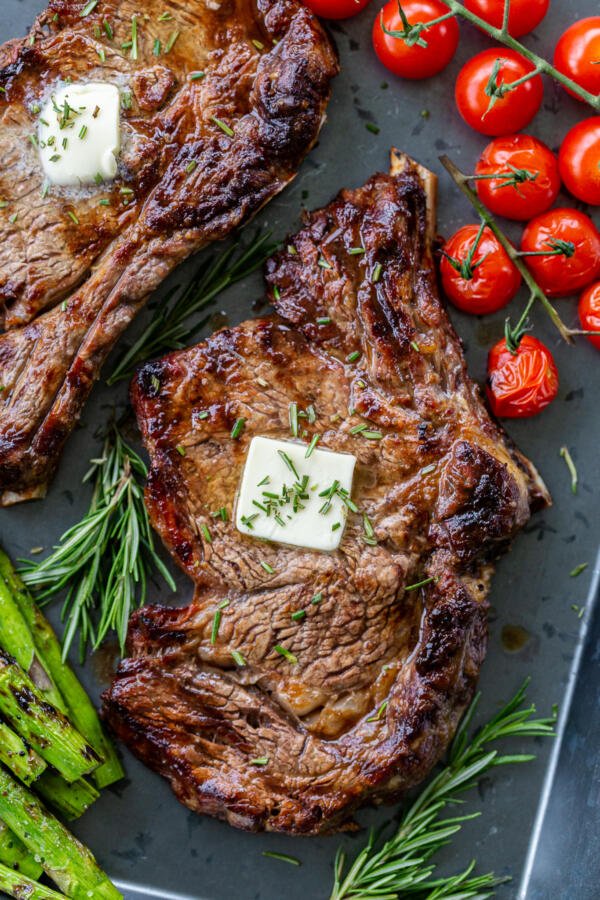 Nothing says summer quite like Ribeye Steaks on the grill. But let's be honest, a winter Ribeye is always welcome on the table. So long as it's not raining, firing up the grill is a great idea.
From small dinner parties, to Fourth of July, or Labor Day cookouts, a grilled Ribeye is perfect for any occasion. Whether you're hosting for close family, new friends, or picky kids, I'm always confident this cut will be a crowd-pleaser.
With perfect marbling and a naturally tender texture, Ribeye doesn't need to be fussed with too much to turn out delicious. A little salt and pepper, and a pat of butter to finish go a long way. This is exactly why this recipe will be a keeper.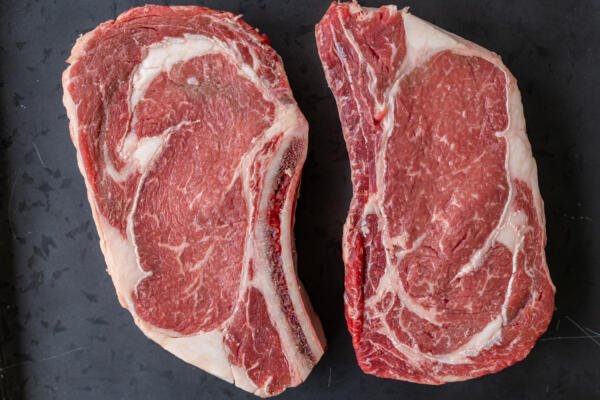 How to Make Grilled Ribeye Steak
Making grilled Ribeye Steak is as easy as 1-2-3. Below, find a high-level overview of the process.
Prepare your Ribeyes: To prep your Ribeyes for grilling, you'll want to trim any excess fat from each cut. This will prevent fat from dripping into the fire, fanning the flames, and burning your steaks.
Season your Ribeyes: Season your Ribeyes with a generous amount of salt and pepper on both sides. Seriously, that's all it takes for knock-out flavor.
Grill your Ribeyes: With your grill set to medium heat, gently lay each Ribeye on the grill grates, flipping only once to cook the other side. See our temperature doneness guide to find the internal temperature and rough cooking time that correlates with the way you like your steak prepared.
Allow Ribeyes to rest: Allowing Ribeyes to rest before you slice into them, locks in a ton of moisture and flavor. Allow for about 10-15 minutes. It might be tempting to dig in, but don't skip this step!
Tips for the Best Grilled Ribeye Steak
Below, find our best tips for nailing grilled Ribeye Steak each and every time.
Season generously. A generous amount of salt brings out the natural flavors of the Ribeye. Keep in mind some of it may fall off during grilling, so don't be shy with the grinder.
Cut off any extra fat. Trimming your Beef prevents your steak from catching on fire. Healthy marbling is great (and preferred!), but any extraneous fat should be removed. Note: This doesn't mean you need to trim off all that lovely, outer fat. Instead, trim off any extra loose pieces that will easily catch on the flames.
Know steak cooks a bit more as it rests. Whatever your doneness preference, keep in mind that steak continues to cook when you take it off the grill to rest. Allot for an extra 3-4 degrees of cooking by taking your steak off a bit early.
Let it Rest. Always, always, always let your steak rest for 10-15 minutes. Allowing it to seal in its own juices up levels the texture and makes all the difference in taste.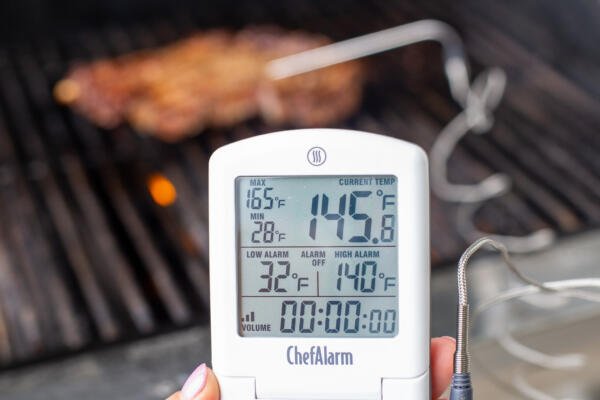 Steak Temperature & Doneness Guide
Use the guide below to gauge what internal temperature you will need to bring your steak to according to your preferred doneness. Remember to keep in mind that your steak will cook a bit more as it rests. Take the guesswork out of the process by investing in a meat thermometer and removing your steak when it's 3-4 degrees shy of done.
Note: Times below are for 1-inch thick Ribeyes. Adjust cooking time for each side by a minute in either direction per 1/4-inch gained or lost.
Medium Rare: 145°F (5 minutes on the first side, 4-5 minutes on the second side)
Medium: 160°F (6 minutes on the first side, 4-5 minutes on the second side)
Well Done: 170°F (8 minutes on the first side, 6-7 minutes on the second side)
Hot Tip: When gauging temperature with your meat thermometer, pierce the steak horizontally so it penetrates the thickest part of the cut. This will yield the most accurate temperature reading.
Serving Grilled Ribeye Steak
This grilled Ribeye Steak will surely be the star of the show, but prepping a couple of sides to pair it with makes for a well-rounded meal. Air fryer asparagus or a Caesar salad will do the trick. You can also whip up some mashed potatoes for a classic steakhouse meal.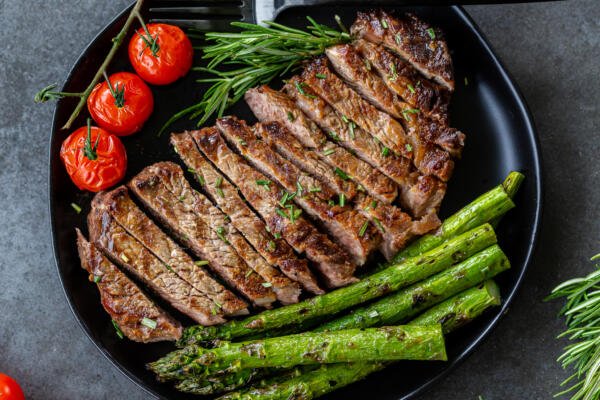 Storing Grilled Ribeye Steak Leftovers
Refrigerate leftover steak in an airtight container in the fridge for up to a week. Use the yummy leftovers to make a steak sandwich or Philly Cheesesteak.
Reheating Tip: Reheat your steak in a skillet with a little bit of butter. Opt for a lower heat so you don't overcook it.
FAQ
Should you put oil on steak before grilling?
You should not put oil on a steak before grilling. The fat will drip into the flames, causing them to burn your steak. There's enough fat in the Beef itself to prevent sticking.
Do you close the grill when cooking steak?
It's recommended not to close the grill when cooking steak. Unless you are cooking an ultra-thick cut, you're better off leaving the lid up.
Should I marinade the steak in advance?
You do not need to marinade steaks in advance unless you are working with a tough cut. Ribeye is naturally tender and only needs a bit of salt and pepper.
When should you season steak before grilling?
Season your steak right before grilling. The salt will stay on the surface of the meat without breaking down any of its juices, resulting in a tender steak.
More Beef Recipes
Recipe
Grilled ribeye steak is tender, juicy, and so easy to prepare. Learn all the tips and tricks to whip this up over a hot grill.
Nutrition Facts
Grilled Ribeye Steak Recipe
Amount Per Serving
Calories 354
Calories from Fat 216
% Daily Value*
Fat 24g37%
Cholesterol 104mg35%
Sodium 1251mg52%
Potassium 456mg13%
Protein 34g68%
Vitamin A 26IU1%
Calcium 13mg1%
Iron 3mg17%
* Percent Daily Values are based on a 2000 calorie diet.