This strawberry sundae features strawberry compote topped with vanilla ice cream, blueberry whipped cream, and crushed pretzels. Sweet, salty, and just right!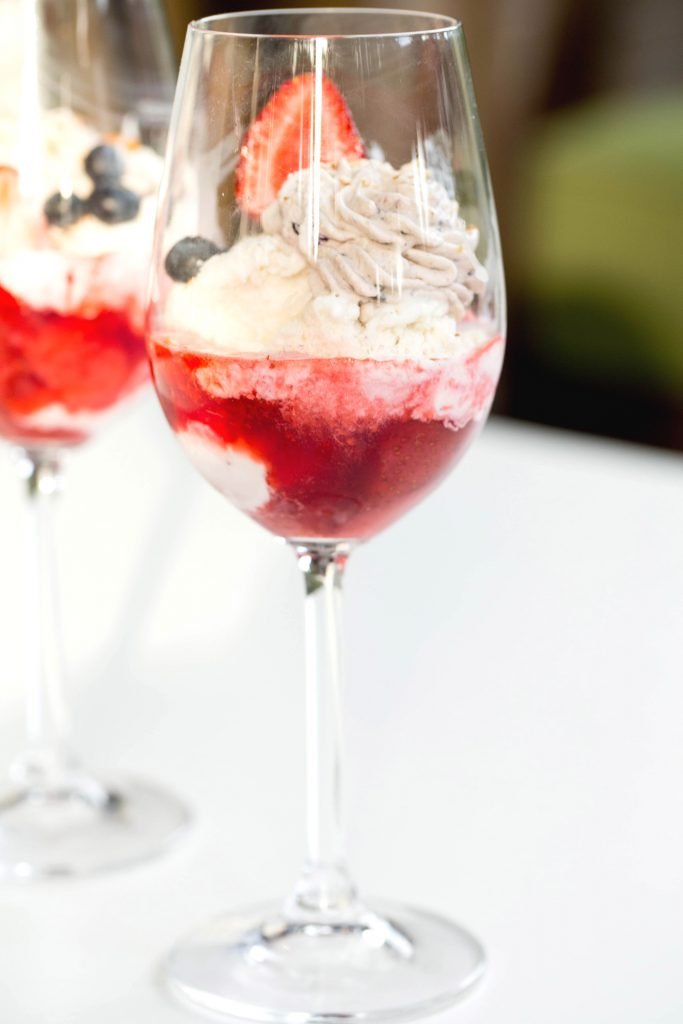 Everyone remembers their first ice cream sundae. Whether it was drenched in chocolate syrup and crushed peanuts or a traditional banana split, the explosion of flavors likely kicked off a lifelong obsession with all things creamy and frozen. This strawberry ice cream sundae is reminiscent of all the things you love about a classic sundae, but elevated with blueberry spiked whipped cream and salty crushed pretzels. Let the childhood nostalgia kick in…
How to Make this Strawberry Sundae Recipe
In this recipe, you'll learn how to make both your own strawberry compote and whipped cream from scratch.
Prepare the Compote: In a medium saucepan, stir the water, granulated sugar, and strawberries together and simmer on medium-high heat for about 5-6 minutes, or until the mixture gets syrupy and the strawberries begin to soften.
Make the Whipped Cream: Using a stand mixer or hand mixer, whip the heavy whipping cream, blueberries, and powdered sugar until you get soft peaks.
Assemble the Sundaes: Spoon a bit of the strawberry sauce into the bottom of a bowl or sundae glass. Top it with a couple of scoops vanilla ice cream, a dollop of blueberry whipped cream, and a sprinkle of crushed pretzels. Serve right away and let the good times roll!
A Few Helpful Sundae-Making Tips
Follow these easy tips for sundae worth writing home about…
Use extra cold heavy whipping cream. Extra cold heavy whipping cream makes for the best whipped cream, as it emulsifies and holds it's shape much better. If you have to, pop the heavy whipping cream in the freezer for 10 minutes before you whip it.
Opt for salted pretzels. Salty pretzels bring that essential yin and yang of sweet and salty to the sundae. Opt for ones that have large pieces of coarse salt sprinkled on top for the best results!
Only assemble the sundaes right before serving. This probably goes without saying, but make sure to only assemble your sundaes right before you plan to serve them – especially if you prefer your strawberry compote on the warmer side! Nothing is more sad than a melted sundae…
Prefer a smoother strawberry compote? Pulse it a couple of times in a blender!
Different Variations & Ingredients
Looking to experiment with different flavor combinations? Here's some ideas to inspire your sundae-making skills…
Swap the pretzels out. Exchange the pretzels for crushed air fryer potato chips or shortbread biscuits.
Tweak the whipped cream. Substitute the blueberries for your favorite berries or fruits (cherries or raspberries work especially well).
Add in a slice of something sweet. Make the sundae more decadent by adding a slice of cheesecake or brownie at the base.
FAQ
Can you use frozen strawberries instead of fresh strawberries?
Fresh strawberries work best and yield a better texture. That said, you can use frozen strawberries if you allow them to thaw and drain them of excess liquid before making the syrup.
Can you use a different ice cream than vanilla?
Vanilla works best, as it's neutral enough to not overpower the other flavors.
How long does the blueberry whipped cream stay fresh?
Homemade whipped cream lasts anywhere between 2-3 days when stored in an airtight container in the fridge.
How long does the strawberry syrup last?
The strawberry syrup will last anywhere between 2-3 weeks when it's stored in an airtight container in the fridge.
​How can you thicken runny strawberry syrup?
There are two different approaches you can take: 1) boil and cool the syrup several times until it reaches your preferred consistency or 2) add a little cornstarch to it while it's simmering.
Other Tasty Summertime Desserts
Recipe
This strawberry sundae is for you sweet and salty lovers. The combo of sweet strawberries, blueberry whipped cream, and pretzels is out of this world!
Ingredients
1

cup

strawberries

2

tbsp

granulated sugar

2

tbsp

water

3/4

cup

heavy whipping cream

1

cup

blueberries

2

tbsp

powdered sugar

2

cups

Vanilla ice cream

2

tbsp

crushed pretzels
Nutrition Facts
Strawberry Sundae with Homemade Berry Sauce
Amount Per Serving
Calories 390
Calories from Fat 216
% Daily Value*
Fat 24g37%
Cholesterol 90mg30%
Sodium 165mg7%
Potassium 259mg7%
Carbohydrates 41g14%
Protein 5g10%
Vitamin A 958IU19%
Vitamin C 25mg30%
Calcium 123mg12%
Iron 1mg6%
* Percent Daily Values are based on a 2000 calorie diet.