​This festive rainbow fruit cake features colorful cake layers separated by cream cheese frosting and fresh fruit. Loved by both kids and adults!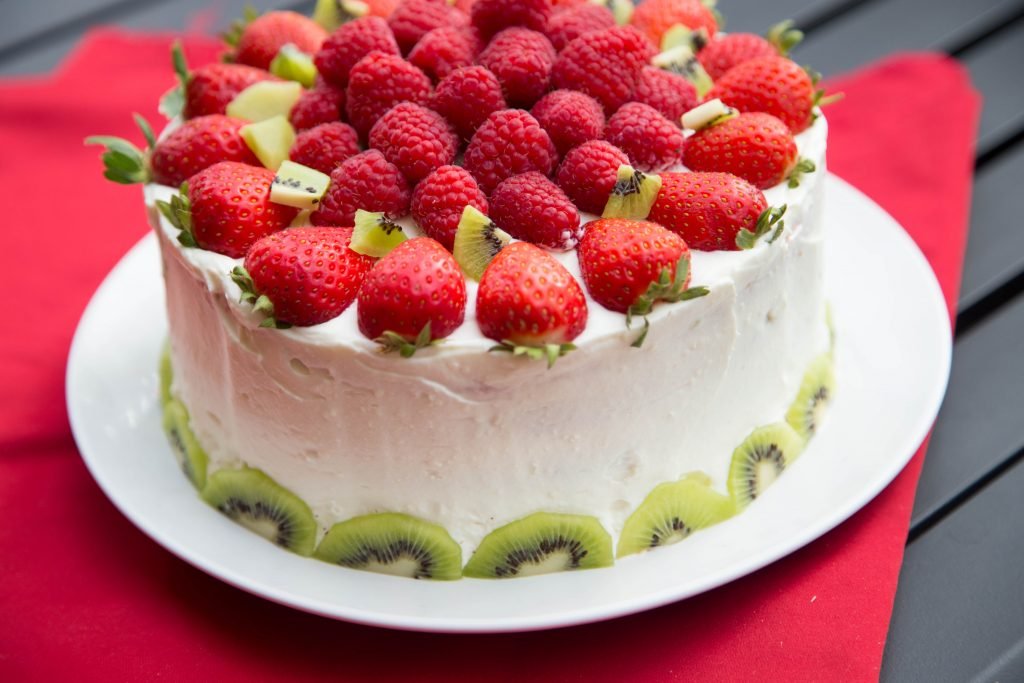 If the words "fruit cake" make you think of the traditional Christmas cake that's hard as a brick, think again. This refreshing and bright cake is the polar opposite and one of our most festive desserts. Instead of being studded with a dried fruit mixture, it features fresh berries and kiwis and a decadent cake cream spiked with sweetened condensed milk and cream cheese. Serve it at your next cookout and watch everyone's eyes widen when you slice into it!
Making this Colorful Fruit Cake
It's hard to believe this cake only requires under 10 ingredients to make. Below, find an overview of the recipe.
Make the Cake Batter: In the large bowl of a stand mixer, beat the eggs and sugar until the mixture increases 3x the volume. Gently fold in the flour in thirds using a cake spatula. Next, separate the batter into 5 equal portions and stir in a different food coloring into each one.
Bake the Cake Layers: Pour one portion of batter into a 9-inch cake pan and bake at 350°F for 15 minutes on the center rack of the oven. Repeat until all your cake layers are baked.
Make the Cake Cream: Using a stand mixer, beat the softened cream cheese and condensed milk together until smooth. Add in the heavy whipping cream and beat on high until it's 3x in volume.
Assemble the Cake: Place a cake layer on your serving plate and spread some cake cream on top, followed by a layer of fresh fruit. Stack another cake layer on top and repeat until you run out. Use the remaining cream to frost the outside of the cake and decorate the top with more fresh fruit. Enjoy!
Hot Tip: Place a cardboard cake circle underneath the fruit cake and decorate it on top of aluminum foil or parchment paper to prevent getting frosting all over your serving plate.
5 Pro Tips for the Tastiest Fruit Cake
Follow the tips below to nail each component of this festive cake.
Don't over mix the cake batter. To prevent the cake from losing its fluffiness, make sure to only fold the flour in just until it's well-combined.
Use the "toothpick test". Unsure if your cake layer is fully-baked? Stick a toothpick into the center. If it comes out clean, you're golden!
Allow the cream cheese to soften at room temperature. Cold cream cheese is impossible to work with, so make sure to take it out of the fridge 30 minutes to an hour before you plan on whipping up the cake cream.
Use extra cold heavy whipping cream. Extra cold heavy whipping cream gets super fluffy when you beat it. If you have to, pop it in the freezer for 10 minutes before you make the cake cream.
Don't over beat the cake cream. If you beat heavy whipping cream too long, it will turn into butter. Once the cake cream increases 3 times in volume, immediately stop mixing it.
Hot Tip: While you can always eat this cake straight away, let it set in the fridge for about an hour before serving if you can. This will give it time to develop it's flavors and it's so refreshing cold!
Different Ways to Decorate Your Fruit Cake
Below, find a couple of different ideas for decorating your fruit cake.
Rustic-Style: Keep the sides unfrosted for a rustic look. Make the same amount of frosting and just pile it high in between the layers.
Bright & Citrusy: Skip the food coloring and add a couple of tablespoons of poppy seeds to the cake batter. Top the cake with fresh peeled oranges and strawberries and shave on a bit of lemon zest and orange zest.
Cinnamon & Banana: Skip the food coloring and top the cake with sliced bananas and a dusting of cinnamon. Optionally, decorate the sides with crushed walnuts.
Best Practices for Storing a Fruit Cake
Because you are decorating this cake with fresh fruit, you should only whip it up one day in advance. For best results, store it in an airtight cake container in the fridge to keep the fruit from turning soggy. This will also prevent the cake from absorbing any lingering smells in the refrigerator.
FAQ
How do you prevent the fruit from sinking into the cake?
The key to preventing the fruit from sinking into the cake is to add it on top of each layer of cake cream. This will help hold it up!
Can you cut the cake layers after baking instead?
While it might be tempting to bake the cake all at once, it's best to bake each individual layer in separate heats. Trying to slice 5 individual cake layers will be really tricky with a knife.
Can you skip out on the food coloring?
Absolutely! The coloring is totally optional. To make the cake more adult-friendly, skip out on the coloring and add some crushed nuts in between the layers. Walnuts, pecans, or almonds will work great.
Does this cake freeze well?
No, this cake isn't good for freezing. Neither the fresh fruit or the cake cream thaw well.
What other fruits can you use?
Swap in pineapple, cherries, mangoes, or bananas (just be sure to eat the cake right away if you're gonna use bananas, as they will turn brown quickly).
Other Fruity Cakes to Try
Recipe
This cheery fruit cake features luscious cream cheese frosting, fresh fruit, and 5 layers of colorful cake. Great for summer BBQs and birthdays!
Instructions
Preparing the Cake Layers
Beat the eggs with sugar until the mixture doubles three times in volume. Using a spatula, fold in the flour in thirds, being extra careful not to over mix the batter. Next, separate the batter into five equal portions for the five separate cake layers.

Add a different food coloring into each layer, folding it in lightly so you don't compromise the fluffiness of the batter.
Making the Cake Cream
Nutrition Facts
Rainbow Fruit Cake Recipe
Amount Per Serving
Calories 594
Calories from Fat 306
% Daily Value*
Fat 34g52%
Cholesterol 247mg82%
Sodium 166mg7%
Potassium 229mg7%
Carbohydrates 63g21%
Protein 11g22%
Vitamin A 1390IU28%
Vitamin C 1mg1%
Calcium 148mg15%
Iron 2mg11%
* Percent Daily Values are based on a 2000 calorie diet.