This air fryer chicken parmesan gives you all the crispy goodness of the original with a fraction of the fat. Made in just 15 minutes and so satisfying!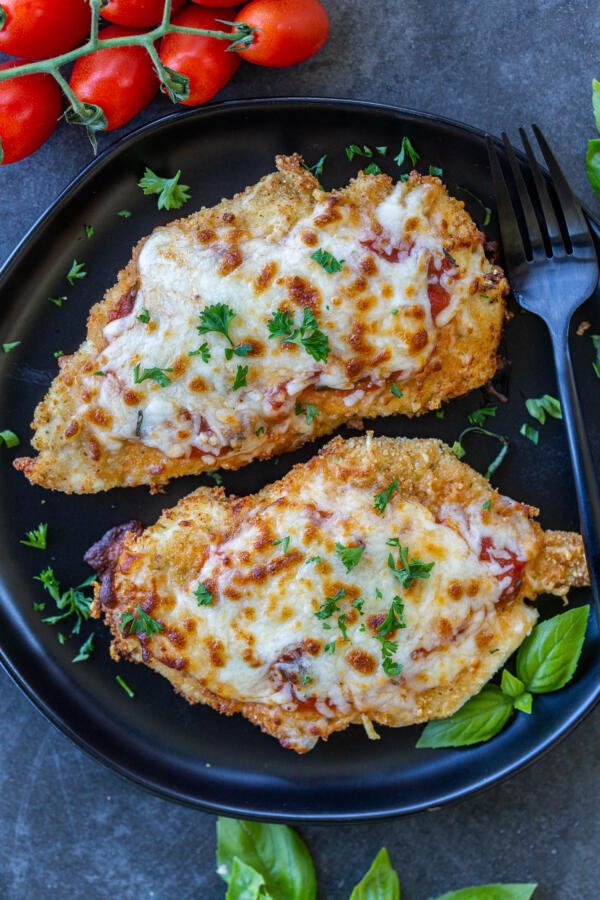 This air fryer chicken parmesan recipe can satiate even the strongest craving for this Italian-American staple. With all the same components – minus the skillet of popping oil – it tastes just as good as the original and requires significantly less prep time. It's also one of the most interesting air fryer recipes I've dreamt up to date. I know you're going to love it!
What is Air Fryer Chicken Parmesan?
Air fryer chicken parmesan features tenderized chicken breasts coated in bread crumbs, then topped with marinara and melted mozzarella cheese.
Flavor: The flavor of this air fryer chicken parmesan features a trifecta of three flavors: earthy breaded chicken, tangy tomato sauce, and milky mozzarella cheese.
Texture: The texture of this air fryer chicken parmesan is a perfect complement of crispy chicken, silky sauce, and melted cheese.
Time: From prep to table, this air fryer chicken parmesan takes just 15 minutes to make.
Need a solid air fryer recommendation? I'm obsessed with my COSORI air fryer. It has a huge tray that feeds up to four and about 9 different cooking modes.
Making Air Fryer Chicken Parmesan Step-By-Step
Making air fryer chicken parmesan only requires 6 ingredients and 5 minutes of prep time. Below, find a step-by-step overview of the process before you dive in.
Tenderize the Chicken: Slice the chicken breasts in half lengthwise. Use a meat tenderizer to pound each breast thin.
Bread the Chicken: Next, combine the grated parmesan cheese and bread crumbs in a shallow bowl. In another shallow dish, whisk the eggs together. To bread the chicken, dip each place in the egg mixture, followed by the breadcrumbs mixture.
Air Fry the Chicken Parmesan: Give the air fryer tray a nice coat of cooking spray. Then, place the breaded chicken in the air fryer basket and cook at 400°F for 5 minutes. Flip it over and top it with marinara sauce and a sprinkle of shredded cheese. Then, air fry it for an additional 3-minutes. Enjoy!
Did you know? The safe internal temperature for chicken is 165°F. To take the guesswork out of gauging doneness, invest in a meat thermometer. I'm obsessed with the Thermapen MK4 and have been using it for years.
3 Tips for the Best Air Fryer Chicken Parmesan
Here you'll find a handful of tips to help you nail this air fryer chicken parmesan.
Pound the chicken into even thickness. To promote even cooking, make sure to pound each chicken breast out until it has even thickness all the way across.
Assemble the chicken parmesan in a single layer. To ensure all the chicken gets crispy, assemble the chicken in a single layer. If you have to cook it in batches, it'll be well worth the extra time spent!
Spread the marinara in the center of each breast. To prevent the marinara from spilling off the sides of the chicken breasts, spread it starting in the center.
How to Serve Chicken Parmesan
Air fryer chicken breast can be served over your favorite pasta for a full-blown Italian feast. If you're having a hard time deciding, spaghetti noodles work particularly well. Another fun way to serve air fryer chicken parmesan is sandwiched between two pieces of french bread.
Tips for Storing Leftover Chicken Parmesan
Whether you want to store a couple of leftover breasts or batch cook and freeze, find all the best storage tips you need here.
Refrigerator: To keep air fryer chicken parmesan on hand for up to 5 days, store it in an airtight container in the fridge. This will keep it from drying out.
Freezer (Raw or Cooked): To freeze raw or cooked air fryer parmesan, place it on a baking sheet lined with parchment paper. Pop the entire baking sheet in the freezer uncovered. Once the chicken is completely frozen, transfer it to a freezer-safe bag and store it for up to 3 months.
Reheating Tip: You might have already guessed it, but the best way to reheat air fryer chicken is in the…air fryer! Pop it back into the tray for about 5 minutes to return it to its crispy state.
FAQ
Can you put raw chicken in an air fryer?
Yes, it's completely safe to put raw chicken in an air fryer. In fact, it's the quickest way to get fresh, juicy chicken on the table using the appliance.
Can you use breading in an air fryer?
Yes, it's perfectly safe to use breading in an air fryer. You'll get all the same crisp, without any of the extra grease or splattering oil.
What temperature do you air fry chicken parmesan at?
The optimal temperature to air fry chicken parmesan at is 400°F. Increase the cooking temperature by 10 degrees if you're using extra-thick breasts.
How long does it take to cook chicken parmesan in an air fryer?
It takes just under 10 minutes to air fryer chicken parmesan at 400°F. Because it's pounded thin, it cooks faster than a conventional breast would.
How do you use breadcrumbs in an air fryer?
You use breadcrumbs in the air fryer the same exact way that you would use breadcrumbs in traditional frying. All you need to do is coat the chicken in the egg mixture and breadcrumb mixture, pop the breasts in the air fryer tray and let the appliance work its magic.
Other Air Fryer Chicken Recipes
Recipe
This easy air fryer chicken parmesan is tender, juicy, and covered in rich tomato sauce and cheese. Just as good as the original!
Ingredients
16

oz

chicken breast

1

cup

Italian bread crumbs

1/3

cup

parmesan

shredded

2

eggs

1/2

cup

marinara sauce

1

cup

mozzarella cheese
Nutrition Facts
Air Fryer Chicken Parmesan
Amount Per Serving
Calories 400
Calories from Fat 135
% Daily Value*
Fat 15g23%
Cholesterol 183mg61%
Sodium 1033mg43%
Potassium 650mg19%
Carbohydrates 23g8%
Protein 41g82%
Vitamin A 598IU12%
Vitamin C 4mg5%
Calcium 317mg32%
Iron 3mg17%
* Percent Daily Values are based on a 2000 calorie diet.