Air fryer chicken nuggets are a guilt-free alternative to frozen store-bought brands. Tender, juicy, and packed with protein, your kids will love them and you'll find yourself craving them just the same.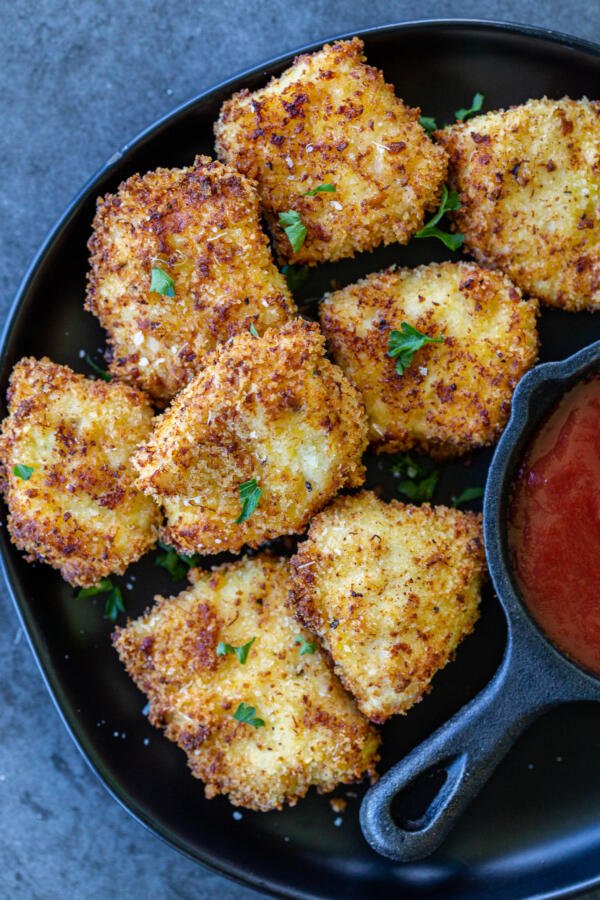 Air fryer chicken nuggets are a lifesaver for busy parents who want to cut down on processed foods. But let's be honest, most adults crave a chicken nugget craving from time to time too! There's nothing wrong with taking a walk down memory lane with your tastebuds now and again…
Breaded with panko bread crumbs and parmesan, these air fryer chicken nuggets form a perfectly crispy crust on the outside, while remaining super juicy on the inside. The first time you make it, you'll wonder why you ever purchased a boxed variety from the grocery store.
Homemade chicken nuggets in the air fryer are perfect for those busy weeknights when you don't want to fuss around in the kitchen too much. From prep to table, they come together in a quick 20 minutes and can be used for salads, sandwiches, or a quick snack. Let's get started!
How to Make Air Fryer Chicken Nuggets
Making chicken nuggets in the air fryer couldn't be more simple. With just five wholesome ingredients and 20 minutes of cooking time, you'll be dipping and dunking your nuggets before you know it.
Make the Breading: Combine panko bread crumbs, parmesan cheese, salt, and pepper in a medium-sized bowl. In a separate small bowl, whisk together your egg until smooth.
Dip Your Nuggets: Dip each piece of chicken into the egg, followed by the dry breading mixture. Repeat until you run out of chicken.
Place Nuggets Into Air Fryer: Coat the air fryer tray with cooking spray. Place chicken nuggets into the tray in a single layer, ensuring there is a bit of space between each piece.
Air Fry: Air fry chicken nuggets for 9 minutes at 390°F, flipping over about 5 minutes in.
Serve: Serve air fryer chicken nuggets warm and along with your favorite sides!
Shallow Breading Bowls: When breading foods for air frying or traditional frying, you need an assortment of differently sized shallow bowls to make the process that much easier. Invest in a good set of bowls and bread your heart away.
Tips for the Best Air Fryer Chicken Nuggets
Below, find a collection of tips to help you make the absolute best air fryer chicken nuggets.
Cut the chicken nuggets into equal-sized pieces. Cut your chicken nuggets into as equal-sized pieces as possible to promote even cooking. 1/2-inch thick and 2-inches long is ideal.
Adjust cooking time depending on the size of your nuggets. If you decide to go with larger nuggets (chicken tenders, anyone?), add a couple of minutes of cooking time to compensate.
Don't overcook the chicken. Use a meat thermometer to check the doneness of the chicken nuggets. If they air fry too long, they will dry out and turn rubbery. Note: Chicken is safe to eat when the internal temperature reads 165°F.
Avoid overcrowding the air fryer tray. The air fryer works best when the tray is not over crowded. To ensure your chicken nuggets get 360° crispiness, make sure they have enough space to soak up all that hot, circulating air.
Use a high-quality oil with a high smoke point. Avocado oil cooking spray is great for the air fryer, as it can stand up to the high heat without burning. It also has a delicious, nutty flavor!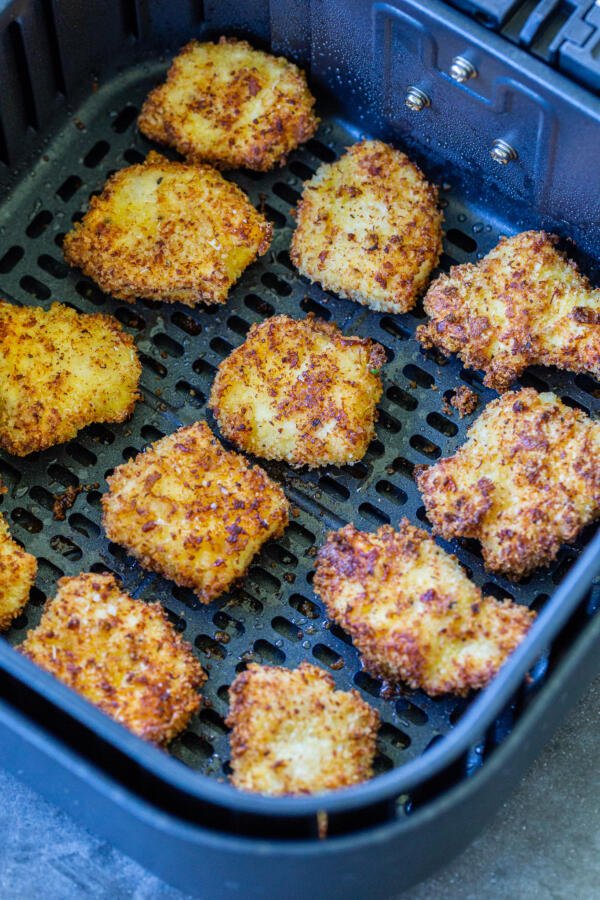 Ways to Serve Air Fryer Chicken Nuggets
Serve your air fryer chicken nuggets alongside some air fryer french fries and smoky bacon mac and cheese for a classic, all-American meal. You already have the air fryer out, why not use it again? You can also use air fryer chicken nuggets as quick salad protein. Pop them on top of a garden salad for a healthy lunch or dinner on the fly.
Also, don't forget to bust out a couple of different dipping sauces. Honey mustard, ketchup, BBQ sauce, and ranch dressing are all great options.
Storing Air Fryer Chicken Nuggets
Refrigerating: Store air fryer chicken nuggets in an airtight container in the fridge. They will stay fresh for up to five days.
Freezing: Freeze air fryer chicken nuggets by placing them in a single layer on a lined baking sheet. Pop the entire baking sheet in the freezer. Once completely frozen, transfer to a freezer-safe plastic storage bag for later use. Frozen air fryer chicken nuggets are great to have on hand and can be used for up to 3 months.
Reheating Tip: Reheat your air fryer chicken nuggets by popping them in the air fryer again until warmed through. Avoid microwaving nuggets, as they will turn soggy.
FAQ
Do you have to flip chicken nuggets in the air fryer?
Flip chicken nuggets halfway through the cooking time to make them as crispy as possible. The key to air frying is to make sure your food gets equal love from the hot, circulating air.
How long do you cook chicken nuggets in an air fryer?
Chicken nuggets take about 10 minutes to cook in the air fryer at 390°F. Depending on the size of your nuggets, you may need to adjust the cooking time in either direction.
Can you put raw meat in an air fryer?
You can cook raw meat in an air fryer, just make sure to thoroughly wash the tray in between uses.
More Air Fryer Recipes
Looking for more air fryer recipes to add to your arsenal? Check out some Momsdish originals below:
Recipe
Air fryer chicken nuggets are a guilt-free alternative to frozen store-bought brands. They are tender, juicy, and packed with protein!
Nutrition Facts
Air Fryer Chicken Nuggets
Amount Per Serving
Calories 367
Calories from Fat 90
% Daily Value*
Fat 10g15%
Cholesterol 154mg51%
Sodium 864mg36%
Potassium 883mg25%
Carbohydrates 11g4%
Protein 55g110%
Vitamin A 167IU3%
Vitamin C 3mg4%
Calcium 188mg19%
Iron 2mg11%
* Percent Daily Values are based on a 2000 calorie diet.