These air fryer chicken wings are crispy on the outside and super juicy on the inside. By tapping the magic of the air fryer, you nix the need for heaps of oil and get perfect wings in a fraction of the time.
Love chicken wings? You have to try our 3-ingredient baked chicken wings while you're at it.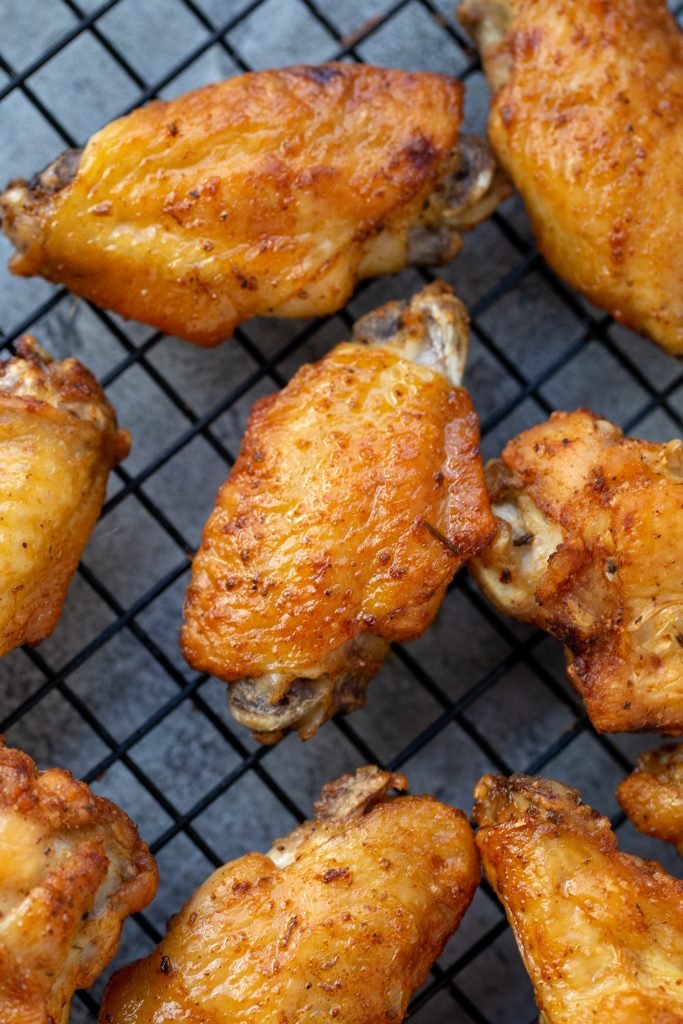 Air fryer chicken wings are so super crispy, you'll find yourself doing a double-take. But no matter how hard you look, you won't find a deep fryer in sight. If you find yourself craving wings more often than you'd like to admit, this recipe can be whipped up in under 30 minutes and be incorporated into any wholesome diet.
For those who can't get enough fried foods, the air fryer has been a huge savior. By using hot, circulating air, it crisps up these wings, while keeping them melt in your mouth juicy on the inside. This is all achieved with just a couple of coats of cooking spray. Amazing.
Whether you're hosting a large gathering or having a few friends over to watch a football game, these wings are about to become your new go-to.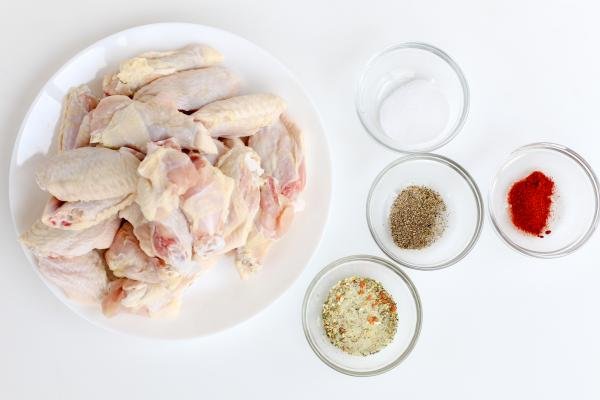 Air Fryer Chicken Wings Video Tutorial
How to Make Air Fryer Chicken Wings
Air fryer chicken wings come together in three, simple steps. Below, find a high-level overview of the recipe.
Toss wings with seasoning: Toss your wings in your seasoning, making sure each has been adequately coated.
Air fry the chicken wings: Place wings in a single layer in the air fryer tray, flipping about 3/4ths of the way through.
Serve: Serve wings fresh out of the air fryer with your favorite dipping sauces.
Tips for Extra Crispy Air Fryer Chicken Wings
Below, find a couple of tried-and-true tips for making extra crispy air fryer chicken wings.
Always spray the basket. Give the air fryer basket a generous coating of cooking spray before popping your wings in. This will prevent them from sticking and burning. You don't need too much oil, just enough so that the entire tray is covered. Remember, the air fryer works a lot of magic with very little oil!
Start the temperature low and then go high. Begin cooking chicken wings at a lower temperature and then turn up the heat to achieve maximum crispiness. This is much like the effect a broiler has in your conventional oven.
Toss crispy wings in your favorite sauce. From buffalo sauce to bbq sauce, toss your wings in whatever you love. Just make sure to do it right when they come out of the fryer, as the sauce will stick better.
Reheat leftovers in the air fryer. If you happen to have any leftovers, reheat them in the air fryer for a couple of minutes. They will taste fresh as new.
Pat wings dry before seasoning. To ensure the seasoning sticks, pat raw wings with paper towels to remove excess moisture. This will also help them crisp up nicely.
Give avocado oil cooking spray a go. If you haven't tried avocado oil cooking spray, this recipe is an awesome time to try it out. It has a wonderful, nutty flavor and it stands up to high heat well.
What to Serve with Air Fryer Chicken Wings
First off, you'll want to whip up some homemade sauces. Light ranch is great for buffalo wings. Don't forget to cut up some strips of carrots and celery to dip in the ranch as well. You could also make a homemade BBQ sauce with just a few ingredients you likely already have hanging around in your kitchen.
To make a well-rounded meal, pair your wings with air fryer french fries (you already have the air fryer out, why not use it again?) or a homemade caesar salad.
FAQ
Can you stack wings in an Air Fryer?
It is best to not stack wings in an air fryer. Layering wings prevents them from getting enough attention from the hot air circulating in the air fryer chamber. If you must layer the wings, be sure to toss them every 3-5 minutes.
How many wings can I cook in an Air Fryer?
Depending on the size of your basket, you will be able to cook a varying amount of chicken wings at a time. Mine fits about 10 chicken wings laying flat. The key here is not stacking your wings! If you stack your wings, you will prevent them from crisping up evenly. A general rule of thumb is to cover the bottom of your basket in one, single layer.
What temperature do you air fry chicken wings?
Cook your air fryer wings at 380°F for the first round of cooking. Then, crank up the heat to 400°F to make the skin extra crispy.
Can you put raw chicken in an air fryer?
Raw chicken is great for cooking in an air fryer. Your chicken will cook super fast and get crispy in a fraction of the time it takes to bake.
Can you air fry frozen chicken wings?
You can absolutely air fry frozen chicken wings. Just be mindful that you'll need to increase the cooking time a bit to compensate.
Do I have to pat dry the wings before cooking?
You should always pat your wings dry before cooking. This removes excess moisture, helps the seasoning stick better, and also helps the wings get as crispy as possible.
What is the best air fryer?
COSORI Air Fryer Max XL is a great option. It has 13 different settings and a huge tray that can feed up to 3-5 people.
Making Air Fryer Chicken Wings in Advance
Marinate overnight. Giving your wings a full 24 hours to marinate will ensure optimal flavor. Leave them in a plastic storage bag overnight and simply pop in the air fryer when you're ready to eat.
Freezing for later. Make a batch of air fryer chicken wings. Allow them to completely cool. Line them on a baking sheet in a single layer. Pop the baking sheet uncovered into the freezer. Once completely frozen, transfer them to a freezer-safe plastic bag. Frozen wings should stay fresh for up to 3 months.
Reheat Leftovers: Reheat cooked chicken wings in an air fryer at 360°F for 4 minutes. Turn the heat to 400°F and cook for 5 more minutes. This will bring the chicken to its original crispy state.
More Air Fryer Recipes
Love your air fryer? Here are a couple more full-proof recipes to try out:
Recipe
These air fryer chicken wings are crispy on the outside and super juicy on the inside. By tapping the magic of the air fryer, you nix the need for heaps of oil and get perfect wings in a fraction of the time.
Nutrition Facts
Crispy Air Fryer Chicken Wings
Amount Per Serving
Calories 184
Calories from Fat 117
% Daily Value*
Fat 13g20%
Cholesterol 63mg21%
Sodium 1223mg51%
Potassium 153mg4%
Carbohydrates 1g0%
Protein 15g30%
Vitamin A 680IU14%
Vitamin C 0.6mg1%
Calcium 12mg1%
Iron 1mg6%
* Percent Daily Values are based on a 2000 calorie diet.
I recently purchased the Gourmia Digital Air Fryer, so far I really like it.