These easy air fryer chicken wings are made with 5 simple ingredients. Tap into the magic of the air fryer for these deliciously crispy and juicy wings!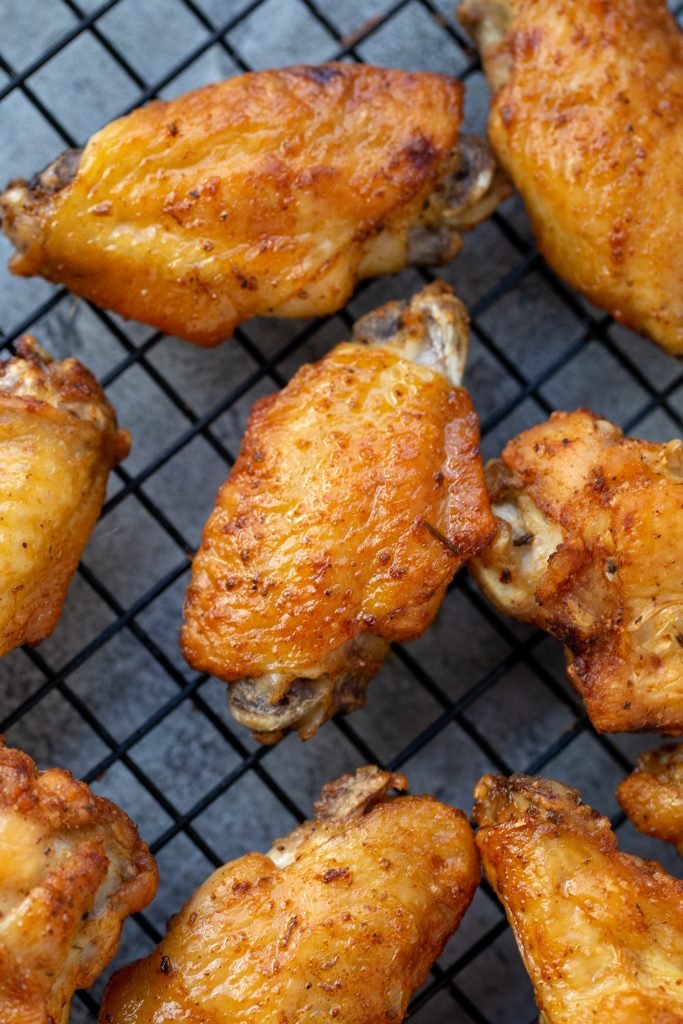 Why Air Fry Chicken Wings?
Simply put, air-fried wings are a healthier, easier version of traditionally fried chicken wings. By using the air fryer, you nix the need for heaps of oil and get perfect wings in a fraction of the time. Air fryer chicken wings are so super crispy, you'll find yourself doing a double-take.
If you find yourself craving wings more often than you'd like to admit, whip these wings up in under 30 minutes. Whether you're hosting a large gathering or having a few friends over to watch a football game, these wings are about to become your new go-to.
Looking for a great air fryer? We've tested a few air fryers, and have ultimately landed on this Cosori air fryer as our favorite.
Air Fryer Chicken Wings Video Tutorial
How To Make The Best Air Fryer Chicken Wings
This air fried chicken wings recipe takes only four simple steps. No need to go out for take-out wings when you high-quality wings are right at home!
Pat the wings dry: Use a paper towel to dry off any excess moisture on the wings. Gather the rest of the ingredients.
Toss wings with seasoning: In a large bowl, toss the wings in the seasoning, making sure each wing is adequately coated.
Air fry the chicken wings: Preheat the air fryer to 380°F. Place wings in a single layer in the air fryer tray and bake for about 15 minutes. Toss the wings, then increase the heat to 400°F and bake for another five minutes.
Serve: Serve wings fresh out of the air fryer with your favorite dipping sauces.
Hot tip: Cooking times may vary depending on the size of your wings. Check the internal temperature of the meat with a meat thermometer. Chicken is done when internal temperature is 165°F.
Spice Variations
We love a simple combination of garlic parsley salt and paprika to season our wings, but here's a list of other seasonings to add for even more flavor variety.
Salt & pepper
Garlic powder
Onion powder
Lemon pepper
Cayenne pepper
Chili powder
Tips for Extra Crispy Air Fryer Chicken Wings
What's better than crispy wings? Extra crispy wings, of course! Below, find a couple of tried-and-true tips for making these wings have the crunch you're craving.
Pat the wings dry before seasoning: To ensure the seasoning sticks, pat raw wings with paper towels to remove excess moisture. This also helps them crisp up nicely.
Avoid stacking the wings: It is best to avoid stacking the wings in an air fryer. Layering prevents the wings from getting enough hot air circulating around them in the air fryer chamber. Fry the wings in batches, but if you must layer the wings, be sure to toss them every 3-5 minutes.
Spray the basket: Give the air fryer basket a generous coating of avocado oil cooking spray before popping the wings in. This prevents them from sticking and burning. You don't need too much oil — enough so the entire tray is covered. Remember, the air fryer works a lot of magic with very little oil!
Start the temperature low, then go high: Begin cooking chicken wings at a lower temperature and then turn up the heat to achieve maximum crispiness.
Toss the crispy chicken wings in sauce: From hot sauce to buffalo sauce (and everything in between), toss your wings in your favorite wing sauce. Make sure to do it right when they come out of the fryer, as the sauce sticks better when the wings are hot.
Hot tip: If your chicken wings have wing tips, don't discard them! Save them for the next time you make homemade chicken broth.
What To Serve With the Wings
Wings and sauce are like two best friends. First off, you'll want to whip up a couple homemade sauces. Light ranch dressing or blue cheese dressing is great for buffalo-style wings — and don't forget to cut up carrots and celery sticks to dip into the dressing as well! Homemade BBQ sauce is a classic and is made with ingredients you likely already have hanging around in your kitchen. For a slightly asian-twist, make a batch of teriyaki sauce!
For a well-rounded meal, pair your wings with air fryer french fries (you already have the air fryer out, why not use it again?), potato skins, or a homemade caesar salad.
Making Ahead of Time
Chicken wings taste their absolute best right away, but good news — there are ways to prep the wings ahead of time to save time.
Marinate ahead of time: Give your wings a full 24 hours to marinate for the best flavor. Leave them in a plastic storage bag in the fridge overnight and simply pop in the air fryer when you're ready to eat.
Cook and keep warm: If making a large batch for a party, keep the cooked wings crispy and warm by placing them in a warm oven. Avoid covering them with foil or a lid. Covering does keep more of the heat in, but it also takes away a portion of the crispiness.
Storing and Reheating
Chicken wings often come in huge packages, so why not make the whole package and store the leftovers for lunch the next day! Here are our tips on how to best store and reheat your chicken wings.
Refrigerate leftovers: Store cooked wings up to four days in an airtight container in the fridge.
Freeze leftovers: To store for up to three months, allow the wings to cool fully, then arrange them on a baking sheet in a single layer. Place them into the freezer and once they are frozen, transfer them to a freezer-safe plastic bag.
Reheating: To reheat leftovers, pop the wings into the air fryer at 360°F for four minutes. Turn the heat to 400°F and cook for an additional five minutes. They'll be the crispiest reheated wings you've ever had!
FAQ
How many wings can I cook in an Air Fryer?
Depending on the size of the air fryer basket, you can cook a varying amount of chicken wings at a time. The key is not to stack the wings, or they may not crisp up evenly.
Can you air fry frozen chicken wings?
It is absolutely possibly to air fry frozen chicken wings. Just be mindful that you'll need to increase the cooking time a bit to compensate.
Do I have to pat dry the wings before cooking?
Wings should always be patted dry before cooking. This removes excess moisture, helps the seasoning stick better, and also helps the wings get as crispy as possible.
More Air Fryer Recipes
Recipe
These easy air fryer chicken wings are made with 5 simple ingredients. Tap into the magic of the air fryer for these deliciously crispy and juicy wings!
Nutrition Facts
Crispy Air Fryer Chicken Wings
Amount Per Serving
Calories 184
Calories from Fat 117
% Daily Value*
Fat 13g20%
Cholesterol 63mg21%
Sodium 1223mg51%
Potassium 153mg4%
Carbohydrates 1g0%
Protein 15g30%
Vitamin A 680IU14%
Vitamin C 0.6mg1%
Calcium 12mg1%
Iron 1mg6%
* Percent Daily Values are based on a 2000 calorie diet.