Beef Barley Soup is comfort food in a bowl. Healthy, filling and affordable, this nutritious dish is made in one pot and reheats amazingly. What else can you ask for?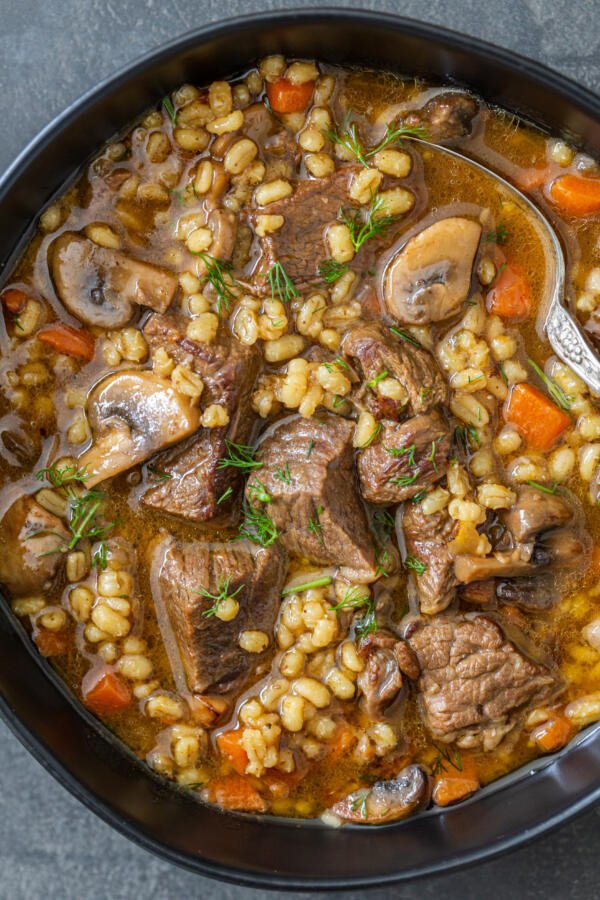 Beef and Barley are two of my husband Tim's favorite things. This soup has been a staple in our home for years and I'm so excited to share it with you! I am positive it will win you over.
If you love the combination of beef and barley, make sure to check out our slow cooker beef and barley recipe as well. It's the perfect meal to make when you don't feel like standing in the kitchen.
Ingredients for Beef Barley Soup
Oil – You can use any of your favorite types. Oil is used to saute your veggies and brown your beef.
Beef – Oxtail, chuck roast, stew meat or even leftover steak will work perfectly. This is a great recipe to use more affordable cuts of beef, as tough cuts will tenderize greatly during cooking. Also, don't be afraid to use fattier parts — they will release collagen that will make your soup taste amazing!
Hot Tip: If you prefer, you can always substitute beef for other meats like pork, lamb or chicken. Again, feel free to use cheaper cuts here.
Vegetables – We love to use carrots, onions, garlic and mushrooms. You could also add celery, bell peppers or any veggies you have hanging out in the fridge.
Barley – Pearl barley is the best for the soup. Bob's Red Mill has a great one that can be found in most stores or on Amazon.
Broth – You can use beef, vegetable, chicken, or bone broth for this soup. Feel free to use your own homemade broth or any packaged variety. In a time pinch, my all-time favorite is Better than Bouillon, a broth concentrate that tastes as good as homemade.
Seasoning – All you need is the simple stuff. Bay leaves, salt and pepper will do the trick.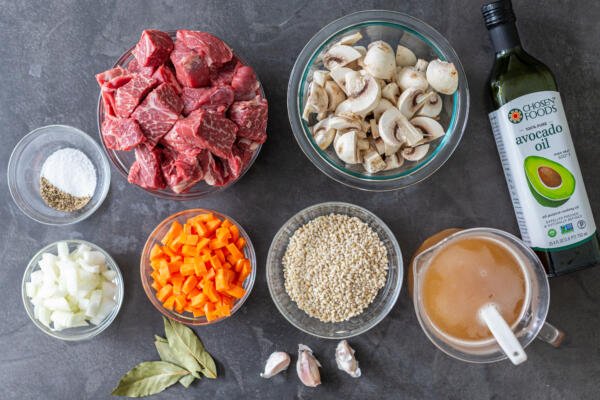 How to Make Beef Barley Soup
In a preheated pot (preferably a dutch oven) with oil, brown the beef cubes on all sides.
Add diced carrots, onions and mushrooms. Saute until all veggies appear soft and translucent.
Add salt, pepper, pressed garlic and bay leaves to the mix.
Pour in beef broth and let it simmer with the lid closed for 45 minutes, until the beef is tender and falling apart.
Add pearl barley, cook for 20 more minutes. Serve immediately.
Serving Barley Soup
This is a hearty soup that is perfect served all on its own. However, if you are like me, you always want some fresh bread on the side to sop up all that delicious broth. If you are in the mood to bake, here are some of my favorites: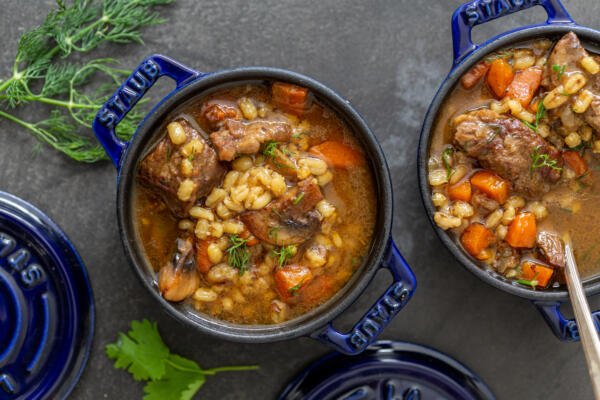 Storing Beef Barley Soup
Beef barley soup is a great dish for meal prep. If you have leftovers, here's how to store them:
Refrigerate: Refrigerate your beef barley soup for up to a week in an airtight container. The kicker? This soup gets better as it marinates it itself in the fridge. Hello, delicious leftovers!
Freezing: Allow your soup to cool down on the countertop. Once it stops steaming, separate it into containers that make sense for your household. Make sure that they can be closed airtight. Place in the freezer and store for up to three months. To reheat, allow a container to thaw in the fridge overnight. Heat the thawed soup in a saucepan or in the microwave until heated through.
FAQ
Should you cook barley before adding it to beef barley soup?
You don't have to cook the barley before adding it into the beef barley soup. It's best to pop it in raw so that it cooks in the broth and releases starch to thicken the soup slightly.
What type of barley is best for beef barley soup?
Pearl barley is best for beef barley soup – it's hearty and less processed than quick cooking barley. It also doesn't take anywhere to cook as hulled barley.
What's the best kind of beef to use for beef barley soup?
The best kind of beef to use for beef barley soup is chuck roast, bone-in short rib, or oxtail are the best for beef barley soup. So long as the cut isn't too fatty, it will be good.
Does barley get super mushy in beef barley soup?
Barley has a nice firmness to it, so it doesn't get too mushy as it sits and marinates. It might absorb a good amount of the broth, so feel free to add in a couple of cups of broth to thin the soup out.
Can you make beef barley soup in a slow cooker?
Yes, you can beef barley soup in a slow cooker. Simply brown the meat beforehand and toss all the ingredients in and cook them on high for 3-4 hours. Add the barley in during the last hour so it doesn't overcook.
Recipe
Beef Barley Soup is comfort food in a bowl. Healthy, filling and affordable, this nutritious dish is made in one pot and reheats amazingly.
Ingredients
2

tbsp

oil

2

lb

beef

cut in cubes

8

oz

mushrooms

chopped

1

large carrot

chopped

1

yellow onion

diced

3

garlic cloves

pressed

4

cups

beef broth

1/2

cup

barley

1

tbsp

salt

adjust to taste

1

tsp

pepper

adjust to taste
Nutrition Facts
Beef Barley Soup
Amount Per Serving
Calories 384
Calories from Fat 243
% Daily Value*
Fat 27g42%
Cholesterol 81mg27%
Sodium 1403mg58%
Potassium 558mg16%
Carbohydrates 12g4%
Protein 23g46%
Vitamin A 1274IU25%
Vitamin C 2mg2%
Calcium 37mg4%
Iron 3mg17%
* Percent Daily Values are based on a 2000 calorie diet.