This bone broth recipe is ultra savory, full of flavor & crazy easy to make. Drink it straight or use it in everything from risottos, sauces, soups & stews!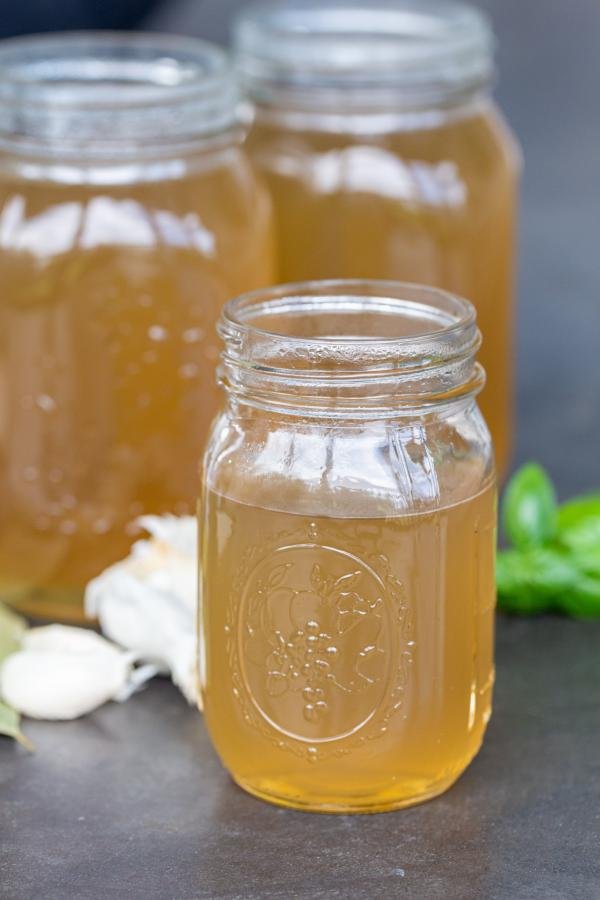 If you haven't jumped on the bone broth train yet, it's due time. Although bone broth has been popular for centuries (think: Vietnamese pho broth), it has completely taken off in recent years thanks to the keto craze. But you don't have to be on a diet to enjoy this collagen-rich broth!
The Bone Broth Health Craze Explained
Before we jump in, let's chat about why bone broth has become so ridiculously popular. Unlike traditional broth, it's a protein-rich liquid that's made with meaty joints and bones. This results in a broth that boasts a ton of collagen, amino acids (primarily glycine), glucosamine, magnesium, phosphorus, potassium and calcium – ingredients speculated to increase bone, skin and gut health.
Set it and forget it! If you don't want to babysit a soup pot on the stove for 8 hours, prepare the bone broth in a slow cooker on low.
How to Prepare this Bone Broth Recipe
Preparing this bone broth recipe only requires six wholesome ingredients and a bit of patience to let the simmering work it's magic.
Bake the Bones: First, bring the oven to 400°F. Assemble the bones on a baking sheet or roasting pans. Drizzle them with olive oil and bake them for 20 minutes.
Season the Broth: Next, place the bones in a large pot with water, salt, bay leaves and peppercorns. Optionally add in handful of garlic cloves if that's your thing.
Simmer the Broth: Bring the broth to a boil and then turn the heat down low for an 8 hour simmer.
Strain the Broth: Next, strain the broth through a cheese cloth or pour it through a fine-mesh sieve. Enjoy!
Hot Tip: Add in the spices, veggies and herbs you like most to your simmering bone broth. If you know you're gong to make bone broth, set your veggie scraps aside in the fridge in a large bowl throughout the week.
5 Expert Tips for Nailing this Bone Broth Recipe
Making bone broth isn't the same as making traditional broth. These tips will help you nail the recipe like a pro.
Use good quality bones. The quality of your bones will make a huge difference on the taste of your broth. Opt for organic bones at the supermarket or head to a local butcher you trust. We get ours from a nearby farmer's market and ask for joints and marrow bones like oxtails, ribs, knuckles and short ribs.
Use beef bones for the extra collagen. While you can use chicken, turkey, lamb or pork bones, our personal favorite is beef bones. They contain so much marrow and collagen, yielding a beef bone broth that's super flavorful.
Don't skip roasting the bones. Roasting the bones adds so much flavor to the broth. It's a key step in creating that depth of flavor to the broth – whatever you do, don't skip this step!
If you use chicken bones, use rotisserie chicken bones. Rotisserie chicken bones have so much more flavor because they've been roasted low and slow. If you prefer chicken broth, this is the way to go!
Don't boil the broth on high. If you boil the broth on high, it will turn cloudy and won't develop as much flavor. A low simmer is the best way to go.
Hot Tip: If there's any meat left on the bones, don't let it go to waste! Save it and use it for soup.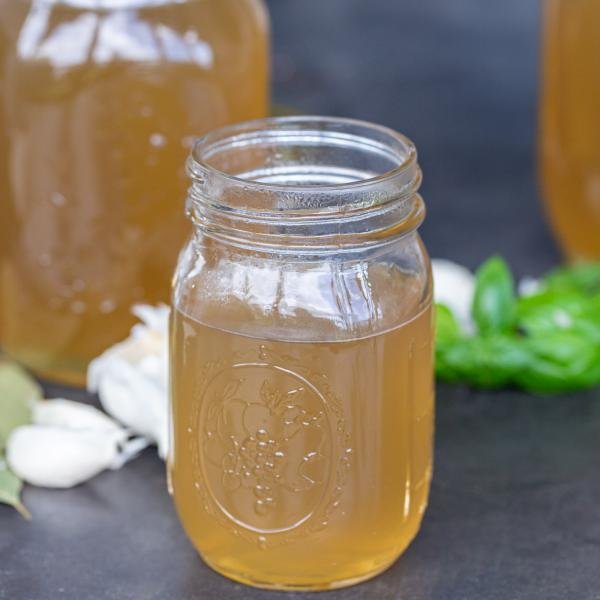 Different Ways to Use Bone Broth
Now for the fun part! Bone broth can be used in so many different ways. Many people drink a cup of it straight for a light, yet protein-rich, snack. If that's not your style, substitute it anywhere you would use traditional broth or stock. We love using it in parmesan risotto, beef and barley stew, rice noodle soup with beef and beef stroganoff.
Storage Best Practices
Many people like to make a huge batch of bone broth and keep it on hand for months, storing a bit in the fridge for immediate use and the rest in the freezer for later use. The kicker? Bone broth gets more flavorful as it marinates in storage.
Refrigerator: To keep the bone broth on hand for up to 5 days, store it in an airtight container in the fridge. Mason Jars or typical airtight storage containers will do the trick.
Freezer: To keep the bone broth on hand for up to 6 months, store it in a cylindrical plastic container.
Important Note for Freezing: Plastic containers are best because the liquid can expand during freezing and cause glass jars to break and burst.
FAQ
How long can you simmer bone broth?
An 8 hour simmer is more than enough for bone broth. However, you can take it up to 12 hours if you have the time and patience.
Can you use raw bones for bone broth?
It's best to use roasted bones over raw bones for bone broth. Roasted bones have so much more flavor than raw bones and create a wonderfully deep flavor.
Is beef or chicken bone broth healthier?
Neither beef or chicken bone broth is healthier than the other. There are varying vitamins, nutrients and minerals in each, but both contain a ton of protein and collagen.
How do you get the most collagen out of bone broth?
To get the most collagen out of your bones for bone broth, simmer it on low versus boiling it on high. This lets the collagen seep out slowly versus overcooking it and turning the broth cloudy.
What vegetables can you put in bone broth?
If you'd like, add whole carrots, celery and onions to your bone broth for extra flavor. To reduce food waste, it's also great to add any veggie scraps that you have saved from prepping other dishes.
Can you substitute bone broth for beef broth?
Yes, you can substitute bone broth for beef broth in any recipe. It will add an increased depth of flavor from the collagen and the marrow.
Soups to Use Bone Broth In
Recipe
This easy bone broth recipe will teach you everything you need to know about making the most flavorful broth possible. Crazy easy and super good for you!
Ingredients
2

lb

bones

beef, chicken or pork

2

tbsp

olive oil

4

qt

water

1

tbsp

sea salt

adjust to taste

1/2

tsp

peppercorns
Nutrition Facts
The Best Bone Broth Recipe
Amount Per Serving
Calories 32
Calories from Fat 36
% Daily Value*
Fat 4g6%
Sodium 896mg37%
Potassium 4mg0%
Carbohydrates 0.2g0%
Protein 0.03g0%
Vitamin A 5IU0%
Vitamin C 0.02mg0%
Calcium 16mg2%
Iron 0.1mg1%
* Percent Daily Values are based on a 2000 calorie diet.