This post has been sponsored by Prego®. All thoughts and opinions are my own.
Baked Ziti is incredibly quick to prepare. Ziti is loaded with creamy sauce, meatballs, and chunks of veggies. It is one of my go-to's for an easy family dinner.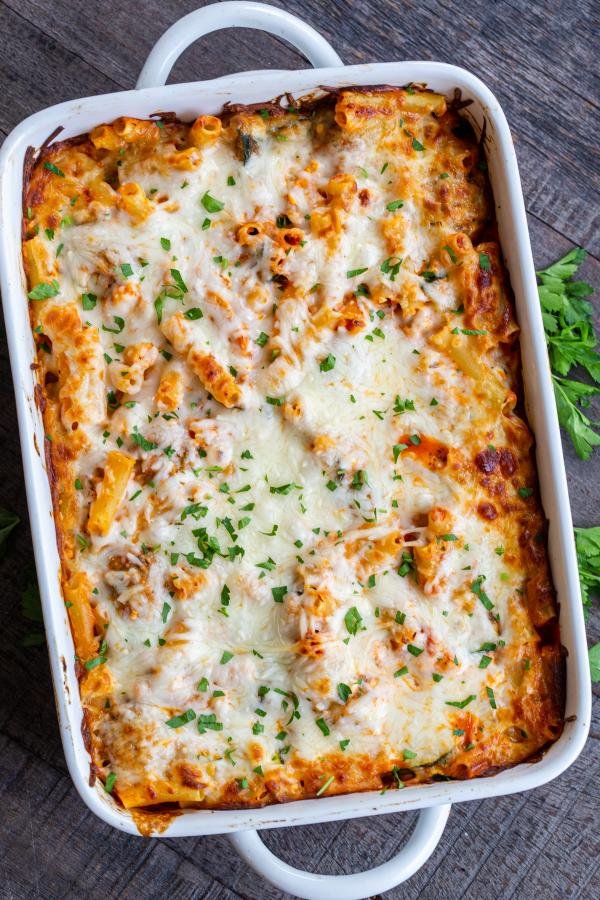 Between my kids' sporting events, my job, and quality family time, my head sometimes feels like it's spinning and making a homemade meal falls to the wayside. But, lo and behold, baked ziti made with Prego® Meat Pasta Sauce is your next perfect dinner for that hectic weeknight!
Listen up, all my meal-preppers out there! You can assemble everything 2-3 days in advance and bake it right before serving. I like to whip it up on the weekend and bust it out on the weeknight when I need it the most. The "bake later" nature of ziti also makes it a great dish to gift to someone. Let's just say, I have given a new neighbor a baked ziti once or twice to get on their good side.
Should I Cover Baked Ziti in The Oven?
Keep baked ziti covered for the first portion of baking. With 10 minutes left, remove your casserole lid or foil and allow the cheese to get nice and crusty.
What is the Difference Between Lasagna and Baked Ziti?
Lasagna and baked ziti have many things in common. They are both pasta dishes that are baked in sauce and topped with cheese. But, what makes them different? Well, lasagna is made with long, flat noodles that are layered with sauce, meat, veggies, and/or cheese. Baked ziti, on the other hand, is made with cooked ziti noodles (tube-shaped pasta). Instead of layers, the pasta is tossed with the sauce, meat, and/or veggies; sprinkled with cheese; and baked.
What is Ziti Made of?
I purchased all of the ingredients for baked ziti at our local Fred Meyer. If you are in the southern states, you can find them at Kroger.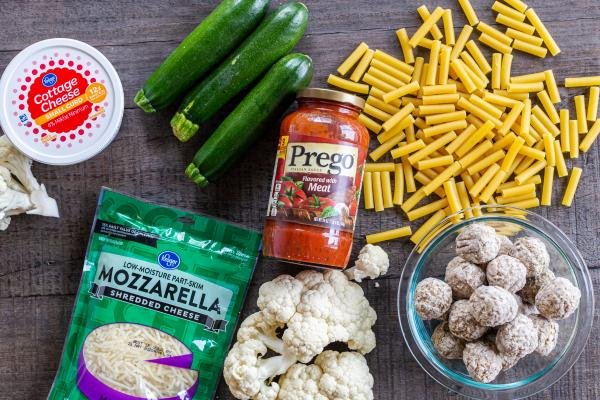 Pasta: You will be using ziti noodles. They are tube-shaped and perfect for soaking up the sauce for big, juicy bites!
Sauce: I like using a savory sauce, like Prego® Flavored with Meat Pasta Sauce, to bring this dish together. It is the perfect combination of beef, tomato and spices!
Meatballs: If you are up to it, make your meatballs homemade. Or, to speed up the process, purchase frozen meatballs from the grocery store.
Cottage Cheese or Ricotta: Cottage cheese or ricotta adds a wonderfully creamy and rich flavor. They cut through the acidity of tomato sauce and complement it wonderfully.
Vegetables: Feel free to get creative here. I like to add bell peppers, cauliflower, onions and mushrooms. But, I imagine zucchini, artichoke hearts, asparagus and broccoli would be great additions as well.
Cheese: I am a baked ziti purist here. I think mozzarella works best. You could also sprinkle on some freshly grated Parmesan right when you remove your ziti from the oven. I've even seen goat cheese used for the more adventurous!
Tips for the Best Baked Ziti
Double up the recipe. Serving a large group or want another emergency dinner on hand? Double the recipe and freeze a baked ziti for later. Look at you, Ms./Mr. Meal Prepper!
Don't overcook the pasta. Keep the pasta slightly undercooked on the first boil. Since you will be baking it later in the sauce, you will want to make sure it doesn't turn to mush.
Bake right before serving. There is nothing like stretchy cheese from fresh-out-of-the-oven baked ziti. If you need to reheat it, I highly recommend doing it in the oven versus the microwave to revive the crispiness.
Don't overcrowd your baking dish. As the dish cooks, the sauce will begin to boil a bit. Make sure not to overfill your baking dish, to prevent spillage. Leave about an inch of free space from the top, and you should be good.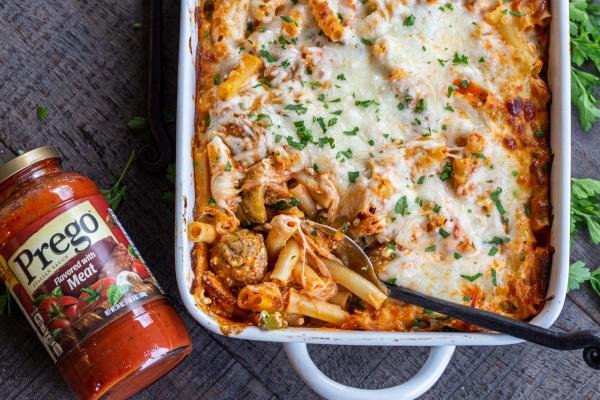 Storing Leftover Baked Ziti
The best part about this dish is that leftovers reheat amazingly. I love leftovers. But, who doesn't?!?
Refrigerating Baked Ziti
After you bake your ziti, store it in the fridge for up to five days. If your casserole dish doubles as an airtight container, storage is super easy! If not, do your best to seal your dish tightly with foil or plastic wrap.
Freezing Baked Ziti
Prepare your ziti all the way up until the point you are supposed to bake it. Freeze it in an airtight container for up to 2 months (be mindful of freezer burn if you only have foil or plastic wrap to cover it). Bake according to instructions or until all the cheese is gooey and melty.
Buy Prego® Meat Pasta Sauce now at your local Kroger. Use Myxx to create a shopping list.
A Few More Pasta Dinners
Recipe
This baked ziti is incredibly quick to prepare. Loaded with creamy sauce, meatballs and chunks of veggies, it is one of my go-tos for an easy family dinner.
Ingredients
1/2

lb

ziti noodles

uncooked

1

lb

zucchini

1/2

lb

cauliflower

24

oz

Prego® Meat Pasta Sauce

1

lb

meatballs

lean turkey is the best

16

oz

cottage cheese

small curd

2

cups

mozzarella cheese

2

tbsp

olive oil
Nutrition Facts
The BEST Baked Ziti Recipe
Amount Per Serving
Calories 264
Calories from Fat 126
% Daily Value*
Fat 14g22%
Cholesterol 41mg14%
Sodium 500mg21%
Potassium 469mg13%
Carbohydrates 18g6%
Protein 16g32%
Vitamin A 429IU9%
Vitamin C 17mg21%
Calcium 131mg13%
Iron 1mg6%
* Percent Daily Values are based on a 2000 calorie diet.