This recipe for alfredo pasta will be on repeat in your home soon enough. Simple and satisfying, it's 100% kid-friendly and loved by adults just the same!
For best results, use our Amazing Homemade Alfredo sauce, which takes only 5 minutes to make!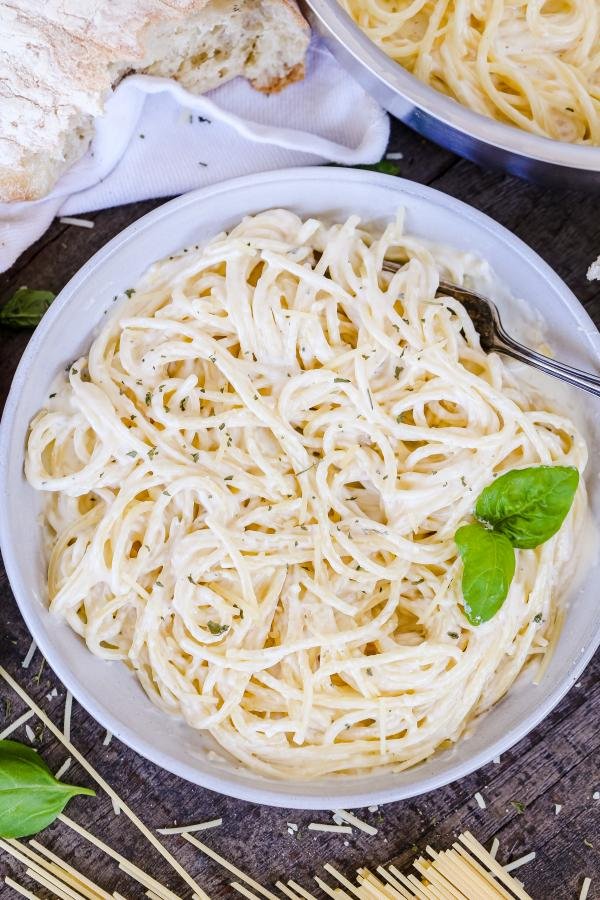 Despite having a complex flavor, this creamy alfredo pasta recipe only requires a few ingredients, most of which you probably already have on hand. What I love about alfredo pasta, is that it's a satisfying vegetarian-style dish, while also delicious, bulked up with your favorite protein.
My kids absolutely love alfredo pasta. As a busy mom, I often get tempted to fall into the trap of making boxed macaroni and cheese. My alfredo pasta recipe is a mature enough dish for my husband and I to enjoy, while also being a simple go-to that my boys LOVE.
How to Make Alfredo Pasta
Like most pasta dishes, you will only need a pot and a pan to prepare my alfredo pasta. Pick your favorite noodle and get it boiling while you prepare your sauce. Since you will need to make sure that the milk and cheese does not burn or curdle, I suggest that you pre-measure your ingredients prior to cooking. Trust me, this will make your life much easier!
What is Alfredo Sauce?
If you have never had Alfredo Sauce before, it is a rich, white cheese sauce that pairs best with chicken, shrimp or sauteed veggies (mushrooms and broccoli are my top picks). Here is my recipe for an Easy Alfredo Sauce that your can make in only five minutes!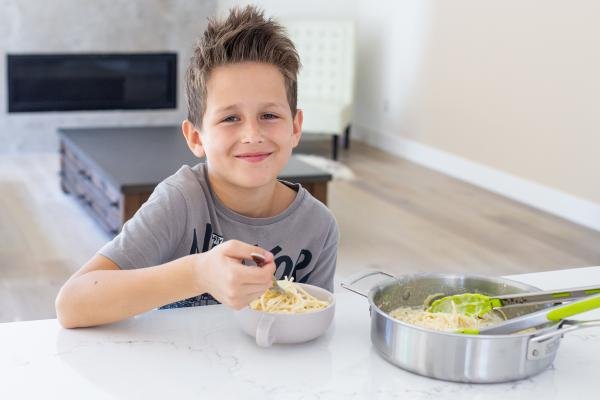 Proteins to add to Alfredo Pasta
You can get creative here, but the following are my personal favorites to add into alfredo pasta.
Shrimp Alfredo
Go to the fish market and grab the biggest, plumpest shrimps you can. Tip: Be careful not to overcook your shrimp before adding it to the pasta. As soon as the shrimp turns from a grayish color to translucent pink, they are done! Also, be sure to add whatever juices that seep out of the shrimp into your alfredo pasta. This will add a ton of yummy, seafood flavor!

Chicken Alfredo
Boneless, skinless chicken is cheap and also the best type of chicken to add to the alfredo pasta. Season it with salt, pepper and olive oil and bake it in the oven while you are preparing your noodles and sauce.
Reheating Alfredo Pasta
Reheat your alfredo pasta on the stovetop at a low-heat with a few spoonfuls of water. Because your sauce will thicken as it cools in the refrigerator, you will need to add some moisture to return the sauce to a creamy texture.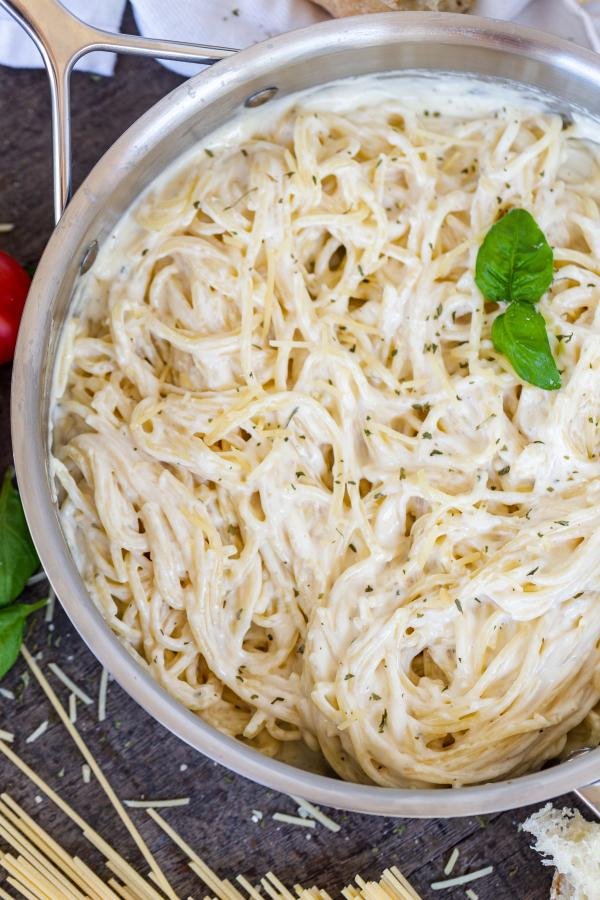 Tips for the Best Alfredo Pasta
Want an extra challenge? Try making your own pasta from scratch! Here is my recipe for Easy Homemade Pasta. If you're using the boxed stuff, be sure not to overcook it.
Alfredo sauce does reheat well and can be frozen for later use, but if you are really trying to "wow" you dinner guests, serve the pasta immediately after cooking it. Nothing beats the fresh pasta!
Make homemade sauce and skip the canned or jarred stuff. It makes a huge difference!
I know the cheese aisle can be intimidating, but choosing a high-quality parmesan cheese will make your pasta a knock-out dish. Skip the shredded, bagged parmesan and go for an aged parmesan that you will grate fresh. Grating the parmesan unlocks oils and flavors that are often lost in pre-shredded bagged cheese.
Other Easy Pasta Recipes:
Recipe
This is the Best Homemade Alfredo Pasta recipe that always finds its way to our dinner. Gather noodles, butter, cream, parmesan cheese and garlic and be prepared to kick back with a big bowl of YUM in less than 20 minutes!
Ingredients
1

lb

pasta

(spaghetti, linguini or fettuccine)

2

cups

alfredo sauce

1/2

cup

grated parmesan cheese
Instructions
Cook pasta according to the package instructions. On a low heat, preheat Alfredo Sauce in a seep skillet. Add cooked pasta to the Alfredo Sauce.
Nutrition Facts
The Best Alfredo Pasta Recipe (Under 20 minutes)
Amount Per Serving
Calories 465
Calories from Fat 153
% Daily Value*
Fat 17g26%
Cholesterol 62mg21%
Sodium 688mg29%
Potassium 179mg5%
Carbohydrates 60g20%
Protein 16g32%
Vitamin A 70IU1%
Calcium 108mg11%
Iron 1.1mg6%
* Percent Daily Values are based on a 2000 calorie diet.