All you need for this homemade Alfredo pasta is noodles, butter, cream, Parmesan, and garlic. Prepare to kick back with a big bowl of YUM in less than 20 minutes!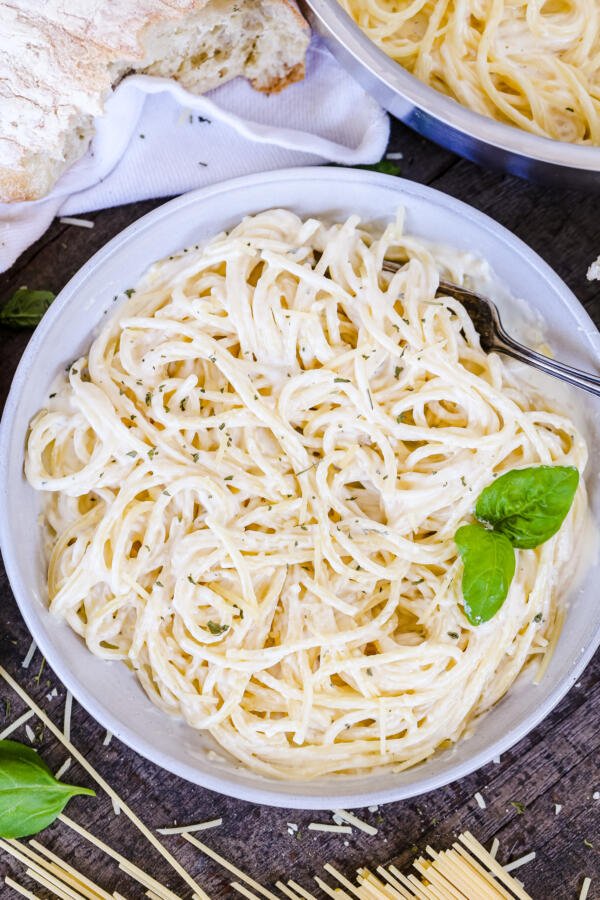 What Is Alfredo Pasta?
Alfredo pasta is a simple pasta dish consisting of your choice of long pasta combined with cheesy Alfredo sauce. The Alfredo sauce is a rich, white cheese sauce. Despite having a complex flavor, this creamy alfredo pasta recipe requires only a few ingredients, most of which are likely already in your kitchen. Plus, there are a number of ways to change up the flavor of the dish by adding in different proteins or vegetables.
Alfredo was first made in 1914 by a man named Alfredo Di Lelio when, after giving birth, his wife had no appetite for any food. Alfredo tried everything to get her to eat — eventually succeeding with a cheesy-buttery pasta dish. Our version of Alfredo pasta may be very different compared to the original, authentic Italian version, however, it is tasty nonetheless!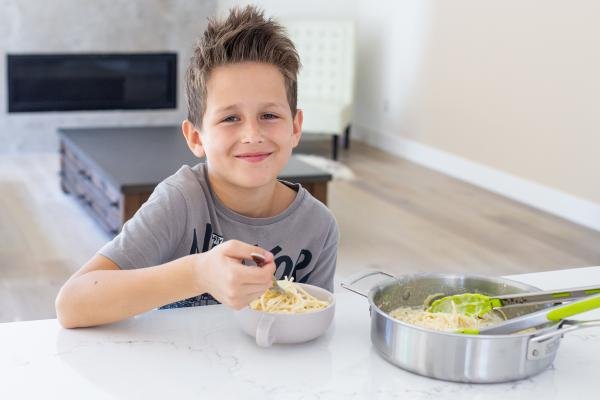 How To Make Alfredo Pasta
Like many pasta dishes, you'll need a pot and a pan to prepare Alfredo pasta. Pick your favorite pasta and get it boiling while preparing the sauce!
Hot tip: If you expect leftovers, reserve ¼ cup of pasta water to rehydrate the pasta when reheating later on.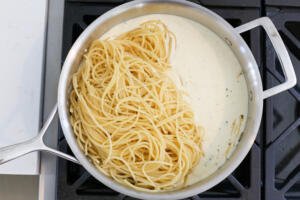 Additions to Your Alfredo Pasta
Imagine Alfredo pasta as your blank canvas — and your paint is a variety of different proteins, veggies, and types of pasta. Here are our personal favorites to add into this delicious pasta.
Proteins
Protein is quite possibly the most popular ingredient addition. Shrimp Alfredo pasta is one version where the shrimp are gently cooked and mixed with the cheesy sauce. Here's a tip — when making the shrimp, be careful not to overcook them or they will taste rubbery!
A second popular option is chicken, such as in this chicken Alfredo pasta. Feel free to use leftover chicken, chicken breast, or even chicken thighs. It's all up to you!
Vegetables
Are you looking for more veggies to pair with the pasta? Use up those mushrooms in your refrigerator and make chicken mushroom fettuccine Alfredo or add broccoli and you'll have broccoli mushroom Alfredo. Feel free to add even more of your favorite veggies including asparagus, carrots, and bell peppers.
Pasta Types
One of the wonderful perks of this dish is that you are welcome to use any type of long pasta or noodle that you like! Spaghetti, linguine, or fettuccine pasta are all great choices. Keep in mind that the wider the pasta, the better it holds the sauce!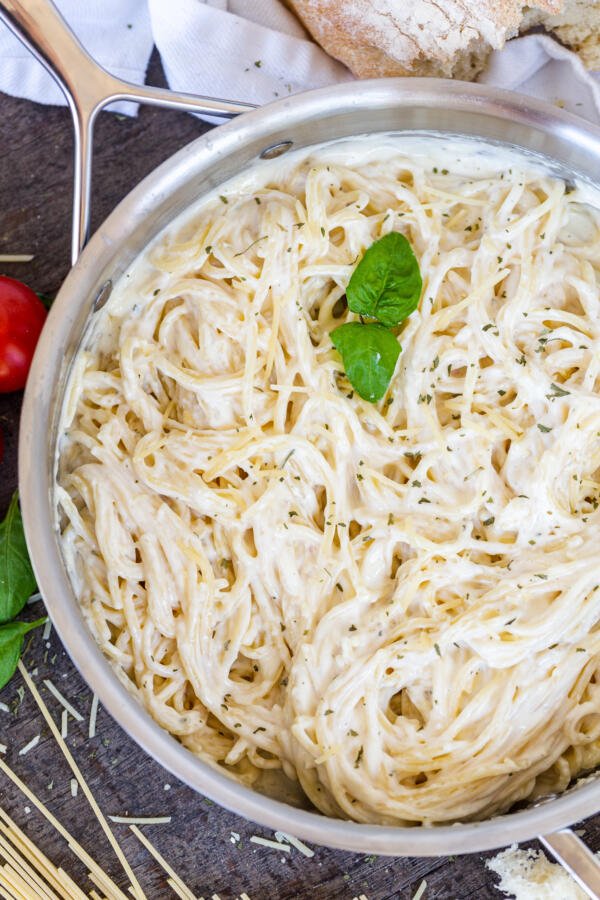 Tips for the Best Alfredo Pasta
Don't be stuck with a mediocre Alfredo pasta when you can have a top-notch dish. Follow these tips to ensure your dish reaches 5-star ratings from everyone at your table.
Serving the Pasta
Serve this scrumptious dish straight from the stove while it's still warm. It's a great lunch or dinner dish — and especially great for hosting since it's easy to double the recipe. For a full meal, add a meat and vegetable side (if not already in the pasta). Serve mild-flavored baked chicken legs or air fryer chicken Parmesan. Alternatively, pair with crisp parmesan crusted chicken. Or if you're a beef lover, make this tasty oven ribeye steak. For a salad option, go with a simple salad like this tomato mozzarella salad or level it up with bacon brussels sprouts salad. Another classic pairing would be a refreshing Caesar salad.
Storing & Reheating Tips
Alfredo pasta tastes best when served immediately — however, in case of leftovers, the dish also stores and reheats well.
FAQ
How do you thicken Alfredo without flour or cornstarch?
The best way to thicken Alfredo is by adding more Parmesan cheese. Or, whisk in a bit of heavy whipping cream into a 1/2 cup of the sauce and simmer over medium heat until thickened.
Is Alfredo sauce authentic Italian?
Alfredo sauce has primarily Italian roots, but the popularized Alfredo sauce today is largely different from its original form.
What pasta is best to use for Alfredo pasta?
Any long pasta works well in Alfredo dishes; however, the wider the noodle, the better it holds the pasta. For this reason, fettuccine noodles are the most popular choice.
What can I add to Alfredo pasta for flavor?
For more flavor in your pasta, add in meat or vegetable ingredients such as chicken, shrimp, mushrooms, broccoli, and more. Or, add in a dash of spices such as black pepper, paprika, garlic powder, and Italian seasoning.
More Alfredo Recipes
Recipe
All you need for this homemade Alfredo pasta is noodles, butter, cream, Parmesan, and garlic. Prepare to kick back with a big bowl of YUM in less than 20 minutes!
Ingredients
1

lb

pasta

(spaghetti, linguini or fettuccine)

2

cups

alfredo sauce

1/2

cup

grated parmesan cheese
Instructions
Cook the pasta according to package instructions. On low heat, preheat your Alfredo sauce in a deep skillet. Add the cooked pasta to the Alfredo Sauce.
Nutrition Facts
The Best Alfredo Pasta Recipe (Under 20 minutes)
Amount Per Serving
Calories 465
Calories from Fat 153
% Daily Value*
Fat 17g26%
Cholesterol 62mg21%
Sodium 688mg29%
Potassium 179mg5%
Carbohydrates 60g20%
Protein 16g32%
Vitamin A 70IU1%
Calcium 108mg11%
Iron 1.1mg6%
* Percent Daily Values are based on a 2000 calorie diet.