This 30-minute creamy vegetarian pasta is packed with sautéed veggies and tossed in a creamy, rich white sauce. Perfect for sneaking produce into your kids' diets!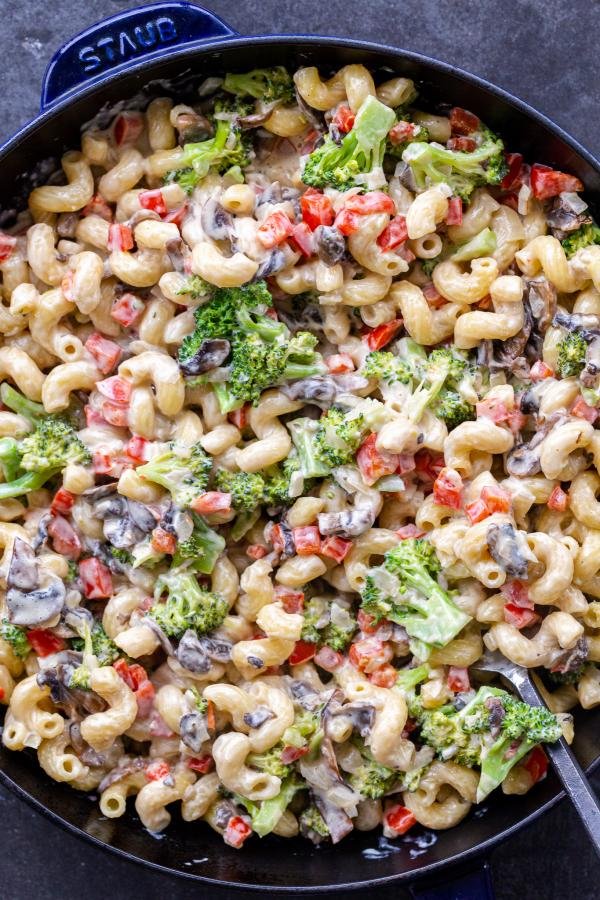 This creamy vegetarian pasta is a testament to how comfort food doesn't necessarily need to be 100% indulgent. I'm a huge fan of how it toes the line between being a little bit naughty with the cheesy white sauce and tender pasta, yet super healthy with a colorful bouquet of different sautéed veggies. Make it on a hectic weeknight or serve it to the favorite vegetarian in your life!
What is Creamy Vegetarian Pasta?
This creamy vegetarian pasta tastes somewhere in between a mac and cheese and fettuccine alfredo. Below, find a quick rundown on the flavor, texture, and time it takes to make this quick recipe.
Flavor: The flavor of this meat-free pasta is made up of a contrast of cheesy white sauce and earthy sautéed veggies.
Texture: The pasta is full of different textures from all the variety of sautéed veggies. Each bite will have a different look and feel, making it that much more addicting to eat!
Time: From prep to table, this pasta only takes 30 minutes to put together.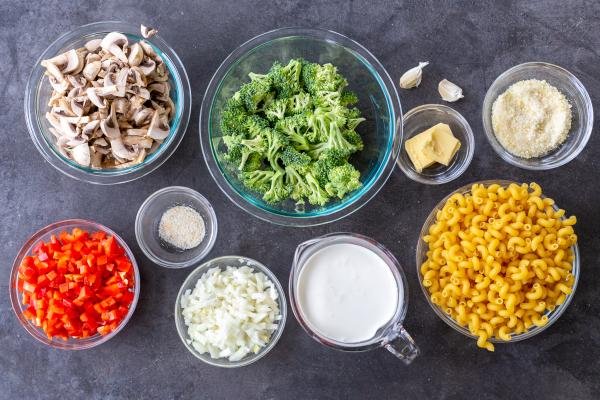 Making this Creamy Vegetarian Pasta
Making this creamy vegetarian pasta only requires 10 simple ingredients and 30 quick minutes. Below, find a quick rundown of the recipe before you dive in.
Slice & Sauté the Veggies: Dice the bell pepper and onion and slice the mushrooms. In a large skillet, sauté the mushrooms in some butter, followed by the bell pepper and onion.
Cook the Pasta: In a pot of boiling water, cook the pasta about 70% of the way through. Then, add it to the skillet.
Add the Cream, Garlic, & Broccoli: Next, add the heavy whipping cream, pressed garlic, and broccoli to the skillet. Cook for 5 minutes, stirring occasionally.
Fold in the Cheese: Fold in the parmesan cheese and stir until evenly combined. Serve hot and enjoy!
Looking for an awesome pasta skillet? I love cooking quick pastas in this Staub skillet. It's great for sautéing and deep enough to hold a good amount of sauce.
3 Tips for the Best Creamy Vegetarian Pasta
Here you'll find some pro tips to help you make the best creamy vegetable pasta possible.
Mix and match different veggies. The white sauce used in this creamy pasta is very versatile! If you have a different set of veggies on hand, go ahead and swap them in. Spinach, tomatoes, kale, roasted garlic cloves, asparagus, peas, and cauliflower all work especially well!
Don't cook the pasta all the way. The pasta will continue to cook in the skillet, so there's no need to cook it all the way through. Take it out of the boiling water while it's still a bit firm to prevent it from turning soggy.
Add some heat. If you're not making this dish for picky kids and you like a bit of spice, add some red pepper flakes or hot sauce to the skillet.
Ideas for Serving this Veggie Pasta
Serve the veggie pasta as-is or alongside your favorite protein if you're a carnivore. Grilled chicken and air fryer pork chops work especially well. If you want to pair it with a side, a fresh salad is a natural choice. Opt for a caesar or classic garden to add another full serving of veggies to your plate.
Hot Tip: A quick way to elevate your pasta is to toss it or garnish it with herbs. Fresh parsley or basil will do the trick.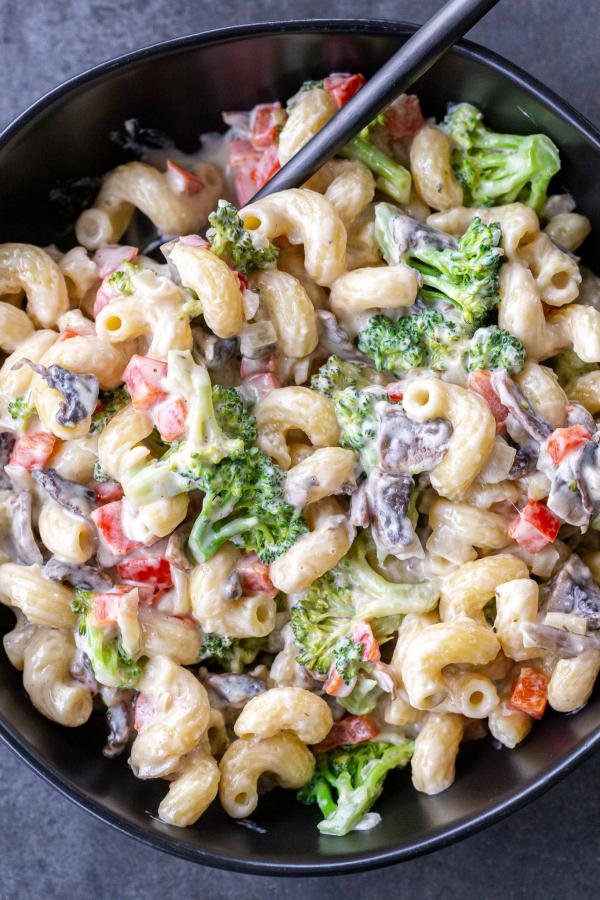 Storing Leftover Creamy Veggie Pasta
Creamy veggie pasta is best eaten within a week. To keep it as fresh as possible, store it in an airtight container in the fridge. Avoid freezing the pasta, as the cream sauce nor the cooked pasta thaw well. To reheat it, pop it in the microwave for a couple of minutes or reheat it in a skillet with a bit of butter to rehydrate the sauce.
FAQ
Can you use a different cheese besides parmesan?
If you don't have parmesan cheese on hand, feel free to use romano instead. It's a bit more flavor-forward than parmesan but will give you the same nuttiness.
What kind of pasta should you use?
The best pasta to use for creamy veggie pasta are the shaped varieties. Penne, bowtie, and ziti all work particularly well.
Can you swap in a bottled pasta sauce for this recipe?
If you want to use a bottled pasta sauce, opt for a creamy variety like alfredo or a simple three-cheese.
What does cooking pasta to "al dente" mean?
Cooking the pasta to "al dente" means boiling it until it still has a slight firmness and bite. In Italian, the phrase translates to "to the tooth".
Can this pasta be eaten cold?
It's not recommended to eat this pasta cold, as the creamy sauce tends to harden in the refrigerator.
Other Creamy Pastas to Try
Recipe
This creamy vegetarian pasta is a sneaky yet delicious way to get a full serving of veggies. Made in just 30 minutes!
Ingredients
2

tbsp

Unsalted Butter

1

red bell pepper

1

small onion

2

cups

mushrooms

16

oz

pasta

Cavatappi is great option

2

garlic cloves

3/4

cup

parmesan cheese

2

cup

broccoli

2

cup

heavy whipping cream

1

tsp

garlic parsley salt

adjust to taste
Nutrition Facts
30-Minute Creamy Veggie Pasta
Amount Per Serving
Calories 662
Calories from Fat 342
% Daily Value*
Fat 38g58%
Cholesterol 127mg42%
Sodium 664mg28%
Potassium 441mg13%
Carbohydrates 64g21%
Protein 18g36%
Vitamin A 2351IU47%
Vitamin C 31mg38%
Calcium 240mg24%
Iron 2mg11%
* Percent Daily Values are based on a 2000 calorie diet.