This creamy shrimp scampi is one of those dishes that just hits the spot time and time again. Plump, juicy shrimps pair perfectly with the savory white sauce.
If you love creamy pasta dishes, you have to try our Classic Alfredo Sauce.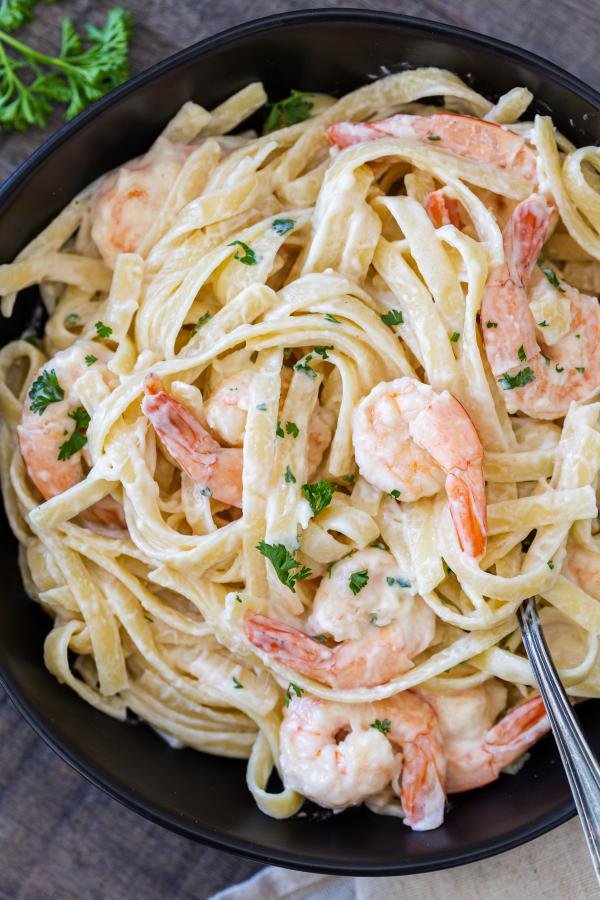 This is another one of those meals that you can quickly prepare. If you are a working person or just being busy with kids, I would highly recommend this dish.
It's hard to believe that I used to not be a fan of fish or shrimp. After marrying my husband Tim, a seafood fanatic, my palette opened up and I am now able to enjoy all the lovely seafood Seattle has to offer. Creamy Shrimp Scampi is one of the first dishes that changed my mind.
Tim also created a seafood-lover out of our 11-year-old son Jacob. He can blow through an entire bag of shrimp like it's a bowl of popcorn! When he sees me preparing my Creamy Shrimp Scampi, I can see his inner "foodie" growing just like mine did.
What is Shrimp Scampi?
The first time I had Shrimp Scampi was at Red Lobster. I loved its lightness and immediately wanted to recreate it at home. I learned that Shrimp Scampi is defined by Italian-Americans as shrimp cooked in a sauce made of white wine, butter, and garlic. Combine the sauce with pasta and sop up whatever is left at the bottom of your bowl with a hunk of fresh bread.
What Pasta Does Shrimp Scampi Pair Well With?
Linguine, linguine, linguine! I love how the wide and flat noodles soak up the buttery sauce. I also find that linguine is the best pasta to use if you want to get a forkful of shrimp and pasta in the same bite. It's durable, thick, and sure to satisfy a carb craving.
Choosing the Right Ingredients to Make Shrimp Scampi
While this pasta is quick to prepare, nailing it requires that you pick the right quality of ingredients. Here is my breakdown of each component to this classic:
Wine
You will want to use a crisp and dry white wine like Sauvignon Blanc. The acids in the wine will help enhance the flavors of the shrimp and compliment the creaminess of the cheese and heavy whipping cream (if you choose to add it). You can find Sauvignon Blanc for pretty cheap at the market, but opt for a bottle you actually like to drink on its own. That way, you can pour yourself a chilled glass with the leftovers when you are ready to eat! C'mon you deserve a treat, anyways :).
Shrimp
It's always best to go fresh! If you can, go to the fish market. If not, the frozen variety are just fine. Keep in mind that frozen shrimp come in both cooked and uncooked varieties. Pay attention to the packaging so you don't accidentally overcook already cooked shrimp! You can tell when shrimp is cooked because it turns a pink-orange color.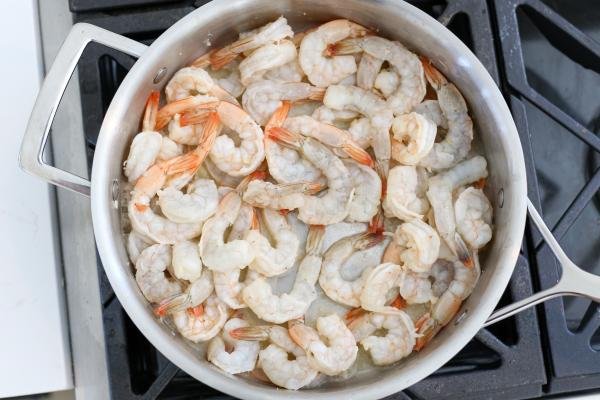 Hot tip: Cook fresh shrimp with the shells on. There is plenty of flavor in the shrimp shells that will be released into the sauce as you cook it. If you are a hardcore seafood lover, this method is for you!
Herbs
While it might be tempting to garnish your pasta with a dried herb from your cupboard, opt for the fresh stuff. Grab a bundle of parsley or basil. Chop it roughly and sprinkle it on top of your pasta right before serving. This will add a beautiful pop of color and flavor!
Garlic
If you are anything like me, you probably have a handy (and perfectly tasty) jar of marinated, minced garlic in your fridge for when you don't feel like getting your hands dirty. For this dish, press fresh garlic. It will stand up to the heat of the pan better and prevent burning.
Parmesan Cheese
Use a high-quality parmesan cheese. Grab a block of it and grate it fresh. Grating your cheese unlocks oils and flavors that are lost in the shredded and bagged varieties.
Heavy Whipping Cream
Not everyone uses heavy whipping cream in their Shrimp Scampi. I, for one, am a sucker for the creaminess and texture it adds. Add it or don't. Either way this dish will be something special!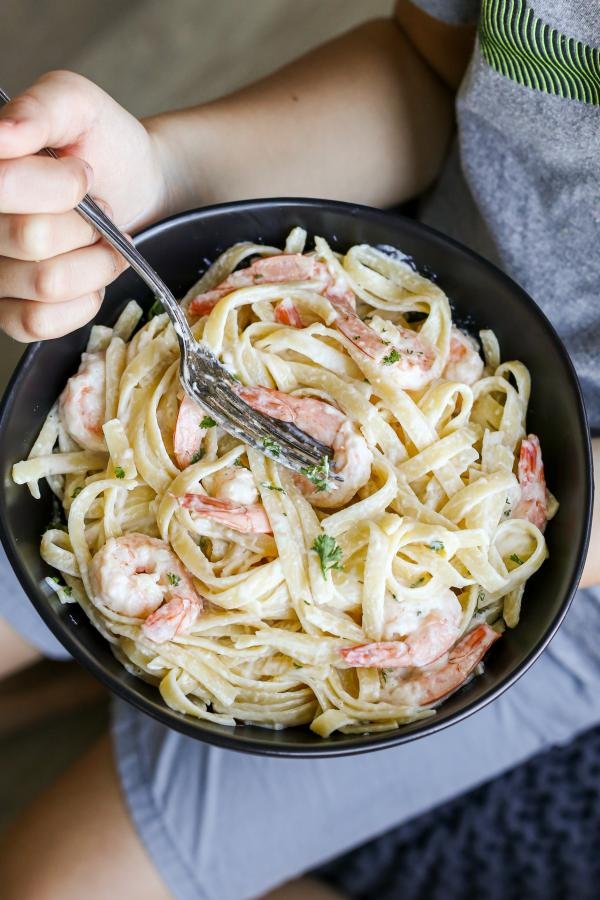 Shrimp Scampi Nutrition and Benefits
A single serving of my Creamy Shrimp Scampi clocks in at just under 500 calories. It also boasts 30 grams of protein. Bon appetit!
Other Pasta Recipes to Try
Recipe
Creamy Shrimp Scampi is one of those dishes that just hits the spot. Plump, juicy shrimps pair perfectly with my special, creamy sauce. Pour yourself a glass of white wine, kick back, and dig into this classic pasta dish!
Ingredients
1

lb

shrimp

1

lb

linguine

2

tbsp

Unsalted Butter

3

garlic cloves

1/2

cup

dry white wine

1/4

cup

lemon juice

1/2

cup

grated Parmesan cheese

salt

to taste

1/2

cup

heavy whipping cream
Nutrition Facts
Creamy Shrimp Scampi
Amount Per Serving
Calories 469
Calories from Fat 108
% Daily Value*
Fat 12g18%
Cholesterol 275mg92%
Sodium 766mg32%
Potassium 293mg8%
Carbohydrates 57g19%
Protein 30g60%
Vitamin A 270IU5%
Vitamin C 7.5mg9%
Calcium 238mg24%
Iron 3.2mg18%
* Percent Daily Values are based on a 2000 calorie diet.