These baked oatmeal meatballs are a healthier spin on traditional pan-fried meatballs with bread crumbs. You'll love how juicy they are!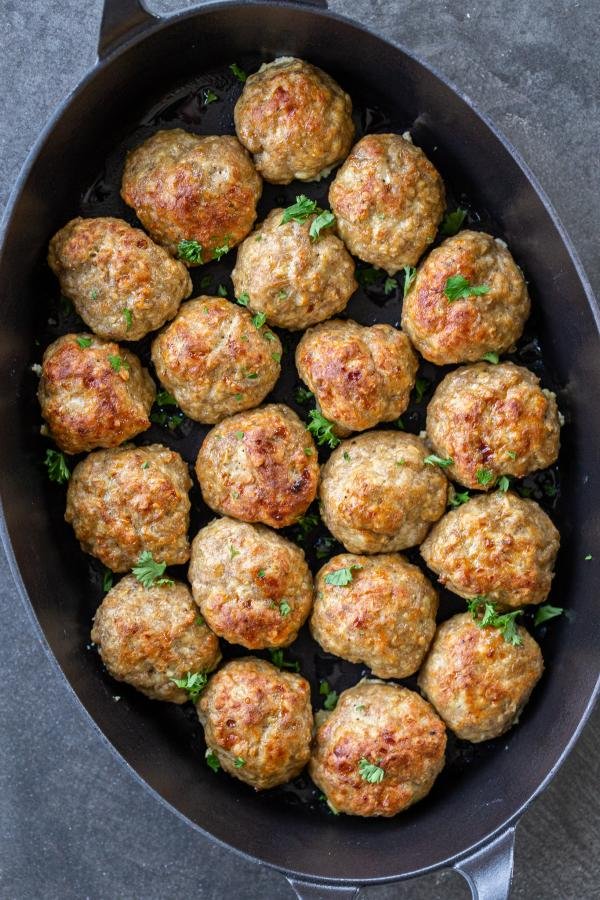 Traditionally, my family has always made meatballs with white bread soaked in milk. Then, we'd pan-fry them until golden brown and finish them off in the oven. This method is delicious, but I was curious if I could make meatballs a bit healthier. After a little experimenting, I swapped out the bread for oatmeal and baked them in the oven from start to finish. With great risk comes great reward, because these turned out incredible. I know you're going to love them just as much!
Love baked meatballs? We get it, baked meatballs are healthier and easier to prepare (goodbye grease splatter!) Try our baked lamb meatballs, too!
What Happens If You Don't Use Bread Crumbs in Meatballs?
If you're a meatball purist, you might be doubting what will happen if you don't use bread crumbs. Don't fret! So long as you use some kind of carb – whether it's oats, bread crumbs, crackers, or soaked bread – you'll get that signature meatball texture.
Making Baked Oatmeal Meatballs
To kick off the process, first place the ground chicken, quick oats, mayo, egg, onion, salt, and pepper in a large bowl.
Knead the Meat Mixture: Then, knead the ingredients together with your hands and let the mixture soak for 30 minutes.
Preheat the Oven: Next, preheat the oven to 375°F.
Portion the Meatballs: While the oven is heating up, portion out the meatballs and roll them in the palm of your hand.
Bake the Meatballs: Assemble the meatballs on a baking sheet lined with parchment paper or in a baking dish. Then, bake the meatballs for about 30 minutes. Enjoy!
Hot Tip: Like a finer meatball? Pulse the oats in a food processor until fine in texture.
3 Pro Tips for the Best Oatmeal Meatballs
While this recipe is hard to mess up, there are a couple of tips that will help you make it your very own.
Use quick oats versus rolled oats. Since quick oats cook much faster than rolled oats, they will yield a much creamier texture.
Play around with different kinds of lean ground meat. If you're not a fan of ground chicken, go ahead and use lean ground beef, ground turkey, or ground pork. If you want to experiment further, play around with different combinations of meat.
Experiment with your favorite ingredients. While we keep this recipe nice and neutral, feel free to play around with different ingredients to fit into the meal you're serving. For instance, add fresh basil, oregano, minced garlic cloves, and parmesan cheese if you're serving the meatballs over pasta.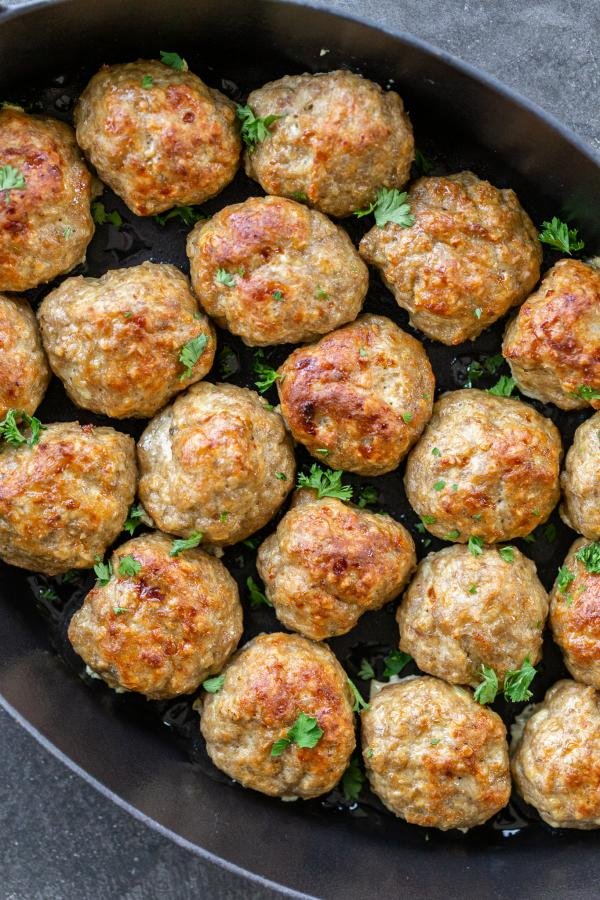 Ideas for Serving Oatmeal Meatballs
If you're trying to keep it healthy, serve the meatballs as a main dish alongside your favorite veggies. Air fryer zucchini or roasted cauliflower steaks are both great options. Alternatively, add these healthy oatmeal meatballs to your favorite pasta and marinara sauce.
Storing & Freezing Your Oatmeal Meatballs
This meatball recipe is perfect for batch cooking, meal prep, and leftovers. Below, find some best practices for storing and freezing them.
Refrigerator: To keep oatmeal meatballs on hand for up to a week, store them in an airtight container in the fridge. This will keep them from turning stale and drying out.
Freezer: To have meatballs on hand for up to 3 months, you can freeze them baked or raw. To do so, assemble them on a baking sheet lined with parchment paper. Pop the baking sheet in the freezer uncovered. Once completely frozen, transfer the meatballs into a freezer-safe bag.
FAQ
How do you keep meatballs from falling apart?
Adding egg to the meat mixture is the key to ensuring your meatballs don't fall apart.
Is it better to use milk or water in meatballs?
Milk is always better than water. It gives the meatballs a creamy touch.
Why won't my meatballs stick together?
Your meatballs won't stick together if you didn't get the proportions right or you used too much liquid.
How do you keep meatballs from cracking?
Keep the meatballs from cracking by ensuring you've needed the mixture until well-combined. If there are too many chunky bits, they will fall apart during baking.
How do you keep meatballs fluffy?
The key to fluffy meatballs is adding a bit of milk to them.
More Meaty Recipes to Try
Recipe
These tasty baked oatmeal meatballs are a fun spin on classic bread crumb meatballs. They're tender, juicy, and so versatile!
Ingredients
1

lb

ground chicken

1/2

cup

milk

1/2

cup

quick oats

1

egg

1/2

large onion

finely diced

1

tbsp

mayonnaise

1

tbsp

salt

adjust to taste

1

tsp

pepper

adjust to taste
Instructions
In a large bowl, knead all the ingredients together. Let them sit for about 30 minutes so the flavors can meld together.

Preheat the oven to 375°F. Using a large ice cream scoop, portion and shape the meatballs. Place them on a baking sheet lined with parchment paper.
Nutrition Facts
Baked Chicken Oatmeal Meatballs
Amount Per Serving
Calories 53
Calories from Fat 27
% Daily Value*
Fat 3g5%
Cholesterol 29mg10%
Sodium 373mg16%
Potassium 142mg4%
Carbohydrates 2g1%
Protein 5g10%
Vitamin A 23IU0%
Vitamin C 1mg1%
Calcium 12mg1%
Iron 1mg6%
* Percent Daily Values are based on a 2000 calorie diet.