Cabbage Roll Soup? Yes, you read right — this soup is a spin off classic Eastern European stuffed cabbage rolls. The kicker? It takes a fraction of the time.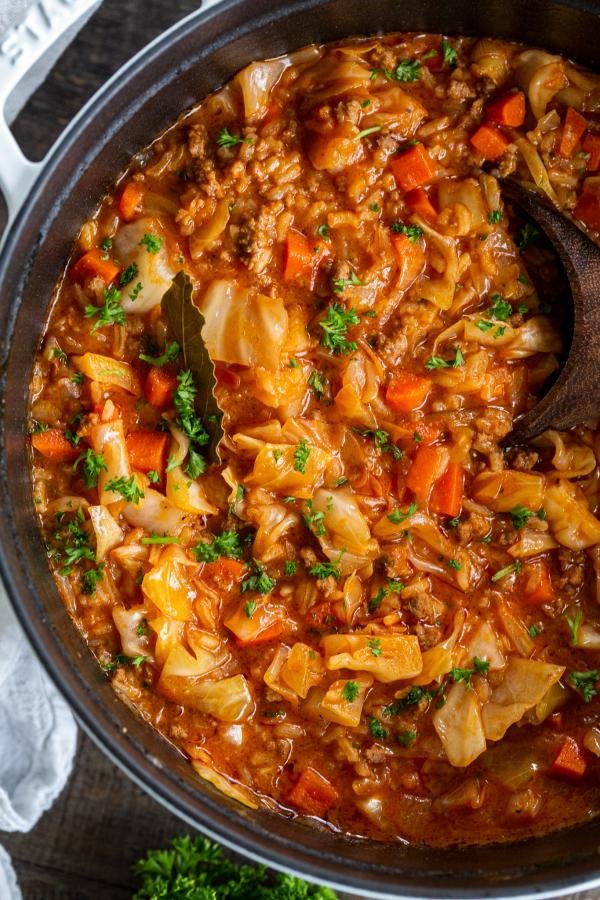 Cabbage Roll Soup is quick and healthy, yet it eats like comfort food. Trust me, you will have this on repeat in your home after making it the first time!
This recipe was born out of my family's insatiable craving for classic cabbage rolls. It's the perfect way to calm a cabbage roll hankering without all the work. It's also a one-pot dinner, which you know is a favorite at Momsdish.
Ingredients for Cabbage Roll Soup
Here's a run down of all the ingredients you need for this soup, as well as a couple of recommendations for substitutions:
Beef: Lean ground beef is recommended for this recipe, but feel free to use ground turkey, chicken or pork if you please. If you are not a big fan of ground beef, feel free to substitute ground chicken or ground turkey.
Cabbage: Cut the cabbage into large chunks and rinse them well under a colander. It will shrink down significantly as it cooks.
Rice: You can use whole grain or wild rice. If you are watching your carbs, use riced cauliflower instead (note that this will decrease your cooking time).
Tomato Paste: You can replace tomato paste with pureed or canned tomatoes if need be.
Broth: Chicken or beef broth will work great.
Onions: Yellow, white or sweet onions will do.
Bay Leaves: These are optional, but I do find that they add a great flavor.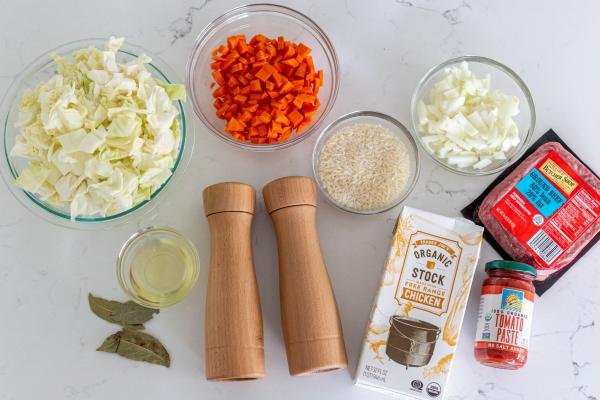 How to Make Cabbage Roll Soup
If you love cabbage rolls, you know how much work they take. While well worth it, you don't always have the time to whip up these delicious morsels. When the craving calls, put a pot of these easy-to-make soup on the stove! Follow these step-by-step instructions to nail it:
Brown your ground beef in a large pot.
Add carrots and onions and cook until softened.
Add rice, tomato paste, bay leaves, broth and water.
Bring to a simmer.
Add cabbage.
Add heavy cream and remove from heat.
How to Properly Cut a Cabbage
You might already be a pro at cutting cabbage, but if you aren't, follow these simple steps:
First, remove any damaged or brown outer leaves from the cabbage head.
Place the cabbage on a clean work surface, stem side down. Locate the stem, or core, of the cabbage head.
Using a sharp knife, cut the head in half.
Some folks like to keep the core in and others like to remove it. It's completely edible and fine to eat, but if you're not a fan of how fibrous it is, use your knife to carefully cut it out. Do this but cutting into the head at an angle on both sides of the core.
Cut your cabbage as desired! For this recipe you can do thin shreds, thick shreds or full wedges.
Can you Freeze Cabbage Roll Soup?
Cabbage soup is a perfect candidate for freezing! Make a huge batch, allow the soup to fully cool down and store in freezer safe containers. Then, enjoy cabbage soup throughout the entire winter. To reheat, let a container of soup thaw in the refrigerator overnight. Over medium heat in a saucepan, reheat the soup until warmed all the way through.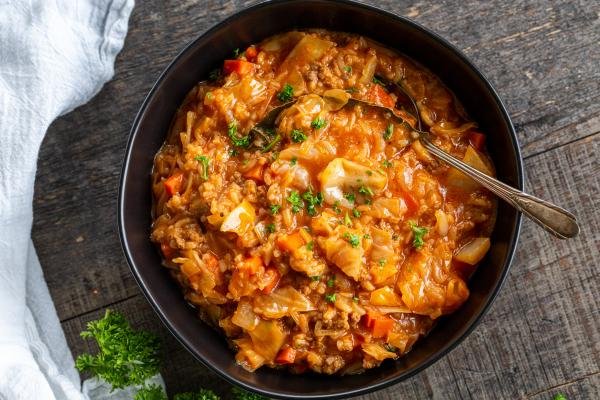 More Cabbage Recipes
Cabbage is the ultimate comfort food. Being Ukrainian, I crave it at least twice a week. Here are some of my favorite go-to recipes:
One-Pan Braised Cabbage with Rice – One-pan meals mean less mess. This quick and easy braised cabbage hits the spot every time!
Traditional Cabbage Rolls – If you like cabbage soup, you are probably already a big fan of cabbage rolls. If you have time on your hands and an obsession with this leafy veggie, you must make this family recipe.
Beet, Carrot and Cabbage Salad – This salad is a staple at Ukrainian get togethers. It's crisp, delicious and crunchy. You'll love it!
Recipe
Cabbage Roll Soup? Yes, you read right — this soup is a spin off classic Eastern European stuffed cabbage rolls. The kicker? It takes a fraction of the time.
Nutrition Facts
Cabbage Roll Soup
Amount Per Serving
Calories 191
Calories from Fat 108
% Daily Value*
Fat 12g18%
Cholesterol 40mg13%
Sodium 1008mg42%
Potassium 418mg12%
Carbohydrates 13g4%
Protein 9g18%
Vitamin A 2061IU41%
Vitamin C 23mg28%
Calcium 47mg5%
Iron 2mg11%
* Percent Daily Values are based on a 2000 calorie diet.