These cabbage rolls are filled with delicious ground meat, rice, and aromatics, then topped with a succulent tomato-based sauce. The only way to describe it is — perfect!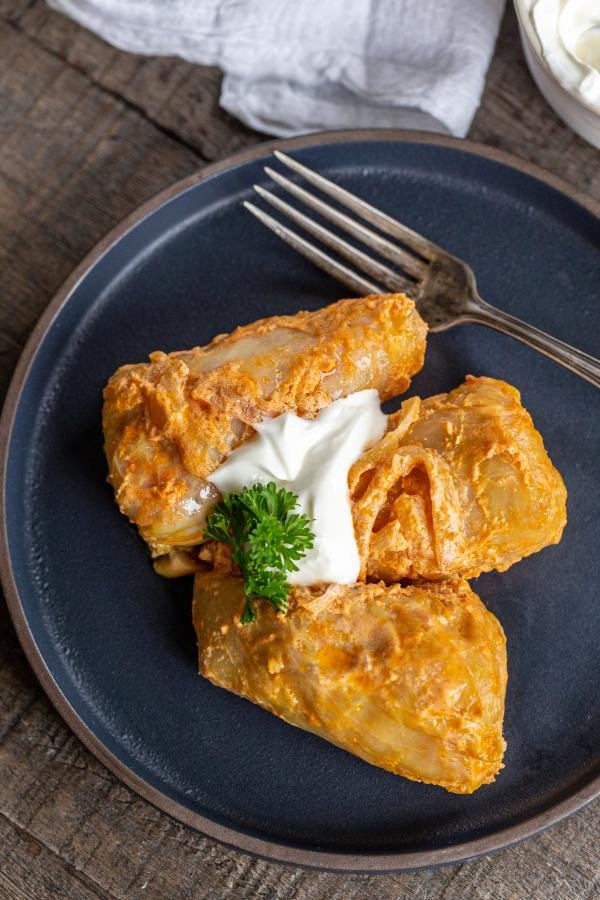 It seems that each cook and culture has their own variation of cabbage rolls. This stuffed cabbage rolls recipe is a version of our family's Ukrainian cabbage rolls, called "halupki" or "golubtsi." Many Eastern European countries and people have their own variants, but this traditional recipe was passed from my grandma, to mom, and now to me. Today, these rolls are a staple during our holiday meals.
What Are Cabbage Rolls?
Cabbage rolls are boiled cabbage leaves stuffed with a savory meat and rice mixture, then topped with tomato sauce and baked in the oven. They are often served with a dollop of cool sour cream to pair with the savory hot rolls.
It is hard to pinpoint the exact origin of cabbage rolls; however, some sources state the dish likely originated in the ancient Middle East (such as Israel). Over time, many different communities adopted their own version of the rolls. Some variants are sweet and sour, whereas others are more savory.
How to Make Cabbage Rolls
Perhaps the most intimidating part about making cabbage rolls is the rolling! Fear not, as this process is actually quite easy and the sturdiness of cabbage leaves makes rolling a breeze.
Make the filling base: Boil the rice in a pot of salted water until cooked. Sauté the carrots and onions on an oiled pan.
Combine filling ingredients: Cool the cooked rice, carrots, and onions. Then combine them with the ground meat in a large bowl. Add herbs and spices and mix until well combined.
Boil the cabbage: Place the whole head of cabbage in a large pot of boiling water. Boil for 2-3 minutes. Remove the cabbage from the water, then cut and carefully remove the outer cabbage leaves without breaking them. Keep going until the leaves are too small.
Remove the hard spine: Cut the hard spine on each cabbage leaf by slicing each leaf into two.
Fill the leaf: Place the cabbage leaf into your hand, add the filling, then fold it into a roll.
Press the top of the roll: Press the top of the roll into the filling to fold and seal it.
Arrange the rolls in a pot: Place cabbage rolls tightly seam-side down in a cast iron pot or dutch oven, here is our favorite.
Mix the sauce: In a preheated skilled, sauté the onion rings until golden brown. Pour in sour cream and tomato sauce. Mix well.
Pour sauce over the cabbage: Pour the sauce over the cabbage rolls. Bake the rolls in the oven at 375°F for 45 minutes.
Serve: Serve the warm rolls with a dollop of sour cream.
Tips from the Kitchen
These stuffed cabbage rolls will be your new favorite low-carb meal. Here are tips on how to have the best flavor and texture.
Buy the biggest cabbage: Purchase the largest cabbage you see! The bigger the head of cabbage, the larger the leaves, and the easier it is to fill and roll.
Avoid overfilling: Do your best to avoid overfilling the cabbage leaf! A large spoonful of filling is the sweet spot. Any more and filling will pop out of the sides.
Mix up the meat: Choose whichever meat mixture of ground beef or ground pork you will like best. For a lighter version, use ground turkey or ground chicken.
Soften the cabbage: Make sure to boil the cabbage in order to achieve tender cabbage leaves. The leaves must be soft in order to roll without tearing. Or, freeze the entire head of cabbage. After a few days, thaw it and the leaves will be soft enough to fill.
Use the small pieces: Once the leaves get too small to stuff individually, take two small ones and overlap them with each other. Stuff and roll the overlapped leaf. Or, place the small leaves into the pot for a treat of extra cabbage.
Ways to Serve
Cabbage rolls are pretty filling all on their own; however, they are also great alongside a nice vegetable side dish. For a simple salad, make our classic garden salad. When you want an eastern European inspired salad, go with a beet vinaigrette salad. In case an entire salad is too much, marinated mushrooms or asparagus with bacon are excellent single-veggie options. Whatever route you go, don't skip the sour cream on top!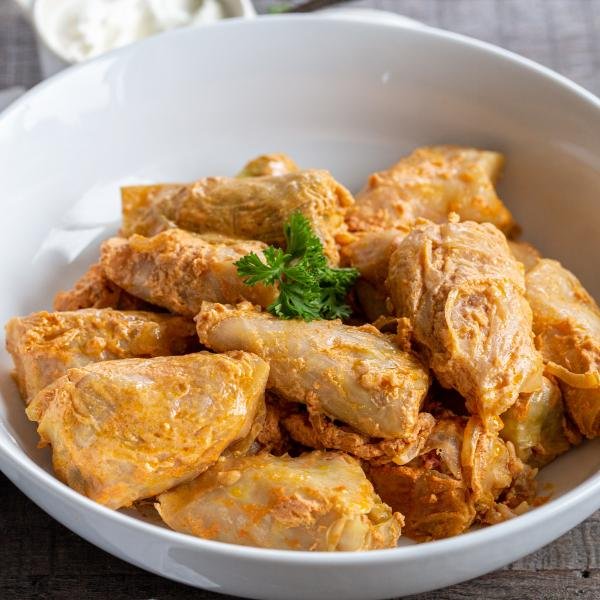 Storing & Reheating
Cabbage rolls are one of those dishes that almost guarantee leftovers. We like to make a large batch and have some on hand for throughout the week.
Refrigerator: To keep fresh for up to a week, place rolls in an airtight container in the fridge.
Reheating: Reheat the rolls in the microwave or on a preheated skillet set to medium-low heat.
Freezer Meal Cabbage Rolls
If you plan on freezing cabbage rolls, prepare them all the way up until the point of baking. Store them in a Ziploc bag and remove as much air as possible to prevent freezer burn. When you are ready to eat, place them in a baking dish, cover them with sauce and bake according to instructions.
FAQ
Why is the cabbage tough in my cabbage rolls?
Cabbage may be tough in cabbage rolls if it wasn't completely boiled and cooked before stuffing. It also may be tough in spots if the areas with the thick spine are not removed prior to stuffing.
How do I remove cabbage leaves for cabbage rolls?
Remove cabbage leaves from the head of cabbage by removing the core, then slowly peeling back one leaf at a time.
Are golabki and sarmale different?
Golabki (Polish) or sarmale (Romanian) are both types of stuffed cabbage rolls. Golabki use fresh cabbage leaves whereas sarmale are made with pickled cabbage leaves.
More Stuffed Recipes
Recipe
These cabbage rolls are filled with delicious ground meat, rice, and aromatics, then topped with a succulent tomato-based sauce. The only way to describe it is — perfect!
Ingredients
Cabbage Rolls
Cabbage Rolls Sauce
1

large onion

cut in half rings

1

cup

sour cream

1/2

cup

tomato sauce
Nutrition Facts
Traditional Cabbage Rolls
Amount Per Serving
Calories 179
Calories from Fat 72
% Daily Value*
Fat 8g12%
Cholesterol 34mg11%
Sodium 91mg4%
Potassium 374mg11%
Carbohydrates 19g6%
Protein 8g16%
Vitamin A 1549IU31%
Vitamin C 24mg29%
Calcium 54mg5%
Iron 1mg6%
* Percent Daily Values are based on a 2000 calorie diet.