Cabbage rolls made the most traditional way, grandmother's way, they are to-die-for. This recipe is the epitome of Ukrainian comfort food. Enjoy!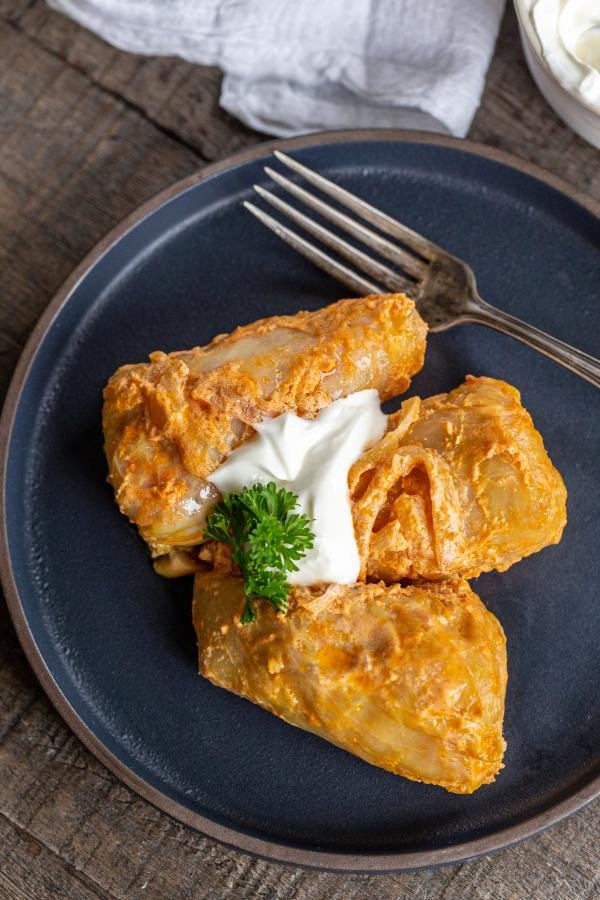 Cabbage rolls appear in the cuisines of many Eastern European countries. Typically, boiled cabbage leaves are stuffed with a savory meat and rice mixture, then topped with tomato sauce and sour cream and finished in the oven. However, like with many other dishes, each cook and culture has their own variation.
In my family, cabbage rolls, or "halupki," are a staple during the holidays. You can expect a piping hot tray to be served on Thanksgiving, Christmas and New Years. Let's get started!
How to Make Cabbage Rolls
Perhaps the most intimidating part about making cabbage rolls is the rolling! Fear not, this process is actually quite easy and the sturdiness of cabbage leaves makes them easy to work with.
Here are the steps needed to make cabbage rolls: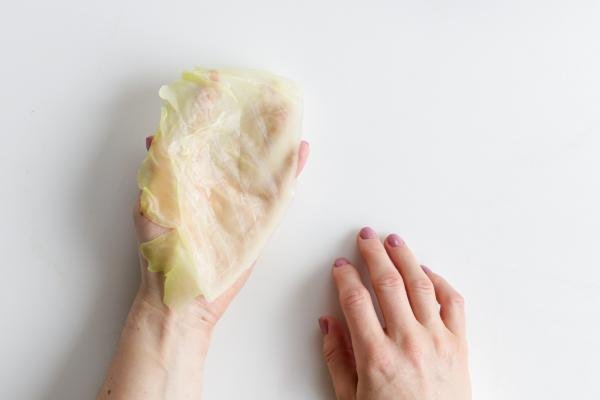 Hold a cabbage leaf in your hand.
Place a spoonful of filling on the bottom half of the cabbage leaf.
Fold over one side of the cabbage leaf, securing the filling.
Pinch the edges of the cabbage inside the cabbage roll.
Tip: Try to purchase the largest cabbage you can! The bigger the cabbage, the larger the leaves. This means you will have an easier time rolling. Also, be sure not to overfill your cabbage leaf! A large spoonful of filling is the sweet spot. Any more and you will have filling popping out of the sides.
What Sides go with Cabbage Rolls?
Cabbage rolls are pretty filling all on their own. However, when I am hosting, I like to serve them alongside a nice vegetable side dish. Here are some of my favorites:
Cabbage Rolls Sauce
My favorite part of this recipe is the sauce! Rich tomato sauce and sour cream come together to make the perfect combination of sweet and savory. As the dish bakes, it seeps wonderfully into each roll. Yum!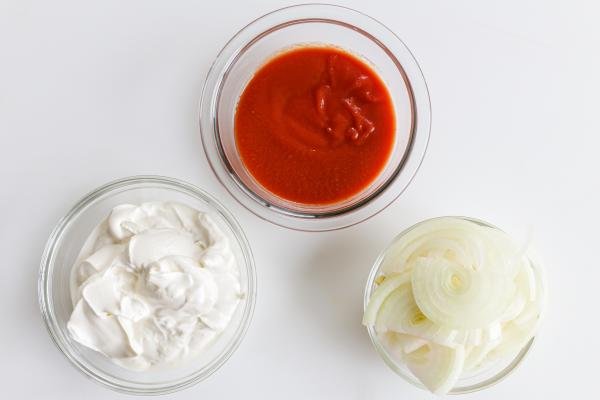 How to Store Cabbage Rolls
Cabbage rolls are one of those dishes that almost guarantee leftovers. We like to make a large batch and have some on hand for throughout the week. Here's how to store and reheat them:
Refrigerate Cabbage Rolls
Cabbage rolls stay fresh for up to a week when stored in an airtight container in the refrigerator. Reheat them in the microwave or on a preheated skillet set to medium-low heat.
Freeze Cabbage Rolls
If you plan on freezing cabbage rolls, prepare them all the way up until the point of baking. Store them in a Ziploc bag and be sure to remove as much air as possible to prevent freezer burn. When you are ready to eat, place them in a baking dish, cover them with sauce and bake them according to instructions.
Recipe
Cabbage rolls made the most traditional way, grandmother's way, they are to-die-for. This recipe is the epitome of Ukrainian comfort food.
Nutrition Facts
Traditional Cabbage Rolls
Amount Per Serving
Calories 179
Calories from Fat 72
% Daily Value*
Fat 8g12%
Cholesterol 34mg11%
Sodium 91mg4%
Potassium 374mg11%
Carbohydrates 19g6%
Protein 8g16%
Vitamin A 1549IU31%
Vitamin C 24mg29%
Calcium 54mg5%
Iron 1mg6%
* Percent Daily Values are based on a 2000 calorie diet.