This Slavic-style beet and cabbage salad is the perfect balance of sweet beets, savory smoked sausage, & creamy dressing. A filling & colorful side dish!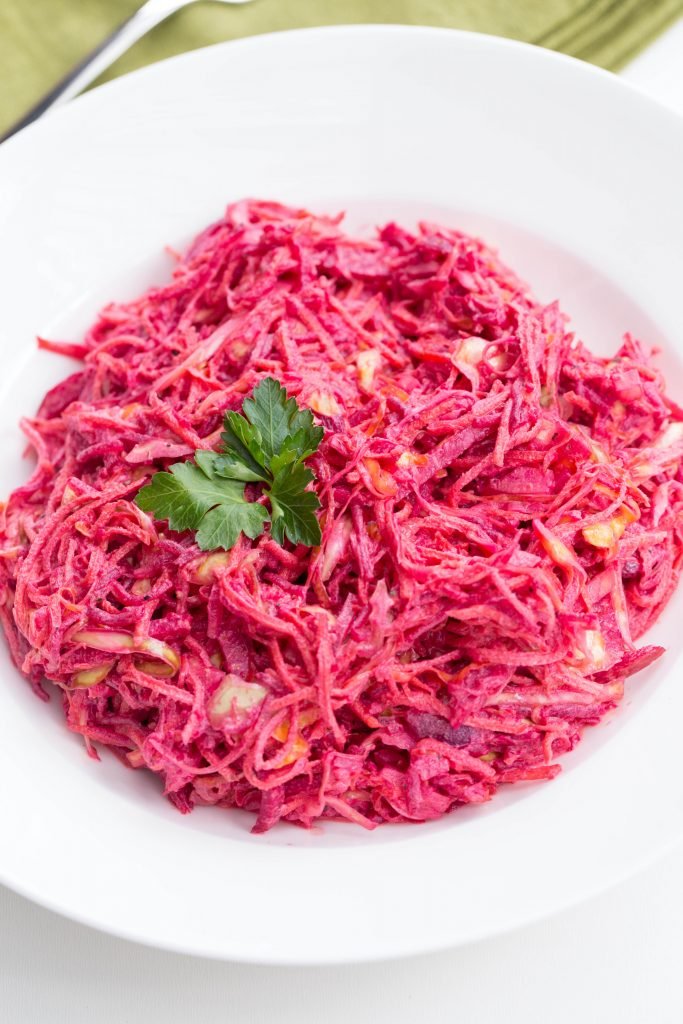 This beet and cabbage salad is somewhere in between a red cabbage slaw recipe and a colorful beet slaw recipe. It contains a handful of key ingredients that represent the wider Slavic cuisine, including creamy mayo, smoked sausage, beets, and crunchy cabbage. The perfect balance of savory and sweetness and your new favorite rainbow beetroot salad!
How to Boil Beets for this Salad
Before we dive into the recipe, let's first cover off on how to properly boil raw beets for this salad.
Boil Water: First, bring a pot of salted water to boil.
Clean the Beets: Rinse the beets under cold water in the sink and slice off the greens.
Boil the Beets: Boil the beets for 30-40 minutes depending on the size.
Peel the Skins Off: Once the beets have cooled enough to handle, rinse them under cold water and peel the skins off (they should slide off super easily). Slice the beets into bite-sized pieces and sprinkle on your salad.
Hot Tip: If you don't want to bother with boiling your beets, many grocery stores sell pre-boiled beets in the refrigerated aisle of the produce section.
How to Make Beet and Cabbage Salad
Making this salad is especially easy if you enlist the help of a food processor or high-speed blender. It will help significantly cut down the prep time!
Boil the Beets: First, boil the beets.
Mix the Dressing Ingredients: Next, whisk the mayonnaise, salt, sugar, vinegar and pepper together in a large bowl.
Prepare the Vegetables & Sausage: In batches, food process the cabbage, carrots, and beets into thin strips. Dice the onions (use white onion over red onion) and sausage (you can also use cold bacon bits if you'd prefer). Place the veggies and sausage in a large bowl.
Press the Garlic & Toss: Next, press the garlic cloves into the salad, drizzle the dressing on top, and stir to combine. Enjoy!
Hot Tip: Add in some fresh herbs if you'd like. Parsley, green onion, or dill are our favorites!
3 Tips for the Perfect Beet and Cabbage Salad
Just a handful of tips will help you make a perfect slaw that's well-dressed and full of texture.
Shred the carrots, cabbage, and beets into similar-sized matchsticks. Shred the veggies into similar-sized strips for a perfectly consistent texture. There's nothing worse than getting a large chunk of raw veggies every other bite!
Make sure your sausage is precooked and smoked. You'll notice that it's not required for you to cook the sausage at all before adding it to the salad. That's because we opted for fully-cooked, smoked Slavic-style sausage. Triple check that your variety is safe to use straight out of the package!
Make the dressing a day in advance. For maximum flavor, whip up the dressing a day in advance and let it marinate in a small bowl in the fridge overnight.
Serving Suggestions
There's a million and one different ways you can serve up this beet and cabbage salad. We love beets so we like to make a big batch and bring it along to potlucks and family get-togethers. It pairs wonderfully with shashlik (Slavic-style pork kabobs) or tilapia off the grill. You can also serve it alongside a bowl of buckwheat for a simple and healthy meal.
Storage & Make-Ahead Tips
While this salad is perfect for a big group, the leftovers don't store super long after the salad has been tossed. Here's all you need to know…
Storage: To keep the salad fresh for up to 1-2 days, store it in an airtight container in the fridge. After it's been dressed, the salad is prone to turning soggy so plan to eat it quickly!
Make Ahead: If you are prepping the salad ahead of time, keep the veggies in an airtight container and the dressing stored in a separate jar. You can shred the veggies up to 2 days in advance.
FAQ
Is a beet and cabbage salad good for you?
Yes, beet and cabbage salad is good for you. Despite the fact that most come with a creamy, mayo-based dressing, there is a plethora of fresh veggies that make up for the decadent dressing.
Is raw cabbage good for you?
Yes, raw cabbage is really good for you and packed with fiber. At the same tight, it can be pretty tough to eat, so it's crucial that you shred it thin to make it easier to chew and incorporate in salads or slaws.
Should beets be eaten raw or cooked?
Beets can be safely eaten raw, but it's best to grate them very thinly. If you don't like raw beets, you can always roast or boil them before adding them into your favorite recipes. If you're lucky, your local grocery store will sell them pre-boiled in the refrigerated section of the produce aisle.
What foods pair well with beets?
Beets pair wonderfully with so many ingredients. A couple of winning pairings include savory meats and sausages or salads with walnuts or pecans and tangy goat cheese. You'll also find beets in more off-the-wall places like hummus or as the base of vegan and veggie burgers.
Can you use roasted beets for beet and cabbage salad?
Yes, you can use roasted beets for cold beet and cabbage salad. However, you'll want to make sure to allow them to cool down completely before shredding them in a food processor into matchsticks.
More Beet Salad Recipes to Try
Recipe
This colorful beet and cabbage salad is packed with veggies and diced smoked sausage. A classic Slavic-style side dish that's perfect for your next party!
Nutrition Facts
Beet and Cabbage Salad with Sausage
Amount Per Serving
Calories 406
Calories from Fat 324
% Daily Value*
Fat 36g55%
Cholesterol 53mg18%
Sodium 1453mg61%
Potassium 397mg11%
Carbohydrates 10g3%
Protein 10g20%
Vitamin A 3945IU79%
Vitamin C 24.4mg30%
Calcium 44mg4%
Iron 1.2mg7%
* Percent Daily Values are based on a 2000 calorie diet.