This lazy cabbage rolls casserole is traditional cabbage rolls on hyperdrive. With all the same rich flavors and ingredients, it's just as comforting with less prep!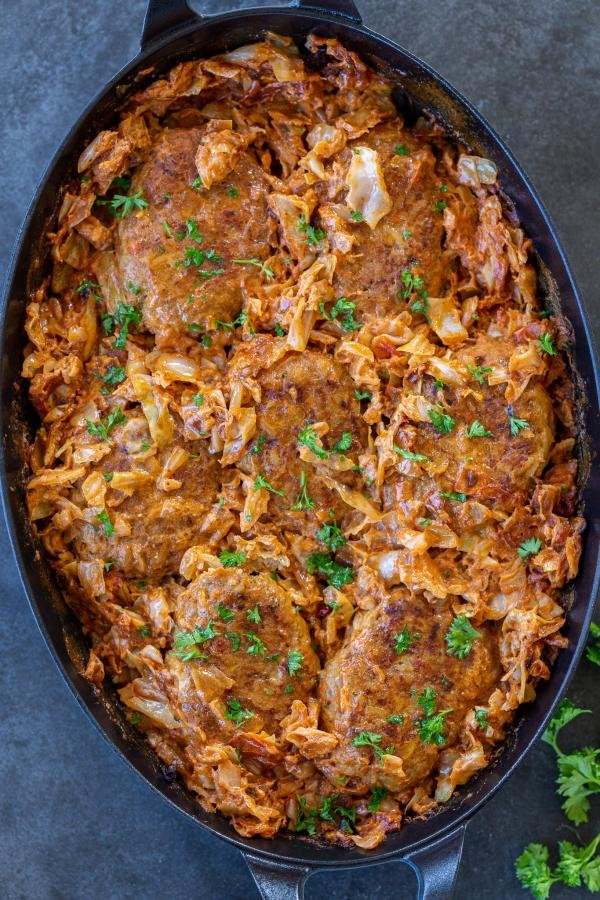 My family loves cabbage rolls, but I don't always have the time nor the energy to make them. To satiate our craving, I've developed a lazy cabbage rolls casserole that can be made on a busy weeknight. With no need for rolling or stuffing, this delicious casserole is baked in one dish and packs some serious flavor.
What is Lazy Cabbage Rolls Casserole?
This lazy cabbage rolls casserole features chicken patties covered in a tomato-based, sour cream sauce. Below, find a rundown of the flavor, texture, and time it takes to make this recipe.
Flavor: The savory chicken patties are complemented by a tangy sour cream sauce, making for a legit flavor explosion in your mouth.
Texture: You'll love how the tender patties are drenched in the sautéed veggie and cream sauce, making each bite the perfect balance of texture.
Time: From start to finish, this recipe takes just 1 hour to put together.
How to Prevent Tough Cabbage
There's nothing worse than chomping down into a raw, undercooked piece of cabbage. While a little bite is nice for texture, the goal is to cook the cabbage down enough so that it seamlessly bakes into the sauce. Below, find a couple of quick-hitter tips to help you prevent tough cabbage from ruining your casserole.
Remove the tough, outer leaves on the cabbage head. These outer leaves are notoriously hard to cook down. They also often have unappetizing brown spots. If you're having trouble spotting them, a disposable outer cabbage leaf tends to be a darker hue of green and waxy.
Cut the core out of the cabbage. Near the root of the cabbage (the stumpy bottom) is a tough triangular core. To cut it out, slice the cabbage at an angle through the core and remove the core from both sides.
Cook the cabbage down before baking. Another key step in this recipe is cooking the cabbage down in the sauce for a bit before popping the casserole into the oven. This will give it a jumpstart and ensure it softens even more during the baking process.
Preparing Cabbage Rolls Casserole
Preparing this cabbage rolls casserole only requires a handful of wholesome ingredients and a bit of prep. Below, find a quick overview of the recipe before you dive in.
Sauté the Onions and Carrots: In a large skillet over medium heat, sauté the onions and grated carrots.
Cook the Rice: Bring the water to boil with the broth base and cook the rice about 80% of the way through (it will finish cooking in the oven).
Make the Chicken Patties: In a large mixing bowl, combine the partially cooked rice, sautéed veggies, and ground chicken. Form palm-sized patties out of the meat mixture and pan-fry them on both sides until golden brown.
Make the Sauce: In a skillet, sauté the diced onion and tomatoes until the mixture begins to form a sauce. Next, add in the sliced cabbage and cook it down a bit. Next, add in the sour cream and season to taste with salt.
Assemble the Casserole: Place the patties into the baking dish and pour the tomato sauce on top.
Bake the Casserole: Bake the casserole at 400°F for about 35 minutes. Enjoy!
Looking for a great casserole dish? I love casserole recipes so much, that I've spent a ton of time researching great dishes to bake them in. My ceramic Staub dish not only prevents sticking, it also retains a ton of moisture throughout baking.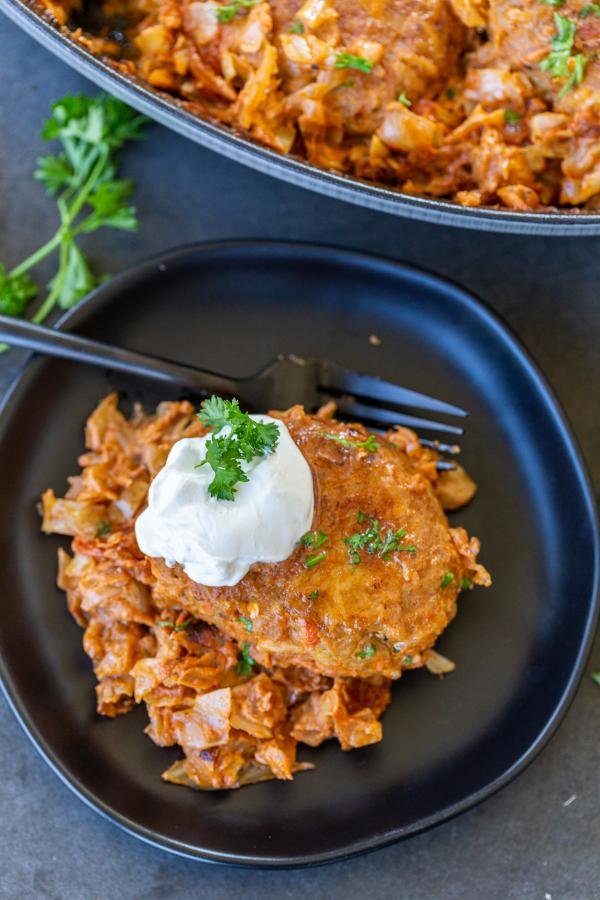 5 Tips for the Best Cabbage Rolls Casserole
Here you'll find 5 pro tips to help you make the best cabbage rolls casserole.
Experiment with different ground meat. If you're not a fan of ground chicken, substitute it with ground beef, ground pork, or ground turkey. You could even use a combination of a couple of different kinds of meat for a more elevated flavor.
Play around with different broths. The broth creates the foundation for your sauce, so use whichever kind you like best. Beef broth, chicken broth, and veggie broth all work great.
Add in extra veggies to the sauce. If you have some veggies you need to use, add them to the sauce. Mushrooms work especially well!
Add different spices and seasoning. Love garlic? Add some minced garlic or pressed garlic to the sauce. Like it spicy? Add a couple of dashes of red pepper flakes.
Assemble the chicken patties in a single layer. If you stack the patties on top of one another in the baking dish, they won't turn out as moist.
What Goes Well with Cabbage Rolls Casserole
Cabbage rolls casserole is a meal in and of itself. However, if you want to pair it with a side dish find a couple of solid recommendations below.
How to Store Cabbage Rolls Casserole
Whether you have leftovers to store in the fridge or an entire casserole you'd like to freeze, find all of our top storage tips here.
Refrigerator: To keep cabbage casserole on hand for up to a week, store it in an airtight container in the fridge. This will help the casserole to keep developing its rich flavor, while also preventing the patties from drying out.
Freezer: If you're an avid meal prep guru, this casserole is perfect for freezing whole. Assemble it in a disposable aluminum baking dish and cover it tightly in plastic wrap. Store it in the freezer for up to a month. To thaw, place it in the fridge overnight and then bake it right in the aluminum pan.
FAQ
What does a serving of cabbage rolls casserole look like?
A standard serving of this cabbage rolls casserole is about two chicken patties and a cup or so of the sauce. If you're serving it with sides, one patty per person would likely be filling enough.
Is cabbage rolls casserole good for you?
Yes, cabbage rolls casserole is good for you. It's packed with wholesome veggies and protein, with just a touch of sour cream for decadence.
How long does cabbage take to soften?
It takes anywhere from 10-15 minutes to soften cabbage when sautéing it. However, since you'll be baking the cabbage in the oven for 35 minutes, it will surely be soft to the bite.
Should cabbage rolls casserole be thawed before cooking?
Yes, you should thaw frozen cabbage rolls casserole in the fridge overnight before cooking it. If you're in a hurry, you can thaw it on the counter for a couple of hours before popping it in the oven.
Is cabbage a good veggie for weight loss?
Cabbage is 100% a great veggie to eat if you're trying to trim down. It's super low in calories, yet high in fiber.
Other Tasty Cabbage Recipes
Recipe
This lazy cabbage rolls casserole will satiate your craving for traditional cabbage rolls in a fraction of the time. Hearty and comforting!
Ingredients
1

cup

uncooked rice

1

tbsp

Better Than Bouillon Chicken Base

1

medium onion

3

medium carrots

2

lb

ground chicken

2

tbsp

light olive oil

1/2

medium cabbage

1

small onion

3

large tomatoes

1

cup

sour cream

1/2

tbsp

salt

adjust to taste
Nutrition Facts
Lazy Cabbage Rolls Casserole
Amount Per Serving
Calories 376
Calories from Fat 171
% Daily Value*
Fat 19g29%
Cholesterol 112mg37%
Sodium 558mg23%
Potassium 978mg28%
Carbohydrates 29g10%
Protein 24g48%
Vitamin A 4441IU89%
Vitamin C 31mg38%
Calcium 86mg9%
Iron 2mg11%
* Percent Daily Values are based on a 2000 calorie diet.