This hearty braised rice and cabbage is a filling dish that is made in one pan. It makes for a perfectly healthy lunch or dinner and it reheats amazingly!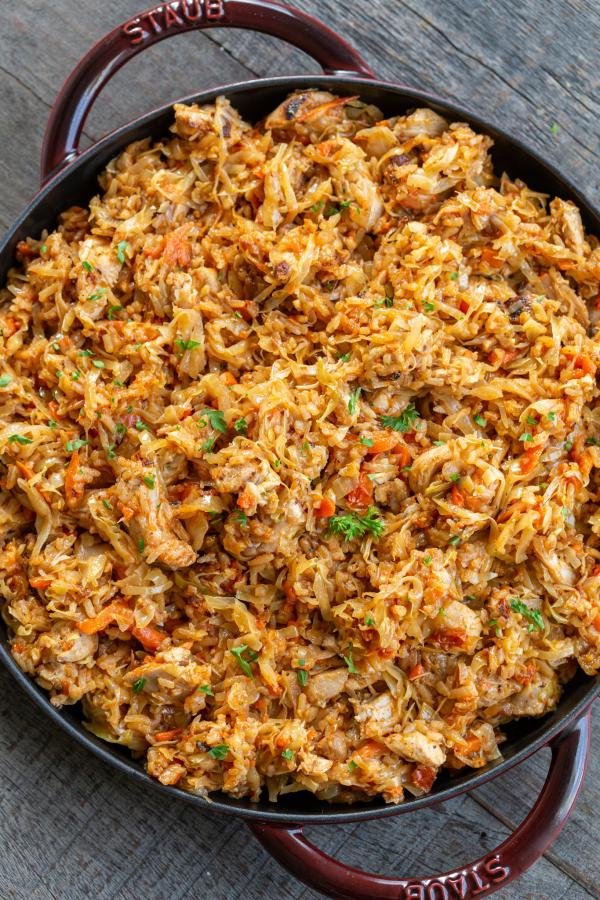 If you're looking for a comforting, hearty weeknight meal you've come to the right place. This braised rice and cabbage comes straight out of my mom's cookbook and will surely warm your soul. What's better? It's made in just one pan and requires minimal clean up for maximum flavor.
Cutting Cabbage 101
There's two different ways you can cut your cabbage – with a standard sharp knife or with a mandoline slicer. Either way works great, but a mandoline will make the process much easier.
Slice the Cabbage: First, slice the cabbage in half.
Remove the Core: Using a sharp knife, slice the rough core out of the cabbage
Shred the Cabbage: With a sharp knife or mandoline slicer, shred the cabbage into thin strips.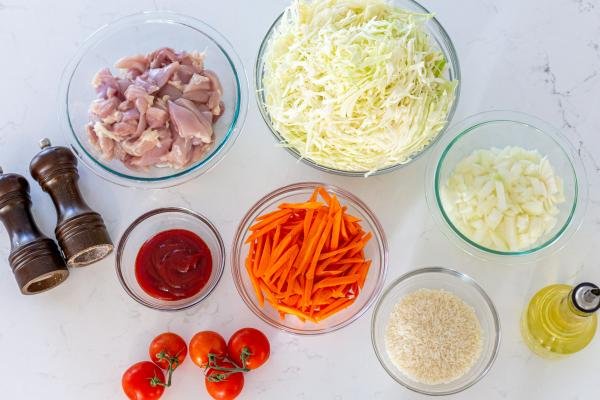 Making this Simple Rice and Cabbage Dish
Whipping up this rice and cabbage dish requires some simple prep and "setting it and forgetting it" in a covered pan.
Prepare the Chicken: First, preheat a deep pan or Dutch oven with some olive oil over medium heat. Slice the chicken and cook it until golden brown.
Sauté the Onions and Carrots: Next, add the diced onions and carrots into the pan. Sauté the veggies for about 10 minutes.
Add in the Other Veggies: Add in the shredded cabbage, rice, tomatoes, and ketchup. Season the cabbage to taste with salt and pepper.
Braise the Chicken & Cabbage: Next, reduce the temperature down to medium low and cook the rice and cabbage for 30 minutes. Scoop the rice and cabbage into big bowls, dig in and enjoy!
Tips for the Tastiest Braised Rice and Cabbage
A handful of helpful tips will help you make this dish just as tasty as my mom did for us growing up.
Cook all the ingredients on medium-heat. Once you add the rice, lower the heat so it has time to cook properly without drying the chicken out.
Substitute the chicken with your favorite protein. Swap the chicken with beef, lamb or pork if you so please. Just make sure to pick leaner cuts so your dish isn't too greasy.
Swap in your favorite vegetables. This dish is super versatile, so feel free to add in some of your favorite ingredients into the mix. Fresh tomato, green peas, scallions, broccoli, cauliflower, garlic, and green beans are all great additions.
Trying to go low-carb? Omit the rice and double up the shredded cabbage!
Ideas for Serving
This braised rice and cabbage dish is more than filling enough to be served as a meal all on its own. If you'd like to add a bit more protein, fry a couple large eggs and pop them on top. You can also serve the dish alongside some creamy mashed potatoes for some extra decadence.
Storage Best Practices
To keep the braised rice and cabbage on hand for up to a week, store it in an airtight container in the fridge. Avoid freezing the dish, as the cooked veggies don't tend to thaw super well.
Reheating Tip: To reheat the dish, pop it back in a skillet or wok preheated with olive oil or butter until warmed through.
FAQ
What kind of rice should you use for braised rice and cabbage?
Standard short grain white rice is perfect for braised rice and cabbage. That said, you can also use a long grain rice like basmati rice if it suits you better.
Can you use brown rice in braised rice and cabbage?
Brown rice is is a great substitute for white rice in braised rice and cabbage. It will add more fiber and nuttiness to the dish. That said, you'll likely need to cook the dish for 10-15 minutes longer to ensure the rice cooks through.
Can you cook braised rice and cabbage in a slow cooker?
A slow cooker is a great tool to cook braised rice and cabbage. To do so, pop all of the ingredients into the slow cooker and set the temperature to high. Cook the dish for 2-4 hours.
Can you use pre-cooked rice for braised rice and cabbage?
It's best to use raw rice instead of pre-cooked rice for braised rice and cabbage. Cooked rice is prone to getting really mushy. That said, if it's all you got, add it in with just 5-10 minutes of cooking time left.
Can you use frozen cabbage for braised rice and cabbage?
You can absolutely use frozen cabbage for braised rice and cabbage. Just know that it will release it's own liquid, so you'll want to thaw it beforehand or drain the liquid from the pan mid-way through cooking.
More Quick & Easy Rice Recipes
Recipe
This comforting braised rice and cabbage, one-pot meal is full of tender chicken, carrots, onions, & tender white rice. Healthy, filling, and so wholesome!
Note: Beef and pork is a great option instead of chicken.
Nutrition Facts
One Pan Braised Cabbage with Rice
Amount Per Serving
Calories 149
Calories from Fat 63
% Daily Value*
Fat 7g11%
Cholesterol 8mg3%
Sodium 786mg33%
Potassium 304mg9%
Carbohydrates 17g6%
Protein 4g8%
Vitamin A 2328IU47%
Vitamin C 38mg46%
Calcium 49mg5%
Iron 1mg6%
* Percent Daily Values are based on a 2000 calorie diet.