This one-pan chicken and asparagus recipe is full of juicy chicken and tender asparagus seasoned with paprika, lemon juice, and fresh parsley. Crazy easy!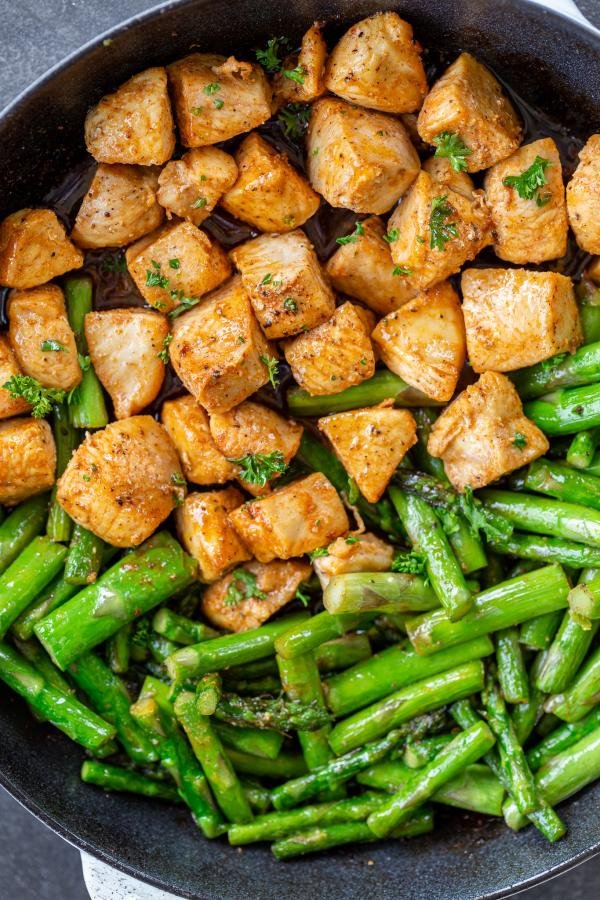 Looking for a meal that won't have you standing over the kitchen sink for an hour washing dishes? Look no further than this citrusy, perfectly seasoned chicken and asparagus recipe that's made in just one large skillet. Perfect for meal prepping and getting your daily dose of veggies and protein!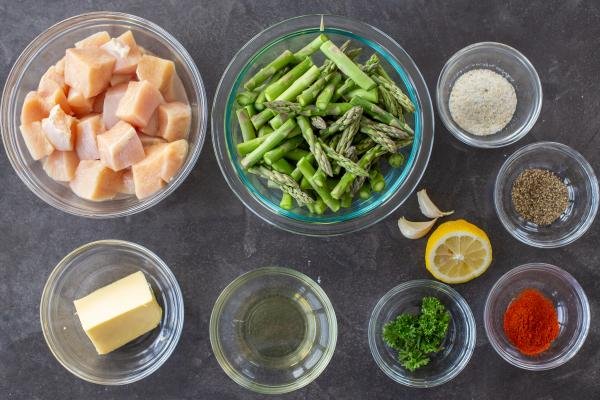 The Proper Way to Trim Asparagus
Before we get to stir frying, let's first cover off on the proper way to trim asparagus.
Rinse the Asparagus – Rinse the asparagus stalks under cold water in the sink.
Trim the Asparagus – Next, use a sharp knife to cut off the light colored, tough ends. Alternatively, snap the stalk and it will break off naturally.
Dry the Asparagus – Lastly, use a kitchen towel or paper towel to remove any excess moisture. Slice and use as you please!
Whipping Up this Easy Chicken and Asparagus Recipe
Making this simple chicken and asparagus recipe only requires 30 minutes of total time and 10 wholesome ingredients.
Cut & Season the Chicken: First, cut the chicken breast into 2-inch cubes and season them generously with paprika, garlic parsley salt, and black pepper.
Brown the Chicken: Next, preheat a pan with a bit of butter and avocado or olive oil over medium-high heat. Add in the diced chicken and sear it until golden brown. Set it aside.
Cook the Asparagus: Trim the asparagus and cut it down as you please. Add in more butter and oil to the same pan and add in the asparagus over medium heat. Season it with garlic parsley salt and cook it for 2-3 more minutes.
Tie it All Together: Add in pressed garlic and chicken. Drizzle on fresh lemon juice and sprinkle on the parsley. Season to taste with more garlic parsley salt if need be. Dig in!
3 Tips for the Tastiest Chicken and Asparagus Recipe
This chicken and asparagus recipe could almost fly without sharing any tips with you (it's that easy!), but a couple of pointers never hurt.
Cut the chicken into equal-sized pieces. To promote even-cooking, slice the chicken into as equal-sized pieces as possible.
Make it spicy. Add in one teaspoon of red pepper flakes if you like it on the spicier side. Feel free to adjust this in either direction depending on how much heat you can handle!
If you use chicken thighs instead, trim off the excess fat. If you only have chicken thighs on hand, make sure to trim off all the excess fat before adding it to the skillet. This will prevent your stir fry from coming out too greasy!
Wanting a bigger serving of veggies? Feel free to add in any that you're craving. Broccoli, zucchini, snap peas, and bell peppers are all great options.
Serving this Chicken and Asparagus Recipe
If you're low-carb or gluten-free, feel free to eat this dish straight up – it's definitely filling enough! If you're looking for a more well-rounded meal, serve the dish over quinoa, white rice, cauliflower rice, or buckwheat. Feeling more decadent? Serve it alongside creamy mashed potatoes or new potatoes with bacon and herbs.
Storage Best Practices
This dish is perfect for meal prepping or having on hand for leftovers. To keep it fresh for up to a week, store it in an airtight container in the fridge. Avoid popping the dish in the freezer, as the cooked asparagus don't tend to thaw and reheat well and are prone to turning soggy.
Reheating Tip: To reheat the stir fry, pop it back into a cast iron skillet with a little butter over medium heat until warmed through.
FAQ
Do you need to soak asparagus before adding it to chicken stir fry?
You do not need to soak asparagus before adding it into chicken stir fry. Some people do this to remove fine granules of dirt or grime, but it's not completely necessary.
Should asparagus be crunchy or soft in chicken stir fry?
Asparagus should be the perfect balance of crunchy and soft in chicken and asparagus stir fry. To achieve this texture, all it needs is about 2-3 minutes of sautéing over medium heat.
How long does it take to cook the chicken for chicken and asparagus stir fry?
It takes around 5-7 minutes to cook sliced chicken until golden brown for a chicken and asparagus stir fry. It's crucial that you slice the chicken into even-sized pieces so that larger chunks don't cook slower than the smaller pieces.
How do you cook the chicken for chicken and asparagus stir fry without it drying out?
You'll want to cook the meat over medium-high heat so it cooks fast and needs the least amount of time over heat. This will greatly help prevent it from drying out and turning stringy!
Can you use frozen chicken instead of fresh chicken for chicken and asparagus stir fry?
Yes, you can use frozen chicken instead of fresh chicken for chicken and asparagus stir fry. However, you'll want to first make sure that it is completely thawed so it doesn't turn the dish soggy. To do so, place it in the fridge overnight or in a bowl of water in the sink for 30 minutes.
Other Tasty Asparagus Recipes to Try
Recipe
This chicken and asparagus recipe is your ticket to minimal clean-up tonight. Made in one pan, it's packed full of flavor and will keep you full for hours!
Nutrition Facts
One-Pan Chicken Bites and Asparagus Recipes
Amount Per Serving
Calories 213
Calories from Fat 126
% Daily Value*
Fat 14g22%
Cholesterol 68mg23%
Sodium 1319mg55%
Potassium 450mg13%
Carbohydrates 4g1%
Protein 18g36%
Vitamin A 886IU18%
Vitamin C 7mg8%
Calcium 29mg3%
Iron 2mg11%
* Percent Daily Values are based on a 2000 calorie diet.