Cooked buckwheat is a staple side dish in Eastern Europe. It has a nutty and earthy flavor profile and can be substituted wherever you use rice, quinoa, or other grains.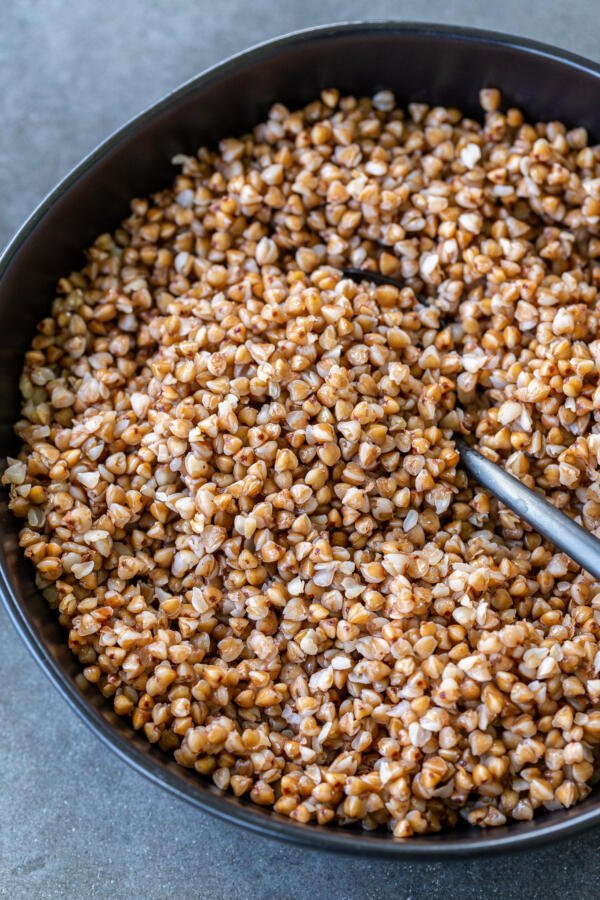 Cooked buckwheat, or "kasha" in Ukrainian, is a regular dish on Eastern European tables. Growing up, my family grew buckwheat on our farm, as it was a cheap, yet high in protein, fiber, and vitamin B6. When food was scarce, buckwheat was always an ingredient we could depend on to make a filling meal.
In America, eating buckwheat for breakfast is somewhat common. However, this grain is widely underutilized stateside, despite its recognition as a super food across the ocean. It's truly a wonderful addition to any healthy diet and can be used in a variety of savory dishes (although covering it with cream, sugar, and fruit for breakfast is delicious as well!).
In this recipe, you'll learn the ins-and-outs of making kasha at home. With just four ingredients, it comes together in a pinch and goes well with just about any protein or vegetable.
Did you know buckwheat is gluten-free? Despite having wheat in the name, buckwheat is actually completely gluten-free. Substitute it wherever you would serve rice, quinoa, or any other grains to switch things up every now and again.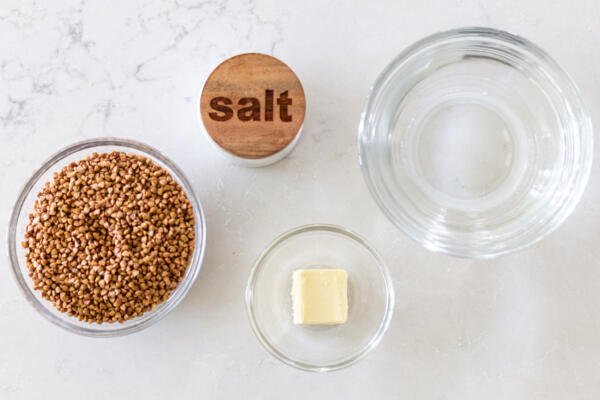 What is Cooked Buckwheat?
Cooked buckwheat is a dish of toasted buckwheat groats that are cooked with water, butter, and a touch of salt. Throughout Eastern Europe, cooked buckwheat is commonly served as a side dish and often spruced up with various stewed meats and sautéed veggies.
Flavor: Cooked buckwheat has an earthy and nutty flavor profile.
Texture: Cooked buckwheat has firm yet gummy texture, much like that of cooked brown rice.
Benefits: Cooked buckwheat is full of health benefits, including a high protein and fiber content, no cholesterol, and loads of vitamin B6. It's the perfect addition to any healthy diet and is completely gluten-free.
Hot Tip: Get your hands on an authentic bag of Eastern European buckwheat. The earthy and nutty flavors are much stronger and the texture is superior to most American brands.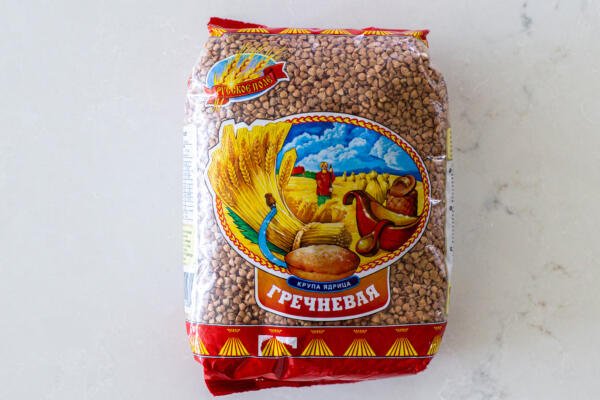 How to Make Buckwheat (Kasha)
Making cooked buckwheat only requires four, simple ingredients and a couple of easy steps. Much like other grains, you only need to boil kasha in water and add a bit of butter and salt to bring out the flavors. Below, find a quick overview of the process.
Combine all your ingredients. Pop toasted buckwheat groats, water, salt, and butter in a sauce pan uncovered.
Bring to a boil. Bring water to a boil. Reduct to low-heat and cover with a lid. Allow the buckwheat to simmer until all the water is absorbed.
Remove from heat. Once the buckwheat has absorbed all the water (about 15 minutes), immediately remove it from heat. Allow it to rest, fluffing it with a fork right before serving. Enjoy!
Tips for the Best Buckwheat
Below, find a couple of tips to help you get the best cooked buckwheat each and every time a craving hits.
Rinse buckwheat before cooking. Rinse your buckwheat before cooking under cool water to remove any dust or excess starch. Use a mesh strainer to simplify the process.
Spice buckwheat up with a touch of seasoning. If you want your buckwheat to be more flavorful, cook it with Better than Bouillon Chicken Base, garlic powder, or onion powder.
Let buckwheat rest before serving. Allowing your buckwheat to rest before serving yields the best texture and bite.
Beware of raw buckwheat. Only purchase toasted buckwheat grouts. Raw buckwheat has less flavor and takes much longer to cook, requiring it to be soaked overnight.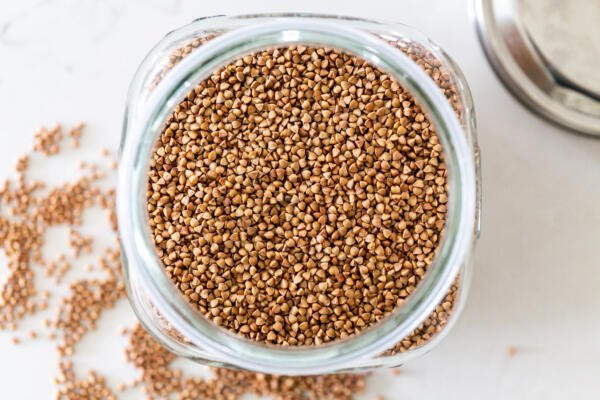 Ways to Serve Buckwheat
Buckwheat can be served sweet for breakfast or savory at lunch or dinner. You can even use buckwheat flour to make buckwheat pancakes! As little kids, my mom used to make us a piping hot bowl before school alongside a glass of milk. Spruce it up with a dollop of apricot jam or a drizzle of honey. For dinner, serve it alongside your favorite protein. Air fryer chicken thighs or pork chops can be whipped up in the time it takes for your buckwheat to cook on the stove.
You can also try our buckwheat meat patties, buckwheat with mushrooms, or stewed buckwheat with beef. See, buckwheat isn't just for breakfast!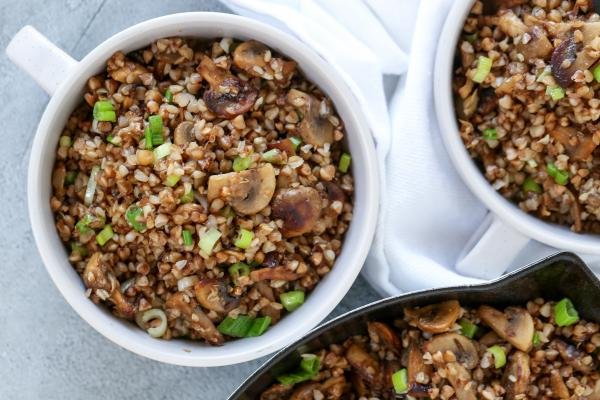 Storing Buckwheat
Refrigerating: Store cooked buckwheat in an airtight container in the refrigerator for up to two weeks.
Freezing: Freeze your buckwheat for later use but storing it in a freezer-safe plastic bag. Make sure you take all of the air out to prevent it from getting freezer burn. Frozen buckwheat will stay fresh for up to 3 months.
Reheating Tip: Reheat buckwheat in the microwave for a minute or so with a bit of water to prevent it from drying out. You can also reheat it in a frying pan with a touch of butter.
FAQ
Do I need to soak buckwheat before cooking it?
You do not need to soak toasted buckwheat before cooking it. Unlike other grains, buckwheat cooks quickly and can be whipped up on a whim.
How long does it take to cook buckwheat?
It only takes buckwheat about 15 minutes of cooking time before it's ready to be served.
How much water do I need to cook buckwheat?
You need one and a half cups of water for every one cup of buckwheat.
Is buckwheat healthier than rice?
Buckwheat is much healthier than rice. It has a higher protein and fiber content and is wildly considered a super food.
Where can I purchase buckwheat?
Purchase toasted buckwheat at any Eastern European grocery store. You can also find many European brands on Amazon.
How to avoid mushy buckwheat?
Avoid mushy buckwheat by not overcooking it or adding too much water to the saucepan.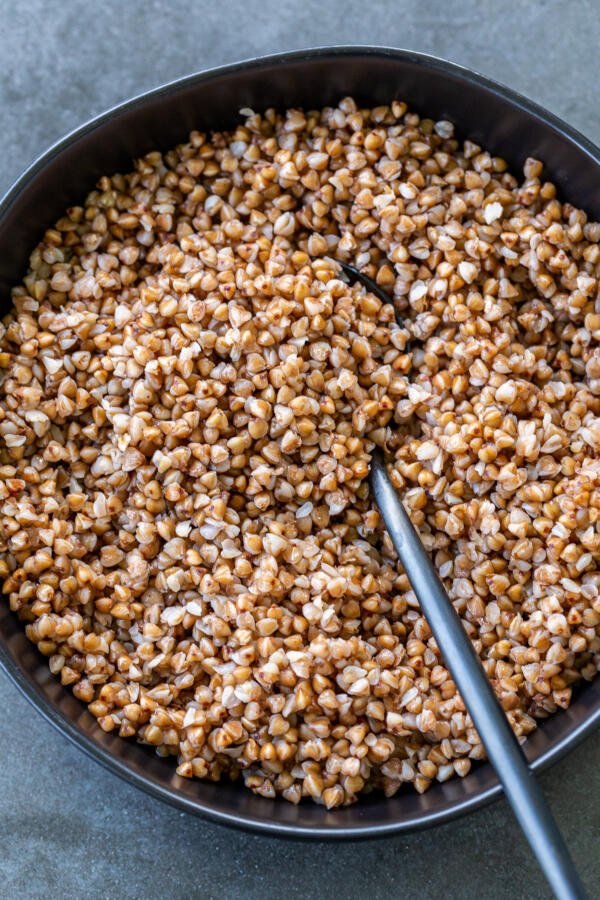 More Eastern European Recipes
Recipe
Cooked buckwheat has a nutty and earthy flavor profile and can be substituted wherever you use rice, quinoa, or other grains.
Instructions
Nutrition Facts
How to Cook Buckwheat
Amount Per Serving
Calories 228
Calories from Fat 54
% Daily Value*
Fat 6g9%
Cholesterol 10mg3%
Sodium 427mg18%
Potassium 262mg7%
Carbohydrates 41g14%
Protein 8g16%
Vitamin A 117IU2%
Calcium 15mg2%
Iron 1mg6%
* Percent Daily Values are based on a 2000 calorie diet.