These delicious parmesan roasted vegetables are topped with crispy panko and baked to perfection. A delicious side dish for those hectic weeknights!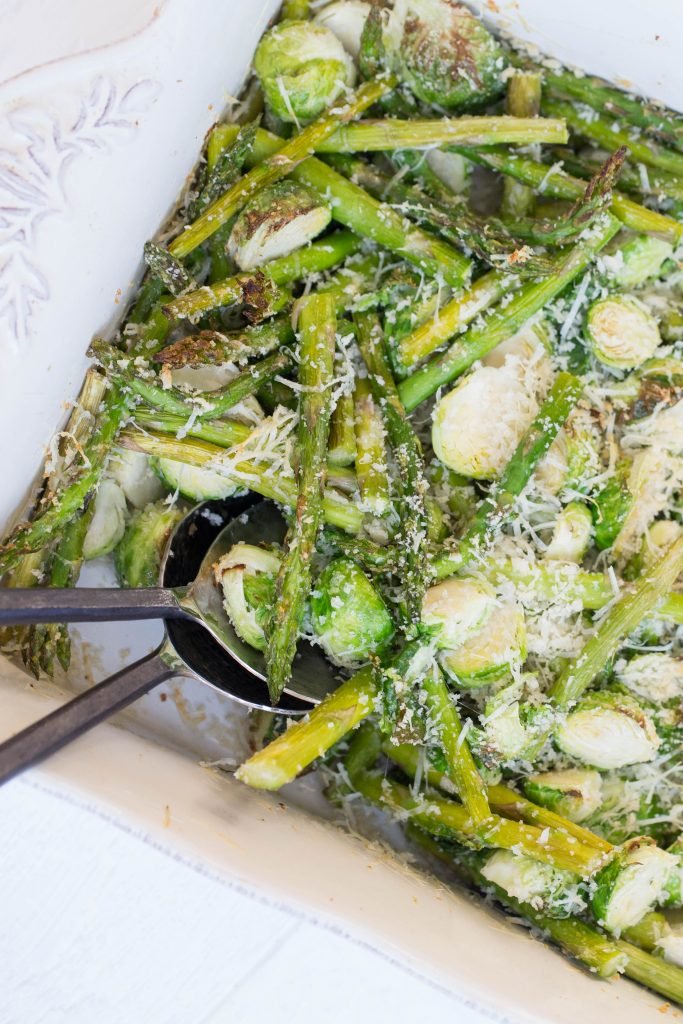 If you're looking for a yummy vegetable side dish to mix up your rotation, you're in the right place. We love to use asparagus and brussels sprouts, but feel free to swap in any produce you like best. After all, what veggie isn't delicious when it's covered in cheesy breadcrumbs?
Whipping Up These Parmesan Roasted Vegetables
These parmesan roasted vegetables only require 6 simple ingredients and 10 minutes of prep time. Below, find a quick overview of the instructions before you dive in.
Dice the Veggies: Slice the asparagus and brussels sprouts and season them with olive oil or cooking spray and salt.
Make the Cheesy Panko: In a small dish, combine the panko and parmesan cheese.
Assemble the Veggies: Next, place the seasoned veggies in a baking dish or on a sheet pan covered with parchment paper and sprinkle the cheesy breadcrumbs on top.
Roast the Veggies: Pop the baking dish in the oven and bake at 400°F for about 15-20 minutes or until the top turns golden brown. Enjoy!
Handy Tips & Hacks
A handful of easy tips and hacks will help you take this easy veggie dish to the next level.
Pat the veggies dry before seasoning them. After rinsing the veggies, pat them down with a paper towel to remove any excess moisture. This will not only help the seasoning "stick" better, but it will also allow the veggies to crisp up nicely.
Slice the veggies into evenly sized pieces. To promote even cooking, slice the veggies into similar sized pieces.
Use freshly grated parmesan cheese. Parmesan cheese off the block is so much more flavorful than shredded varieties.
Hot Tip: To make sure the veggies are evenly coated in the seasoning, toss them with the oil and salt in a large bowl.
Different Variations to Experiment With
This parmesan roasted vegetables dish will work with a variety of different ingredients, so experiment as you wish! Here's a couple of ideas to get the creative juices flowing.
Swap in different veggies. Substitute the asparagus and brussels sprouts with green beans, bell peppers, cauliflower, red onions, tomatoes, broccoli florets, yellow squash, or zucchini in any combination you'd like. You truly can't go wrong!
Use a different crumb. Use Italian seasoned breadcrumbs instead of panko.
Substitute in a different hard cheese. Swap out the parmesan cheese for manchego or asiago.
Add in your favorite seasonings. Add in smoked paprika, chili powder, or Italian seasoning if you'd like. You can also shave on some lemon zest after the veggies come out of the oven.
Hot Tip: Roast the veggies with a couple of garlic cloves for extra flavor. Eat them whole or smear them on top of crusty baguette with butter for quick and easy garlic bread!
All the Ways to Serve Parmesan Roasted Vegetables
Serve this versatile side dish with just about any protein. Cast iron ribeye steaks, spatchcock chicken, and roast beef tenderloin are all great options. Alternatively, you can serve the veggies with a couple over easy eggs on top for a healthy breakfast.
Storing & Reheating Tips
To keep these parmesan roasted vegetables on hand for up to 5 days, store them in an airtight container in the fridge. To reheat them, pop them back in the oven at 350°F covered with aluminum foil (this will prevent them from overcooking/drying out) until warmed through.
FAQ
How do you ensure your roasted vegetables don't come out soggy?
Prevent your roasted veggies from coming out soggy by cooking them at a high temperature instead of low and slow. The more time they have to sweat, the more they'll soften and lose their texture.
Should you season vegetables before or after roasting them?
For this recipe, it's best to season the veggies before you roast them for maximum flavor.
Should you roast vegetables on a high or low temperatures?
For the crispiest roasted veggies, always set the oven temperature to 400°F or higher.
Do you roast vegetables in the oven covered or uncovered?
Roast the veggies uncovered for best results. This will allow them to crisp up nicely.
Other Tasty Veggie Side Dishes
Recipe
These super tasty parmesan roasted vegetables are topped with cheesy parmesan panko breadcrumbs and baked to perfection. The perfect everyday side dish!
Instructions
Combine the panko with parmesan cheese. Spread the veggies on a baking dish and cover them with the cheesy breadcrumbs.
Nutrition Facts
Parmesan Panko Roasted Veggies
Amount Per Serving
Calories 109
Calories from Fat 45
% Daily Value*
Fat 5g8%
Cholesterol 2mg1%
Sodium 1846mg77%
Potassium 460mg13%
Carbohydrates 13g4%
Protein 6g12%
Vitamin A 1163IU23%
Vitamin C 68mg82%
Calcium 93mg9%
Iron 3mg17%
* Percent Daily Values are based on a 2000 calorie diet.