This easy southern peach cobbler recipe is a quick and flavor-filled dessert made with a warm peach filling and a crumbly cobbler crust. Perfect for a make ahead dessert or a weekend brunch.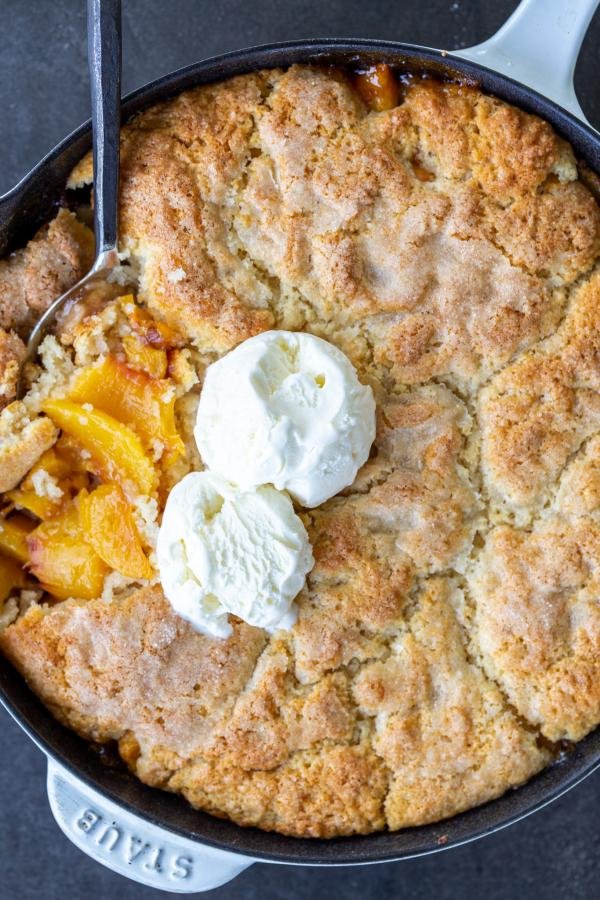 Peach season is usually in full swing during the summer, but who says a tasty peach dessert can't be enjoyed year-round? What better way is there to use up all those delicious, fresh peaches than by making a classic southern peach cobbler topped with ice cream? I'm excited to share this recipe for you and your family to enjoy!
Looking for a peach crisp instead? Look no further! Check out our Easy Peach Crisp!
What is a Cobbler?
A cobbler is a dessert that features stewed and spiced fruit (like peaches) topped with fluffy, flour-based dumplings or a biscuit topping.
Taste: The taste of peach cobbler is best described as sweet and full of caramelized peach filling.
Texture: The texture is a combination of soft dense peach filling with a lighter crumbly biscuit topping.
Time: Preparation time for peach cobbler is only 25 minutes, with another 45 minutes to bake until perfection.
Did you know? Legend has it the term "cobbler" for this dessert came about because the biscuit topping resembles the irregular surface of a cobbled street.
Southern Peach Cobbler Video
How to Make Southern Peach Cobbler
Southern peach cobbler is so simple and easy, you won't need help on this one (sorry, mom)! Make sure to prep all the ingredients first, and be mindful that a few specific ingredients should be kept cold before using in the recipe.
Make the filling: Combine peach filling ingredients together and set aside.
Combine dry ingredients: In a separate mixing bowl, combine flour, sugar, baking powder, baking soda, and salt.
Cut cold butter: Grate or cut in small pieces of cold butter into the flour mixture. Combine until it resembles course crumbles.
Stir in wet ingredients: Combine buttermilk with vanilla extract. Add it to the flour mixture. Stir to combine, not over-mixing. It is ok for the mixture to be lumpy.
Fill baking dish with peach filling: Place peach filling on the bottom of a 9 inch baking dish.
Add the topping: Coat peach filling with 6-8 spoonfuls of the topping mixture. Sprinkle the cobbler with more sugar.
Bake: Bake uncovered until the top is golden brown.
Serve: Serve while hot and bubbly. Pair it up with some ice cream for that heavenly flavor.
How to Easily Peel Peaches
Peaches mingle a lot better in your cobbler when you strip off that extra skin. There are a couple different ways to accomplish this, depending on the ripeness of your peaches.
Soft-to-touch: Are your peaches soft? Use a knife or a vegetable peeler. The skin will come off effortlessly.
Firm Peaches: If your peaches are still firm to the touch, we have a hack for you! Blanch and shock your peaches to quickly loosen the skin.. With a knife, cut a small "X" into each whole peach. Submerge the peaches into a large pot of boiling water for 30 seconds, and then immediately remove them into an ice water bath. Once cooled, the skin will come off easily with your hands or with a vegetable peeler.
Tips You Must Know
No recipe is complete without a few hacks. Here is a list of our favorite tips and tricks to make your experience smoother.
Use canned or frozen peaches: If you don't have fresh peaches on hand, substitute with canned or frozen varieties. If using canned peaches, drain all the juices first. If using frozen peaches, make sure to thaw and then drain the extra juice. Too much juice in the cobbler can make it too moist and mushy.
Cut peaches into equal sized slices: When thinly slicing peaches, cut as evenly as possible to ensure all slices bake evenly in the oven.
Peel fresh peaches: Although the skin of the peach is edible with fresh peaches, you don't want the skin in your peach cobbler. When baked, the skin can turn fibrous and affect the texture of the cobbler.
Use cold butter, flour, and buttermilk: When combining ingredients, make sure the butter, flour, and buttermilk are as cold as possible. Place flour into the freezer for about 10 min before starting on the recipe. The cold ingredients help make the cobbler topping flaky!
Don't overcrowd the topping: Leave space between the spoonfuls of the topping mixture to allow the steam to escape the filling when baking. This will help the peaches caramelize rather than bake into a soggy, soft mess.
Hot tip: Southern peach cobbler requires about 4 cups of sliced peaches. If you decide to use frozen or canned peaches, make sure you have enough on hand.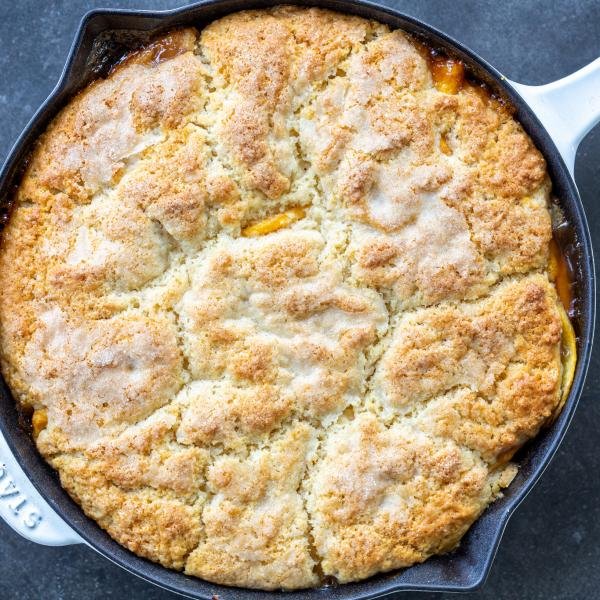 Serving Peach Cobbler
Southern peach cobbler is going to have the best flavor and texture when served fresh out of the oven. Make it better by topping a piece of cobbler with a scoop or two of your favorite ice cream (a scoop of vanilla ice cream is a classic!) or a dollop of whipped cream. The combination of hot fruity cobbler with cold refreshing ice cream or whipped cream will keep you coming back for more.
Make-ahead, Storage, and Reheating Tips
Although southern peach cobbler is best enjoyed right away, that doesn't mean it can't be prepared ahead of time and stored for enjoyment later!
Making ahead: Are you running low on time? Do you want to have a warm dessert ready to go right after dinner? Prepare the cobbler several hours beforehand, place it in the refrigerator, and then bake just before serving.
Storing: Place leftover cobbler covered in the refrigerator for up to 3 days. Take note, the peaches will continue to release moisture as they sit. The cobbler may become more mushy with each day.
Reheating: This peach cobbler can be enjoyed cold, but if you want it hot again, reheat in the oven at 375°F for about 20 minutes or until warmed through.
FAQ
Can I freeze southern peach cobbler?
It's generally not a good idea to freeze peach cobbler before or after baking it. Freezing can make the fruit soggy, turning the cobbler into mush.
What do I do if my peach cobbler is too runny?
If your cobbler turns out too runny, try adding a bit more cornstarch to the filling before you bake. When baked, the cornstarch, sugar, lemon juice, and peach juices combine to make the sauce thick. Don't add too much cornstarch or the filling could become gummy.
Why is my peach cobbler mushy?
Peach cobbler can turn out to be too mushy if there was too much liquid or juice in the filling or if the cobbler is overcooked. Excess liquid can come from overripe peaches, or canned/frozen peaches that did not fully thaw and were not fully drained.
How do you know when peach cobbler is done?
Peach cobbler is done when the top biscuit layer is golden brown and the peach filling is bubbling. You can also check readiness with a thermometer. When done, the thickest part of the cobbler topping should reach 200°F.
How is a cobbler different from pie?
A cobbler differs from a pie mainly in the type of crust or topping used. Cobblers have a fruit filling with a flakey biscuit topping whereas pies have a fruit filling between a usually smooth pastry crust.
What's the difference between cobbler and crisp?
The main difference between cobbler and crisp is in the topping. A cobbler topping is flakey and tastes like a sweet biscuit, whereas a crisp topping is crispy and made with oatmeal.
Similar Recipes
Recipe
Southern Peach Cobbler is a simple and flavorful dessert made with a warm peach filling and a crumbly cobbler crust, perfect for a taste of summer all-year round.
Instructions
Peach Cobbler Filling
Nutrition Facts
Southern Peach Cobbler
Amount Per Serving
Calories 515
Calories from Fat 162
% Daily Value*
Fat 18g28%
Cholesterol 45mg15%
Sodium 218mg9%
Potassium 491mg14%
Carbohydrates 85g28%
Protein 7g14%
Vitamin A 1192IU24%
Vitamin C 9mg11%
Calcium 133mg13%
Iron 2mg11%
* Percent Daily Values are based on a 2000 calorie diet.