This quick and easy cherry cobbler is loaded with a rich and juicy cherry filling and a crumbly topping. It's a great way to use up all your fresh, overripe, or even frozen cherries.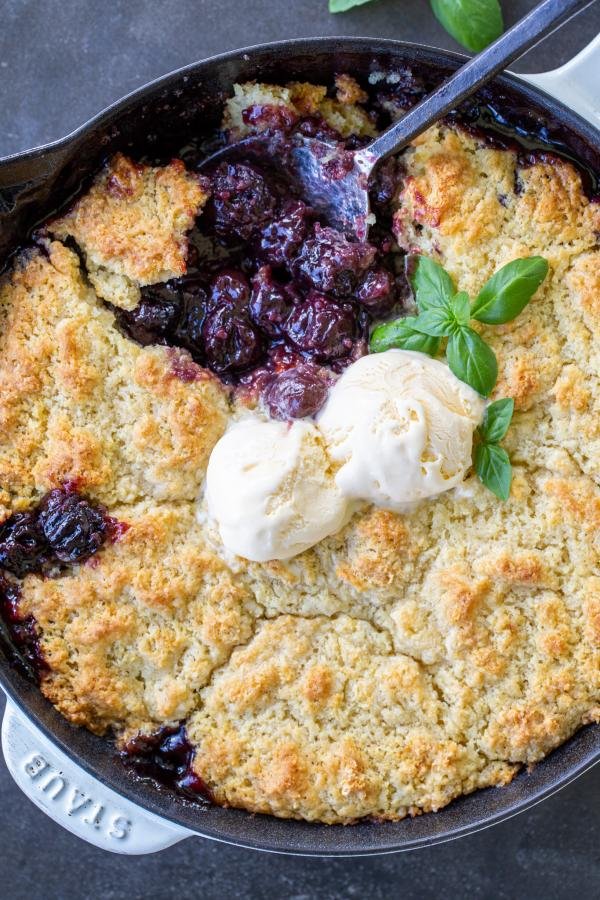 Cherries are one of my all-time favorite fruits to make into a cobbler. The steaming hot cherry filling, fresh out of the oven, is as pleasing to the eyes as it is to the tastebuds! Combine that with the biscuit topping of a cobbler and a scoop of ice cream, and you've got an absolute winner, no doubt.
In this recipe of cherry cobbler, you can easily use either fresh or frozen cherries. Why wait for summer to have cherry cobbler? Use fresh cherries in the summer and frozen cherries during the holidays. Either way, we've got you covered!
What is Cherry Cobbler?
Cherry cobbler is an easy dessert that features a rich cherry filling topped with a crumbly biscuit topping. It's a close cousin to pies, crumbles, and crisps. The ease of making the biscuit topping and the flavor and texture from the biscuit is what makes this cobbler special.
Taste: The taste of cherry cobbler is best described as a dense and sweet cherry filling topped with a buttery sweet biscuit. Add a scoop of ice cream on top and you've added a whole new dimension of cold, sweet, and refreshing!
Texture: The texture of cherry cobbler is soft and gooey on the inside and flakey on top.
Time: This cherry cobbler only takes about 1 hour and 5 minutes to complete from start to finish. Best part? You can prepare it ahead of time and put it in the oven for an effortless, fresh, and warm dessert right when you need it.
Cherry Variations
Cherry cobbler is a dessert that is all about that rich, red cherry filling. One of the best parts of this dessert? You can use almost any kind of cherries. Here's a list of options to use up all your cherries.
Fresh cherries: Most fresh cherries sold in the US are either sweet cherries or tart cherries. We recommend sweet cherries, as cherry cobbler is all about the sweetness. However, if you do use tart cherries, consider adding more sugar to the filling to compensate for the sourness.
Frozen cherries: If you're choosing frozen cherries, thaw the cherries completely and drain any extra juice prior to making the filling. Too much juice affects baking time and can make the filling too runny in the end.
Canned cherry filling: In a pinch, grab a can of cherry pie filling. Make sure to pick a good canned variety because the majority of the cobbler flavor comes from the filling. Be prepared though, canned filling often has more liquid than fresh cherries and may make the cobbler more runny.
How to Make Cherry Cobbler
With cherry cobbler, there is no need to slave away for hours to get a flavor-packed dessert. You'll be amazed at how easy it is to make! Here's a general guide to help you start on your cherry cobbler.
Make the filling: Combine cherry filling ingredients together and set aside.
Combine dry ingredients: To make cobbler topping, start by combining dry ingredients together.
Cut cold butter: Cut cold butter and combine with dry ingredients.
Stir in wet ingredients: Combine buttermilk with vanilla extract. Add it to the flour mixture. Stir to combine, not over-mixing. It is ok for the mixture to be lumpy.
Fill baking dish with filling: Place cherry filling on the bottom of a baking dish.
Add the topping: Coat cherry filling with topping mixture and sprinkle with more sugar.
Bake: Bake uncovered until the top is golden brown. Serve while hot and bubbly. Pair it up with some ice cream for that heavenly flavor.
Gluten Free? Substitute the all purpose flour with our favorite gluten free flour!
Tips For Making the "Best" Cherry Cobbler
Who said you can't have the best cherry cobbler the first time you make it? These tips will ensure your cobbler will be the epitome of perfection on your first go!
Remove pits from cherries: Nobody likes biting into a delicious piece of cherry cobbler only to find that the cherry pits are still in the filling! If you are pitting fresh cherries, use a Cherry Pitter Tool to make it a breeze.
Hot Tip: If you don't have a pitter tool on hand but need to quickly pit your cherries, try using a sturdy drinking straw (hard plastic or metal work well). Push the straw into the center of the cherry, starting at the end where the stem was attached, then continue pushing down through the pit until the pit pops out!
Prepare your baking pan: This cherry cobbler will bake best in a 9 to 11 inch skillet or baking pan. This will help ensure the best cherry filling to biscuit topping ratio in every bite.
Cold ingredients are the key: When combining ingredients, make sure the butter, flour, and buttermilk are as cold as possible. Place the flour into the freezer for about 10 min before starting the recipe. The cold ingredients help make the cobbler topping flaky!
Don't overcrowd the topping: Leave space between the spoonfuls of the topping mixture to allow the steam to escape the filling when baking. This will help the cherry filling caramelize rather than bake into a soggy, soft mess.
Don't precook cherry filling: If you like a little bit more texture to the cherry filling in the crumble, don't precook the filling. If you prefer a less textured or softer cherry filling, simmer the filling in a saucepan on medium low heat for a few minutes before adding to a baking dish.
Halve the cherries (optional): If you prefer to have small pieces of cherries in your filling rather than whole cherries, halve the cherries prior to mixing the filling.
Hot Tip: If you love the combination of almond flavor and cherries, you will also love it in this recipe. Add a couple drops of almond extract to the cherry filling before baking.
Serving Cherry Cobbler
Cherry cobbler is served best after allowing it to cool slightly. As it cools, the cherry filling solidifies slightly but is still warm enough to have the best fresh flavor and texture. Serve the cobbler with a scoop of vanilla ice cream or a dollop of whipped cream. The pairing of rich and warm cherry cobbler with cold refreshing ice cream will be your #1 dessert craving from now on!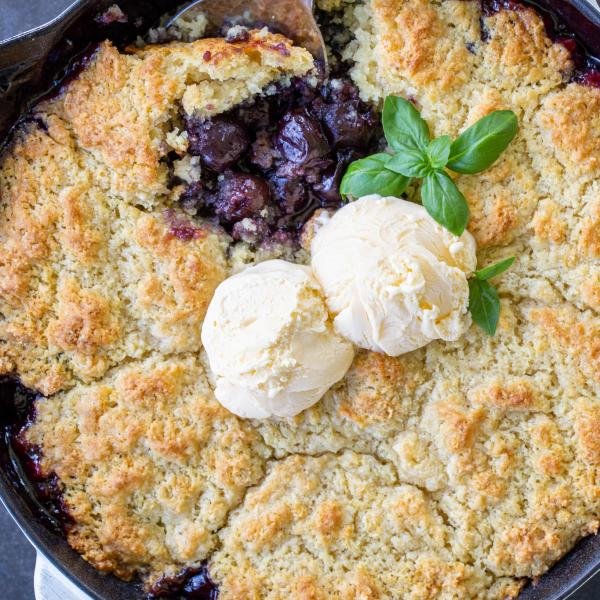 Make-ahead, Storage, and Reheating Tips
Cherry cobbler is best enjoyed right away, but it can easily be prepared ahead of time and stored for enjoyment later!
Making ahead: Don't want to think about how to prepare dinner and dessert at the same time? We've got you covered! Prepare the cobbler several hours beforehand, place it in the refrigerator, and then bake right before serving.
Storing: Place cooled leftover cobbler covered in the fridge for up to 3 days, but we're positive you won't have any left after one day! 🙂
Reheating: This cherry cobbler can be enjoyed cold, but if you prefer warm, reheat in the oven at 375° for about 20 minutes or until warmed through.
Do You Still Have Leftover Cherries?
Do you still have more cherries than you know what to do with, even after making the cherry cobbler? We have some ideas for you.
Freeze Cherries: Freeze the extra cherries by first washing and removing the stems and pits.Spread the cherries in a single layer on a cookie sheet lined with wax paper and freeze. Once they are frozen, transfer them into freezer bags. Now you have cherries ready to go for your next cherry cobbler!
Can Cherries: Canned cherries can last a very long time. Here is a family favorite recipe for Canned Cherries. Use it later in our "must try" Drunken Cherry Cake!
FAQ
What can I do with a bunch of cherries?
Cherry cobbler is a perfect way to use up an abundance of cherries! Even if the cherries are on their way to becoming overripe, remove any cherries that are spoiled and then you're good to go! You can also use the cherries in other baked desserts like breads, pie, or crisp.
Can I freeze cherry cobbler?
In general, we recommend not to freeze cherry cobbler. The best cobbler is going to be a fresh cobbler. If the cherry cobbler is frozen, the fruit filling can become soggy when baking or reheating, turning the cobbler into mush. Also, the biscuit topping may not turn out as flakey and fresh.
Can you make cobbler in advance?
Cobbler is great when made in advance! This cherry cobbler can easily be made several hours ahead of time, stored in the refrigerator until ready to bake, and then baked just in time whenever you want or need it!
Is cobbler crust the same as pie crust?
Cobbler "crust" is sweet, flakey, and biscuit-like and is found only on the top of the dessert. Pie crust is made from pastry and is on the bottom and the top of the dessert.
Similar Recipes
Recipe
This quick and easy cherry cobbler is loaded with a rich and juicy cherry filling and topped with a crumbly crust. It's sure to become your favorite dessert year round!
Nutrition Facts
Cherry Cobbler Recipe (Fresh or Frozen)
Amount Per Serving
Calories 442
Calories from Fat 90
% Daily Value*
Fat 10g15%
Cholesterol 25mg8%
Sodium 191mg8%
Potassium 447mg13%
Carbohydrates 85g28%
Protein 6g12%
Vitamin A 361IU7%
Vitamin C 7mg8%
Calcium 131mg13%
Iron 2mg11%
* Percent Daily Values are based on a 2000 calorie diet.