This peach crisp features spicy sliced freestone peaches topped with a crumbly oat mixture & baked to bubbly perfection. Best served with vanilla ice cream!
Love fruity crisps? Try our easy apple crisp while you're at it.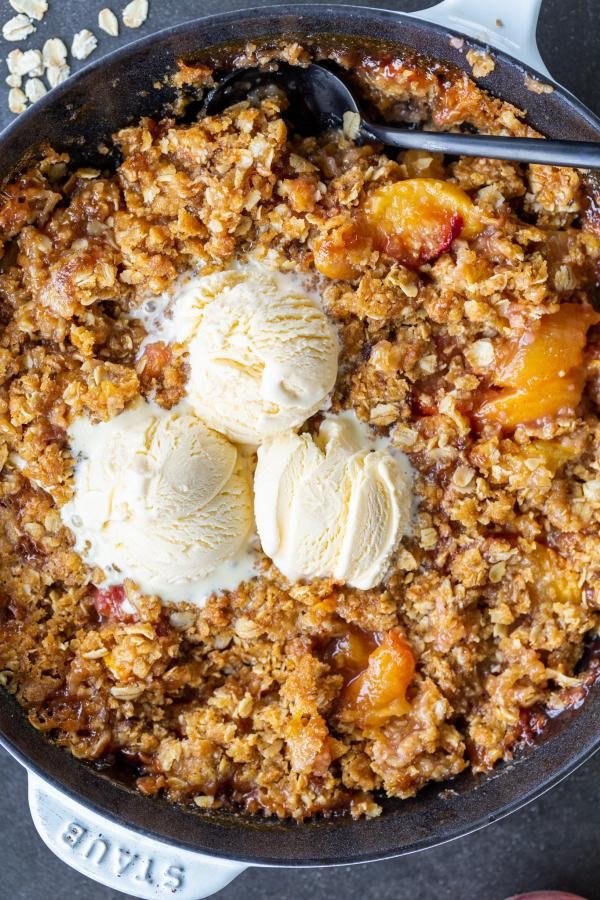 When the peach season is at its height, there's no better way to put everyone's favorite stone fruit to work than a classic crisp. You'll love the way the slightly sweet, slightly spicy peaches complement the butter oat crumble.
Choosing the Right Peaches
The best peaches to use for this crisp are fresh freestones. They have pinkish-yellow fuzzy skin and bright orange flesh that's ridiculously sweet and full of flavor during peach season. If you can't get your hands on fresh stone fruit or your baking this crisp out of season, use high-quality jarred ones instead.
Hot Tip: If you're using canned peaches, make sure to drain them thoroughly to remove the excess syrup before seasoning them.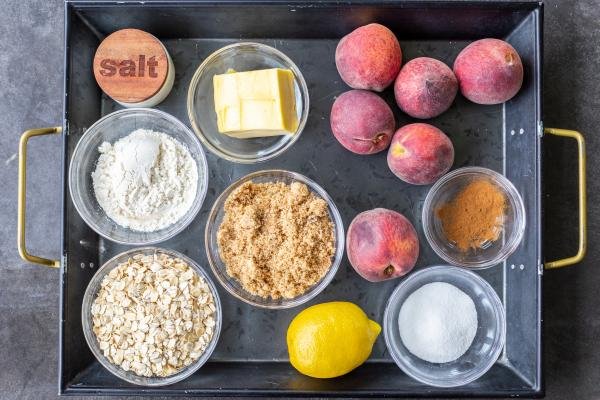 Peach Crisp Video
Preparing an Easy Peach Crisp
Making the best peach crisp only requires 10 short minutes of prep work.
Prepare the Peaches: First, peel the peaches and cut them into slices. Place the sliced peaches in a large bowl. Toss them with granulated sugar, lemon juice, and cinnamon and lay them out in a baking dish greased with cooking spray.
Make the Crumble Topping: Next, combine the rolled oats, brown sugar, salt, and all-purpose flour in a medium bowl. Add small cubes of the butter to the flour mixture and toss until crumbly. Sprinkle the oat crumble over the peaches.
Bake the Crisp: Lastly, pop the crisp in the oven and bake it at 375°F for 40 minutes until the top is crispy and the filling is bubbling hot. Bon appetit!
3 Tips for a Perfect Peach Crisp
Making the perfect peach crisp is only 3 easy tips away.
Use old-fashioned oats over quick oats. Quick oats will turn super soggy during the baking process, so opt for old-fashioned oats instead. You'll appreciate the texture!
Opt for extremely ripe peaches. Ripe peaches not only provide a wonderful sweetness, but they are also so much easier to peel for the filling. If you can't get your hands on ripe ones, simply soak harder peaches in hot boiling water for 15 or so minutes until the skin loosens up.
Pull the crisp at the right time. Some ovens run hotter than others, so you must sense check the crispiness before removing it. You'll know it's ready when the top turns golden brown and crispy to the touch.
Hot Tip: Swap the peaches out for canned cherries or any of your favorite berries – this recipe is super versatile!
Serving Tips
The great thing about this peach crisp is that it can be eaten as either a breakfast or dessert. It can also be eaten either hot or cold. That said, our favorite way to have it is hot and crispy out of the oven with a big scoop of vanilla ice cream on top.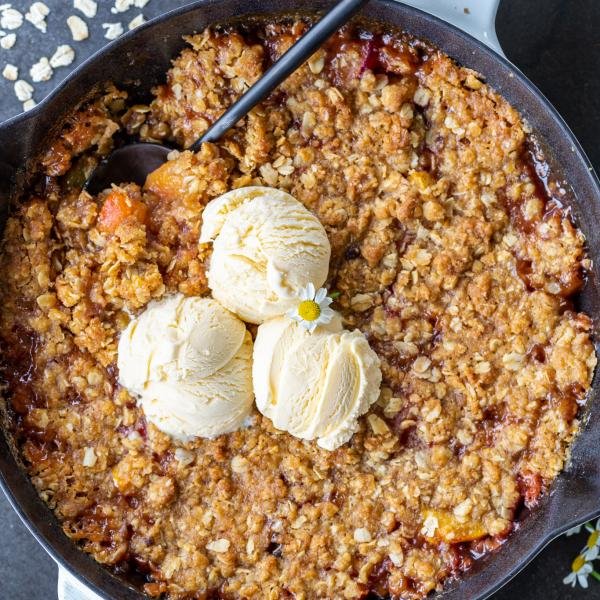 Storing, Make-Ahead, & Reheating Tips
Storing: To keep your peach crisp on hand for up to 3 days, store it covered in the fridge. To note, the peaches will continue to release moisture as they sit, making the crisp soggier as the days go by.
Make-Ahead: This crisp is great for whipping up ahead of time. To do so, assemble the dish up to baking it. Keep it stored covered in the fridge and bake it right before you plan to serve it.
Reheating Tip: The best way to reheat your peach crisp is in the oven covered with aluminum foil. To re-crisp up the topping, take the foil off and broil on low, keeping a watchful eye so it doesn't burn.
FAQ
What is the difference between a peach cobbler and peach crisp?
A peach cobbler typically features stewed and spiced peaches topped with fluffy, flour-based dumplings or biscuits. On the other hand, a peach crisp consists of a sweet peach mixture that's topped with a buttery oatmeal crumble.
Why is your peach crisp soggy?
Your peach crisp is likely soggy if it hasn't been baked long enough or if you baked it covered. It's key that you leave the top exposed so it can get enough attention from the direct heat of the oven.
Can a peach crisp be frozen?
It's not a good idea to freeze a peach crisp. This will turn the fruit super soggy, turning the dessert into mush.
Why is your peach crisp topping not crispy?
The topping on your peach crisp is likely not getting crispy if it hasn't been baked long enough. If it's still a little soggy, give it a bit more time in the oven.
More Fruity Dessert Recipes to Try
Recipe
This peach crisp recipe only takes 10 mins of prep time. Made with juicy freestone peaches & a oat crumble topping, it's perfect for breakfast or dessert!
Nutrition Facts
Easy Peach Crisp Recipe (Crispy & Juicy)
Amount Per Serving
Calories 338
Calories from Fat 117
% Daily Value*
Fat 13g20%
Cholesterol 31mg10%
Sodium 61mg3%
Potassium 224mg6%
Carbohydrates 56g19%
Protein 3g6%
Vitamin A 722IU14%
Vitamin C 5mg6%
Calcium 40mg4%
Iron 1mg6%
* Percent Daily Values are based on a 2000 calorie diet.