This stone fruit galette is bursting at the seams with juicy sliced peaches and syrupy cinnamon sugar. Perfectly paired with a heaping scoop of vanilla ice cream or fresh whipped cream!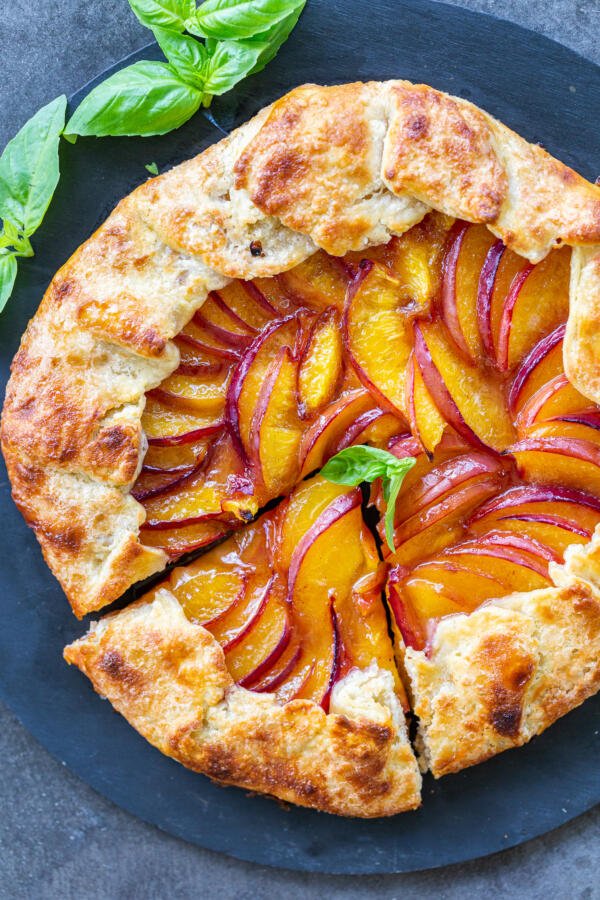 Ahhhhhhh, galettes! If you don't understand the beauty and simplicity of these free-form pies yet, get ready to become addicted to how delicious and forgiving they are.
This rustic peach galette is teeming with juicy peaches, cinnamon, and sugar. Unlike pies and tarts, galettes such as our apple galette are baked directly on baking sheets and don't require any difficult shaping or technique. For those of you out there who are a little "baking challenged", this dessert is accessible, fun to make, and no pressure.
Strap on your apron and let's get started!
What is a Rustic Peach Galette?
"Galette" is a French term that describes various types of flat round or freeform crusty cakes with sweet or savory fillings. While some galettes are made with a puff pastry dough base, others (like this peach galette) are made with a simple, buttery pastry crust. For budding bakers looking for forgiving recipes to make, galettes are the ultimate "less is more" dessert. Below, find an overview of the flavor, texture, and cooking time.
Flavor: The filling of these peach galettes is a little sweet from the peaches and a little spicy from the cinnamon.
Texture: The filling is soft with a little bite, while the crust is flakey and irresistible.
Cooking Time: From prep to finish, these galettes take about 2 hours to make.
Note: This recipe makes two small galettes. If you prefer to make one large galette, simply skip the step of separating the dough into two equal pieces and follow the recipe as instructed.
Peach Galette Video
How to Make a Rustic Peach Galette
Making a rustic peach galette from scratch only requires a handful of wholesome ingredients and a few, simple steps. Below, find a quick hitter overview of the recipe before you dive in.
Make the Pastry Dough: Combine the flour and salt in a small bowl and grate the cold butter into the mixture. Stir until combined. In a separate bowl, whisk together egg, water, and vinegar. Combine the wet and dry ingredients together to form the dough. Roll dough into a ball, wrap it in plastic wrap, and refrigerate for at least 30 minutes.
Make the Galette Filling: Slice the peaches thinly and toss them with sugar, corn starch, and cinnamon in a bowl. Toss until well coated.
Assemble the Galette: Divide the dough into two equal pieces for two smaller galettes or keep the dough intact for one large galette. Form the dough into a roughly circular shape on a lightly floured surface using a rolling pin. Arrange the peach slices in circular layers, leaving enough space on the outer edges and folding over to create a crust. Whisk eggs together and brush all over the crust. Finish with a sprinkling of sugar.
Bake the Galette: Bake the galette at 425°F for 20 minutes or until it turns golden brown. Enjoy as-is, or topped with ice cream or whipped cream!
Hot Tip: Use extra coarse sugar to sprinkle on the dough for a professional, bakery-worthy galette.
Tips for Making a Rustic Peach Galette
Below, find a collection of tips and tricks to make the best rustic peach galette on the planet.
Slice the peaches evenly. The more even the peach slices, the more even they will bake.
Let the dough set for at least 30 minutes. Allow the dough time to set in the refrigerator for at least 30 minutes. You can make it several days ahead if you want to simplify day of prep.
Use fresh peaches versus frozen. Frozen peaches will release a ton of moisture during the baking process, making your galette soggy.
Don't overstuff your galette. Resist stuffing your galette with too many peaches. You want to leave enough space at the edges so you can fold the dough over and create a nice crust.
Use very cold water and butter for the crust. The colder the butter and water, the flakier the crust will turn out.
Peel extra fuzzy peach skin. If the peach skin you are using is extra fluffy, feel free to peel it.
Want to swap out the peaches? This galette recipe will work with almost any fruit! Feel free to use one (or a couple!) you like best.
Serving a Rustic Peach Galette
This rustic galette can be served for breakfast or dessert. Pair it with a piping hot cup of coffee or tea. If you are into toppings, pop on a scoop of vanilla ice cream or a heaping pile of fresh whipped cream. Galettes are also an awesome addition to an elaborate brunch spread. Nobody said you couldn't have an appetizer at brunch!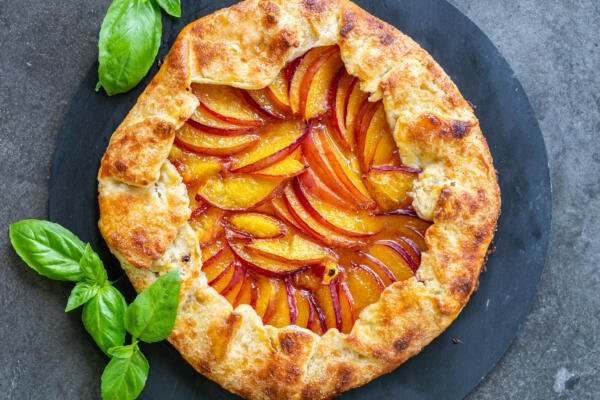 Storing a Rustic Peach Galette
Refrigerator: Store leftover galette in an airtight container in the refrigerator. Be careful not to stack individual slices to prevent sticking. The galette should stay fresh for up to 5 days.
Freezer: To freeze a raw galette, place it on a baking sheet uncovered for an hour. Then, wrap it in plastic, transfer it to a freezer bag or airtight container, label it with the date, and freeze it for up to three months. To reheat it, place it in the oven for about 20-30 minutes at 425°F, or until the center is bubbly and the crust is crispy.
FAQ
What are French galettes?
French galettes consist of various types of flat round or freeform crusty cakes with sweet or savory fillings. Due to their rustic nature, they are one of the most forgiving, low-maintenance desserts.
What does "galette" mean in English?
Galette means "a flat round cake of pastry often topped with fruit" in English.
What is the difference between a galette and a pie?
A pie is a sweet or savory dish made with crust and a filling. The crust is made within a pie pan and has a rigid shape. Sometimes it has a top crust, sometimes it doesn't. On the other hand, a galette, or "free form pie", is a round pastry filled with fruit that is baked on a baking sheet without a mold.
Where do galettes come from?
Galettes come from France where you'll find them commonly served in bakeries and from street food vendors. Specifically, they originated from the region of Brittany located in the Northwest of the country.
Can I substitute peaches for a different fruit?
You can substitute virtually any other fruit for peaches in this recipe. Berries, mangoes, apples, and pineapples are a few great options!
A Few More Yummy Pies
Recipe
This stone fruit galette is bursting at the seams with juicy sliced peaches and syrupy cinnamon sugar. Just add a scoop of vanilla ice cream.
Ingredients
Nutrition Facts
Rustic Peach Galette (Free Form Peach Pie)
Amount Per Serving
Calories 243
Calories from Fat 81
% Daily Value*
Fat 9g14%
Cholesterol 47mg16%
Sodium 126mg5%
Potassium 173mg5%
Carbohydrates 40g13%
Protein 3g6%
Vitamin A 518IU10%
Vitamin C 5mg6%
Calcium 17mg2%
Iron 1mg6%
* Percent Daily Values are based on a 2000 calorie diet.